If you are considering creating your own small business, deciding which LLC service provider to use can be a tough decision. The purpose of these providers is to take a lot of the weight from your shoulders and give you peace of mind in regards to all of the legalities involved with the initial start-up - and then to subsequently manage ongoing compliance requirements.
For first time entrepreneurs especially, when looking into the necessities for your endeavour, it may not take long until you feel as though you are already tangled in red tape and that all your time is being consumed with thinking about the complexities of your state requirements for small business owners. In our NorthWest Registered Agent LLC review we talk about company that can solve all these problems.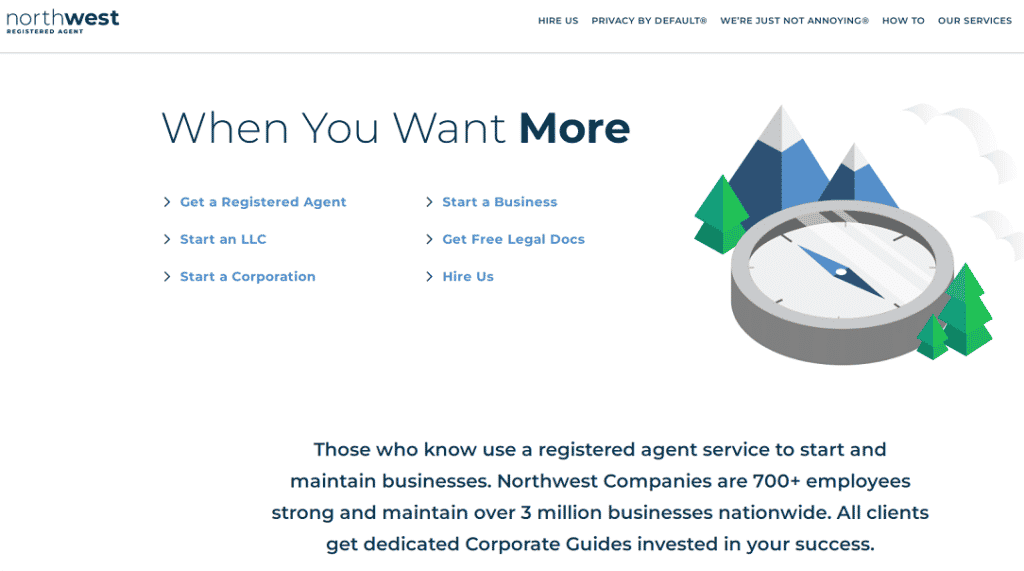 Northwest Registered Agent LLC Review: About the company
Northwest Registered Agent is a family-owned company which was established in 1998, making them one of the veterans of the LLC formation provider market. Their headquarters are based in Washington, but they now have offices in all 50 States. Having begun as a small Spokane business before then gradually setting up in every State in the land, they know well themselves all the pertinent needs for opening office and the sequence of legalities to get things going.
Also, being family owned means that unlike many of their competitors they do not outsource any of their services, so everything is kept strictly in-house. This has helped to ensure that Northwest Registered Agent has an internal organizational structure which is solid, and ensures continuity throughout the entire company.
With this knowledge and their own substantial experience of business opening and operation, Northwest Registered Agent will give you timely reminders for the submission of all the necessary documents to get your LLC up and running. This is just an example of Northwest giving you one less thing to worry about, freeing your mind and allowing you to concentrate on other elements of your endeavor while they monitor the appropriate timing of your legal submissions.
Before we get to some more specific details, something well worth mentioning to begin with is what will be your first direct contact with the company: Northwest Registered Agent's website.
It's a wealth of assistance immediately with clearly laid out information before you even pick up the phone or send them an email. The landing page is a real springboard. The amount of help that is immediately available - for free - and that is so neatly laid out with an easy-to-navigate, intuitive interface, is itself testament to one of their fundamental promises: that they have a no-nonsense approach and will keep the start-up and maintenance of your LLC simple.
Is NW Registered Agent Legit?
The legal requirements to form new business don't all fall under one umbrella, there are a number of variations between the States. Obtaining the correct information for your location couldn't be easier thanks to Northwest's webpage: it's there in front of you right away. With just a quick scroll down on Northwest Registered Agent's landing page, you will come to an interactive map. Simply click on the required State on the map itself, or from the name in the list below it, and you will be taken to a State-specific page detailing all that is needed to be in compliance there. Northwest work directly with State agencies so that you don't have to.

Another immediate point of note is that also one click away from the landing page, Northwest Registered Agent provides free legal forms. This is not just fluff, downloadable paperwork that is there as a token gesture and potentially surplus to your requirements, these forms are the real deal, a necessity, and everything you need for the formation and maintenance of your Limited Liability Company.
These forms include services such as those for Preparation and Filing of Articles of Organization, Operating Agreement (for either a single or multiple-people managed LLC), LLC Membership certificate, opening a business bank account, getting your EIN (Employment Identification Number), and much, much more.

All of these are significant documents. For instance, Articles of Organization are required as a rough blueprint of your business intentions so as to enable the State to create your company.
The Operating Agreement, though not necessarily needed by the State, is to describe the nature of your enterprise and to provide an outline of how it will be run and maintained.
Having an EIN is mandatory. It is a nine digit number assigned to your LLC by the IRS so as to enable identification for business taxes. With this number they - and you - will know which tax returns will need to be filed at the end of each business year. You will also need an Employment Identification Number for the hiring of employees.
With many llc formation service providers, not all of these forms will be included with priced service bundles, so the fact that these are offered for free and right from the word 'go' is a fact that should not be overlooked. It also shows the confidence that Northwest Registered Agent have with what they can do for you and how satisfied you will be with their service.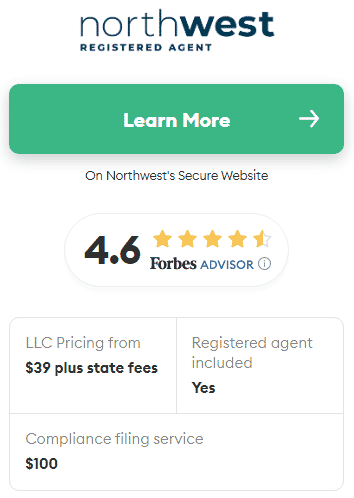 Northwest Registered Agent Pricing Packages
Unlike many of their competitors who offer multi-tiered LLC formation bundles, Northwest Registered Agent offers just the one single package for incorporating your company - and at a fixed price of $225 (not including State fee). This can then be renewed annually for $125. The price of this annual renewal has already been set in stone for years, and the company promises that they will keep it that way.
Though it is more expensive than some, the Northwest Registered Agent package is arguably one of the best value-for-money price tags on the market, it is a transparent and simple fee structure on top of it being one of the most comprehensive bundles for budding businessmen and women.
There are llc formation companies who offer bundles for less but considering the amount of free information and documents available before making any direct contact with a company representative, the price tag is arguably a complaint not worth much in making.
For example, to anyone who may consider $225 somewhat on the highside of the pricing table, that money covers services which many other companies will only offer as an add-on at - of course - an extra cost. These upsells can be seemingly small yet important matters, such as a State name availability search, to ensure that your business has unique branding.
With these extra charges that such points can incur, the costs can soon accelerate and overtake the fixed $225 fee for Northwest Registered Agent to navigate you along the path to establishing your business credentials.
It's worth bearing in mind too that if you are opening your own business for the first time, it can be a complex process to get to grips with, something which an unscrupulous practice may take advantage of, and you may find yourself tricked into purchasing additional services which you don't even require: with Northwest Registered Agent's fixed pricing and promise to keep things simple, it is guaranteed that this will not happen.

As an aside, here is a good time to mention something that is available via Northwest for an extra $40 - for those especially who are about to be running their own company for the first time - Northwest Registered Agent have forms and business guide books available to help you gain even more knowledge and to provide a more in-depth roadmap for laying down paths to a successful future in business.
Pros & Cons
Pros
Included registered agent service;
Industry-best customer support;
Provide a full year of registered agent service when forming an LLC;
Take your security and privacy seriously.
Cons
Not many customer reviews;
High price points;
Fewer add-on services than some competitors.
Let's look in more detail at those pros and cons should you opt to have Northwest help you establish your new enterprise.
NW Registered Agent Advantages
Registering with Northwest couldn't be easier. From the website landing page you are only a few minutes away from having their services at hand. All it takes is just five simple steps, all of which are straight to the point and with no confusing terminology.
Your $225 will include getting you a registered agent service for a year. This is a prerequisite as all US LLCs must designate a registered agent. This agent acts on your behalf, receiving and mail-forwarding all legal documents. After the first year, this can be renewed for $125 though after this time it is not obligatory to continue to do this through Northwest. That said, it's worth noting that this was the company's initial prime line of business before they expanded into other legal areas LLC formation.
Another major plus-point goes to Northwest's industry-best customer support. With VoIP business phone services, their top level customer-support staff are all in-house and professionally trained. Market research has proved that the first person spoken to on the phone was able to answer complicated questions regarding procedures and laws in regard to setting up an LLC. Additionally, should you not be able to get through at first attempt and leave a message, Northwest promises to return your call within two hours. Their no-nonsense approach is almost aggressively laid out on the webpage. This may seem a bit in-your-face at times but they are only attempting to be very clear that they are serious about customer satisfaction and about their operating principles and procedures. Add to this the fact that Northwest goes to great lengths to make another of their high priority points very clear: that they take customer privacy very seriously. Your address will be kept off of public records. Many LLC formation providers will sell your data/information to third-parties - a fact that can almost be taken as a given. But Northwest Registered Agent is one of the few with a solid stance regarding protecting the data of their customers.
This is a huge plus that provides even more peace of mind, especially for the first-time entrepreneur. When an LLC formation service provider sells your data to a third party, they do so under the umbrella of 'Accounting Consultation' and the information sold is then used by another company with aggressive sales tactics. With Northwest, this will not happen.
One key way in which a tight lid is kept on your personal data is that Northwest Registered Agent uses its own address on all documentation (unless there is a specific legal requirement for the LLC owner's information to be given).
Additionally, if for any reason you wish to cancel with Northwest Registered Agent, you can do so at any time. The Terms and Conditions are easily available from the website, and typically, are easily understandable, with no technical talk cluttering the procedure.

NW Registered Agent Disadvantages
At first glance what could be seen as detrimental is the $225 price tag, as has been mentioned already. It's certainly not the biggest asking price out there but it's by no means the cheapest and some may be put off by the fact of there being just that one price and the one formation package available.
For those on a very tight budget - and let's face it, who isn't? - there are LLC service providers who are a whole lot more affordable, even costing up to $185 less to get the ball rolling on your business project.
Running parallel to this is the fact that compared to a large number of other online LLC formation providers, Northwest Registered Agent offers fewer add-on services (should these be required). With the $225 asking price plus the potentially restrictive lack of additional services, these could be key when making a decision on whether or not to use Northwest for your business building needs.
Northwest Registered Agent Reviews
Considering Northwest Registered Agent customer service, it's somewhat surprising to see that they don't have many customer reviews, especially when compared to several of their top competitors. Trustpilot gives them an average customer review rating of just 3.3 percent.
They fare much better on Google, scoring 4.5 out of 5 stars. However, this percentage is from just a little over 200 Northwest Registered Agent reviews, which is a tiny number when considering that Northwest have been in operation for so long and that newer companies with only a few years under their belts have reviews numbering in the thousands.
The feedback though, overall, is generally positive despite the low volume review count. One recurring theme from customer feedback was praise of Northwest's hands-on customer service, the lack of automated phone lines and reply emails leaving a very favorable impression.
This is coupled with customer appreciation of Northwest's support representatives ability to answer questions themselves - and immediately: there's no being put on hold while another operator is being reached.
One Google review in particular seems pertinent especially, considering the current economic climate during the pandemic with more and more people both starting and ending their own business ventures.
The customer in question had used Northwest for years, and had been satisfied with their services, but recently had to dissolve his business. Having done so he had overlooked cancelling his auto-renewal for the annual registered agent subscription.
On notifying Northwest via email, several months into the renewal, they refunded him his subscription fee in full immediately.
This backs up one of many of Northwest Registered Agent customer service promises on their website:
We form hundreds of LLCs every day, and each filing is backed by our 100% error-free guarantee. Although extremely rare, in the 20 years we've been in business, we've learned that mistakes do happen. Should an error occur, we'll file every amendment required to make sure your company information is accurate (at no cost to you).
They may have fewer reviews than many of the competition but these testimonials are solid evidence - and typical examples of customer feedback - that Northwest lives up to their word and of why they have garnered a high level of respect for their customer support.
Should You Start an LLC With Northwest Registered Agent?
This will of course depend on individual needs, preferences, and budget. One company which is in top-tier competition with Northwest is ZenBusiness. They are a hugely popular online LLC formation service provider with a proven track record and a wealth of satisfied customers under their belt.
Their pricing is more affordable for those on a tight budget and packages come with more options than the Northwest bundle. They are also acknowledged to have a speedy turnaround time, a factor which often goes against many other llc formation providers.
The downside though with ZenBusiness is one of Northwest Registered Agent's chief strengths: the basic package doesn't come with a 100% worry-free guarantee.
Alternatively, IncFile is another big name in the LLC formation service game. They have been around since 2004 and are another of the most reliable online business incorporation services on the market with over half a million company formations to their name already. The obligatory Registered Agent Service is also included in their basic package, a service which is unavoidable and often added on at an additional cost.
IncFile is also the most affordable online llc service provider on the market: Their most basic starting price is $0 plus the State fee. This beats Legal Zoom, arguably the most well-known name of all llc service providers, who start at $79 plus the additional State fee for business formations.

Northwest Registered Agent Customer Service
The flipside is the customer service which has been reported as being slower than some of the competition. This is not to say that Northwest Registered Agent customer service is poor, in fact, there are a slew of reviews from satisfied customers who had their queries answered - just not necessarily as immediately as Northwest's response time, and it's a factor which can go a long way when choosing which provider's assistance you opt for.
Ultimately, which provider you opt for will come down to various individual preferences and financial options. They may be one of the pricier LLC formation providers but there is no doubt that Northwest Registered Agent are well established, reliable, have a solidly constructed industry-best support system, and have earned their well-deserved reputation as a top-tier service provider. The adage of 'You get what you pay for,' is one which can certainly be applied in regards to Northwest.
Their slogan at the top of their front web page says "We're just not annoying." From there, you won't have to go far to see how upfront they are about their no-nonsense approach and commitment to this phrase, a commitment that has spread to 50 States - and more than two decades worth of businesses formed with their simple, hassle-free guidance.
If you can afford them, Northwest Registered Agent should unquestionably be on your short-list of llc formation providers to look into. They are more than experienced, with a sturdy set of shoulders to carry the burden of the legal work for you, along with any other assistance you may need as you forge your way to becoming your own business owner.
Northwest Registered Agent are known to move quickly, routinely ranking amongst the speediest of providers, further cementing their reputation for consistency. Their turnover rate can in part be put down to their same-day filing - across all the states - having made LLC formation their specialty service.
Frequently Asked Questions