When you are planning to launch a business through a professional service or are looking for a registered agent, then, of course, you definitely wish only the best for your LLC. Nevertheless, today's business formation market is flooded with offers, so selecting the right one may take time. To simplify the process, in this article, we are going to show you our BetterLegal review, which can help you with your venture formation in any of the states. We will also analyze the terms this service provides paying special attention to such basic criteria as:
The formation package price and the features included;
A registered agent service and its cost;
Turnaround time for business formation, etc.
Betterlegal Reviews: Is It the Right Choice for You?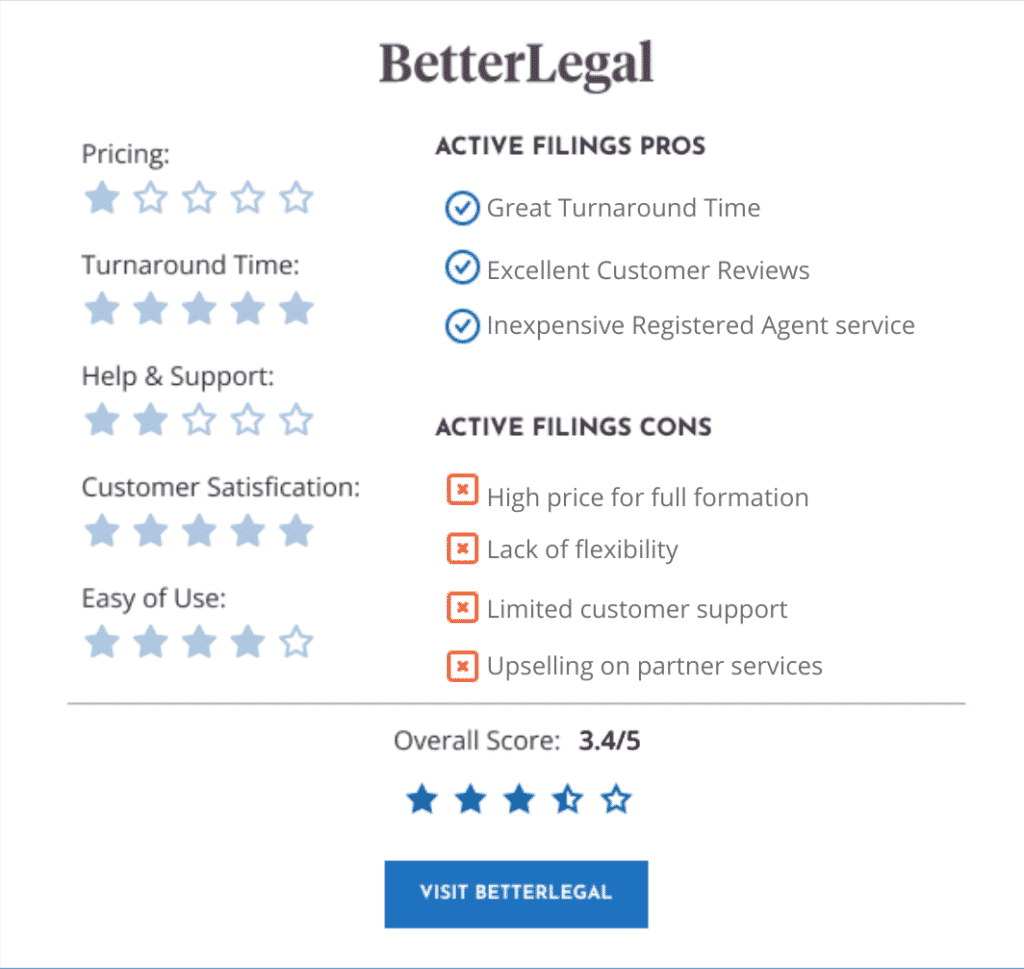 The premium services and the affordable cost of a registered agent have placed BetterLegal in the top 10 of the best organizations in the industry.

Nonetheless, this formation service doesn't work for all ventures. In comparison, take a look at our ZenBusiness review.
BetterLegal might be a great solution for those who appreciate the ease of service and quality. The agency has a user-friendly website with clear navigation and a lot of useful information. You can find the prices for all the services BetterLegal supplies there, so you won't be surprised by the total sum of your order.
Compared to other firms rendering business formation services, BetterLegal offers only one service package option, which makes the filing procedure straightforward. The price of the formation package is $299. Once you purchase it, you will have a full formation according to the state's requirements in no time. However, some significant features will have to be ordered separately. Thus, if you need a registered agent, you have to pay extra for this service. Besides, BetterLegal has such useful features as an LLC Operating Agreement or bylaws drafting, which are the most popular options. Fortunately, their prices are quite reasonable.
Third-party platforms such as BBB or Trustpilot have a lot of positive BetterLegal reviews from the business owners who have used the enterprise formation service provided by this firm. The clients mention how quickly and efficiently BetterLegal has helped them with the LLC formation, as well as their affordable prices. Nevertheless, BetterLegal's formation package price of $299 is quite high. This is especially true for the lack of an agent service that many competitors supply. For example, a service like ZenBusiness is ready to handle your business formation for only $49. In addition, some formation companies can even establish your venture for the price of the state fee, providing a free registered agent service for one year. However, in most cases, the subsequent cost of their registered agents is more expensive than that of BetterLegal.
Another downside of BetterLegal involves additional sales that you will face when you apply for a company formation. It is not too intrusive but puts your privacy at risk.
Quick Overview: Is BetterLegal Legit?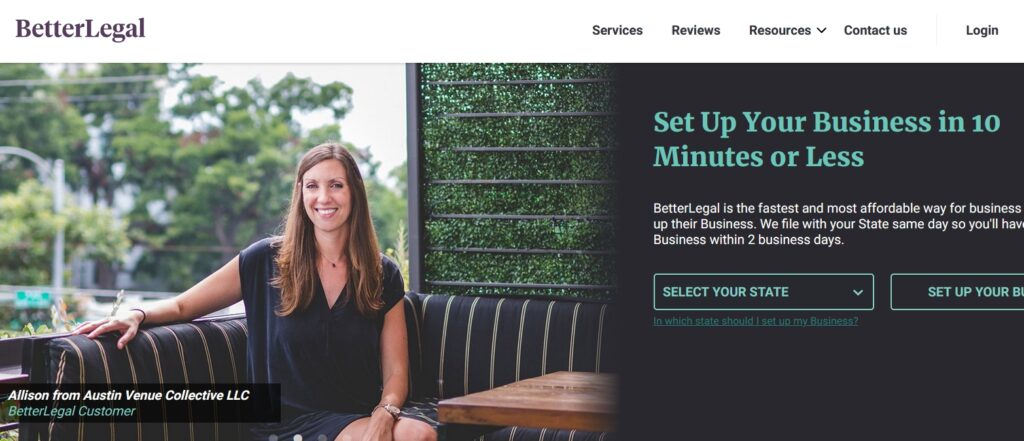 BetterLegal is a small firm, which entered the business formation and support market in 2017. The headquarters of this service is located in Austin, Texas.
What can BetterLegal do for you? In addition to opening an LLC or a corporation, the agency provides its clients with the following services:
Preparing the licenses needed for most organizations to start operating;
Amending the Articles of Organization (for example, in the case of a change of a registered agent, an LLC head office address, or the owner's data);
The service of reminding and filing annual reports, which are mandatory in almost all states;
Writing an Operating Agreement, which is rarely required by law but is essential for the company's stability and protection.
BetterLegal's efficiency in enterprise formation is quite high, and the turnaround times, as well as the reviews available online, are satisfying. Nevertheless, when it comes to additional BetterLegal services, such as an agent service, we have to point out that they are usually handled by their partners. It is not only about registered agents but also about services like opening bank accounts, insurance, accounting, such as assistance with taxes, and so on. They are not obligatory but greatly facilitate the work of the entity and maintain its good reputation.
Unlike some competitors, BetterLegal cannot act like a traditional law or accounting firm. They deliver a range of services, including formation, but do not provide their customers with legal or tax advice. This service merely assists with the business formation and setup, as well as offers some features facilitating the business development. For example, a registered agent, an EIN, or a foreign qualification. If you need an answer to any question regarding legal or tax matters, the best option will be to contact a specialist.
Stating itself as a modern service that streamlines the business formation and operation, BetterLegal really helps you save time, effort, and nerves.
BetterLegal Pricing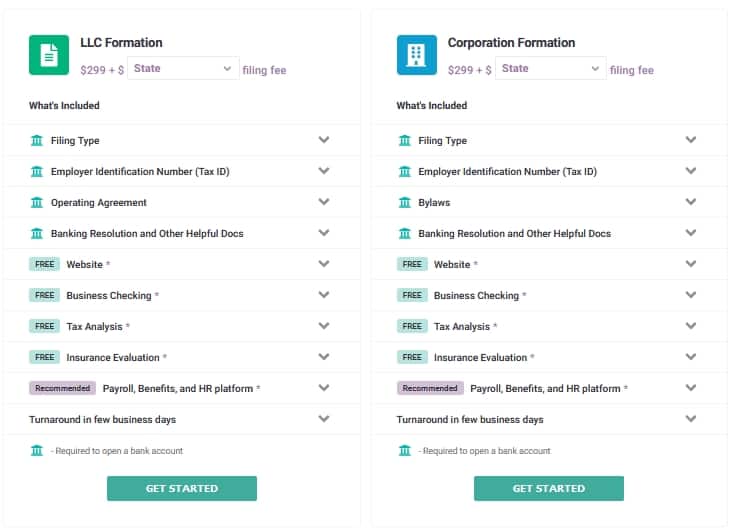 In contrast to some competitors, whose pricing policy can be somewhat unclear, BetterLegal takes a simple and transparent approach when it comes to company formation. On their official website, you can find only one formation package that fits both an LLC and a corporation. With BetterLegal fixed price of $299, you can budget in advance and avoid any surprises. Additional options to facilitate your new business, such as registered agent service, are also available at BetterLegal fixed rate or with a monthly subscription.
BetterLegal's Formation and Incorporation Package: $299 + State Fees
With the BetterLegal package, you will get everything you need for a full formation and successful launch of your firm. Business creation services from BetterLegal are designed to meet the basic needs of a future company.
However, the value of the features included in the formation package does not justify their high cost. In this regard, BetterLegal is inferior to some competitors that supply a free registered agent for 6 months or 1 year along with the company's formation service. At the same time, their prices for a corporation or an LLC formation start at $0.
Instead of an agent service, the BetterLegal website has added an EIN, insurance, and some other options to the formation package. Let's take a look at the benefits of hiring this service in a little more detail.
Drafting and Filing the Formation Documents: BetterLegal specialists will prepare your business for formation by drawing up the Articles of Organization or Incorporation and submitting them to the state on the same working day. You will not only save time by speeding up the formation process but will also avoid the most typical complications. Upon request, BetterLegal is also able to indicate their contacts as your registered agent.
Obtaining an EIN: Almost all establishments need an Employer Identification Number because it covers a wide range of functions. It is issued by the IRS for free, so getting an EIN is quite easy. As such, BetterLegal can handle the EIN filing for you.
Banking Resolution: Opening a bank account is a vital part of your business formation. If your LLC or corporation has more than two owners, the bank will ask for a banking resolution in addition to the formation documents.
Operating Agreement or Bylaws: BetterLegal's experienced professionals will prepare any of these papers, which describe the management structure and operating principles of the enterprise, for you. Although most states do not require an Operating Agreement LLC for the company formation, it has a favorable effect on the firm's activities.
Tax Analysis: A professional service will review your company's tax obligations. This way, you can make sure you are in full compliance with tax regulations and learn how to minimize your tax expenses.
Website: Given the ever-increasing role of the digital presence of businesses, this service is quite relevant. When you purchase the formation package from BetterLegal, you will get a website and domain or a customized online store.
Insurance Evaluation: If you wish to insure the firm, BetterLegal offers the appropriate service from its partner, CHUBB Insurance.
BetterLegal vs Competitors Pricing
To determine in BetterLegal review how competitive is the service, we should look at its business creation process and that of leading formation companies such as IncFile, LegalZoom, ZenBusiness, Northwest Registered Agents, and Rocket Lawyer. To facilitate our analysis, we'll combine the features into three levels of service: basic, full formation, and full formation plus a website.
| Service | Basic formation | Full formation | Full formation + website. |
| --- | --- | --- | --- |
| BetterLegal | $299 | $389 | $389 |
| Incfile | $149 | $149 | – |
| ZenBusiness | $39 | $39 | $249 |
| LegalZoom | $178 | $477 | – |
| Northwest Registered Agents | $225 | $225 | – |
| Rocket Lawyer | $140 | $290 | – |
The Basic formation level includes the key steps needed to establish an LLC or corporation: submitting the Articles of Organization and drafting an Operating Agreement or corporate bylaws. These services are priced at BetterLegal fixed $299, while ZenBusiness will charge $49 for an LLC creation.
The Full formation covers registered agent service, which is in demand among business owners for its excellent record keeping. The formation package BetterLegal and their agent service cost $389, which is much higher than that of other formation providers, except for LegalZoom.
Finally, if you want a Full formation containing a website, BetterLegal has already added everything you need in its formation package, so the price of the service will be the same — $389. Among the listed competitors, only ZenBusiness offers a similar service, which will cost $259, including the business formation.
Is BetterLegal's Formation Package a Good Value for the Money?
In our opinion, BetterLegal does not show a good ratio of price to included services. While BetterLegal formation provides access to a whole range of features, their value is low. Why is it so? Let's figure it out.
The most significant flaw of BetterLegal is that by hiring them for your business formation, you will not obtain a registered agent service as it has to be ordered separately. Assigning a registered agent constitutes an integral part of company formation, so with BetterLegal you will probably spend extra money, whereas some providers render the agent service for free. For instance, if you hire IncFile, they will act as your LLC registered agent for one year without charging any extra fees.
Obtaining an EIN also does not warrant the high cost of BetterLegal. The IRS provides this service for free. The online EIN filing procedure takes only a few minutes, and you can start using your EIN right away.
Lastly, we should also mention the tax analysis, business insurance service, and website creation that you get from BetterLegal along with the company's formation. At first glance, it may seem that having all these features adds value to BetterLegal by saving you money and eliminating the hassle. However, your ability to use them is limited. Actually, each of the services listed above leads only to additional sales at BetterLegal partners. You can spend your money more efficiently by ordering the right service directly.
Of course, we should also remember the advantages of BetterLegal, such as quick formation documents submission and creating an Operating Agreement for LLCs, but that does not justify the price of $299.
Cancellation Policy
If you purchase any additional services in addition to the formation package from BetterLegal to streamline your business, you cannot cancel them. According to the terms of use, one-time payment deals are final. You cannot refund the money you have already paid to BetterLegal, so decide on ordering services without haste.
There are other rules for the agent service and other features purchased in addition to the full formation that involves regular payment.
BetterLegal usually charges the renewal fee automatically. If you want to cancel the service, you can do so by notifying them in advance. For example, if you no longer want to use the registered agent service, you can let them know by contacting BetterLegal at (512) 969-2339 or at [email protected]. Another method of canceling service is using your business account on the BetterLegal website.
You should be careful because even after informing BetterLegal that you want to stop using a registered agent, you may face some expenses associated with it. As such, if your LLC has switched from BetterLegal registered agent service to another option, it will still have to pay for shipping. This is about the expenses for sending correspondence received but not yet formally delivered to the owner, and similar charges.
Unlike the company formation, an agent service is provided by one of BetterLegal's partners, so you should also inform them about canceling this service. By contacting the third-party organization serving your firm directly, you can protect yourself from unnecessary costs for mail forwarding. This is another disadvantage of this agency since BetterLegal offers some functions not on their own behalf.
Although BetterLegal's terms of use do not say so, the process of canceling all other services with regular fees probably looks the same.
BetterLegal Pros
Why may you want to choose BetterLegal as your business formation service? There are several reasons.
Solid Turnaround Times
If you've decided on your own business formation, you will probably want to proceed with deals as soon as possible to start earning money. Fortunately, BetterLegal can help with that. According to their website, the LLC corporation paperwork will be sent to the state on the same business day when you purchase the formation package. For a small firm like BetterLegal, this is fantastic because there are few formation companies in the industry that can boast the same speed. Some competing agencies only provide a similar service for an extra fee.
Moreover, if you hire BetterLegal for your LLC formation, they will guarantee quick delivery of the documents once they are approved. For that, BetterLegal fixes a deadline of two working days from the official full formation of the venture. However, be ready for the fact that the actual BetterLegal formation time can be up to a couple of weeks as business registration deadlines depend on the specifics of the state.

The BetterLegal clients are satisfied with their fast and high-quality service, which is confirmed by dozens of reviews. They really do everything to speed up your company formation. Overall, BetterLegal services can be a good option for the owners, who want to get their new business up and running as soon as possible.
Great Betterlegal Reviews
If you're among those who usually make decisions relying on reviews, then you can entrust the care of your business formation to this organization. People that have chosen the formation package BetterLegal to set up an LLC or a corporation say that interaction with this service has been successful. Of course, BetterLegal does not have as many clients as the industry leaders, but you may easily find several hundred positive reviews.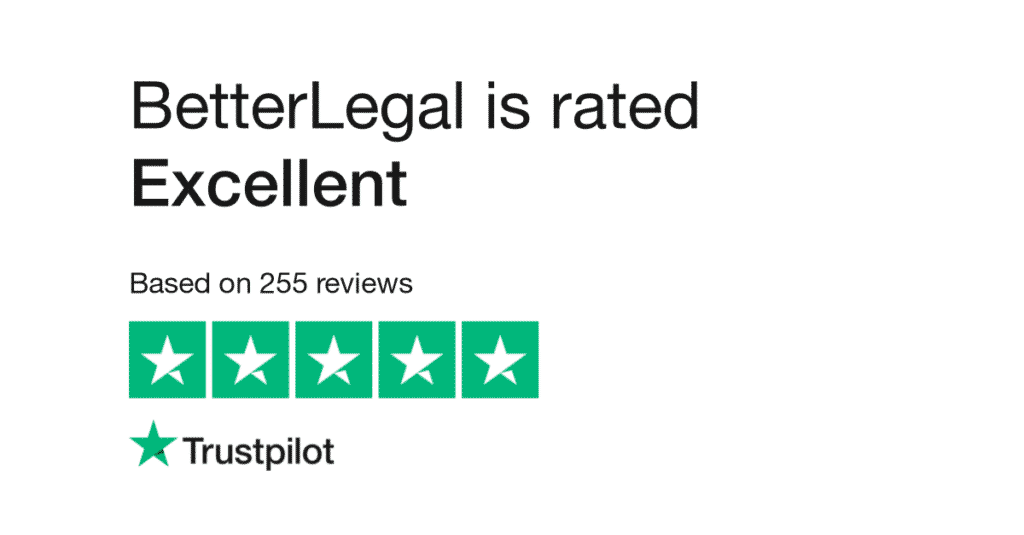 On such a reputable platform as Better Business Bureau, BetterLegal has a rating of 4.88 out of 5. On Trustpilot, they have 4.9 out of 5 stars based on 251 reviews.

What do customers like best? Many of them enjoy the straightforward process of ordering the LLC formation service because there is only one package BetterLegal. Meanwhile, the formation package already includes features like the EIN filing, tax consultation, Operating Agreement, and others. Additionally, people point out the excellent turnaround time.
Inexpensive Registered Agent Service
You cannot proceed with any official business formation unless you designate a registered agent to be in charge of receiving all correspondence. The Articles of Incorporation or the Articles of Organization without their contact information will be rejected. If you have not yet found a suitable candidate, in addition to the full formation, you can order an agent service, which will be provided by a BetterLegal partner. The price of this service is $90. Furthermore, BetterLegal allows you to subscribe to a registered agent service for $10 per month. This will reduce the burden on your business budget and save you some money.
The average cost of a registered agent is over $100. Some competitors even charge almost $300 a year. With that in mind, the service that BetterLegal offers is quite favorable. By hiring them to receive official documentation on behalf of your business, you will save several dozen dollars annually. This offer of BetterLegal is especially relevant for the LLC owners, who are planning to establish several ventures located in different states.
BetterLegal Cons
As BetterLegal is a relatively young service, some aspects of their formation process are still not perfect. Let's take a closer look at this issue.
High Price for the Full Formation
First-time businesses often have tight budgets that need to be allocated as efficiently as possible when launching a company. Not all of them can afford to spend hundreds of dollars on a formation package from a professional service. Therefore, the price of $299 charged by BetterLegal is quite high. Of course, some competitors' prices for an LLC corporation are even higher, but you should also take into account the services included in the formation package.
As we have shown above, the BetterLegal formation price is ridiculously expensive. You can get an EIN on your own and completely at no cost in just a couple of minutes. Insurance, tax consultation, and website creation service provided by BetterLegal as part of the business formation, firstly, are not necessary for everyone, and secondly, have limited functions. Finally, it is worth mentioning that BetterLegal does not include a registered agent service required for the LLC formation in all states. All these considerably restrict the range of people who may want to get the formation package from BetterLegal since there are some much cheaper services with better offers.
Limited Customer Support
Some customers have noted that BetterLegal's customer service is difficult to reach. Larger formation companies are usually open to any questions related to the formation or maintenance of the business, either by phone, e-mail, or online. Some of them even have extended office hours, which is quite handy since the business owners have a heavy workload.
But like many small firms providing business formation services, BetterLegal has no extensive customer support system. For example, BetterLegal has fixed only one opportunity to contact its representatives — via online chat.
To find other service support contacts of BetterLegal, you have to visit their official website and open the privacy section. At the very bottom, you will see BetterLegal's phone number, as well as their postal and email addresses. If you have any questions or want to learn more about BetterLegal during the corporation or LLC formation process, then call them at (855) 612-0480. This service also can be reached at [email protected]. If you prefer hard copy correspondence, then contact BetterLegal at 1003 Rio Grande St, Austin, Texas 78701.
Lack of Flexibility
All business owners have different needs and budgets, so most online firms have multiple levels of services, varying in price and features. However, BetterLegal has taken a different route. They offer only one formation package, which, on the one hand, makes the submission process as simple as possible, but, on the other hand, deprives customers of any alternative.
Why don't we like it? Whether you need tax advice, business insurance, or the service of creating a website, you will have to pay for them with BetterLegal. These are included in the full formation package and cannot be dropped. Instead, you might opt for another service plan, which involves, for example, only the essentials of a company's formation: drafting an Operating Agreement and filing the Articles of Organization. Another option is the premium formation, which contains basic features, registered agent service, and other options designed to help your business grow and facilitate its operation.
Upselling On Partner Services
Highlighting its effectiveness, BetterLegal claims that they provide only those services required for the successful formation and nothing extra. Nevertheless, the list of features that BetterLegal offers in their formation package proves otherwise. If you check the contents of a BetterLegal package, you'll see that a significant part of it is made up of services from third-party providers. Although BetterLegal offers website formation for your business, insurance, and tax analysis service, they do not personally handle it. The main objective of this online organization is the corporation or LLC formation. Instead of BetterLegal, one of their specialized partners will take care of each of the aforementioned additional services.
Does this mean that the full formation that BetterLegal provides will save you money in the future? We don't think so.
Of course, the insurance service or tax advice may benefit the business. By and large, BetterLegal uses them as a way to convince you to purchase additional services from them. The "free" offers you get when you hire BetterLegal are somewhat limited, although there is no information provided anywhere about what will be available. To remove the restriction, you will have to pay separately for additional functions.
BetterLegal Services
The features BetterLegal includes in its formation package are quite diverse. But the capabilities of this service do not stop at just the business formation. Let's discuss BetterLegal's offerings more closely to determine if their services are the right fit for your enterprise.
LLC Formation and Incorporation
Many years of business formation experience ensures that BetterLegal will manage any new business formation in every state. If you choose them for your LLC corporation, you won't have to worry about formalities. The single formation package BetterLegal for $299 includes the preparation and filing of basic forms for your business, the name of which depends on the type of entity. For example, for the formation LLC, the Articles of Organization are used. As for corporations, you need the Articles of Incorporation. After performing a state compliance check, BetterLegal will fill out the form on your behalf and send it to the state.
If you have not yet decided which business structure is best for your organization, then take a look at the arguments below.
We think that in most cases, the LLC formation is preferable to a corporation. The point is that this way of organizing a business is simpler and more affordable, and it also provides limited liability protection. Since each LLC acts as a separate legal entity, the responsibility for any of its debts and obligations does not extend to the owners. Coupled with the reasonable price of formation and the ability to choose a tax regime, these make an LLC one of the most favored business structures.
By default, an LLC is treated as a "flow-through" tax entity for tax purposes. That is to say, such a business is called a disregarded organization because the income and expenses of the LLC are reported on the tax returns of its owners. This is an effective way to avoid the "double taxation" typical for corporations, where profits are taxed at the company level and when distributed to the participants.
Although limited liability most often protects business owners, it is not absolute. Business members may be subject to liability if they personally guarantee their obligations or violate the law. Additionally, it is necessary to take care of having an Operating Agreement and opening bank accounts to comply with the principles of the enterprise.
LLC formation regulations, time frames, and the number of mandatory fees vary from state to state. In some of them, in addition to the state fee and the service cost provided by BetterLegal, you will also have to pay for the publication in the newspaper about your business formation, spending from a couple of dozen to several hundred dollars. In addition, several states require an LLC to file an initial report shortly after its formation, charging a state fee for the processing. This category of costs can be quite significant. Fortunately, after paying them once, you won't have to go back to them again.
Hiring one of the professional formation companies, such as BetterLegal, can relieve you of some of the responsibility for your business creation, allowing you to feel calm.
EIN Filing
The next service that BetterLegal offers and is useful for most companies refers to EIN filing. Are you not sure if your enterprise needs an EIN? This unique 9-digit code, which the IRS assigns to a business, is essential for quickly identifying tax records. An LLC may need it if it has two or more owners or employees. You will also be required to have an EIN after formal formation if the firm has any tax obligations. Finally, when opening a business account, an EIN is often asked for by banks.
Doesn't your entity fall into any of these categories? Then, if you wish, BetterLegal can exclude the EIN service from the formation package, but its price will not change.
Obtaining an EIN is a very simple process. The IRS provides the EIN for businesses free of charge. You can submit the form online, by mail, or by fax. The fastest option is applying online. Even without help from BetterLegal, it only takes a few minutes, and you can start using your EIN as soon as you fill out the online form. Keep in mind that you will need to give BetterLegal or enter basic commercial information, as well as personal data, including a valid Social Security Number, to complete the application.
You should not register an EIN before the formal formation. The application has to include the name of your LLC or corporation, so make sure that the state approves your business name first. If the Articles of Organization or the Articles of Incorporation are rejected for any reason, such as a non-compliant registered agent or name requirement violation, it will cause some problems.
Operating Agreement or Bylaws
When you complete the formation process on your own or through BetterLegal and then get down to work, you will need to have a clear guide for the stable functioning of your business. That's why the experts recommend drawing up an Operating Agreement for an LLC and bylaws for a corporation. The functions that both these documents perform are similar.
Most states do not have any penalties for the lack of an Operating Agreement. Nevertheless, its strengths are quite substantial, so the inclusion of BetterLegal Operating Agreement or bylaws in the formation package is a big plus.
What does an Operating Agreement stand for? It is an internal business paper that describes the management structure, basic principles, and working procedures of the entity. There is no universal form for an Operating Agreement, so the content and structure are usually determined by the LLC or corporation owners. As a rule, it regulates the following basic issues:
Rights and obligations of the owners;
Ownership interests based on the contributions made by the participants at the company's formation stage;
The procedure for distributing profits and losses;
Voting;
Participants' obligations;
The procedure for withdrawal and joining the business and the sale of shares;
The company's dissolution;
Amendments to the Operating Agreement;
Registered agent data, etc.
If you are planning an LLC corporation in California, Delaware, Maine, Missouri, or New York, an Operating Agreement is a mandatory part of the formation process. It does not have to be registered but should be kept with the other business documentation in a safe place. In this case, a professional formation firm, such as BetterLegal, is particularly valuable. Because their full formation includes a high-quality Operating Agreement template, you do not need to pay for a lawyer's service or look for an appropriate document on your own.
By acquiring an Operating Agreement from BetterLegal, your LLC will become more robust and protect itself from the state default laws. It also enables the business to act as an LLC rather than a sole proprietorship or a partnership. This will shield the organization in the event of a lawsuit and make it more reliable in the eyes of potential investors or partners.
Banking Resolution
To get your business up and running, BetterLegal has included such a service as a bank resolution in their formation package. This document serves to authorize all or only some business owners to have access to the company's bank accounts on behalf of the firm. When you apply for a commercial bank account, you will be asked to submit a banking resolution.
Separating personal funds from business assets is extremely important. This will not only streamline the accounting records of your entity but will also facilitate the procedure for paying taxes, as well as ensure the integrity of the "corporate veil". If it is breached, a court can strip the owners of limited liability, which can result in significant financial risks.
Finances represent one of the most essential aspects of running an enterprise, so a properly drafted banking resolution, which you will get during the BetterLegal formation process, is quite helpful. The only thing you need to do is to provide BetterLegal with key information about the owners, an LLC, or a corporation.
BetterLegal Website Services
If you are looking for a service that will not only take care of your business formation but will also help you create a website, then BetterLegal will be the right fit. This is among the included BetterLegal services, along with the EIN filing, insurance, tax consultation, and so forth.
By purchasing the BetterLegal formation package, you will get a "free website or online store with inventory management". At first glance, it looks pretty tempting. However, BetterLegal does not specify which of their third-party partners will deliver this service and under which conditions. Nevertheless, we can conclude that the functions of the website or online store are limited. You will not be able to use the full functionality of these tools until you order additional features and settings. BetterLegal also mentions a possible switch to paid services from the company, which has made the website, to get more features.
Therefore, we would like to see on the BetterLegal website a full and transparent description of their services, including the name of the online provider rendering them, as well as their terms and scope.
BetterLegal Registered Agent Service
In the case you are going to use BetterLegal registered agent service when you proceed with the formation of your firm, you will have to purchase it separately. It is not included in the formation package, so you will have to pay BetterLegal for the agent service either at $90 annually or $10 monthly. This makes BetterLegal's offer one of the most affordable on the market today because the price for such service is usually somewhat higher. On the other hand, if you buy any formation package from companies like IncFile, ZenBusiness, or Northwest Registered Agents, you will automatically get one year of a free registered agent. Given that BetterLegal fixed price is quite high for the service of an LLC or a corporation formation, the lack of a similar service is a significant disadvantage.
Who might be interested in adding a registered agent service to the BetterLegal package? Anyone getting ready to build a new business and looking for a suitable candidate needs that. You cannot establish a business if the Articles of Organization or the Articles of Incorporation do not contain data on the person providing the agent service and meeting the state's criteria. This is a prerequisite for an LLC corporation since the registered agent serves are a reliable intermediary between the business and the state. Their function is to be available at the company's office to receive official correspondence addressed to venture during normal working hours. This person handles tax notices, subpoenas, compliance requests, etc.
If it is necessary to change the registered agent, then the procedure specified in the Operating Agreement or the state default rules of the state will apply. Trying to conduct business without a registered agent may lead to adverse legal consequences, so it is essential to maintain them not only during the formation phase but throughout the life of the organization. For example, by using BetterLegal or another professional provider. This way you guarantee your business a good reputation and can protect its interests in case of a legal dispute.
Both individuals and legal entities can render the registered agent service. For example, another professional service engaged in the business formation. If you don't want to spend money on hiring an online organization like BetterLegal, most states allow the business owner to perform this duty themselves. Despite the savings, this option isn't popular. The requirement for a registered agent to be in the workplace greatly limits mobility, preventing the business owner from leaving the office to go to a meeting, vacation, or business trip. Professional agent service from BetterLegal, on the other hand, gives you freedom and privacy.
Another argument for ordering registered agent service involves convenience. Such websites as BetterLegal provide service in all 50 states. This is very practical if you are planning to set up an additional office in another state or already have multiple ventures in different states. Furthermore, hiring BetterLegal as your professional registered agent is relevant for those who are doing business formation from another state. Unlike an individual registered agent, the representative from BetterLegal will never miss important documentation of your LLC, go on vacation, or be on sick leave. What's more, when you order an agent service, BetterLegal can even remind you of upcoming annual filing deadlines, helping the business maintain a good image.
Business License Search
Launching your own firm is always an exciting and long-awaited event. It would seem that once your business has finally gone through the full formation process, it's time to make deals, but most ventures need to get a license first.
A license means a document issued by a federal, state, or local agency to prove you are eligible to carry out a certain activity. It is usually granted for a period of 1 to 10 years. The most common types of permits involve a general business license, professional licenses such as for doctors or engineers, and a vendor license.
The number, cost, and type of permits your LLC or corporation may need are determined by its location and the specifics of its industry. It is vital to obtain all required licenses before you commence operation, otherwise, you may face significant penalties.
How to find out whether your business needs a license or permit? You need to do the research by studying the relevant legislation at the federal, state, and local levels. However, there is another option.
By purchasing the BetterLegal package, for an additional $125, you can have a license research service. BetterLegal will give you all the permits you need, plus a guide on how to complete them. By taking advantage of this service, you will be able to focus on business without being distracted by such formalities.
Annual Compliance
When you appoint a registered agent and incorporate your business, the current state regulations come into play. In addition to regular tax payments, most LLCs and corporations are to submit an annual report. This is a document informing the state of the changes that have happened in the business and the results of its activities. This practice exists in almost all states.
The filing deadline is calculated differently depending on the state. Some require business owners to file on the anniversary of the venture formation, the date of which can be found in the paperwork. Another approach is to establish a fixed date, the same for all state-registered firms.
Regardless of how the annual report deadline is determined for your business, you should submit it on time. Failure to file puts the organization at risk of being fined and can also result in the loss of good standing. What does this mean for the venture? Non-compliant businesses cannot renew their licenses, obtain a Certificate of Good Standing to expand to another state, and are sometimes even involuntarily dissolved by the state.
Such professional formation companies as BetterLegal can protect a business from the consequences of missing annual reporting and streamline its operations. If, in addition to the formation package, you order BetterLegal registered agent service for $90 per year or $10 monthly, you will receive regular reminders of the upcoming reporting deadlines. Besides, BetterLegal will fill out and file the report on your behalf as soon as you give them the information they need.
Third-Party Offerings
In addition to business formation services, BetterLegal provides a range of services from their partners. The bulk of them is included in their formation package for $299. Let's take a closer look at them.
Insurance Evaluation: CHUBB Insurance is a BetterLegal partner that will provide your business with a quality service to assess risks and insurance needs.
Business Checking: This service will open free bank accounts and issue debit cards for your BetterLegal LLC or corporation. You will also be able to register an account to send physical checks.
Tax Analysis: BetterLegal does not name the service, which actually provides this feature. However, they promise to do a tax analysis of the business and give advice.
Payroll, Benefits, and HR Platform: This service is not free and is included in the recommended category. Unfortunately, BetterLegal does not describe in detail the features this service offers and does not name the company that delivers it. They only promise to take care of your business.
Considering the vagueness of the wording and lack of any details, the value of the listed BetterLegal features is questionable. Moreover, they make up almost half of BetterLegal's formation package, and you cannot refuse to use them to lower the price, which doesn't seem quite fair.
Of course, we understand that some LLC or corporation owners may benefit from the additional services offered by BetterLegal partners. Nevertheless, the paucity of information doesn't contribute to the transparency of BetterLegal's services and a clear picture of their features. In addition, if you really need one of these BetterLegal services, you would better order them directly without involving BetterLegal as an intermediary.
Additional Filing Services
Besides submitting the Articles of Organization for an LLC or the Articles of Incorporation for a corporation, which are necessary for the business owners to get started, BetterLegal has a lot of other useful services. As such, BetterLegal has developed a set of filing services for your business that can be ordered as extras. Below are the most popular features, which were not included in the BetterLegal package for full formation but may be valuable for you.
Registering a foreign LLC in a new state: If you want to expand your business to another state without a separate LLC formation there, you will need a foreign qualification. The process of acquiring it is pretty much the same as business formation since you also need to appoint a registered agent and submit some paperwork, but there are some peculiarities. For $199, BetterLegal is willing to provide this service for your enterprise.
Domesticating a foreign LLC: If you intend to move your business from one state to another, it will cost $299 with BetterLegal.
Changing the principal office address: The registered office address, like the registered agent, is public information. For the service of making changes to your records, BetterLegal will charge $99.
Obtaining the Certificate of Good Standing: To expand your business and for some other functions, you may need to prove your good image. Obtaining a certificate through BetterLegal will cost $25.
Removing or adding members, directors, or shareholders: BetterLegal charges $99 for the service of making changes to an LLC or a corporation.
Terminating or reinstating an LLC or a corporation: any of these services with BetterLegal will cost you $199.
Do We Recommend BetterLegal?
Nowadays, BetterLegal holds a strong position in the business formation and service industry and maintains its relevance. They do not have thousands of reviews like some big formation companies, but BetterLegal customers are happy with their formation package. They mostly mention the excellent turnaround time of BetterLegal formation, which really sets this service apart from the competitors.
BetterLegal's services cost $299, which is quite expensive. Of course, their full formation includes an Operating Agreement, EIN filing, tax advice, and opening bank accounts, but the bulk of these services are for additional sales. Furthermore, a significant drawback of the formation package BetterLegal is, of course, the lack of the registered agent service that every LLC and corporation needs. However, you can get the agent service for a reasonable price of $90 per year. The prices of BetterLegal for other optional features, such as obtaining a Certificate of Good Standing for your business or relocating your company to another state, are also quite affordable.
Taking into account all the pros and cons of BetterLegal services, we can recommend this service for your firm. Nevertheless, you can save significantly by choosing an alternative option.
FAQ