Corporate Creations service has been in the LLC formation market for several decades and during this time, has managed to get positive reviews not only from its clients but also from its employees. In addition, Corporate creations LLC is accredited by the BBB, which shows its reliability.
But it should also be noted that this service is somewhat inferior to its competitors. For example, it doesn't have as many reviews, and its website doesn't have enough information on creating an LLC, which is so important for business owners. But more about this later.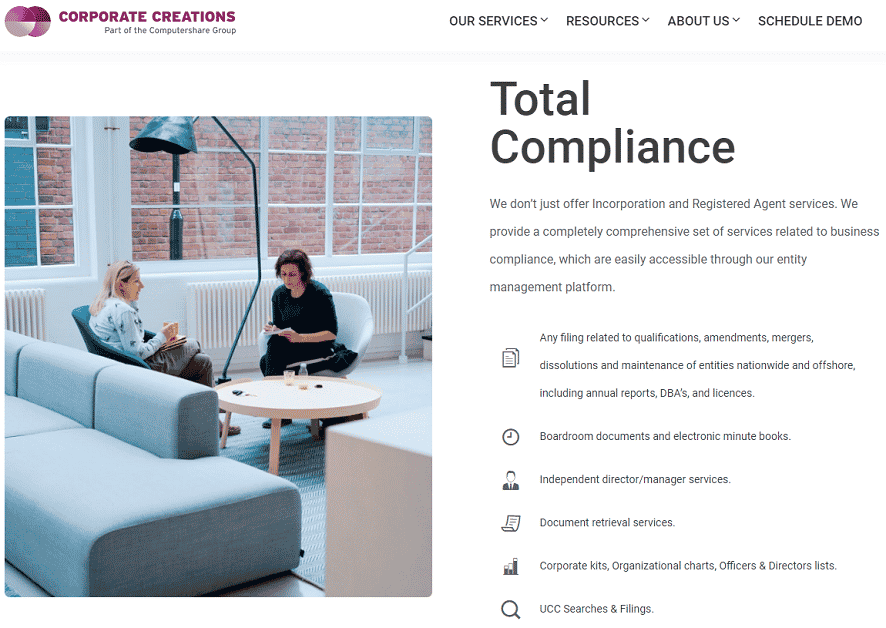 Is Corporate Creations Legit?
The company opened its doors to clients in 1997 and has since served Fortune 1000 firms. Thus. the provider has impressive 25 years of experience as of 2022.
Is Corporate Creations legit? Yes, it is, and you can see full company information in the table below.
| | |
| --- | --- |
| Corporate Creations address | 801 US Hwy 1, North Palm Beach, Florida 33408, USA |
| Income | 17 000 000$ |
| SIC | 8111 811 |
| NAICS | 541611,54111 |
| CEO | Steven D. Buchta |
| Number of employees | 92 |
| Specialty | Law firms and their clients |
Corporate Creations Contact Information
The company takes all orders and mail correspondence at the headquarters address (listed in the table above). Lawsuits and other correspondence for clients are sent to the offices of the resident agents of the particular state. Below, in the table of contacts is a link to a list of RA addresses by state.
The table also includes customer service contacts where customers can leave their Corporate Creations reviews or ask questions about the services.
Please note! Due to fraudulent activities of an unknown third-party company, the service warns that it does not send spam emails and does not advertise its services/products in this way. In the case of receiving such a letter, the firm recommends filing a complaint.
| | |
| --- | --- |
| List of registered agents' offices | https://www.corporatecreations.us/RAoffices/ |
| Corporate Creations website | www.corporatecreations.com |
| Corporate creations phone number | (561) 694-8107 |
| Email address | [email protected] |
Corporate Creations LLC: Overview
The company does everything to simplify, streamline, and make their customers' work more efficient. Therefore, Corporate creations strive to provide the best services on the market and satisfy their clients 100% as this is their mission.
With a personalized approach, the team helps reduce the burden on business owners and saves them time by keeping track of risks, business license deadlines, and reports. They are ready to help you with LLC filing or trademark registration.
For example, you can apply to create your own LLC through the platform in just 10 minutes. Prices for this service start at $99 + state fee (the cost depends on the state chosen). As for trademarks, the firm does not provide search or registration services. But they can recommend those who can help with this issue.
Another important fact is that the company offers businesses a digital system to manage litigation and other information. You can see how the platform works, though, if you request a demo.
But our Corporate Creations LLC review wouldn't be complete if we left out some of the disadvantages of the service. For example, the website makes it difficult to understand the cost of the service, as the prices are inclusive of the state fee.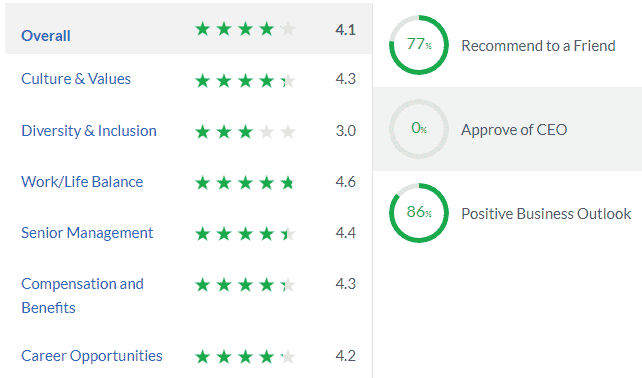 Corporate Creations Registered Agent
As for the Corporate Creations registered agent offerings, they are somewhat high at $299 per year. But given that this provider offers a price match guarantee, customers may get a better deal with them.
Making a decision here will be difficult for people who don't know what type of business to open. So, there is no tool on the site to help them determine whether to open a corporation or LLC.
Corporate Creations Reviews: Advantages and Disadvantages
| Pros | Cons |
| --- | --- |
| Reasonable prices; | Few Corporate Creations LLC reviews; |
| Customer-oriented; | Little guidance on the LLC process; |
| Quality customer service; | Registered agent service is expensive; |
| Price Match Guarantee; | Does not provide trademark services; |
| Government duty is included; | Does not provide trademark services. |
| Bulk discounts. | |
Corporate Creations Services
Let's take a look at Corporate Сreations services and indicate the prices current for 2022. The company offers 4 types of services - compliance services, filing, document search, and others.
Note also that many types of services on the site are not priced. Customers are encouraged to contact customer service at (561) 694-8107 or send a request form for pricing or a free offer.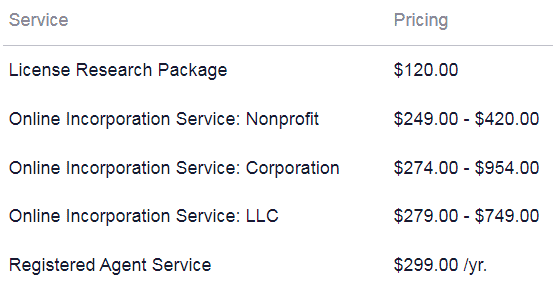 Listed below are those offers that are priced on the site:
Registered agent. Price for LLCs: $299 per year;
Registration. Prices range from $274 to $749;
Foreign qualifications. Prices range from $274 to $749. There is also an expedited filing for $140;
UCC Search and Filing. On average, this service costs $50 per debtor + additional costs.
FAQ