When it comes to legal issues, many people get goosebumps. The unknown makes us feel nervous and uncomfortable. Most legal issues are just like that and so are regulatory formalities. Though businessmen have to delve into law requirements one way or another, they'd eagerly let someone else handle it for them.
And what if you'd be able to receive many different types of legal assistance in one place? Sounds promising, right? This is what Rocket Lawyer does. The company prides itself on being able to provide quality legal help not only at the business level but also at the individual level. Yet, in this article, we are going to take a closer look at Rocket Lawyer's LLC formation service:
Is it a worthy choice for any entrepreneur?
How does it stack up among competitors?
What are its major pluses?
We'll try to reveal every detail that matters. So keep on reading.
About Company: Is Rocket Lawyer Legit?
Based in San Francisco, California, the Rocket Lawyer online legal service has been operating on the market since 2008. Though not that old as many of its rivals, some of which have been providing formation services for two and more decades, Rocket Lawyer has managed to carve itself a decent place among the reputed market players as well as to build a powerful brand within this relatively short period of time.
The provider boasts an impressive customer portfolio with over 7 million business clients in it. More than that, overall, they've served over 20 million customers since they've opened their doors showcasing stunning popularity and customer loyalty.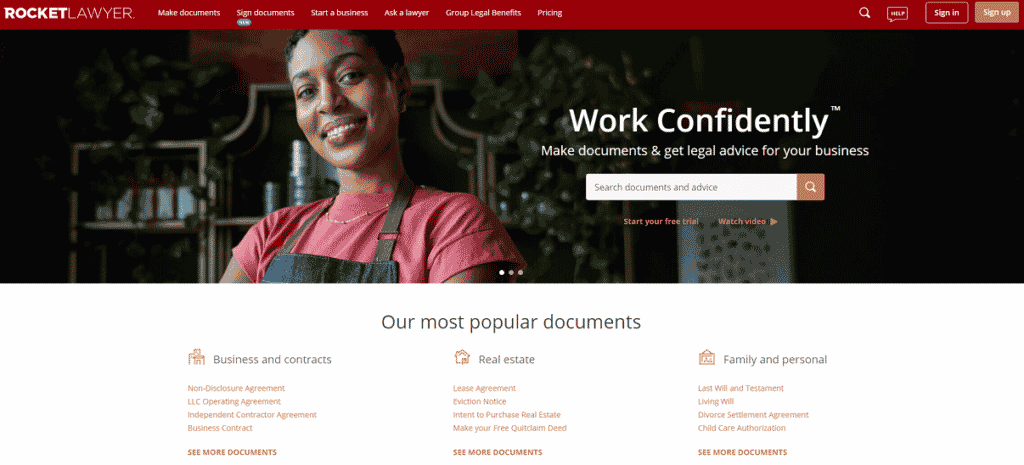 What Is Rocket Lawyer?
Taking into account the range of services provided, Rocket Lawyer is perfect for small companies setting off to a bigger business journey and individuals seeking quick and comprehensive legal aid on their personal issues. The company even has an in-house team of professional attorneys to deliver expert help to those who need an attorney consultation or advice.
The company fully lives up to its rapid growth and offers a huge range of legal services options through its web-based platform at fixed prices. Some of their most prominent services are:
Business incorporation;
Making legal documents including papers related to business, real estate, family, and personal affairs;
Checking and reviewing legal documents;
Arranging phone sessions with lawyers and attorneys to tackle multiple legal issues from how to launch your own business and handle business transactions to intellectual property management to property ownership, taxes, estate planning, marriages, and divorces.
Notably, the Rocket Lawyer support center is available on working days far beyond business hours. You can reach their phone support Monday through Friday, 6 a.m. to 6 p.m. PT.
Rocket Lawyer LLC Pricing Packages
Straight off the reel, the pricing policy is where Rocket Lawyer somewhat differs from its competitors. In this field, the company applies a bit different strategy and steps aside from habitual LLC formation packages you'd normally find in other LLC services. Instead, they introduce a membership approach. In other words, all services are provided either on a regular membership basis requiring you to sign up with Rocket Lawyer on a monthly basis or at a one-time fee where you pay a flat rate for any chosen option.
Given the number and type of services delivered by Rocket Lawyer, such an approach is quite reasonable and understandable. It allows for clear and flexible pricing. As a result, you basically get two options when it comes to LLC formation too. While detailed pricing info is available on the Rocket Lawyer pricing page, let's figure out what stands behind those prices.
Non-Member Formation Plan
If you plan to hire Rocket lawyers for LLC registration only, it will cost you $99.99. Though not the highest rate out there, this price is still pretty high, especially taking into account the services it covers.
Name Availability Search: Each state has a database of registered business names, so Rocket Lawyer will help you find a unique name for your future company by checking all the name options you have in your mind through this state database.
Drafting and Filing Your Formation Documents: The most important LLC doc confirming its legal formation is the Articles of Organization. Rocket Lawyer will draft it for you, customize it to your needs, and file it with the state to officially finish formation.
Online Depository: Rocket Lawyer will keep digital copies of all your formation documents in the online storage on their well-protected web platform so that you can reach it at any time you need.
Shipping Hard Copies of Your Docs: In addition to electronic samples, Rocket Lawyer will send hard copies of your formation papers to you by mail.
Regular Customer Support: Rocket Lawyer help reps are accessible via phone and email to give answers to all your ongoing questions. Note that their assistants are there for you from 9 a.m. to 9 p.m on workdays and your emails will be answered in a prompt manner within no more than 24 hours.

Member Formation Plan
It's worth noting that Rocket Lawyer makes its living on legal services overall and formation services are not their only activity as with many other business creation service providers.
Hence, the company offers a monthly membership plan that costs $39.99 a month and covers formation services among others. In part of LLC registration, a monthly subscription embraces the same features provided within a non-member plan. On top of that, though, membership brings quite a number of other benefits:
Creating Valid and Correct Legal Documents: Rocket Lawyer comes up with a variety of legal forms and templates that will let you create a whole range of important legal documents. Reviewed and checked by professional attorneys, these papers are fully enforceable and can be used for many different business-related purposes. You can print them out and sign to share hard copies or put an e-signature and share them online. And the best thing is that you can draft and use as many legal documents within a month as you need.
Registered Agent Service Discount: As you might have noticed, a non-member package doesn't include the registered agent service. So, unless you are going to serve as your own registered agent, you'll have to order it anyway. Within a membership subscription, you'll get 25% off the registered agent service fee, which is $149.99 per year.
Discount on Future Formations: Rocket Lawyer membership allows first-time members to form an LLC for free and provides a 25% discount on future formations.
Free Attorney Services: Within a monthly subscription, you'll also have access to attorney services. 30-minute legal consultations on new issues and the "Ask a Lawyer" service that are priced separately make a part of the subscription. Besides, you'll enjoy a 40% discount on hiring a Rocket Lawyer attorney.
Free Trial Period: Before you pay a membership fee of $39.99, Rocket Lawyer gives you an opportunity to try their services for free for 7 days. At the end of the trial period, you can either pay a monthly rate or decline your subscription.
As you can see, a non-member LLC formation plan alone is not as attractive and competitive as a monthly membership that covers pretty much all formation needs and more. Even if you only need to start an LLC, it's more beneficial to subscribe for a month than paying $100 one time since you can cancel the subscription any time.
Rocket Lawyer Customer Services: Cost
Being a legal service operating both in a business and in an individual sector, Rocket Lawyer has a whole bunch of legal services provided on a by-rate basis. On the negative side, you won't find prices for those add-ons on the website and will have to contact them to get a quote.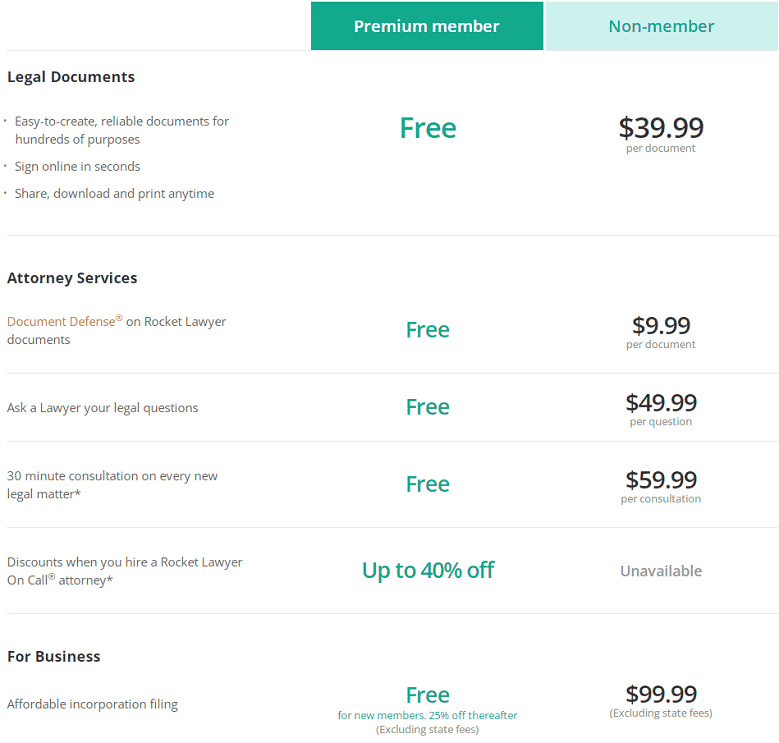 And get ready to wait for about a day before you get that price quote. In this aspect, Rocket Lawyer looks a bit off-putting against its competitors with mostly clear and straightforward pricing options. Anyway, we've made a list of their business-associated extras for you to be aware of what they have on the menu:
Registered Agent Service: As we've already mentioned above, Rocket lawyer registered agent is not a default part of their formation services. Yet, no LLC can do without it, so, you'll have to ensure a registered agent for your future company one way or another. Otherwise, you won't be able to even file your LLC. Many new entrepreneurs often don't put much stock in this issue and either choose to serve their own registered agents or appoint some relatives or friends to perform this function. As the company grows, the workload grows accordingly and at some point, you'll understand that professional service is a better alternative for a registered agent. So, to avoid the need to make any changes in your company documents after formation, it's reasonable to hire a registered agent service from the start. Rocket lawyer delivers it at $149 and a monthly subscription will cut down the price by 25% making it quite competitive.
Operating Agreement: This document is not a must for LLC formation, and many business owners neglect it when filing a company. Yet, it is an essential bylaw much needed by multi-member LLCs more exposed to potential internal conflicts and misunderstandings between the business co-owners. To avoid that, you can simply make and sign an Operating Agreement that will regulate the company management and business relations between its owners. The good news is that Rocket Lawyer ensures free access to Operating Agreement templates while other services charge it extra. And this internal document is something you really need.
Reports: Many states have annual report requirements as well as initial report requirements. Those reports allow the state to always have updated and valid basic information about your company and business. It's a part of the business compliance policy. More than that, there are strict deadlines for filing those reports and fines for failing to file in time. Rocket Lawyer can do all the reporting jobs for you meeting all crucial dates.
DBA Name Service: While an LLC gives your business a legal form if you are not ready to launch formation yet and want to run your business beyond formation but without using your personal name for that, a DBA (doing business as) name is a great alternative for that, and Rocket lawyer has this option on the list.
Amending LLC Documents: There are a number of reasons why you might need to make changes in your formation documents, be it swapping for another registered agent or introducing a new company member, Rocket Lawyer will handle that process for you.
Company Dissolution: Dissolving an LLC entangles nearly as many routines as the formation process. So, similar to the company establishment, you can delegate its formation to Rocket Lawyer specialists.
Trademark Issues: Need to register your own trademark to protect your property rights? Rocket Lawyer will navigate the trademark database and complete the registration process for you. On top of that, the company will even provide attorney advice on your trademark issues.
Rocket Lawyer Registered Agent: Advantages and Disadvantages
Rocket Lawyer has a lot going for it, yet, like any other online LLC service, it's not deprived of some drawbacks too. So, let's see how those pluses and minuses stack up.
Advantages
One-stop-shop for Legal Services: By far, the biggest strength of Rocket Lawyer is the diverse and comprehensive services they provide that go far beyond just business formation. Not only do Rocket Layer forms come in numbers but also the company offers professional attorney assistance on many different business situations and individual legal issues. Whether you need to make up a lease agreement, settle a divorce, or manage business issues, Rocket Lawyer forms and experts will come to help.
Affordable Legal Support: A comprehensive service kit covered by Rocket Lawyer's monthly membership fee makes their services more than reasonably priced. So, it's no wonder the company is one of the most popular online legal service providers on the US market.
Free Trial Period: From the start, Rocket Lawyer's major focus is rather on engaging regular customers to subscribe for months than just selling one-time services. Hence, to let you be 100% sure about your choice, they provide a free trial period for 7 days, during which you'll be able to test their services. Besides, there are no obligations on subscription afterward. You don't have to sign with them if you don't want to.
Accessible Customer Service Hours: Unlike with many other LLC services, the Rocket Lawyer customer support center is available within 12 hours on business days. You can contact their help reps from 9 a.m. to 9 p.m on Monday to Friday.
Smart Refund Policy: Many big and reputed companies offer refunds, and Rocket Lawyer is not an exception. If you provide a claim within a month after placing an order, they will come up with a 100% satisfaction guarantee by either handling the issue, crediting the funds to your Rocket Lawyer account for some other services, or simply paying your money back in full.
Intuitive Form Builder: Rocket Lawyer boasts an impressive library of legal forms, and a form builder tool will help you easily find the needed template and create a document customized to your specific situation.
Document Defense: It's a Rocket Lawyer branded feature ensuring all forms and docs are reviewed by experienced attorneys to prevent any mistakes or inaccuracies.
Online Legal Advice: The company provides online legal consultations within its membership subscription so that you can contact a professional on any ongoing legal issues.
Disadvantages
High Non-member Formation Price: If you look at LLC formation service alone, a Rocket Lawyer fee of $99.99 is quite high and services included are not worth that money.
Unclear and Tricky Pricing Structure: While membership does bring a lot of benefits including some financial perks, the whole Rocket Lawyer pricing structure is quite tricky. Discounts provided on key services still leave those services payable and the prices for many add-ons are not publically available and need to be quoted separately.
Rocket Lawyer Reviews
There is hardly any other company that can boast such impressive customer support and feedback. Even LegalZoom backed by an army of reviewers lags behind. Despite the fact that Rocket Lawyer has been in the industry for slightly more than a decade, its popularity is extremely high.
Where Can I See Reviews for Rocket Lawyer?
You can find tons of Rocket Lawyer customer comments on such websites as Trustpilot, Best Business Bureau, Consumer Affairs, Google, Sitejabber, etc. While those reviews are mostly positive by nature, there are several complaints and dislikes as well. Overall, the company scores high ratings on all those websites.
| Service | Review |
| --- | --- |
| BBB | "Your website states that creating a cease and desist letter is free with no stipulations, however, once you actually complete the form the website demands that you sign up for a trial, which in turn implies that the service is not actually free once the trial runs out." |
| TrustPilot | "I am a Realtor and do a lease listing about every other year. Rocket Lawyer is awesome for that." |
| Glassdor | "Great environment and management! Management is awesome, they coach you if you are falling behind without making you feel bad, and they genuinely care about your life and that you are happy at work. They help you find work that fits your strengths. They are always getting food catered and offer free snacks in the break room, and they are always trying to keep it fun and light at work. You will make friends fast here, everyone is very friendly and willing to help out. They have had us working from home during Covid-19, which has been amazing and is helping us stay safe. They are willing to work with you on scheduling if you have school or family matters to work around." 5 out of 5. |
| Consumer Affairs | "I will always refer everyone to Rocket lawyer. Customer service is top of the line and so are their services and documents provided to the public. Not to mention pocket-friendly. You can't go wrong with Rocket Lawyer!! They strive to do and be better for their customers. Love how insightful and up-to-date they are on documents of every aspect. 5 stars all the way around!!" (с) Crimson of Corrigan, TX |
Something else that sets Rocket Lawyer reviews apart from comments on competitor services is that many of those reviews are quite detailed ones and praise Rocket Lawyer as a comprehensive and all-around legal service instead of pointing out some specific feature or aspect. Most often, though, customers appreciate the diversity and completeness of their legal form and feel pleased with Rocket Lawyer's free trial period.
Should I Start an LLC With Rocket Lawyer?
Rocket Lawyer is a prominent online legal service in many concerns, including LLC incorporation. Their industry experience and customer feedback are really hard to beat as well as the scope of services they provide. However, not solely built around LLC formation, the Rocket Lawyer platform rather targets monthly subscriptions than independent one-time purchases.
With that, their separate LLC formation package is at the higher price end at $99.99, especially given the features it embraces. A membership option is a more reasonable choice and will be of great use for more experienced business customers with varying business needs and more complex business scenarios who need regular legal support.
On the other hand, if you have little to no experience in business and are a first-time LLC starter looking for a comprehensive all-in-one offer covering the registered agent service without added legal support, we recommend that you consider some other alternatives.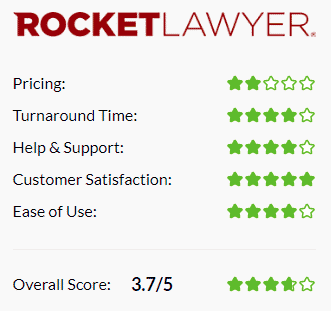 Rocket Lawyer Alternatives
By far, the only reason why you may look for an alternative to Rocket Lawyer is a limited budget since the company is not the cheapest LLC service out there. If what you need is an affordable and comprehensive online LLC service, ZenBusiness will be hands down the best option to consider.
Their prices are more than budget-friendly starting at $39 for LLC formation and cover everything you need to start your business including a whole year of registered agent service. On top of that, ZenBusiness have quite a number of maintenance services down their sleeve not only to take your company off the ground but also to give it a smooth start in a big business journey.
Frequently Asked Questions