The market of digital formation and compliance services abounds with different alternatives. Widely popular big market players track closely with smaller local companies that are less advertised and, as a result, are less known to the general public. Vcorp Services is one of such smaller companies.
Its name doesn't pop up here and there and doesn't appear in multiple ratings or reviews. However, this provider has a lot to offer in the area of corporate products and services. So, if it has caught your eye, you've come to the right place.
Is Vcorp Services Legit?
The lack of popularity doesn't mean a lack of competence. Vcorp was founded back in 2003 as a legal service provider and still operates in this industry today. Thus, the company has been delivering all types of legal assistance to corporate and individual customers for nearly two decades.
Initially established as a private firm, in 2016, VCorp was acquired by Wolters Kluwer Group as a highly successful growing business to further strengthen the group's compliance product portfolio. As a result of a merger, Vcorp Services has become a part of CT Corporation. And today, it's a smaller company backed by a reputed bigger name and solid corporate quality standards.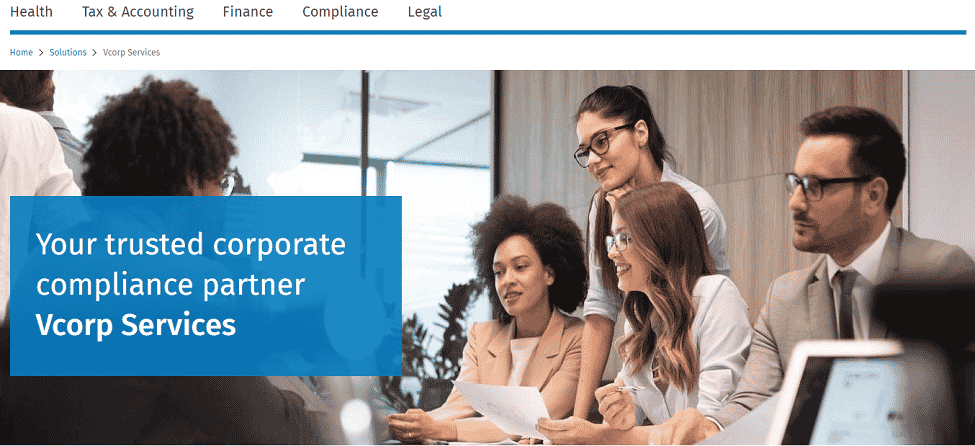 VCorp Overview
Lagging behind the industry top-liners in scale and brand power, VCorp doesn't lag behind in the scope of service. Supported by only a few dozens of employees, the company is a national formation service and registered agent service provider. You can rely on its help in any of the 50 US states which puts it in a row with more powerful competitors that are the talk of the town.
Having been in the formation and compliance industry for nearly 20 years, Vcorp Services has enough expertise and skill to be called professional. Yet another contribution to its trustworthiness and solid company image is the tens of thousands of customers the provider has served over these years.
When it comes to customer feedback, you won't find VCorp reviews on Trustpilot, Google, Consumer Affairs, Site Jabber, and other independent reviewer websites. There are a few complaints on BBB, yet all of them are responded to by Vcorp's specialists and settled. Besides, you'll find a couple of positive comments on Yelp praising the service quality and speed.
VCorp Pricing
On the Vcorp Services website, they claim they ensure cost-effective pricing, which is in line with average market rates. Casting a quick look at their prices, we must admit that the provider lives up to its promises.
Speaking of the service range, in this aspect, VCorp is not inferior to its more hyped-up contenders. It comes up with a generous service menu embracing business entity registration and a whole bunch of related options and solutions. Some of the products are even exclusive to VCorp and won't pop up on the service lists of its competitors.
Vcorp Filing Solutions
VCorp ensures a wide range of filing services, thus, saving you the trouble of contacting state authorities and digging into formalities:
Entity formation ($154): Vcorp LLC service is not only about forming LLCs. Corporations, limited partnerships, and nonprofits are also on the list;
DBA registration (price quote): If you want your business to operate under a different name, you can file a DBA (doing business as) name and let VCorp's specialists complete the formal part for you;
Foreign Qualification ($203): Let Vcorp Services file for a foreign qualification to enable you to move or expand your business to another state;
Amendments ($154): To make any changes in your business structure, name, registered agent, equity, etc., you'll have to file amendments to your formation docs;
Reinstatement ($166): If your company has been involuntarily dissolved due to losing its good standing status, you can bring it back to life via a reinstatement procedure;
Dissolution ($166): Should you decide to quit doing business for some reason, VCorp can help you legally dissolve the entity.
Mind that most filing services also entail compulsory state-specific fees that will be displayed to you as you place an order.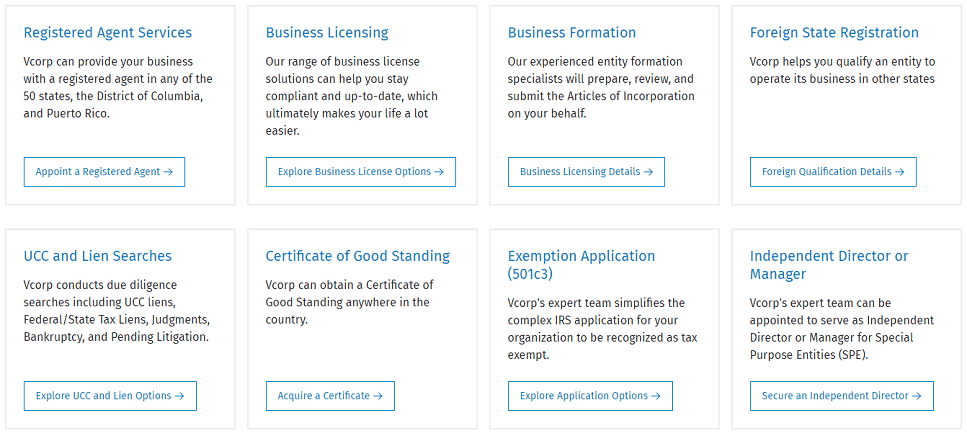 Vcorp Registered Agent Solutions
Vcorp registered agent service is not the only one on the list. Let's take a look at all options:
Registered agent ($120): An LLC or corporation requires a registered agent to lawfully run its business. You can choose VCorp to serve as your agent when registering your business or swap for this service for your existing legal entity;
Specialty contract agent (price quote): Certain types of transactions accompanied by legal agreements require special representation, and you can get it with Vcorp;
Independent director (price quote): Special purpose entities call for appointing an independent director or manager and Vcorp will come to help here too.
All VCorp agent solutions are available across the US. You can order it for any of the 50 states.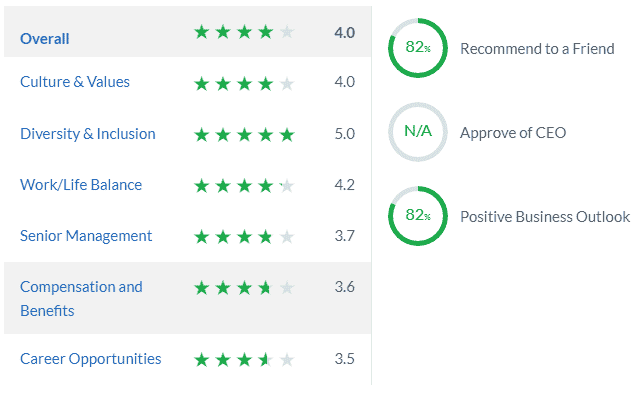 Vcorp Compliance Solutions
There are a number of state requirements you'll have to observe for your legal entity after the formation and Vcorp has a choice of appropriate services to help you out with that.
Licensing services: the company can do the license search for your future business at $149 or assess if your existing business meets the licensing requirements at $323;
EIN ($82): An Employer Identification Number or a Federal Tax ID is a necessity for any legal entity at some point. Note, though, that you can get it from the IRS for free;
Tax registrations ($209): Vcorp can complete payroll tax and sales tax registrations for you;
S-Corp Election ($83): The provider will fill in the IRS Form 2553 on your behalf;
Annual report ($72): Let VCorp Services take care of your annual report filing.
Vcorp Services Pluses and Minuses
| Pluses | Minuses |
| --- | --- |
| Long track record | Lack of brand power |
| Supported by a team of professionals | Confusing order process that might result in faulty charges |
| Nationwide service | |
| Unique service range | |
| Competitive pricing | |
Vcorp Services Contacts
VCorp address:
25 Robert Pitt Dr #204
Monsey, New York, 10952
VCorp phone number:
845 425 0077
VCorp website:
http://www.vcorpservices.com/
FAQ