Opening an LLC can seem like a daunting task, and there are many services out there ready to help you with this process. This review is about ZenBusiness. We have tried to answer all the critical questions you may be interested in. These are prices and the real expenses for this agency, time for new venture formation, quality of the support team, Zenbusiness reviews, evaluation of its credibility, and more useful things.
In addition, we will figure out what other related services you can get from this provider and what aren't too imperative features they add in their plans or try to impose some other method.
We hope that this information will assist you with getting a full picture of this provider and making the right decision.
Is ZenBusiness Legit?​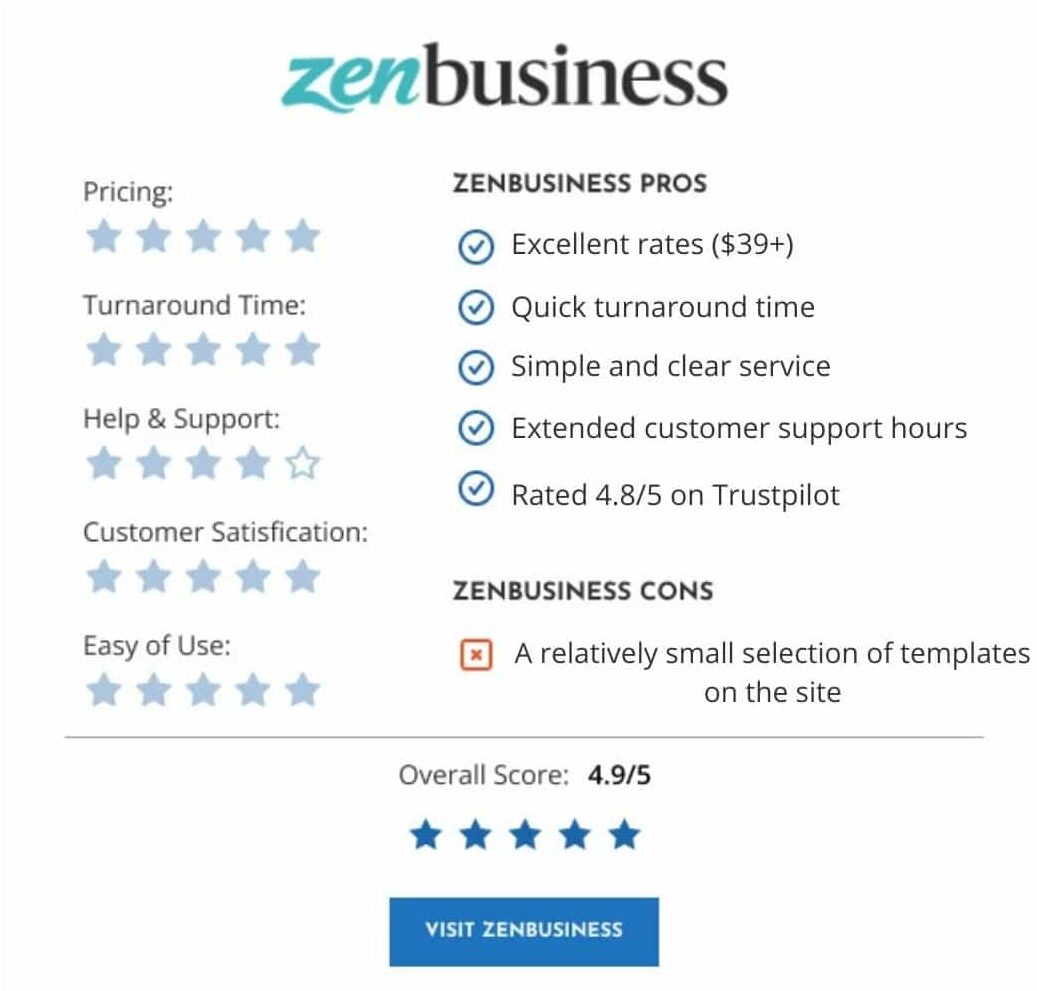 Their Starter kit covers everything you need to create LLCs or corporations. The price of this package is only $39. For that money, you may form a company, get an off-the-shelf Operating Agreement, as well as a registered agent service for the first year.
More expensive plans include basic functionality but offer other useful services.
The turnaround time at this company is minimal, the client support is splendid, and the prices are reasonable compared to their rivals.
We recommend ZenBusiness as one of the top services for starting an enterprise. Besides, we ranked them first in our own chart.
ZenBusiness Quick Overview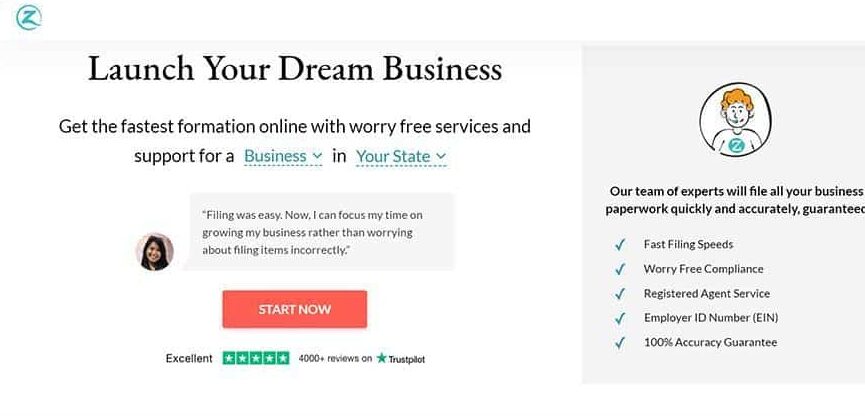 It has been known on the market since 2015 when it was established by Ross Buhrdorf, the former Chief Technology Officer at HomeAway. It is a venture-funded public benefit organization. The place of formation is Austin, Texas.
Their purpose is to help everyday Americans launch their own businesses and make their dreams come true. The firm offers low-cost assistance in setting up LLCs and corporations, as well as a list of other services to assist in a productive start-up.
In November 2021, Zen Business said that they had raised $200 million in investment at a valuation of $1.7 billion. The Reuters news agency also reported that billionaire investor Mark Cuban joined the company as their attorney and speaker.
The core values that the agency shares are:
Simplicity and transparency: honest, fair work without any hidden fees;
Protection: You will be in good standing with the state;
Startup assistance: the company awarded more than $100,000 in grants to small businesses in 2020 only.
For people looking for ways to launch their own entity, ZenBusiness offers a full range of features, including:
Company creation services in any of the U.S. states. Including name check, as well as the fulfillment of all state standards (e.g. publication of a notice in NY);
Registered agent service. In America, every business should have its own agent. The company is ready to perform this role properly, reliably, and on favorable terms;
Regulatory compliance assistance. Your venture will maintain its good standing with state agencies. In addition, this firm will take care of timely annual reporting;
Help with other bureaucracy. Their experts can assist with obtaining an IRS tax number and more;
Building a company site. This provider will register a domain name for you and help build a platform for your entity;
Providing templates and assistance in drafting papers. The company offers templates for an Operating Agreement, corporate bylaws, banking resolution, etc.
Even an inexperienced businessman can quickly and efficiently launch an enterprise with ZenBusiness.
This provider will assist you with your future company registration with minimal cost. Meanwhile, it is not a law or accounting firm, and therefore, you should not expect them to give you legal or tax advice, or to represent you in the courts or any such matters.
ZenBusiness Pricing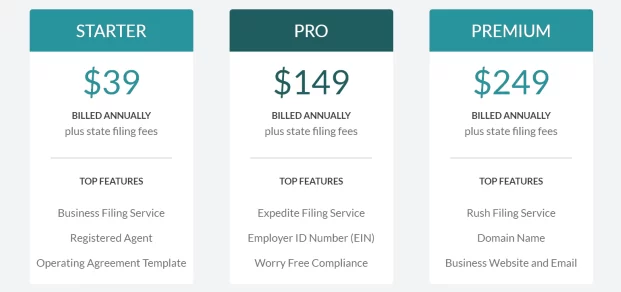 In this table, we have listed the most important plans:
| Service | Starter Plan ($39) | Pro Plan ($149/year) | Premium Plan ($249/year) |
| --- | --- | --- | --- |
| Basic business registration | Included | Included | Included |
| Registered agent service | Included | Included | Included |
| Obtain EIN | Plus $70 | Included | Included |
| Operating Agreement | Included | Included | Included |
| Expedited filing | Plus $50 | Included | Included |
| Rush filing | Plus $100 | Plus $100 | Included |
| Business website | Plus $100 per year | Plus $100 per year | Included |
| Domain name registration | Plus $25 per year | Plus $25 per year | Included |
| Worry-free compliance | Plus $119 per year | Included | Included |
They offer three packages: Starter, Pro, and Premium. Even the basic one has all you need to create a new venture:
Drafting and submitting the formation documents;
Drawing up an Operating Agreement (when opening an LLC) or corporate bylaws (for corporations);
Registered agent service.
In addition to the standard services, the extended plans offer additional features. The Pro suite involves expedited filing, an EIN, and worry-free compliance service.
The Premium package also includes expedited filing (even faster) and website support for your entity.
A registered agent is available in all bundles. However, ZenBusiness registered agent also offers to buy this service separately, for example, if you already have a functioning venture.
If you purchase the service separately, the provider charges $99 or $149 per year for the extended option. In the latter case, you also get compliance services.
Next, we'll take a closer look at the prices and services in each of the plans. Almost all features that aren't included in the package you choose can also be purchased separately.
ZenBusiness, unlike many similar providers, uses a subscription-based pricing model. Despite this, if you decide that you don't need a subscription at any time, you can cancel it without penalties or any other additional fees.
ZenBusiness Starter Plan: $39 + State Fees
Their Starter package contains all the services you need to incorporate your business. If you are looking for a simple and profitable formation service, this package will be the superior solution.
The main features of the kit are:
Basic registration. It involves submitting key company documents to the Secretary of State and assistance in obtaining a company name. Expedited filing is not covered but can be ordered separately;
Providing an Operating Agreement form, which is the main document for any LLC. This paper protects your funds in case of claims and lawsuits, describes the activities and rules of your organization;
Registered agent service. Any venture in the United States is required to have an agent. They handle correspondence, primarily legal correspondence, on behalf of your firm.
You can see at what stage your company formation is through ZenBusiness' online dashboard. Copies of all important documents can be sent by email and/or downloaded from the site as soon as they become available.
Besides, this suite offers extra services that might be helpful for you:
Annual reports. Their specialists will help you satisfy your state's annual reporting requirements. The company will alert you to filing deadlines or will submit all required papers on your behalf;
Accounting consultation. The specialists will assess your needs and recommend the main methods of bookkeeping in accordance with the peculiarities of your venture. The company does not provide accounting services but can give preliminary advice;
Google Ads credits ($150). Such assistance will be helpful to businesses who plan to use Google Ads. After you apply, you'll receive a promo code from ZenBusiness that you can use your Google account to offset your advertising costs.
The Starter bundle does not contain any of the expedited options. Normal processing times can vary from state to state, ranging from 2-3 days to several weeks. If you want more specific information, go to their website and select the state you want.
In cases where the time frame turns out to be too long, you can always pay separately for expedited filing at the individual service rates from ZenBusiness.
The suite renews automatically after one year at a cost of $119, which covers the annual filing service. If you don't need it, be sure to cancel your renewal on time.
ZenBusiness Pro Package: $149 + State Fees
We recommend the Pro plan since it is ideal for most types of business.
This package is the most demanded and, in addition to the features of the cheapest kit, it covers several more useful ones. The most significant of them are the expedited establishment and compliance services.
With the Pro package, you will get:
Expedited filing. Your forms will be processed out of turn, which speeds up the turnaround time. The exact period depends on your state and the workload of specialists. Most often, the minimum term is 4 days, and the maximum — 2 weeks;
Obtaining an EIN. This is the Employer Identification Number, which is issued to a company at the federal level. Actually, it is the same Social Security Number but not for individuals, only for ventures. You will need it when establishing an entity, opening a bank account, filing tax returns, and hiring employees;
Worry-Free compliance. Business owners often don't have time to track changes in state regulations or may simply not be aware of the obligation to file a report. The service encompasses 2 amendments per year and helps you maintain a good business image;
Banking resolution template. You will need this form when you open a business checking account for your LLC.
This plan renews automatically at $149 annually, which covers registered agents and compliance monitoring services.
ZenBusiness Premium Plan: $249 + State Fees
In addition to the primary features, the Premium package also involves the fastest possible full formation, as well as web-related services. It fits those who want to get their company up and running as quickly as possible and need a basic website.
If you are going to be involved in e-commerce, or you need a high-quality website for your business, we recommend that you study the possibilities of special website builders, for example, Wix or Shopify is perfect for that.
When you choose the Premium suite, you will enjoy all the benefits of the Pro kit, as well as such extra services:
Rush filing. This method allows for the shortest possible period of LLC or corporation formation. Of course, the exact period can only be estimated based on the chosen state and all the peculiarities of the future business. However, it usually does not exceed a few days. Sometimes, after the purchase of the Premium plan, clients get an answer in just one day;
Company domain name. They will register a proper domain name for you when it is available;
Business website. ZenBusiness will help you quickly design a basic site with all the main settings;
Corporate email. The agency will set up a business name email address for you. You will have 5 GB of storage for your correspondence and a convenient web service.
In most cases, entrepreneurs may not use the additional features associated with the creation of the site and deal with this issue later. We usually recommend using other services for a corporate site.
The Pro plan is renewable for $249 annually. You will get all the services of the Pro suite, the fastest possible registration, and services to design your site.
ZenBusiness Registered Agent vs Competitors
We have compiled a handy table where we compare ZenBusiness and its main competitors' pricing policies.
Read the detailed descriptions of basic, full, and full+website formations below.
| Provider | Basic formation | Full formation | Full+website |
| --- | --- | --- | --- |
| ZenBusiness | $39 | $149 | $249 |
| Rocket Lawyer | $140 | $290 | - |
| LegalZoom | $178 | $477 | - |
| Northwest Registered Agent | $225 | $225 | - |
| IncFile | $149 | $149 | - |
Basic formation includes core business registration services. They cover the mandatory filing of the Articles of Organization and Operating Agreement (for LLCs), or the drafting of corporate bylaws for a corporation.
The full formation provides all the basic services, as well as a registered agent. This service will be required by the vast majority of business owners.
The full Formation + website involves all the above services, and also contains domain name registration, creation of a basic corporate website, obtaining security certificates, email, and other services essential for a venture's online presence.
To understand the differences between ZenBusiness and its main competitors in more detail, you can read about each company and their comparison in our articles.
ZenBusiness vs LegalZoom
When comparing ZenBusiness and LegalZoom, we recommend that you opt for ZenBusiness since LegalZoom has underperformed in several categories at once.
Most importantly, the cost of setting up a business at LegalZoom proved to be very high. This firm shows some of the most expensive prices among competitors, with plans that do not include valuable features.
Furthermore, launching a business through ZenBusiness is faster, and the level of customer satisfaction is higher.
For a detailed comparison of these providers, check out the "ZenBusiness vs LegalZoom" article.
ZenBusiness vs Swyft Filings
Swyft Filings offers very attractive prices and deadlines compared to its peers. Nevertheless, ZenBusiness is also impressive in these respects. And the service price is noticeably lower.
In addition, Swyft Filings often engages third parties to perform services and sells a lot of unnecessary features.

The approach of ZenBusiness is much more rational.
For a detailed comparison, take a look at the "ZenBusiness and Swyft Filings" article.
ZenBusiness vs IncFile
IncFile noticeably loses to ZenBusiness in almost every category. Although the simplicity of service in both companies is equally strong, the customer satisfaction of ZenBusiness is much higher than that of IncFile.
Plus, they get the job done much faster, the company's prices are lower, and its customer service is better. Overall, we recommend choosing ZenBusiness.
For a more detailed side-by-side comparison, read the ZenBusiness and IncFile review.
Which Plan Is the Best Value For Money?
All of the packages available at ZenBusiness are competitively priced.
ZenBusiness plans, unlike many competitors, do not include unnecessary services that are used to inflate the price. There is also a high degree of flexibility for adding needed services that are not covered by the selected plan.
If you need a reliable and convenient startup assistant, choose the ZenBusiness Starter plan. You will get everything you need here: a basic LLC registration, an Operating Agreement, and registered agent service.
For most enterprises, we recommend the Pro package. It renders all the necessary services for a quick start and successful operation.
With the Pro package, you can obtain quick incorporation and everything required for a business. The Premium plan offers even more features, plus your own website. But we still prefer to choose specialized website builders, such as Shopify or Wix, for full-fledged sites.
ZenBusiness Additional Costs and Hidden Fees
There are no hidden fees in ZenBusiness. You only pay the amount you see on the site.
But you should keep in mind that when you sign up for any plan, ZenBusiness will start a subscription mode with a yearly payment for their services. On the one hand, it may be more convenient to have a separate package for a one-time business formation plan. On the other hand, the subscription can be canceled at any time without any fees or penalties.
Canceling ZenBusiness Services
In the cancellation policy section, the company states that you can refuse some or all paid services at any convenient time by simply writing to [email protected].
You just send a message to the ZenBusiness support team and your subscription is canceled. You can do this whenever you want. However, sometimes, you may be required to pay an additional $25 fee. These are rare cases and are only related to certain services.
It's a little harder to cancel a registered agent service. According to US law, you have to choose a new agent first, and only then, you can cancel the ZenBusiness service.
ZenBusiness Pros
Let's take a closer look at what sets this service apart from competitors like LegalZoom, IncFile, and RocketLawyer.
Great Pricing + $240 in Freebies
Setting up any business always entails certain expenses, and therefore, it is essential to optimize those costs. Spending too much money on legal services or administrative needs is the last thing your company should do at the start-up stage.
ZenBusiness, as part of its Pro plan, offers everything your company requires at one of the best prices. Most competitors listing a similar or lower price do not include any important services in their packages.
Let's compare:
ZenBusiness — from $39;
Competitors — $150-$350;
Lawyer — from $300.
As you can see, ZenBusiness has the best deals.
Nonetheless, the low price is not the only thing that can be significant in LLC or corporation formation. ZenBusiness can provide very useful value-added services and bonuses that set it apart from the competitors.
$150 on Google Ads
You will be offered a $150 bonus on Google Ads. It will be a perfect solution if your business operates on the Internet. You will receive a coupon with a promo code that you can use on different types of Google ads.
Free CPA Assessment (standard cost is $40)
Licensed CPAs help you decide on the best accounting and taxation options for your venture. You'll get valuable guidance for a successful launch.
Virtual Business Guide ($50)
You'll have a comprehensive how-to guide that covers everything you need to run your new business online. The tips include resource selection, online communication methods, and marketing tools.
Quick Turnaround Times
When studying the Zenbusiness reviews, so many people tell us that it only took a few days to form a business with Zen, even if it is during peak season!
If you want to explore the company reviews in detail, go to the ZenBusiness page on Trustpilot. You can also find the agency by using a search. Select "Date" on the page to see the fresh reviews first.
The exact time frame is difficult to predict. The outcome is affected by such factors as the state, the period in which you apply, and just pure luck. Sometimes, it is possible to register an entity very quickly, other times, you have to wait. The reviews can't guarantee anything.
A Seamless Experience For First Time Business Owners
For the first time, LLC formation is challenging, although, with ZenBusiness, the procedure becomes simple and comfortable. Specialists will help you with preparing and submitting documents and guide you through the whole process. You can control all the steps online, and it takes a few minutes to send the information for business registration. ZenBusiness will handle the rest.
The provider will notify you in a timely manner about the progress, and you will receive all your documents by email or in person. All notifications will be sent to you in real time.
You will clearly understand what is happening, what stage you are at, what to expect next. They will always help you understand the details. We think that's a big plus.
Professionals Through and Through
ZenBusiness has helped thousands of customers with LLCs, corporations, business names, and trademarks. In the U.S., this service is considered №1.
Business formation service is offered by many lawyers, accountants, and specialized agencies, but most often, they are much more expensive than ZenBusiness. However, not many providers handle LLC or corporation formations. Lawyers outsource the business registration process. Hence, we recommend that you cooperate with people who specialize in one sphere only.
It will be difficult for you to choose a company that proves to be more experienced and professional compared to ZenBusiness.
Great Customer Reviews
When researching the credibility of this organization, we have studied a huge number of customer reviews on Trustpilot. Most business owners give very good feedback. You can also read any of the more than 7300 reviews on this portal.
It has become one of the most popular services. The rating on reputable sites like Trustpilot is 4.8 out of 5. The company has been operating since 2015 and has already collected many reviews and almost all of them are positive.
The service is praised for the speed of registration, simplicity, and convenience. The quality of customer support service is also highly praised. Specialists efficiently help solve problems and answer questions of novice business owners.
Extended Phone and Chat Customer Support Hours
Once you enter the world of business, you'll realize that 24-hour + weekend services are practically nonexistent.
Phone
1-844-493-6249
Email
[email protected]
Customer support hours
Monday through Friday 8 a.m. to 8 p.m.
Sunday 10 a.m. to 7 p.m.
Extended customer support hours are especially beneficial when you're processing your legal documents and need to contact your registered agent's department. Only a very small number of ZenBusiness competitors offer similar options, so we consider this a strong plus.
They Are a Public Benefit Company
Public Benefit Corporations should combine a for-profit component with social, economic, and/or environmental benefits. The statement of purpose has to include the public good causes.
ZenBusiness awarded more than $100,000 in aid to small businesses in 2020. The statement of purpose lists assistance to more than one million businesses to launch by 2025.
We, as business people, support solutions like this!
ZenBusiness Cons
Of course, no company is perfect, and ZenBusiness is no exception. Thus, we will also discuss where, from our point of view, the firm should improve. Yet, these criteria will not be particularly important for the majority of business owners.
Business Website Functionality Is Limited
We think that working with organizations that are experts in a particular field is always the best idea.
ZenBusiness is almost a perfect solution for LLC or corporation formation. This is where we would recommend them. But when it comes to website development and domain name registration, we advise you to seek help from other service providers.
As for e-commerce, Shopify looks very interesting, and for creating corporate or any other websites, the Wix constructor is extremely handy. You will get access to a large variety of solutions, tools, and a list of services here.
On the other hand, the cost of the website along with the domain name and email is only $110 at ZenBusiness. This is a very reasonable price compared to powerful popular website builders. If the website is not the main element of your business, consider this offer.
Subscription Messaging
Clients of ZenBusiness often ask why the company issues a new bill to them every year. To avoid confusion, let's explore in detail what services are provided on a one-time basis and what is offered by annual subscription.
The Starter plan, as part of the subscription, includes annual filing. For the first year, the sum also includes business formations, with a discounted price. After that, the subscription will cost $119, and all other services are provided at the price of the first year.
The Pro plan offers a subscription for filing and Worry-Free Compliance. You can learn more about each service on the company's website in the Services section. More often than not, both these services are useful for ventures, so we recommend this plan.
The Premium subscription, in addition to the services described above, covers:
Website hosting;
Domain name (URL) registration;
Security and privacy certificates;
Business email.
One thing to understand is that ZenBusiness does not oblige anyone to enter into long-term agreements. If you decide to refuse some or all of the services, you can cancel them quickly and easily and without any penalties.
ZenBusiness Services
We've decided to detail below their offers that you may need, as well as provide more information about each of them.
For each service, we will also discuss pricing specifications separately. But keep in mind that if you purchase a whole bundle of services, the agency will give you a discount for each service.
Business Formation
This service is included in all plans.
Any new business usually begins with the creation of a legal entity. This step allows you to protect your personal assets from liability in case of any problems and provides some other advantages.
For a small or medium-sized business, the most popular option is LLC formation. For an entrepreneur, this form of ownership has three important features that influence the choice:
Limited Liability: Perhaps it is this feature of an LLC that is most attractive to business owners. In the event of a lawsuit or bankruptcy process, your personal assets remain intact. Thus, you may risk your business without sacrificing your personal savings;
Pass-through taxation: In most cases, an LLC is not required to pay separate taxes by type. All losses and income are reported on the tax returns of the LLC members. From the IRS point of view, an entity with one owner looks like a sole proprietorship, and with several owners — a partnership;
Administrative flexibility: Compared to corporations, there are far fewer requirements for LLCs, both for business operations and internal procedures. There are also a smaller number of reports for this type of business.
LLC formation is performed at the state level. This process includes registering the company name, filing the Articles of Organization, and paying the state fee.
Business formation is one of ZenBusiness' main services for future entrepreneurs. Typically, state websites don't have the most user-friendly navigation, the rules vary from state to state, and sometimes, it's not even possible to file online.
ZenBusiness takes care of all the hassles associated with government agencies. At the same time, you are guaranteed correct paperwork, which also speeds up the incorporation process.
You will need to come up with a business name for your future organization. During registration, you can find your best option, and ZenBusiness will check it against state rules and make sure the name is free. If it's not, they will notify you and advise you on the most similar name.
Once all the paperwork is complete, they will send it to the Secretary of State on your behalf completely free of charge. You will only have to pay the state fee for processing the papers. It can vary from state to state between $40 and $500.
ZenBusiness collects state fees on your behalf and submits them to the Secretary of State. Without any hidden fees or surcharges.
To speed up the LLC creation as much as possible, it's best to check the availability of the desired name on your own. Almost all states have business registers of existing corporations and LLCs with an easy online search. It's quick and easy. You can also do a name search with the federal trademark register.
The turnaround time also depends on the states. If you want to create an LLC as quickly as possible, expedited processing will be usually available for an additional fee. On their website, you can check the estimated time to complete your order. It can range from 2-3 days (and sometimes even faster) to several weeks. State government services, as well as the workload of officials, play an important role here.
Operating Agreement Template
It is included in all plans. You can order this service separately for $35.
An Operating Agreement is the most crucial document that defines the work of an LLC. It can be compared to a contract, which describes the activities of the venture, its structure, and the responsibilities of the participants. This agreement is signed by all LLC members.
In many states, LLC activity is possible without an Operating Agreement but it will look like a sole proprietorship. If there is more than one founder, then any disputes over the company's affairs and assets will have to be handled in court. And in case of a lawsuit from other legal entities, the personal assets of the founders would be at risk.
Running without an Operating Agreement makes no sense because it does not differ in any way from a sole proprietorship.
ZenBusiness helps you create this vital document, provides a template used by thousands of LLCs, and advises you on various issues.
Among other things, an Operating Agreement can cover:
How ownership interest should be divided among the members if necessary;
How one participant goes out of business;
Who among the founders manages the company, and who is responsible for some part of the activity;
How key decisions are made;
How an LLC is funded and profits are distributed;
How to include new members in an LLC, etc.
Under the laws of California, Maine, Delaware, New York, and Missouri, any LLC is required to have an Operating Agreement. It does not have to be registered with the Secretary of State, but having this paper is mandatory. In other states, this document is not required but recommended. Most of the time, business owners sign this document.
Registered Agent Service
Included in all packages. This service costs $99 per year as an extra option.
In all U.S. states, it is mandatory for a business to have a registered agent. This is an official representative of your venture who serves as an outside contact and, primarily, to receive legal correspondence, such as subpoenas or other similar documents. That said, a registered agent is not the company's business mailing address or your virtual office. Although some agencies offer these services for an additional fee.
All correspondence from the Secretary of State, the IRS, other government agencies, and law firms will always be sent only to your registered agent. This representative will receive documents on behalf of your company.
All registered agents are required to be available during normal working hours. You can also act as your own agent. But most of the time, this is not very convenient. You won't be able to go out for lunch, have vacations or sick leaves. There are other drawbacks of this solution, too.
Besides, choosing your own registered agent helps keep your privacy because the agent's data is always in the public domain.
It is also critical that you have a registered agent service from an organization that is located in the state of incorporation of your business. If your entity operates in more than one state at the same time, there should be a registered agent office in each state.
People often ask how they can contact their registered agent after forming an LLC. ZenBusiness can be your agent, and you can contact them directly.
In most cases, companies that help you open an LLC or a corporation also provide a registered agent service. ZenBusiness is no exception here. When you use such a service, you may:
Check that your business is running according to the regulations and requirements of federal and local rules;
Get all the necessary documents for your entity. It is easy to do this online;
Make your storefront protected from tax and legal notices with the help of an agent;
Avoid spam and junk emails, they will be received by registered agent service companies for you.
Employer Identification Number (EIN)
It is provided as part of the Pro and Premium plans and costs $70 as a separate service.
An EIN is your employer identification number and federal tax ID number for an LLC. In fact, this nine-digit number is the same as your Social Security Number but for your company.
To learn more about an EIN, see the Employer ID numbers page on the IRS website. Using this code is not only mandatory in many cases but it also helps make bookkeeping easier and protect your assets.
Under U.S. law, most companies are required to obtain an EIN from the IRS. In particular, you are required to use this number if:
Your company is going to file tax returns;
You will hire employees;
You want the LLC to be considered an S corporation;
There will be more than one person in the LLC founders.
ZenBusiness helps you quickly prepare and apply for an EIN with the IRS as soon as you incorporate your business.
Banking Resolution Template
It is included in the Pro and Premium plans. It costs $30 as a separate service.
Banking resolution is a document that allows you to open a company account at any bank and sign banking documents on behalf of the organization.
Most banks require you to provide such a paper when setting up a bank account for a legal entity.
ZenBusiness provides a template of this document, thus saving you time. It is most advantageous to use the service as part of the compliance service in Pro and Premium packages.
Business Document Templates Library
The service is available in Pro and Premium plans or separately for $50.
You get access to an extensive and constantly expanding library with more than 25 types of business documents available:
Company liability waiver;
Individual liability waiver;
Waiver – release of liability;
Freelancer agreement;
Website maintenance agreement;
Service agreement;
Marketing agreement;
Consulting agreement;
Non-compete agreement;
Confidentiality agreement;
Employment offer letter;
Employment agreement;
Employment termination;
Employee compensation agreement;
Termination of agreement and release;
Breach of contract notice;
Partnership dissolution agreement;
Business purchase agreement;
Purchase agreement;
Joint venture agreement.
You will get unlimited access to the library with lots of settings and the ability to download and print documents.
Free CPA Assessment
The service is included in all packages and is not provided separately.
Any business needs bookkeeping and proper taxation. ZenBusiness consults on the following issues:
Tracking and paying invoices;
Managing company books;
Filing taxes, etc.
ZenBusiness accounting assessment will be available in your personal account on the website after you create your LLC.
Thanks to this service, you, as a business owner, can get a better understanding of bookkeeping issues and pay maximum attention to the things most important to your business. You also save at least an hour's paid consultation fee with a specialist.
Expedited and Rush Filing
The processing time can be as follows:
Standard — up to three weeks (free);
Expedite — up to 10 days ($50);
Rush — 1-6 days, ($100).
ZenBusiness usually processes applications on a first-come, first-served basis. Paying for expedited or rush filing will help you skip the line. This is especially important if you need to open a business immediately or are in a busy period.
Unless you need to register a venture as soon as possible, we don't recommend using any kind of expedited filing. More often than not, ZenBusiness works efficiently even without additional fees and submits documents within a couple of days.
Worry-Free Compliance
It is Included in Pro and Premium plans. Separately, it costs $119 per year.
Most U.S. states require you to file your annual report on time, and if you fail to do so, you will face heavy fines. When you order this service, ZenBusiness will audit your operations promptly and file the paperwork on your behalf. You will also get two free amendments throughout the year.
In addition, this provider will monitor your compliance with the state and notify you of what actions need to be taken if necessary.
If for some reason you miss the deadline, you'll get free assistance from ZenBusiness along with an action plan to fix the problem. The agency is also ready to cover any penalties if the problem is due to their fault.
This security guarantee will help you deal directly with business development and not be afraid to miss reporting deadlines. Moreover, you won't have to constantly monitor changes in the rules.
Website, Domain, and Branded Email
Included in the Premium plan. You can order it separately for $125 a year.
Today's businesses need a website regardless of whether the company will sell goods and services online or the website will help simply provide information, contacts, and news. Having a site increases credibility, and therefore, can be an extremely important factor.
ZenBusiness helps you register a domain name, ensure data security, confidentiality, and create a basic website for your enterprise. You will also be given an email service with an email address that is associated with the company name and site, such as [email protected].
You will be offered a choice of 6 website templates that can be customized to your needs.
ZenBusiness Add-Ons and Offers
In addition to the basic services we have mentioned above, ZenBusiness is ready to support you with many other tasks that need to be solved immediately after business creation.
Here are the services you can also take advantage of.
Business Owner's Policy (BOP) Insurance Quote
In partnership with Commercial Insurance Center, ZenBusiness provides a free quote for an insurance bundle that will include liability, as well as LLC property insurance.
Small Business Online Banking Account
Together with Radius Bank, the firm can help you get a discounted bank account that involves:
Unlimited transactions;
Online banking;
Debit card, and even more.
Do We Recommend ZenBusiness?
Yes, we do.
ZenBusiness will provide you with quality assistance with full LLC or corporation formation at a very reasonable price and in a very short time frame.
The cooperation process is completely online. It is convenient, easy, and fast. You will receive everything you need promptly. ZenBusiness CPAs will give you accounting advice, and you'll also have access to an extensive library of business documents.
After an LLC formation, the company will help your venture always have a good reputation in the eyes of the government and comply with legal requirements. All your questions can be answered for free 6 days a week.
ZenBusiness has already registered thousands of enterprises since 2015, the service is constantly improving its rates, which already look fantastic.
If you are interested in learning more about what you need for business formation, check out our articles: "Best LLC Services" and "Top Business Registration Firms". If you want to compare ZenBusiness with their competitors in detail, check out our comparison articles.
Have you used their services before? Tell us about it, please. Your feedback, positive or negative, may be helpful to our visitors. Thank you!