If you are considering starting your own LLC (Limited Liability Company), you will know that it needs a lot of preparation and hard work. You will also already be well aware that it's a difficult, complicated process requiring considerable thought.
Thankfully, to take some weight off of your mind, you'll be glad to know that assistance is readily available. This is where LLC formation providers come in. They are there to tackle all the red tape for you and ease your venture to fruition.

For a fee, LLC providers will deliver a business formation package designed to cater to all your requirements. This will include things such as the compilation of operating agreements, filing articles of organization, EIN (Employment Identification Number) registration, and much more.
As well as this, they can educate you on choosing the best structure suitable for your particular business and how to maximize its business potential. Another huge plus to bear in mind is that enlisting an LLC formation provider can lower the overall costs of a startup - and who wouldn't want that?
There are now a wealth of online LLC formation providers, and it can be overwhelming when it comes to deciding on which of the companies to pick from. So, to help you out, before a more in-depth look at the 7 best - and worse - LLC providers, here in brief is the essence of the contributing factors that put these three companies on the winners' podium.
TOP-3 LLC Companies for Start Up
ZenBusiness
With an easily navigated website, superb pricing, speedy turnaround times, and very comprehensive service, ZenBusiness have climbed to the top of the formation providers ladder. Furthermore, with an average trust score of 4.8 (out of 5) from almost 7,000 reviews, they have also excelled at customer satisfaction.
Northwest Registered Agent
As well as a speedy formation process and an annual registered agent to assist you 365 days a year, Northwest has also put a priority on client confidentiality. They have made a point of highlighting their promise of protecting your privacy so you won't have to worry about information being sold to a third party.
Active Filings
Active Filings has been up and running successfully for 19 years and has over 100,000 customers. If you want to keep things simple and just require the bare bones, this is the company for you. They offer a basic formation service - for free - with no hidden fees and lifetime customer support.
The Best LLC Services in 2021 And 2022
Let's compare prices, as well as the pros and cons of the best rated online LLC formation services.
Company
Order
Processing
Time
Registered
Agent
EIN
Registration
Operating
Agreement
Zenbusiness
2-3 weeks
Included
$70
Yes
Legalzoom
30 days
$299
$159
$99
Incfile
Next day
Included
$70
$40
Swyft Filings
7 days
$149
$70
$35
Northwest
1-3 weeks
Included
$50
$50
ZenBusiness: Best Website to Start LLC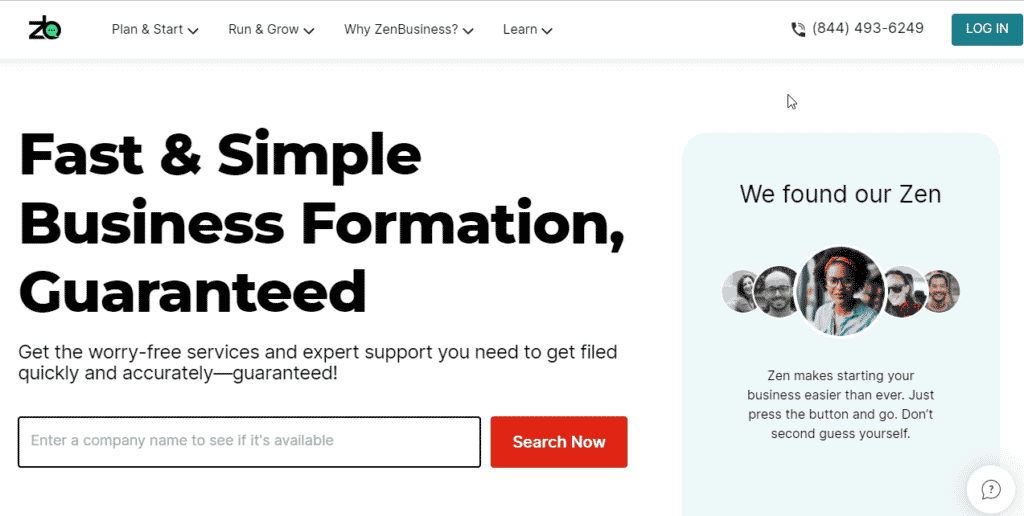 Based in Texas and operating since 2015, ZenBusiness offers three very comprehensive, competitive packages: Starter, Pro, and Premium. If you are venturing for the first time into running your own business, the entire startup process can be incredibly daunting - a fact that ZenBusiness is fully aware of.
As such, they have the best LLC website of all the providers reviewed. It's easy to navigate, is tidy and informative, and maintains its ease of understanding throughout. Its simple layout and intuitive structuring are immediately reassuring - there is no intimidating flotsam whatsoever.
A top reason for pushing ZenBusiness to the top of the score sheet is that for only $49, the Starter bundle alone gives you every service considered essential to the full formation of an LLC. This includes being given a necessary EIN (Employment Identification Number) for your business, document preparation and filing, and an operating agreement.
As well as all this, for free, you will additionally get a registered agent service for a year. This is a valuable part intrinsic to all LLCs. Having a registered agent is a legal requirement in all 50 States, so this is in no way a token freebie.
An intuitive website, excellent value for money, and speedy LLC formation aside, ZenBusiness also has an impressive number of satisfied customers. Reassuringly, their Trustpilot reviews number is nearly 7,000 with a trustscore of 4.8 out of 5, illustrating that the formation of your enterprise will be in safe hands with ZenBusiness. Read more in our Zenbusiness LLC review.
Northwest Registered Agent: Best LLC Formation Service for Start up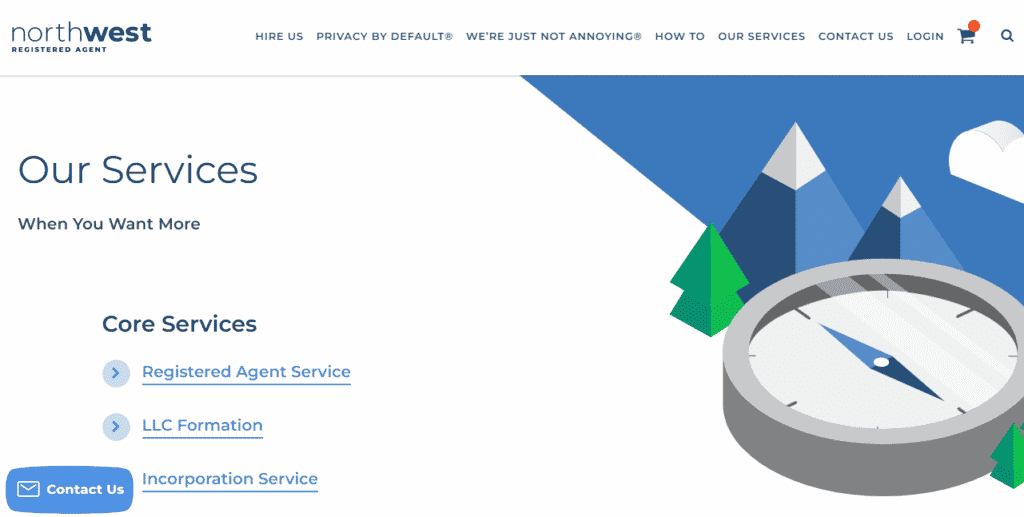 Simplicity, speed, and privacy are fundamental to this LLC formation provider who has a solid reputation for reliability. Starting at the beginning, Northwest Registered Agent is another top candidate with a clear, simple-to-navigate website, with all the necessary information made easy to understand.
You also won't be distracted by partner offers or surprised by hidden costs while using the website or ordering online. This is a straightforward and to-the-point LLC formation provider, and the website will also help educate you on the legalities and requirements of your startup.
Some LLC formation providers will outsource to third parties but Northwest Registered Agent operates strictly in-house with core staff who are both helpful and knowledgeable. This helps ensure consistency to match their aforementioned reputation for reliability.
Northwest Registered Agent also moves fast, routinely ranking amongst the speediest of providers, further cementing their consistency. Their turnover rate can in part be put down to their same-day filing, across all the states, having made LLC formation services their specialty. Check out Northwest Registered Agent customer reviews.
Active Filings: THE CHEAPEST LLC FILING SERVICE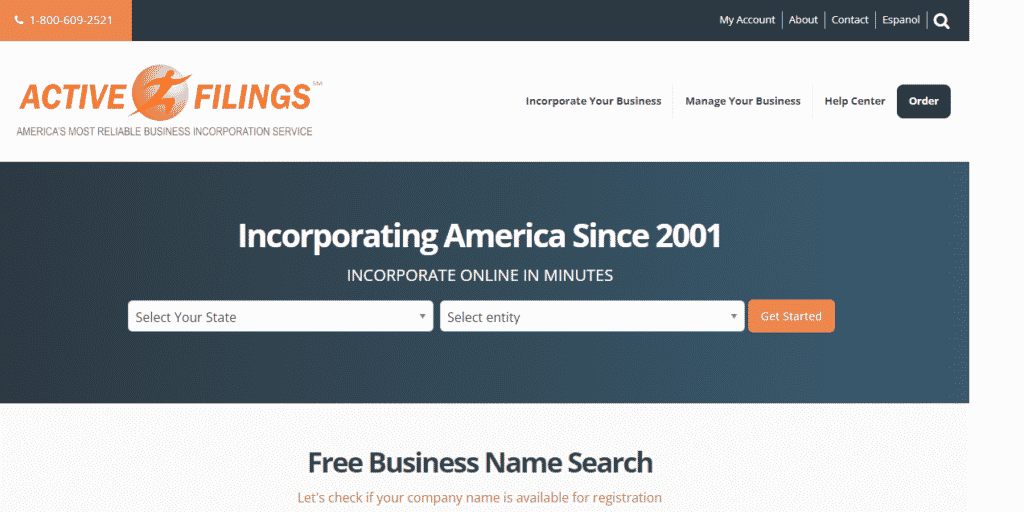 One of the best LLC filing services Active Filings offer their formation service for free. It's a package stripped down to the basic framework of LLC formation but it nonetheless contains every essential component to get your business up and running.
With twenty years of experience and knowledgeable staff, they are equipped and have a good customer service record, with many customers going back to the early days of the company's founding. They are also multi-lingual, offering assistance to non-English speakers, thereby having on-hand support for Spanish-speaking customers.
Turn-around isn't as fast as with many other companies, averaging at around 14 business days, but considering this is a time frame for a service that is free, it's hardly something to complain about. However, should you wish to move proceedings along a little faster, for an additional fee, it is possible for the process to be accelerated.
Inc Authority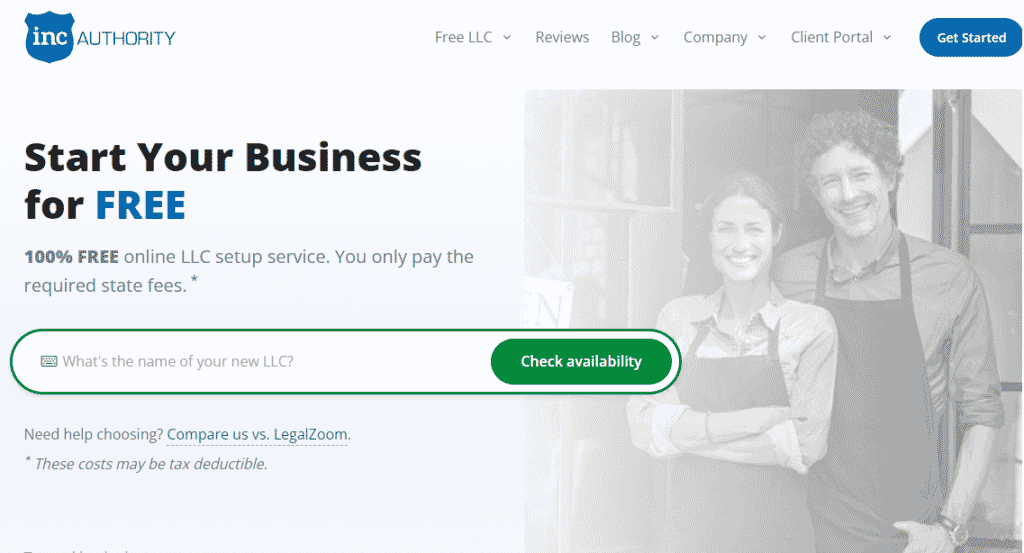 This Nevada-based LLC formation provider is one of the more mature in terms of longevity. Having now been in business for more than 30 years, they have hundreds of thousands of business formations to their name. To back up their credibility, they are partnered with some big household brand names, such as PayPal, Bank of America, and GoDaddy.
Inc Authority offers an enticing free basic package that comes with a bundle of necessities, however, it lacks one service which is widely considered to be essential: operation agreement drafting. This may put some off, or catch the unwary out.

On the opposite end of the spectrum are the company's three premium packages. These are priced at $399, $499, jumping then to the top-tier bundle priced at a whopping $799. These pricings are somewhat dubious, and for the turnaround time, which is not the fastest of the companies being looked at here, seems excessive to say the least.

On the positive side though is their track record and customer satisfaction history. Much like ZenBusiness, Inc Authority also has an impressive Trustpilot score of 4.8 out of 5 from almost 7,000 reviews. This, coupled with the big brands who are happy to be partnered with them is clear evidence enough that Inc Authority is more than doing something right despite the high costs. More details - in our Inc Authority LLC review.
Swyft Filings: Best Online LLC Formation Service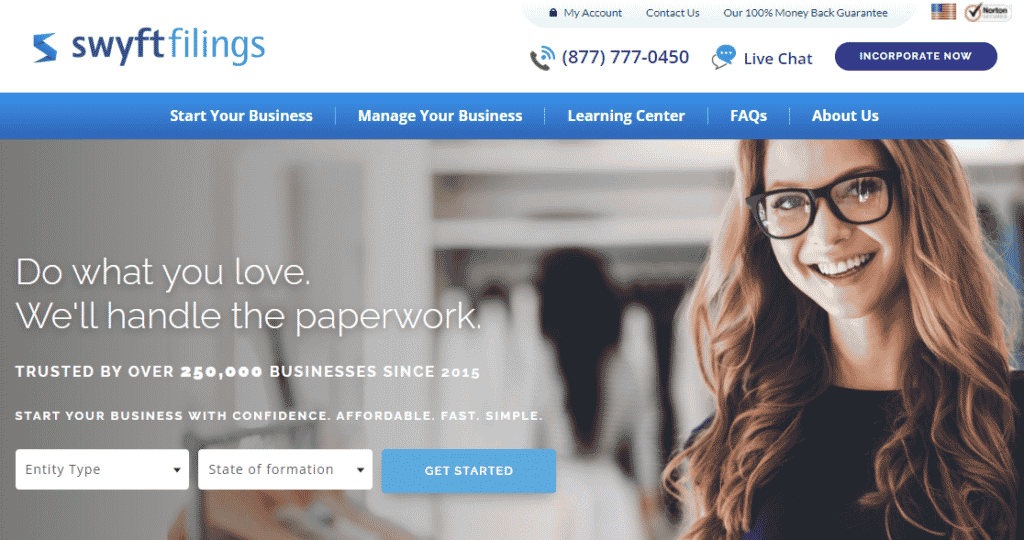 One of the younger companies, now in just their 6th year of operation, Swyft Filings nonetheless has a huge number of positive reviews - approximately 30,000 of them at the very least. There are LLC formation services out there with a lot less than that who have been in business for more than twice the amount of time, so to have such a wealth of customer satisfaction to their name is no mean feat.
The least expensive bundle they offer is well priced at just $49 but a couple of services that are generally considered essential are not included: a registered agent service and operating agreement drafting. However, there are other services that come included for free, which to some extent, could be seen as compensating for these omissions.
Also, Swyft Filings has one particular option which the majority of LLC formation providers don't offer: customization. This allows customers to pay for a variety of add-ons so as to be able to tailor their formation to more specific requirements. Options from the higher-priced bundles can be cherry-picked individually and attached to even the lowest-priced service bundle, an option in itself, which may override the features missing by default.
Another unique feature to SwyftFilings is refunding, something that is rarely offered by LLC service providers. In the event of Swyft Filing somehow making an error with any paperwork and filing, you will be reimbursed the service charge.
They may not have the speediest of turnaround times, and they may not be the most competitive of the LLC formation providers but with such a massive number of top reviews, Swyft Filings are a solid, knowledgeably staffed business to trust your own enterprise with. Read more in our SwyftFilings review.
Rocket Lawyer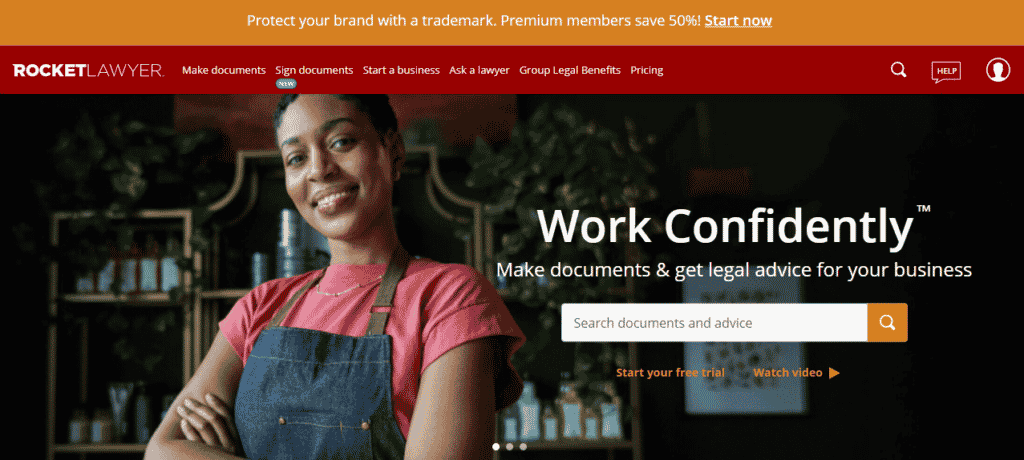 With more than ten years of experience under their belts, one of the best online LLC services Rocket Lawyer has now firmly made a name for themselves as a go-to legal aid business. They have amassed a very decent number of positive reviews and a credible trustscore on Trustpilot, establishing a solid record for reliability and consistency.
LLCs, as is the case with many businesses, are not their specialty service - something to be aware of - so the positive accolades are most likely not all specifically in regards to the LLC formation service they provide. Don't let that fact put you off though. They, as an organization, have proven themselves overall to have the muscle to handle a wealth of legal aid business issues, and LLC formation is very much a part of their success.
Rocket Lawyer offers a monthly subscription service, priced at $39.99, or alternatively customers can buy individual services for $99.99. However, to do so will mean that the costs soon pile up, and ultimately you will find yourself paying way above what you would have had you instead opted for a bundle package with one of the competing formation providers. It's an unusual approach to LLC assistance but this in part can be put down to the fact that they don't specialize in that field, as stated earlier.
The turnaround rate with Rocket Lawyer sits somewhere in the middle of the road. They are not the fastest but by no means are they the slowest. Their average turnaround time is 7 days but for an added cost, this can be expedited.
Rocket Lawyer is trustworthy and safe hands to handle your business interests and has a lot of positive customer reviews to back their promises up. The drawback is the lack of competitive pricing and turnaround times, which could be seen as a reflection of the fact that LLC formation is not their specialty. Read Rocket Lawyer reviews and find out what do the customers think about them.
BetterLegal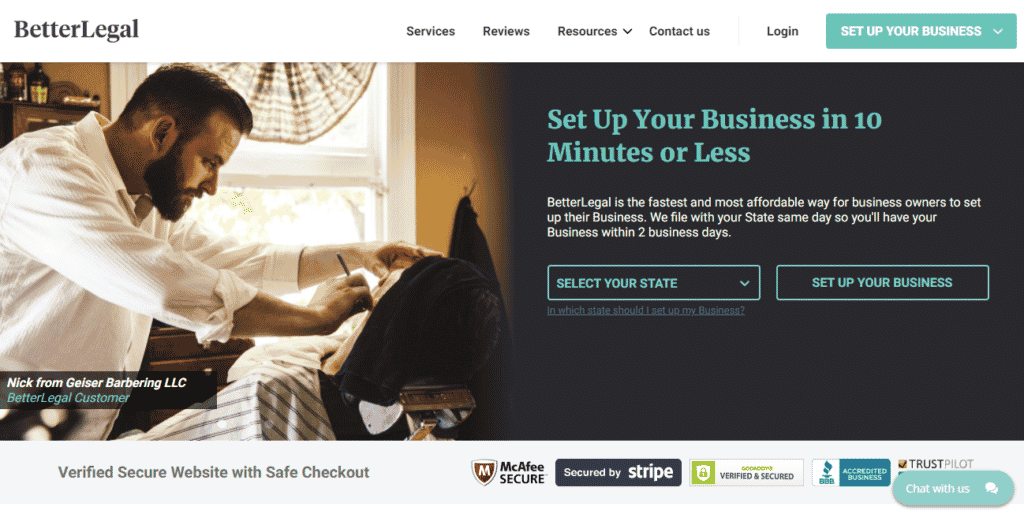 Another Texas-based company but this time a smaller - and younger - one, specializing in LLC formation. Well reviewed and with hundreds of positive testimonials, they file with your state the same day, having your business up and running two days later.
However, there isn't much room for maneuver: unlike most LLC formation providers, they only offer a single package. Priced at $299, the largest contributing factor to this price not being the best value for money is that it provides a number of services that, somewhat oddly considering the price, are not even essential.
BetterLegal offers one of the lowest costs for a registered service agent with an annual asking price of $90, but this may come with a third party in tow and maybe off-putting if you want complete privacy.
Despite what on the surface seem like drawbacks when compared to other companies, mainly the questionably high price entailing elements that are surplus to requirements, BetterLegal has done very well so far in regards to customer feedback, earning themselves good ratings regardless of some potential drawbacks.
IncFile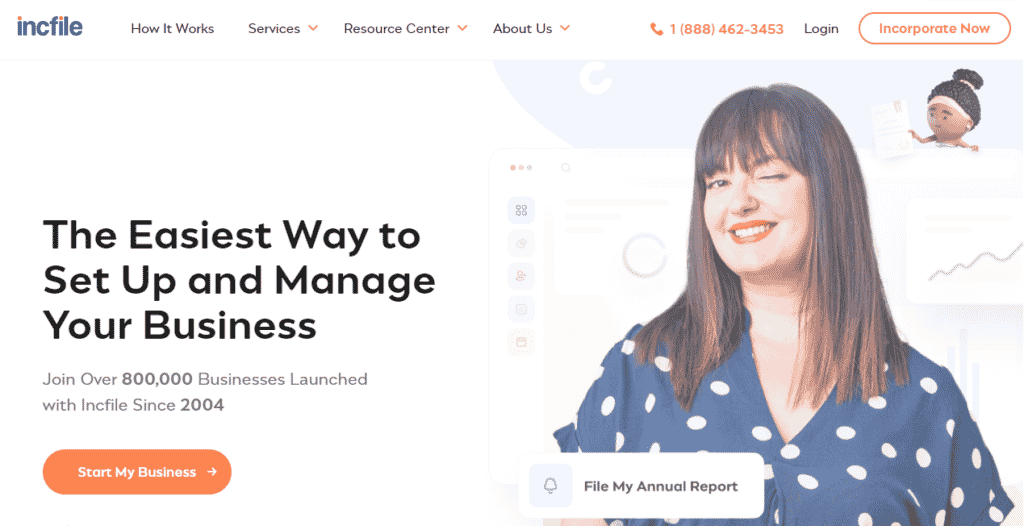 Being among the most recognizable names in the LLC creation business, IncFile is one of those LLC formation services you've probably come across before. Based in Houston, Texas, the company markets itself as one of the best free services around.
It's true that their LLC formation is free with the base package that even covers a registered agent subscription, but it may still result in additional charges, often without explanation. Their other plans offer quite a few features for $149 with Gold or $299 with Platinum, but once again it's impossible to predict their efficacy.
However, if you have the means to invest in their top service plan, its benefits include taxation and banking assistance, domain registration, expedited processing, and unlimited support. Apart from helping you obtain EIN and or file for the S-corp tax election, this is one of the few LLC formation services that will also offer access to its contract template library.
IncFile's testimonials show there is really no sure way to tell whether it will be your best investment due to their low-cost LLC formation or one of the most cumbersome experiences of your life. The larger bulk of Trustpilot reviews is decidedly negative, centering around unreliable client support, general poor communication, and unpredictable charges for LLC formation services.
Despite holding a favorable customer rating on BBB, IncFile's accreditation has been revoked due to its negligent attitude toward addressing LLC performance issues identified in customer complaints, maintaining a good track record, and practising transparency in marketplace transactions. Technically LLC formation services aren't required to hold BBB accreditation, but the sheer volume of poor feedback from verified customers across platforms could deter some newcomers from considering the service.
That said, IncFile is still a rather popular choice among entrepreneurs who wish to save money by getting a free LLC formation, especially if their startup capital doesn't give them the luxury of choice. And to be fair, if you are in no hurry to form a new limited liability company, this provider could suit you well enough. Read more in our IncFile LLC review.
Nolo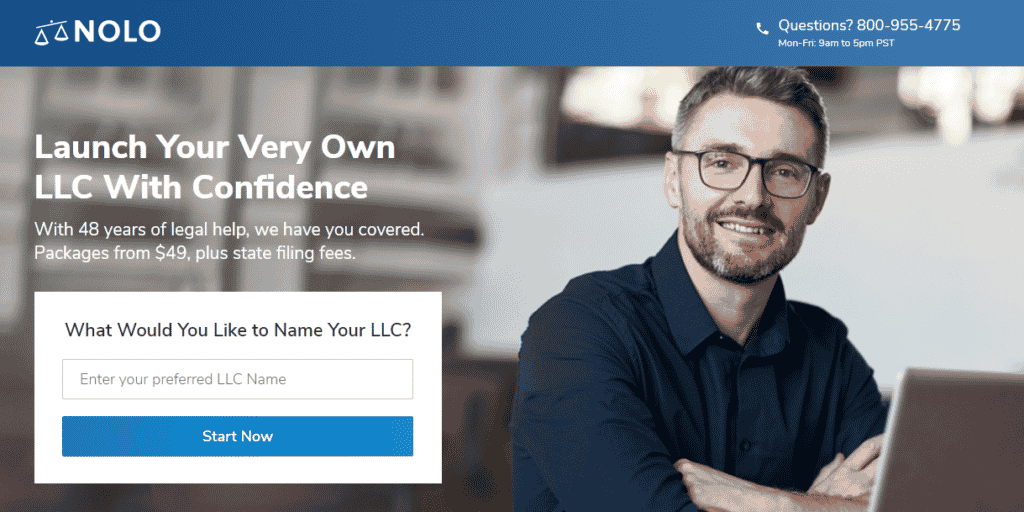 Although not strictly speaking one of the clear-cut LLC formation services, Nolo is nevertheless a formidable resource hub for business solutions. Instead of pushing a single line of products for LLC formation, Nolo functions as a network for business offerings such as an extensive lawyer database for connecting with clients as well as DIY business publications.
Aside from business guides, software, and legal directories, they also provide branded packages for creating an LLC priced at $49 for all states. By ordering it, you will be getting the bare basics of LLC formation services like the registration itself as well as availability and error checks, business guides, and unlimited support. All in all, they market themselves as one of the best online legal services.
Their testimonials are largely negative, though most of them come from professional attorneys using the service as a source for legal leads—something that, according to the customers, leaves much to be desired. The few LLC formation reviews they have also reflect negatively on the company, specifically Nolo's slow response times, delays in service, and lack of transparency.
LegalZoom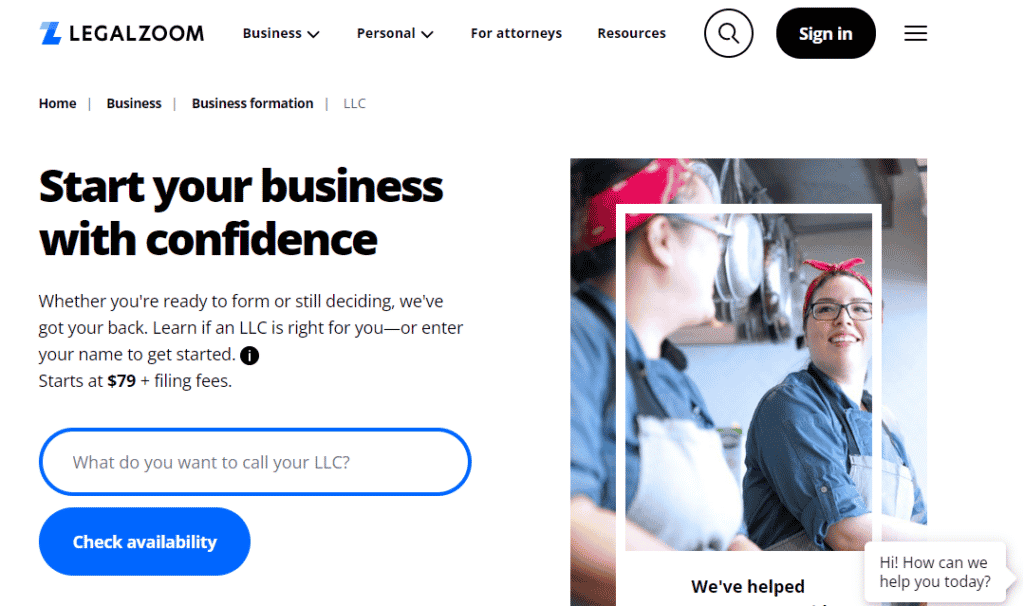 Another recognizable name among online LLC service top-sellers is LegalZoom, a California-based company that has been providing online business formations since 2001. Their economy pack is one of their strong selling points, priced at only $79 and including registration basics, it's practically a bargain for more modest startups.
If you're weighing your options between this company and similarly-priced LLC formation services, the first point of comparison to consider should be feature availability. Despite LegalZoom's overall expansiveness, they do lack the very basic registered agent service on all LLC package levels.
In regards to customer assessment of business formation services, LegalZoom is presented in a more or less favorable light save for a number of negative reviews and LLC service complaints on BBB. Their Trustscore is currently set at 4.2 out of 5 based on 934 reviews, but where they truly shine is on platforms like Sitejabber and BBB.
All in all, if you don't mind paying for a bare-bones type of deal, or maybe you don't really need a registered agent, LegalZoom is a convenient method to form a new LLC as long as you're ready to deal with laggy interface and customer response times that are a bit on a slower side. Check out LegalZoom customer reviews on our website.
BizFilings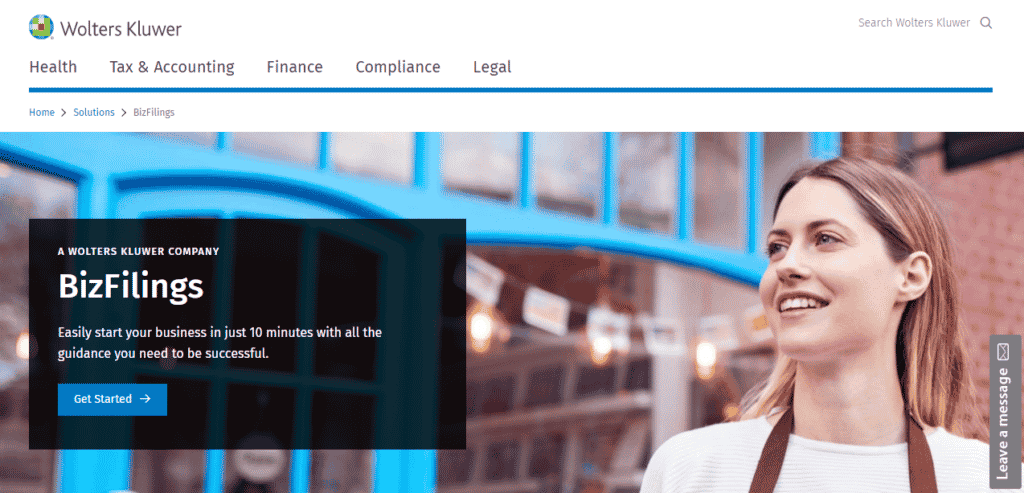 All signs point to BizFilings being one of the oldest LLC services in its niche, and that's without counting that it's been a functioning branch of a Wolters Kluwer corporation that launched in Delaware as early as 1990.
Since opening its doors in 1996, BizFilings has established itself as a provider of online LLC formations with a rather thorough approach best reflected in its 5-step processing procedure and responsive client care. Their cheapest LLC formations package costs $99 sans state fees—not the lowest price point in the industry but nevertheless attractive given its inclusion of registered agent and compliance tools.
Less appealing is their lackluster online presence compared to other LLC services. Despite its decade long experience, BizFilings is yet to build a solid customer feedback base. Currently, they are only represented on BBB (a single five-star review) and Yelp (4 reviews with an average score of 2 out of 5) which is rare for LLC formation services of such experience.
Overall, this provider stands apart from other LLC formation services in its price range for its attention to detail and caring representatives, but they do lose some points due to unreasonably high feature pricing and their general anonymity within the LLC formations industry which is confounding given how long they've been operating in that field. More about it - in our BizFilings review.
Harbor Compliance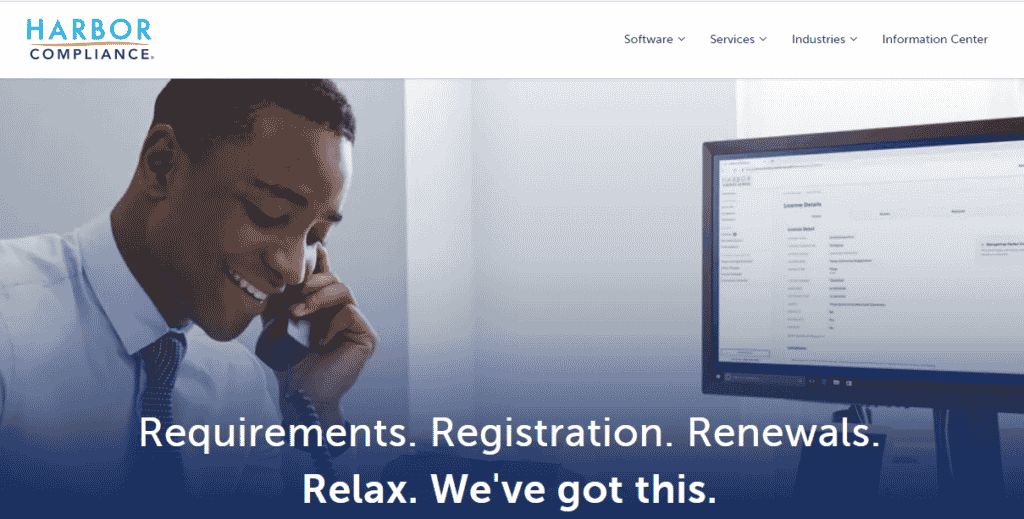 This professional business formation service is a bit different from the rest of the fold that follows a tiered pricing system. Instead, Harbor Compliance works with only two plans: LLC formation itself ($399) and ongoing compliance ($799). Paying that much upfront for registration may seem like a lot, but Harbor's wide feature range more than justifies it.
Even with their cheaper plan, you will be assigned a dedicated LLC registered agent for free. After a year of the free trial, they only charge you $99 for this rather essential feature. Other strong points of this package include operating agreement samples, Tax ID, and name checks.
However, cracks begin to show when we examine Harbor's body of reviews. Although they are quite new to the scene of LLC formation services, having launched only in 2012, such a baffling lack of feedback can be a deal-breaker for some LLC organizers. At the time of writing, Harbor has 100 reviews and a 4/5 score on Google, 10 reviews and 3.8/5 score on BBB, and 21 user scores on Facebook.
Nevertheless, it can be a good fit for entrepreneurs who anticipate their business to face complex state requirements, whether due to the rigorous regulations of their industry or the location itself. Harbor's legal resources can be of great help for new ventures as an LLC service, especially if you have to closely monitor your compliance.
Incorporate.com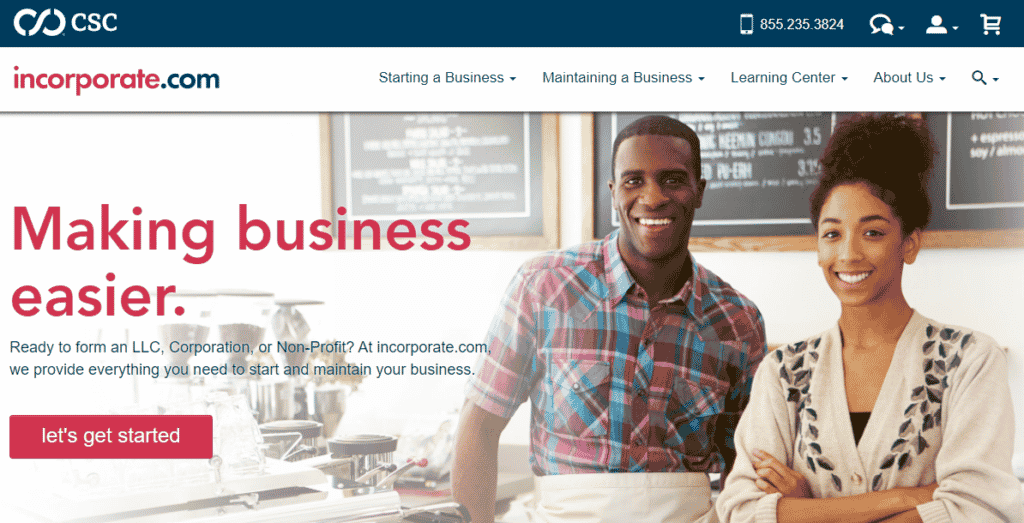 Incorporate's history is perhaps the most fascinating in the entire industry. Their roots go all the way back to 1920 when two ambitious lawyers partnered up to provide incorporation services having done so separately as early as 1899. Of course, all this preceded LLC as a structure, but the fact of the matter is—they definitely know what they're doing.
Their approach to LLC packages is a standard one: three tiers with varying levels of complexity. Starting at $99, the pricing doesn't seem to be too outrageous, but none of the packages, even the top-level $349 option, include a registered agent. This service has to be purchased separately for a whopping $235 per year.
The company's online feedback is also fairly scarce. With only about 50 reviews online, it's hard to tell whether it's a slight against their LLC services or simply a consequence of inadequate promotion. The existing reviews don't exactly paint a pristine picture, though their professional BBB score is currently A+ which is the highest form of industry praise. Read the Incorporate.com review to find out more.
MyCompanyWorks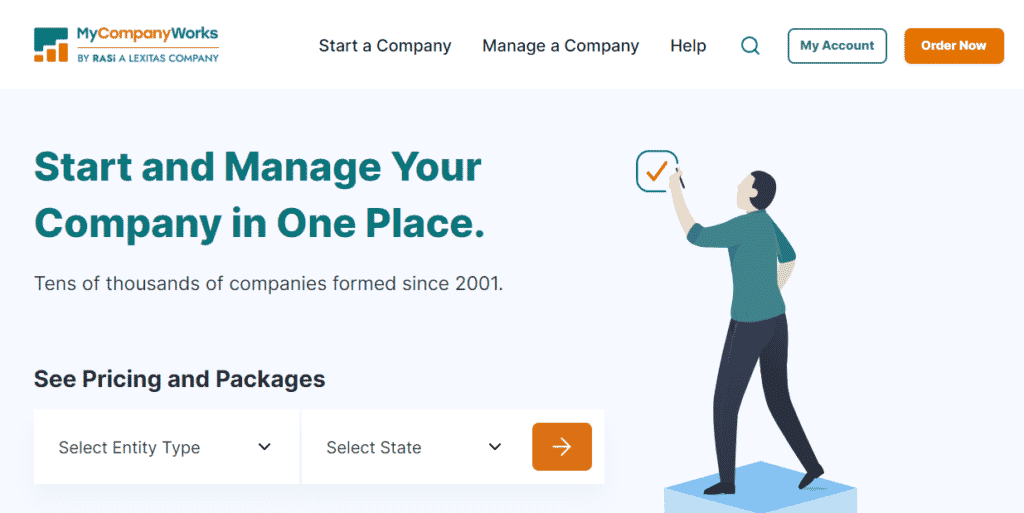 Despite being the designated "newcomer" on the scene, MyCompanyWorks has almost two decades of experience. For all intents and purposes, MyCompanyWorks are far from newbies. Since their launch in 2002, they have conducted over sixty thousand deals, both in regards to LLC formations and maintenance as well as adjacent solutions.
Now, they may be a bit obscure compared to bigger names in the business, but their review base is still far superior to some of its direct competitors. They are mostly represented on Shopper Approved where they hold a score of 4.9 out of 5 based on 3,745 reviews. Admittedly, single-platform representation could speak of a certain bias, but nobody can deny that over 82% of customers are satisfied with their service.
In terms of pricing, MyCompanyWorks is relatively reasonable. Their basic LLC plan costs only $79, but that's not counting any essentials such as a registered agent which costs an additional $99. However, they do have a 100% money back guarantee policy. Overall, this option is more suitable for financially endowed organizers who value reliable rep support. All the details in our MyCompanyWorks review.
What to look for in an LLC Service
Given the abundance of options in the current marketplace, specifically when it comes to the very best LLC services, finding the one that would benefit you in the best possible way could be quite the feat.
And while there is no single service that can be called the best LLC company that's universally appealing to all, you can still find one that works best for your business goals through the gradual examination of their key attributes as expanded below.
Pricing
At this point, it's quite clear that the three-tiered pricing system has been accepted as the de facto standard in the industry. Rarely you will find top LLC companies with single-package systems or those exceeding the staple three, though there are some notable outliers such as Northwest Registered Agent or Harbor Compliance.
Company
Basic
Standard
Premium
Zenbusiness
$39
$149
$249
Legalzoom
$79
$329
$349
Incfile
$85
$234
$384
Swyft Filings
$49
$149
$299
Northwest
$225
What makes tiered pricing so effective is the market inclusivity, i.e. the ability to attract clients of various backgrounds and levels of financing. But what does it mean for customers? First of all, there is more flexibility to your choice as long as you use a company that allows you to select their cheapest plan while adding specific extras as opposed to paying for a bulkier LLC package you don't need.
The best possible option would be finding a package with a free registered agent and doesn't exceed the $300 mark even with all its add-ons. But frankly, if you know enough about the LLC formation process, you could simply buy the most basic of plans covering the filing of your LLC Articles and then handle the rest on your own. This way you will get a sure low-cost LLC formation.
Speed
Often the main thing that future LLC owners look for in a service is the speed of formation. Quite a few providers actually emphasize their fast turnaround times as the key point of their promotional strategy, but, as a customer, always remember to take such claims with a grain of salt.
After all, a provider is in full right to promise single-day processing but they may encounter filing difficulties along the way. And here we encounter the main difference between what each LLC company is capable of and what can be done, realistically, within your jurisdiction on the state's part.
But even if we look at the processing as conducted by LLC providers, there could be glaring inconsistencies in what they advertise and what is actually the case once you sign their contract. If you are considering hiring one of the services that promise priority processing and 24-hour turnaround, be sure to always check customer reviews to see if such claims hold any water.
Customer Feedback
The importance of feedback cannot be overstated when purchasing any products online, but specifically when it concerns entity formation. If something seems just too good to be true, it might as well be the case. However, some LLC providers simply are that good, though the only way to shed more light on their legitimacy is through learning about other users' first-hand experience.
A good way to sort through the large review volume and to get to the truthful testimonials specifically is to use credible third-party review platforms. In addition, it's always better to rely only on verified reviews, i.e. those made by customers whose purchase/LLC website experiences have been verified.
You'll also find that almost all leading companies, including best-reviewed LLC formation services, are bound to have some negative feedback, though its percentage of course varies. In some cases, the positive to negative ratio can be nearly equal, but the fact of the matter is it doesn't always mean that you should disregard the service in question. Experiences tend to vary greatly even within a single month due to various reasons, some of which might have already been fixed by the company.
Some of the best places to source client feedback is through websites like Trustpilot, Shopper Approved, BBB, Birdeye, G2, Google, Yelp, etc. Keep in mind that unlike most of these websites, BBB has two separate ratings: user score accumulated from customer reviews and a business score awarded by BBB's professional team.
In cases when the BBB score is favorable but the customer rating is poor, you can examine customer complaints received by this company and see if they match the negative reviews on other platforms that describe how a new LLC was formed. No LLC formations company is perfect, but even those with negative reviews can do a good job in individual cases, whether it's to form new LLCs or help with compliance.
Ease of Use
Even if it's not your first time creating an LLC, you should still be looking for an LLC formation service that offers clarity. This is true for both how it presents its LLC formations services and how accessible it is in regard to pertinent information.
While most services do have dedicated information centers, not all of them are easy to navigate which defeats the entire point of how-to guides. A good sign that the company actually cares to maintain clarity and user accessibility is a well-structured info section including:
Types of business structures and their differences (LLCs, corporations, partnerships, nonprofits, etc);
Pros and cons of each business type, preferably for each state;
Pros and cons of single/multi-member LLCs vs sole proprietorships;
Taxation information for each business type, preferably with federal and state rates;
Resources for maintaining compliance, obtaining licensing, registering for taxes, etc;
Easily comprehensible guides to understanding the functions of the operating agreement;
Accounting resources and guides to business banking;
Dedicated sections for the company's service rates by state;
A straightforward approach to package description, their features, and pricing.
Even if an LLC provider doesn't have the means to assist you with some of these procedures, such as accounting or banking, they should still provide helpful guides and various resources that could help you find your own way to maintain an LLC.
Additionally, concealing the true pricing/contents for LLC packages through elaborate and hard to navigate links is considered to be in poor taste, though mostly on an ethical level.
It could indeed be difficult to unearth the true value of some providers' services which goes against the entire concept of marketplace transparency. If you find yourself struggling to understand what exactly is offered in each LLC package and how the provider charges you for it, it's generally a good idea to steer clear.
Support
Even the best LLC websites with intuitive interfaces can prove to be inadequate when it comes to connecting users to human representatives, particularly if you need it on short notice.
What makes an LLC provider's support system effective is the ability to quickly identify the relative urgency of each query and address it accordingly.
This is especially true in cases of filing errors when a customer needs to solve any potential issues with their LLC paperwork in a very limited amount of time. So if a provider is alleged to often be late on response times or if they are rather inconsistent in their support, it may not only lead to you wasting your money but also jeopardize the state approval of your application.
When researching your options, always check the validity of a company's contact info and support hours. Make sure to look through testimonials and see whether there is any mention of poor support such as unhelpful representatives or replies that come days or even weeks late. At the same time, pay attention to the companies which are consistently praised for their customer care services.
The quality of customer support is especially relevant for clients that plan on working with their LLC formation service long-term and not only just for the time it takes to form an LLC.
For instance, if you are also using your formation company to receive registered agent and compliance services, you might need a reliable means of contacting their reps, preferably people who are knowledgeable in these subjects. More about how long does it take to get an LLC, read in our article.
What should be considered when evaluating a provider's support system is their availability hours (e.g. if they work weekends or have extended hours), the qualifications of their representatives, accessibility (if it's possible to contact them by phone, email, fax, online chat, etc), and whether they keep their support department in-house, as it were, or simply outsource it to one of the many third-party call centers who would be largely clueless about specific client matters.
Tips for Working with an LLC Provider
It's not always easy to narrow down your choices of an LLC formation company by using only the aforementioned criteria. Even the best filing service can be ill-suited depending on your specific goals. Often, the deciding factors rely on the minutiae of any given formation service's policy. Let's look at a few key points that could influence your decision for the better.
Choosing LLC formation packages with relevant features
There is no shortage of providers who stuff their LLC bundles chock full of features that are only marginally related to the task at hand. This is not to say that these options are useless, but it's more of an issue of managing your funds.
For one, spending money on unnecessary add-ons will only cripple your future financing options. When you look at a package's contents, think very carefully whether half of its features are strictly necessary or if they're just a nice little addition that you could technically do without.
For another, some online LLC formation services can be elusive about the practical applicability of some of the features they offer. If you are an inexperienced business owner, you may look at the attractively extensive feature set with essential-sounding names and decide it will be enough for starting your business. But in reality, most of these extras will end up being half-useful at best.
Certainly, they can make day to day operations easier, but it won't be worth paying a fortune at the very beginning of your launch when you could invest that money in more important aspects of business maintenance.
The general rule of thumb here is this: before you even think of looking up formation services, research the LLC registration process independently and compose a list of things that you are absolutely sure you may need. This includes both mandatory requirements like finding a registered agent as well as optional but highly recommended steps like creating a written operating agreement.
On the flip side, some features found in LLC packages that may seem redundant at first could actually be of greater help along the way. For example, some companies with extensive contract libraries offer subscriptions that allow you to use general and custom templates whenever you may need them. This could be essential for LLCs that plan on active networking and intensive distribution of goods and services requiring you to draft partnership contracts on a regular basis.
If you plan to form an LLC in a state with special prerequisites like publication, you will likely have to look into more services than any other owner would. Currently, the LLC publication is required only in Arizona, Nebraska, and New York.
This means that part of making your LLC legal involves running a publication in local periodicals for up to 120 days. These have to be published successively over the length of 4-6 weeks.
If you're a Pennsylvania or Georgia resident, you might have heard about such a requirement in your jurisdictions as well, but it only applies to corporations for both of these states.
And even if you don't need this specific feature, you should always research the legal intricacies that apply in your jurisdiction so you could select your LLC formation service accordingly instead of chasing after a random top LLC service.
However, if an LLC provider's plans include only surface-level features but omit the essentials like registered agent service, banking resolutions, or EIN, this could be a red flag.
Certain companies also design their packages to be seemingly broad but then on closer inspection, it becomes apparent that the only useful features are the initial filing of the LLC Articles of Organization and customer support, while the rest of the features have to be purchased separately.
All this adds up to form one simple truth: make sure to always read the fine print, check every LLC formation service's terms and conditions, and simply avoid offers that have very little in actual substance.
Keeping track of the recurring billing
Chances are you won't be needing all of the features offered by your LLC package, even if it's one of the basic options. If you don't need any services beyond the initial filing, it might be better to work with companies that provide each of their features separately.
If you do plan on using such regular services as the registered agent, annual reports, tax filings, and more, then make sure your LLC formation service is clear about how and when they plan to charge you for these recurring services.
It's also important to learn about their cancellation policy and third-party charges. For instance, if your LLC formation service outsources their recurrent payment services, the final fee may differ from what they advertise on the website.
In the case of registered agents, most companies are pretty clear on how they charge you for it when forming an LLC. If there is a trial period, say six months or a year, then the first billing will occur on the day this free period expires. Note that registering with a provider for forming an LLC and the date they actually get your documents approved do not align.
With annual reports, you will simply pay for each filing whenever it occurs during the general submission period. In most cases, you will be covering both the state fee and the provider's service fee.
Understanding the terms of expedited processing
It's easy to be misled on the subject of filings speeds when it comes to dealing with LLC services since so many companies are purposefully vague in their package descriptions. If there is no concrete information about whether the expedited filing speed is internal or external in said descriptions, you might have to either look through all of their fine print or contact them directly.
The fact of the matter is, internal processing and external filing are two very different things. When an LLC formation service claims expedited filing without any mention of the state of formation, it is likely they do so in reference to the speed at which they process your application within the company. In short, if you pay extra, the company will review your purchase on a priority basis.
But if you wish to get your formation documents processed with the state faster than the standard times that usually take between 2-5 weeks, the extra fee goes directly to the state. You can use expedited filing even without an LLC service, so if you're creating a company on your own, you simply pay the expedited fee when you file your documents with the Secretary of the State.
Now, expedited filing times and prices vary by state, but the average cost falls within the $50-75 margin. As for the review period, most states can reduce the normal 2-6 week processing to 1-4 business day processing. In some states, you can request same-day processing when filing in person but it may also cost extra.
Registered agent as a non-elective feature
Regardless of how you begin forming your LLC, this stage of the process is mandatory and should be handled very early on. This is due to the fact that no entity is legally permitted to operate in its state of formation or any other state without a permanent registered agent assigned.
The duties of such an agent are imperative for maintaining reliable communication between the government agencies and the company. This includes regular compliance filings, court orders, service of process, and more. It may not seem like much on the surface, but without a registered agent, your company will simply fail to function.
When you hire an LLC service, it's likely you will see this feature represented in each of their packages, or at least the more expensive ones. Plenty of top LLC formation services also offer it separately, so if you already have a valid LLC but need a change of agent, you can find one through a formation company.
The trouble is, a great many LLC formations companies include this service as a permanent fixture, meaning you won't have a choice but purchase it as a part of any of their formation bundles. So if you have already found an agent you'd like to designate but your LLC formation company isn't flexible about their package contents, you will end up paying for something you don't need.
This wouldn't be an issue if some LLC formation services didn't essentially act as middlemen for third-party registered agents who are much harder to check for validity if they are part of the overall LLC package.
To avoid any doubt on that matter, it's best to lean towards formation companies that have their own verified registered agents such as Northwest. And if you don't want this feature at all, your best option would be to work with an online LLC formation service that allows you to pick and choose the features that go into each LLC package.
Electing the right form of taxation for your LLC
You might already know that by default, LLCs are classified as flow-through entities, a designation they share with S-corporations. Such a name is explained by the distinctive way in which these structures are taxed.
Where C-corporations pay entry-level tax and their shareholders pay taxes individually based on their, well, share in the company's profits post income-tax, LLCs and S-corporations are typically exempt from federal income tax altogether.
With LLCs, its members register all profits and losses on their individual tax reports, and the entity itself is not taxed. With S-corporations, the shareholders pay taxes according to their interests.
As mentioned before, an LLC is classified as a pass-through entity if not specified otherwise. But you can actually choose another system of taxation for your LLC, specifically that of an S-corp. It can be done either during the formation or after as soon as you file your IRS Form 2553 within 75 days of your tax year.
But what are the benefits of choosing such a system? Well, despite how relatively unpopular this system is with LLC owners, some entrepreneurs elect this option to save on withholding taxes.
If your LLC distribution is significant but you choose the S-corp taxation, you will pay less in employment tax since it is not applied to dividends. In some cases, you would be taxed more in withholding tax as both the LLC owner and employee under the LLC tax regime.
In other words, certain LLCs may avoid excessive taxation through S-corp tax election if the owner(s) have a better chance of saving on employment tax by acting as both shareholders and employees. That way, whatever tax has to be withheld for compensating the employees applies to the owners as well.
The rules vary depending on the case, for instance, self-employed single LLC owners are unlikely to benefit from a corporate system. Or say you operate in a state that already has a favorable tax environment, specifically for social security taxes, and making the matters more complicated would only cause more confusion in the bureaucracy of it all.
The actual tax rates also differ depending on whether you're an active or passive shareholder. What's clear is that if you are not exactly an expert in corporate tax law, it's best to consult a professional attorney before making your decision in relation to your LLC's taxation system.
Frequently Asked Questions