If you're currently on the lookout for suitable formation services, chances are Harbor Compliance has appeared on a few lists. This review aims to conduct an overall assessment of Harbor Compliance as an LLC formation provider, narrow down its strong points, and determine how viable it is an option and who might benefit from working with them.
We made a Harbor Compliance LLC review and here we look at a few essential aspects of what makes a service suitable, including:
Evaluation of Harbor Compliance LLC pricing;
Overview of their LLC formation package options;
Projected processing speed;
Inclusion of essentials like the operating agreement or registered agent service;
Add-ons, feedback, and general ranking.
In addition, the review assesses Harbor Compliance's general relevancy and how well their services match with the customer demand.
Harbor Compliance Reviews: Is It Right for You?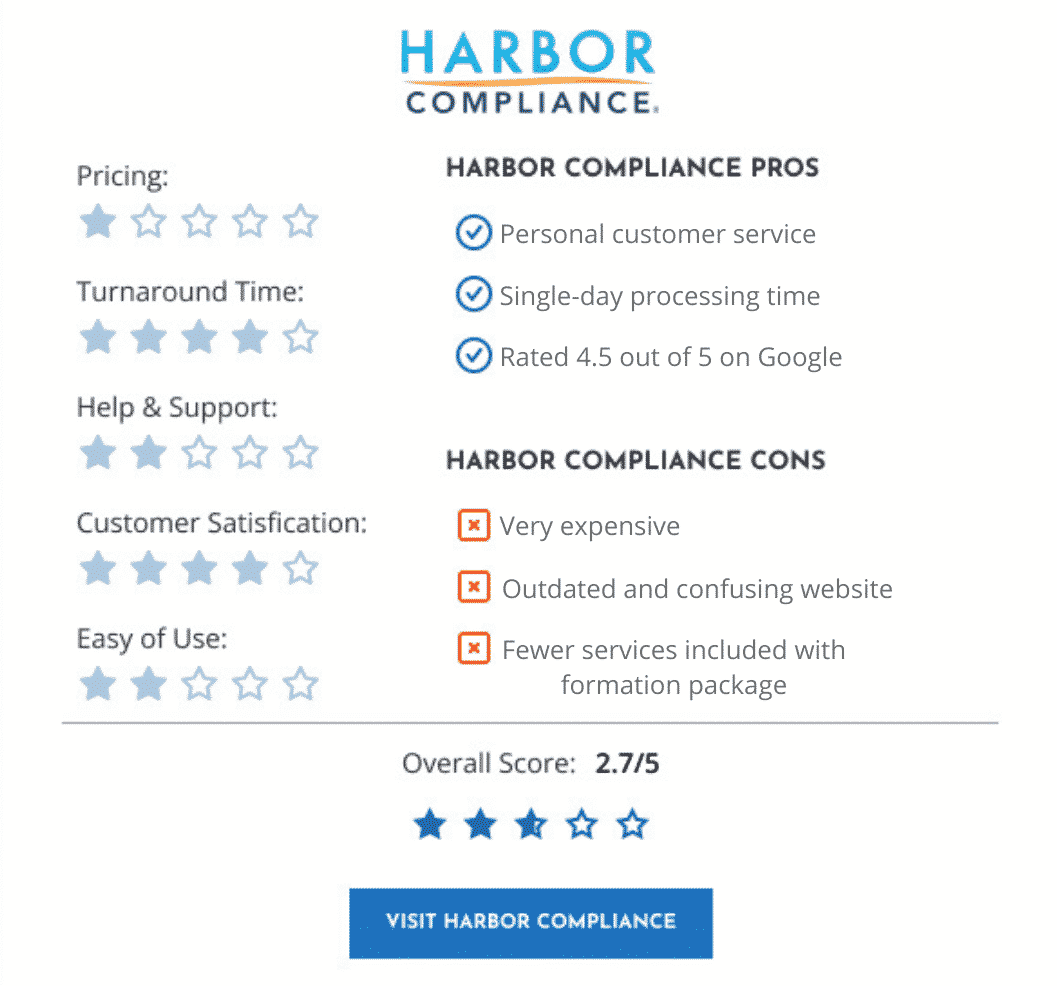 Our Best LLC Service & Incorporation ranking currently places Harbor Compliance at number 12 out of 13 services total. You can find out more about our top choice in our ZenBusiness review.
As one of the leading LLC formation services in the field, Harbor Compliance works with all popular business entity types whether your goal is basic registration or you seek a more dedicated support network.
Harbor Compliance offers LLC formation basics and extended business solutions in equal measure, putting them at an advantage in terms of their comprehensive approach. This means they can assist with a launch as well as help you throughout your business's lifetime.
On the downside, Harbor Compliance is somewhat overpriced, at least compared to similar LLC formation services reviewed here. The fees might be justified based on their work ethic, but it doesn't take away from the fact that, unlike some of their competitors, Harbor Compliance terms don't support the often sought LLC formation package flexibility, their registered agent service or operating agreement forms notwithstanding. Indeed, their offerings are contained to a single option priced at $399, making it less accessible to entrepreneurs with more modest budgets.
That said, Harbor Compliance is a relatively well-balanced option, especially if you take it as an alternative to extremely expensive attorney services or other conventional LLC formation methods.
Quick Overview: Is Harbor Compliance Legit?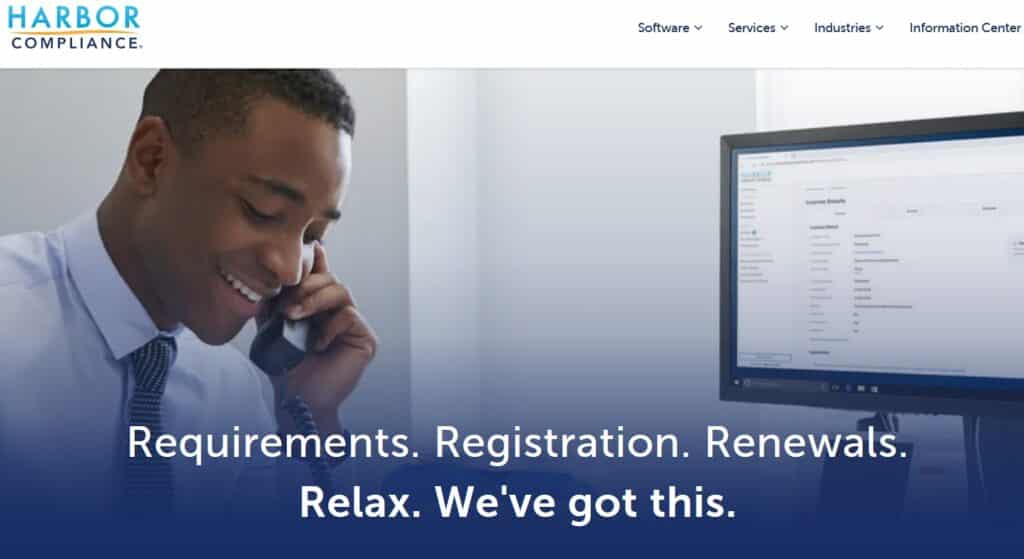 Established in 2012 by a team of experts from various corners of the industry, Harbor Compliance is a business registry service based out of Pennsylvania with an ever-expanding track record of over 20,000 customers.
Like many LLC formation services and similar agencies reviewed here, Harbor Compliance offers business and nonprofit registration. What they do is well-rounded, but this strategy may not make the service suitable for everyone which in no way takes away from the dedication at its core. Their resources are centered equally on assisting clients connected to corporations, nonprofits, and LLCs, as well as the means to maintain any of these structure types in accordance with local and federal laws.
It should be noted that they only have one option for each of the business entity types, which is technically one and the same LLC formation package. However, Harbor Compliance provides the necessary basics, as well as long-term solutions. Some of the key points on offer are:
Preliminary research aimed to ensure name validity and paperwork compliance;
Preparation of the main documents required by the client's home state (articles organization, permits);
Partial or full assistance with operating agreements and similar templates;
Acquiring certificates and other documents, including tax identification;
Assigning a permanent registered agent and helping find a replacement should you require it in the future.
Despite their expertise, Harbor Compliance is not a certified legal service, meaning they are not authorized to provide legal advice in an official capacity. Their main focus as an LLC formation service is to oversee and assist with business registration. While their specialists can offer educational materials on the matters of law pertaining to your case, it in no way should be taken as the only form of guidance, and Harbor Compliance terms take the time to remind customers of that.

For certified consultation, be sure to seek out professional law, tax, or accounting agencies.
Harbor Compliance Pricing
One of the biggest points of distinction that sets Harbor Compliance apart from a good number of other services is how they structure their features. Where most popularly reviewed LLC formation services tend to create a multi-tier system aimed at various budget levels, Harbor Compliance prefers to work uniformly by offering a single LLC formation package at a fixed price. It applies to all business entity types supported by the service.
The main issue with the way Harbor Compliance present their options is the lack of clarity in regards to prices. Their official website describes two package options (LLC Formation and Compliance), but when we reached them directly, they confirmed that they in fact have only one package aimed to provide formation services. It costs $399 upfront. Services described in their Compliance plan may be purchased separately. For more information on availability, you can contact their representatives.
Formation package: $399
Checking name validity: Regardless of the entity type, finding a legally appropriate name is an essential step that should be taken early on in the process. Although every jurisdiction has different naming regulations, all of them require uniqueness. Harbor Compliance offers to search relevant databases in your state to see if the name is still available to reduce the possibility of your application being rejected.
Preparing essential paperwork: This service varies in description based on the type of business entity you wish to form. Depending on the business, Harbor Compliance is prepared to draft and submit the document (articles organization, incorporation) that makes your entity's registration official.
Regulatory documents: With this service, Harbor Compliance LLC formation provides you with a template corresponding to your entity type. Most companies, regardless of their core structure, require regulatory documents to optimize their internal operations. Although these bylaws and operating agreements are not technically mandatory, they are nevertheless crucial and rarely avoided. If you don't know how to create a document of this type, Harbor Compliance can help you out with the templates included in their LLC formation package.
Registering for tax: Even if you don't plan to employ workers for the initial period, you might still need to acquire a tax number for your entity referred to as the Employer Identification Number or EIN and used for various other purposes like opening business financial accounts.
Registered Agent Service: It's impossible to conduct any form of commercial activities as a business entity without a registered agent. With Harbor Compliance you can get this service for free for the first year, after which the annual charge will be set at $99.
Add-ons absent from the Harbor Compliance LLC Formation package listing may be available as separate services, including state-specific requirements like publication. You can learn more about them in our "Services" overview further down below.
Harbor Compliance vs Competitors' Pricing
When considering one of the LLC formation services and how it applies to your needs, a good way to start your evaluation is by comparing its basic pricing to those of its closest competitors by way of reviews. All pricing information in the table below comes directly from the providers' websites.
| Provider | Formation package | Premium formation package | Registered agent service |
| --- | --- | --- | --- |
| Harbor Compliance | - | $399 | $99 |
| ZenBusiness | $39 | $249 | $99 |
| IncFile | $0 | $299 | $119 |
| LegalZoom | $79 | $349 | $299 |
| Northwest Registered Agent | - | $225 | $125 |
| Rocket Lawyer | $99.99 | $39.99/mo membership | $149.99 |
Formation package: The prices in this column reflect the services' cheapest available plans for LLC and other entity formation that cover name search, articles organization, operating agreement, and a few other steps. In the case of Harbor Compliance and Northwest services, the formation costs are uniform across the board since they only have one formation option.
Premium formation package: Here we can see the costs of the most comprehensive plans each option has to offer. Rocket Lawyer is a more complicated service in this regard since they don't have traditional tiered LLC formation packages but offer a monthly membership subscription with unlimited access to legal documents and other templates.
Registered agent: Some of these providers have a one-year free policy, granting the first year of using the registered agent service for free should you purchase it as part of the LLC formation package. Harbor Compliance terms are similar. The prices, therefore, reflect the regular annual charge after the free trial period on these services expires.
Is Harbor Compliance LLC formation bundle a good value?
As a whole, the bundle is not without its merits. However, when pitted against similar LLC formation packages from competitors, Harbor Compliance's approach is less flexible when it comes to the management of maintenance or LLC formation packages. Even services with closely priced offers allow for a more customized experience when you order their plans or additional services.
In the case of Harbor Compliance, while you may seek out and purchase other services not included with the main bundle, the prices and availability may vary based on location, not to mention that digging for such vital information shouldn't be so difficult in the first place.
On the upside, if you are mostly interested in their legal documents, the monthly membership Harbor Compliance provides may actually offer good value. The recurring fee is exceptionally low but at the same time, you get unrestricted access to their document libraries, which can come in handy for companies that work with a lot of contracts, whether through practices of hiring out workforce or by sourcing investments.
Cancelling Harbor Compliance
Although the actual business entity registration is a one-time fee kind of ordeal, you will nevertheless be tied to Harbor's registered agent service, which entails recurring charges. When you buy the Harbor Compliance LLC formation package, you sign up for the one-year trial. After the period ends, the charge will be automatic. If you don't wish to continue your subscription with them, you should cancel it before the first charge can be made to your account.
To do this, you will have to contact them directly but only after you replace your registered agent in your official documents. When you have proof that your old registered agent is no longer in your employ, you can finally inform Harbor Compliance, and only then can they officially cancel the subscription.
Harbor Compliance Pros
Now that we've covered the basics, it's time to look at some of the advantages of Harbor Compliance.
Personalized customer service
It's common industry practice — even the most popular and best-reviewed LLC formation services — to either process every application and subscription completely digitally by having customers enter their information and complete it through automated emails or by only offering third-party call center support. And while this form of support is better than none at all, sometimes it can be difficult to navigate more complex issues when the operator is simply not that familiar with your situation.
With the services Harbor Compliance supports, they ensure that every client will be appointed their own compliance specialist. The registered agent's role is to process the customer's information, oversee how it's applied to the articles organization or even the entity's operating agreement, and pass on the paperwork. A significant part of their duties is to assist their customers along the way, whether it's to explain certain procedures or answer pertinent questions.
After purchasing any of their services or subscriptions, Harbor Compliance will assign a specialist to work with you directly who will then contact you. If you wish to reach out to other departments, Harbor Compliance provides the following contacts:
| | |
| --- | --- |
| Mail address | 1830 Colonial Village Lane; Lancaster, PA 17601 |
| Phone | 1-888-995-5895 |
| Fax | 1-717-202-2576 |
| Email | [email protected] |
| Sales | Online form |
Single-day processing time
Creating an LLC takes time, but most of it is usually spent on arranging and filing various forms and documents. If you choose to handle it on your own, the turnaround time may vary based on your experience and the efficiency of local government agency offices. This changes when you hire one of the LLC formation services that provide turnaround estimates ahead of time, including expedited processing.
Although the services Harbor Compliance lists don't share any standard processing period info, they confirmed that it usually takes them one day to process a customer application and file the documents. Depending on the submission time, they can even do it on the same day. Another advantage that Harbor Compliance provides is more efficiency with in-person applications thanks to their wide network of contacts.
Good track record
Although Harbor Compliance's body of customer feedback might not be as impressive as some of their competitors, what they do have on their current record is largely favorable or at least falls into the realm of a solid average as far as customer experience goes.

Out of 99 entries on Google Harbor Compliance Reviews, the service averaged a rating of 4.5 out of 5, while BBB's professional assessment awarded Harbor Compliance an A+. User ratings on BBB are very few, only 9 at the moment of writing, but their contents generated a more than satisfactory 3.67 rating.

With positive reviews, clients repeatedly praise the speed of Harbor Compliance LLC formation, their ability to provide competent customer care, and well-informed compliance staff. The diversity of feedback speaks to a certain well-roundedness of the service, showcasing their ability to work with structures of various classifications.
Harbor Compliance Cons
As with most services, their benefits, however numerous, tend to invite a fair share of drawbacks. In Harbor Compliance's case, it's a pretty even break between the two, but let's examine the weaker points of Harbor Compliance LLC in more detail.
Very expensive
One of the more obvious drawbacks is undoubtedly Harbor Compliance's pricing. This significantly narrows down the client base since underfunded startups are less likely to be able to afford a $399 plan—and that's only for the LLC formation itself.
By contrast, a good number of competitors go for the multi-tiered system that allows them to work with small business owners and other customers with modest capital. These LLC formation packages can be as accessible as $39, and some even offer them for free plus state fees. Some services also allow you to select desired add-ons to the basic plans such as licenses or operating agreements.
All of this points to a greater need for a more flexible pricing system which they can improve by expanding their options of LLC formation packages or, for instance, designing additional membership tiers depending on the type of service they provide.
Outdated and confusing website
At this point in time, there are surprisingly few ways to garner useful information relating to the pricing or formation from the Harbor Compliance LLC website.
Additionally, the page itself, as well as other tabs that can be accessed on the home page, are incredibly sparse when it comes to useful and clear information about the exact structure of services Harbor Compliance supports, costs, and service availability.
Moreover, the current Harbor Compliance LLC formation page still lists two valid plans while only one is currently available. Purchasing it is also a confusing process in itself as there is no button or any other way that redirects you to the application form. As it stands, the only way to order their services is to call their sales reps or alternatively send an email, or submit the request form on their service page.
Fewer Services included with package
With their sole LLC formation package, Harbor Compliance offers a rather foolproof method of forming a business entity, including the operating agreement and articles organization, but it's fair to say that the service listing is far from abundant. For the same price, Harbor Compliance's competitors can give you twice as many add-ons and other useful services to help ease your launch and later maintenance. What further complicates their case is the lack of clarity of Harbor Compliance LLC formation when it comes to updating their feature sets. Even if certain add-ons are available, there is no way to learn about them or their pricing on the website or in Harbor Compliance terms and conditions.
Harbor Compliance Services
Now that we've established what exactly Harbor Compliance offers, let's look into each of the main services to understand better why you might need them in the process of starting a business.
LLC formation filing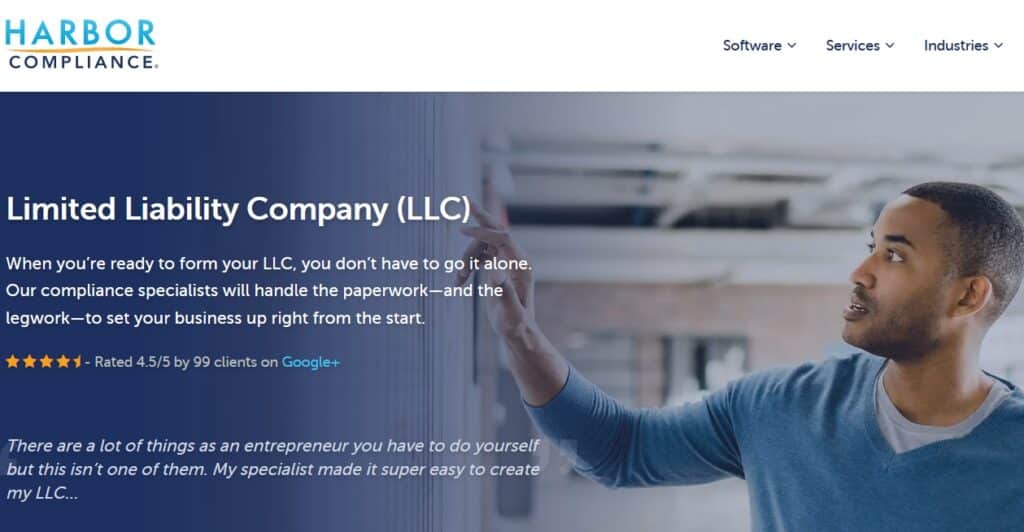 Estimates tend to vary based on the agency conducting the survey, but the general consensus points to the LLC being the most popular form of doing business on a small scale with roughly 35% of all small companies being classified as LLCs. The fact shouldn't come as a surprise either, given the many benefits this business type offers its owners, whether they are active members that carry out daily managerial duties or founding members that simply contributed part of the capital.
In terms of registration itself, nothing could be easier than settling for the standard partnership or a proprietorship with just one member if you're the only participant in the venture. These structures are fully legal but technically informal which could put their owners at a serious disadvantage.
By contrast, the LLC model, while requiring all of the typical steps that go into legal registration, is incredibly flexible without compromising its formality and structural integrity as a whole. Unlike corporations, it can also be less expensive to maintain which is a huge bonus for entrepreneurs that wish to work on a small scale and keep away from the headache that is the corporate law.
In most jurisdictions, you will be expected to ensure your chosen legal name meets regulations, mainly the requirement to be distinct from other companies operating in the state. This extends to names that could be considered very similar. Following that, most states also impose rules for altering names to increase uniqueness. As an owner, it's your responsibility to find a name that fits the bill and make necessary changes if it doesn't. If you choose to use Harbor Compliance, they can run these checks for you, but you can generally do it on your own for free by using online search tools provided by your state's registry office as well as the nationwide TESS database.
There are plenty of benefits found in the LLC as a business structure, but the key points that should factor in your decision making can be consolidated into three features that define this model. They include:
Liability protection: True to its name, the LLC is a reliable means to protect your personal securities, including your property and other possessions. Whereas partnerships and certain legal structures don't create any distinction between the owners and the business entity itself, the LLC is registered as a clearly separate body from its organizers and managers. This means not only the ability to keep your finances better organized but also shield your personal assets from unfair litigation brought against the business.
Tax flexibility: What makes this business structure so accommodating is how lenient it makes your general tax duty. As a pass-through, a business of this type is listed as a partnership (or a sole proprietorship in the case of SMLLC), allowing the owners to let the business profits and expenses flow by way of individual returns. And should you find yourself averse to this system or seek a specific set of tax benefits intrinsic to other business structures, the IRS actually lets you choose your preferred way of taxing your business, in this case listing it as a C- or S-corp for tax purposes.
Administrative clarity: Just as with the LLC's liability benefits, the same principle can be applied to its structural advantages. Even with all the convenience of informal business structures or respectability of corporations, they can't really offer what the LLC can when it comes to the effectiveness of the internal organization. Here the LLC takes all that works for the aforementioned business structures and combines them to create something uniquely efficient. All financial and operational activities attributed to the business will be kept separate from your individual affairs but, at the same time, the bureaucratic angle won't be as oppressive as it can often be with corporate entities.
Formations of this type are commonly done through providers but one crucial thing you should take away from the general approach showcased by Harbor Compliance LLC formation is that they don't function in the same way as other agencies. There are no easily discernible online forms you can fill out to proceed to the purchase of the services Harbor Compliance has on offer. With them, you will inevitably have to discuss it directly with the sales department and place your order that way.
If you are looking into starting a professional practice, consider forming a PLLC which is a subtype of the LLC with a set of unique services aimed to support occupational enterprises. Not all states have adopted this business structure, but if yours supports it, you can delegate the task of forming this entity — Harbor Compliance offers filings of this type.
Harbor Compliance Registered Agent service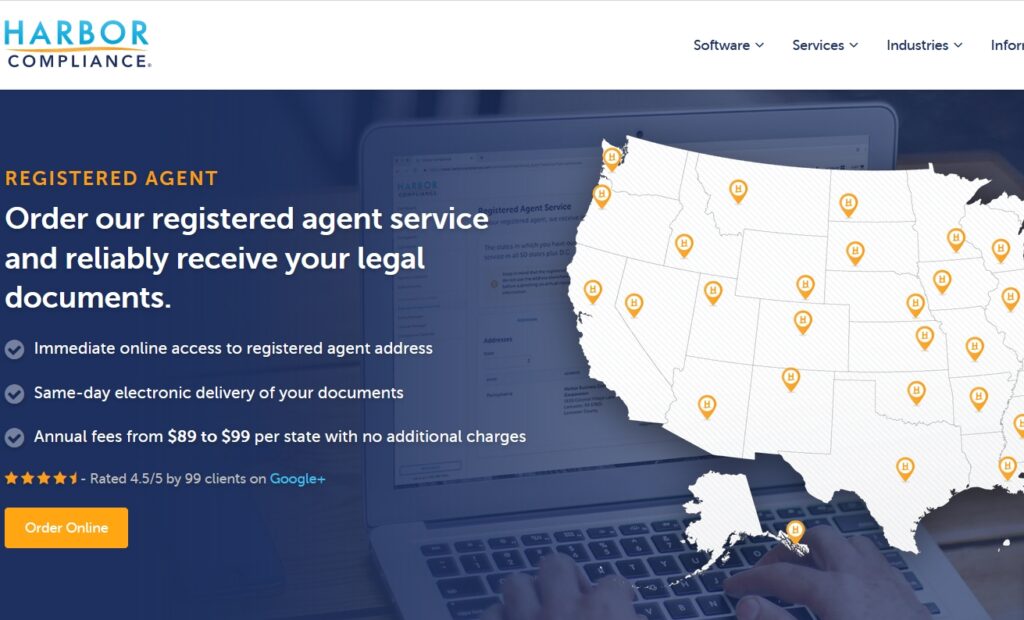 Unlike certain steps involved in registration, this one can never be optional. Regardless of the state, every business must appoint a registered agent even prior to going through with the filing. If your articles organization doesn't list a resident agent, the state will simply reject the application.
Any business entity that chooses to work without a registered agent will be stripped of its good standing, not to mention the hefty fines that will only grow the longer you fail to redeem your status. In dire cases, the state can even forcibly dissolve the business simply because it failed to find or replace it.
By definition, these duties can be carried out by individuals and entities alike. Regulations vary based on location but some of the general rules are true for every state such as the requirements for individual registered agents to be of age and have a physical address or for entities to be authorized to operate in the chosen state.
It's important to be aware of what exactly is required of a contractor to make the decision between a non-professional (including yourself) or a dedicated agency. A registered agent must:
Make their information public, including their name and address;
Be always reachable at the registered address during standard hours;
Handle official correspondence and other paperwork with great care since it's your duty to sort and forward it to the business.
If you wish to change your agent to another agency or individual, be aware that Harbor Compliance has a somewhat convoluted replacement process. Instead of simply canceling the permanent services Harbor Compliance has previously provided, you will need to actually change the agent first. Once your formation documents reflect the official change, you can contact Harbor Compliance to request the official cancellation.
If you don't want to get charged, this should be done before the automatic renewal.
As for Harbor Compliance registered agent service, its pricing can be considered an industry average set at only $99. It's available in all states plus DC and Puerto Rico. Curiously, their services are not contracts or temps — which is often the case with formation services as some of our reviews show. But here clients will actually work with in-house specialists. This approach is often an indicator of greater reliability.
Operating Agreement template
A company's bylaws or operating agreement is a document that functions in a predominantly internal capacity. Its purpose is to establish the role of every partner/owner, their shares in the enterprise, procedures related to general operations, finances, and other activities.
Unlike other documents drafted during formation, the operating agreement doesn't need external filings. It is created, agreed upon, and signed by the founding members and authorized again with each amendment. In other words, an operating agreement acts as a rulebook for the entire business.
Other common points outlined in the operating agreement include:
Capital contributions and percentage interest;
Allocation of profits/expenses and method of distribution;
Management structure and appointment of officers;
Rights and responsibilities of every participating member;
How to replace or bring a new member and parameters for training and admittance.
The operating agreement is not mandatory, but most owners prefer to set their own terms rather than leave it up to the state. If there is no regulatory document of this nature, certain decisions can only be resolved by the application of default law which is rarely considerate of the company's policies.
In most states, this document is not a necessary LLC formation step, but a handful of states does in fact make it mandatory. As such, getting your application approved in California, Delaware, Maine, Missouri, and New York without having a signed agreement might be difficult.
Operating agreements don't follow any single formalized template. While technically freeform, they still need to have a cohesive structure and cover vital points of the company's purpose, business plan, and general occupation. This is where the services Harbor Compliance supports can be of great help—their templates are added to the Harbor Compliance LLC formation package and can be used as-is or tailored to your goals.
Federal tax ID service
Depending on what your business does, it may need to register for tax with the IRS in a separate capacity. This is one of the filings that could be technically considered optional, but in reality, most entities end up requiring a federal ID called an Employer Identification Number.
This nine-digit code is used by the IRS to access your tax records and follow your annual financial activities and how they relate to your income tax payments. Some entrepreneurs opt for using their SSN instead, but not everyone may be able to do so. You might have to apply for this number if any of the following is true:
Your business has specific state tax duties such as excise or sales tax;
You employ or plan to employ workers;
You chose the S-Corp taxation system;
Your business entity is owned/managed by more than one person;
Your home state makes EIN mandatory.
Harbor Compliance's LLC formation package lists EIN acquisition as one of its main services, so you won't really need to worry about it along the way. That said, this filing is actually free and can be done separately in your own time, so paying such a huge fee for it doesn't make sense.
To get this number for free, you can simply fill out the EIN application form on the IRS website. It takes only a few minutes and has no hidden service fees. Note that there is a time restriction on the service—you can apply only from Monday to Friday between 7 am and 10 pm EST.
Additional Services
Aside from the main services described above, the services Harbor Compliance lists in the sole package don't include any add-ons, so you will have to contact them directly to purchase anything they might have on offer as an extra.
Even if you don't need any unnecessary frills, some services may be necessary depending on your state's and city's laws. In some locations, the publication requirement is still integral to completing the registration process. Although they don't advertise publication on the service list, their reps confirmed that Harbor Compliance provides such services.
Other services that you may potentially need that Harbor Compliance incidentally has on offer include:
Classification election: To change the LLC's pass-through tax system to a corporate one, the IRS requires you to submit Form 8832 as both request and confirmation—a service that Harbor Compliance can do for you. While corporate tax duty is unfavorably known for its inefficient double taxation, in some cases it can actually reduce your tax rate.
Annual and initial reports: While annual reporting is fairly commonplace, initial reports are rarer. Still, they may be one of the mandatory steps of the LLC formation procedure in your state. Harbor Compliance can prepare and submit these documents within the allotted time (annual, biennial, initial).
Publication: If you don't know how to run an ad for your business, check the services Harbor Compliance has for your state's requirements. Chances are they will be able to choose an appropriate periodical and arrange a publication for you.
Licenses: Even if some states don't require a general business license, you will likely still need to obtain a range of permits and licenses according to local regulations. In such cases, Harbor Compliance offers assistance with researching such requirements and applying for all relevant licenses in due time.
Do we recommend Harbor Compliance?
To sum up this review, let's look at the key moments here. As a whole, Harbor Compliance is a fully capable provider that can handle LLC formation, compliance, and legal filings. After nearly a decade on the market, they have grown into a reliable and exceptionally quick service with a small yet loyal customer base.
Harbor's standout feature is hands down their dedicated customer support department. As one of the few LLC formation services out there that have personalized support, they make sure to continuously improve their feedback times and the proficiency of their specialists.
Another feature that could sway you in favor of Harbor Compliance could very well be their single- or same-day processing times that a handful of customers bring up in their reviews. In some cases, they might be able to submit your application soon after you place your order.
That said, Harbor Compliance is far from being universally accessible. Their lack of package variety is a significant detriment often brought up by customer reviews, and their only LLC formation option is somewhat overpriced and could hardly be called a bargain, especially if you are already working with a limited budget. That is to say, even though Harbor Compliance LLC formation is unquestionably competent and covers all basics, it's hard to justify spending so much on something you could get at half the price.