Launching a private business, more and more entrepreneurs choose a limited liability company structure to give their ventures a legal form. With many benefits both to companies and their owners, LLCs keep gaining popularity, especially among smaller business organizers. Yet, corporations are still optimal for multi-investor enterprises with ambitious growth plans.
Whatever the future legal structure, most businessmen-to-be form LLCs or incorporate companies in their home states. It's a normal practice. At the same time, though, many entrepreneurs seek to register business entities in the states with a more favorable tax climate. Nevada is one of such states that has a business-friendly legal environment and welcomes business owners from all over the US.
If you plan to open an LLC or set up a corporation in Nevada and search for formation assistance in that state, most likely than not, you've come across IncParadise review. Keep on reading our IncParadise review to learn more about this service. Below, you'll find every bit of info you need to know to understand if IncParadise will match your needs and make a well-grounded decision.
Is IncParadise Legit?
All services fight for popularity and strive to advertise themselves since many customers tend to pick companies that are the "talk of the town" and backed by strong brand power. However, popularity doesn't always stand for quality, and less popular services are no less reliable. This is true for Inc Paradise.
The company is a smaller market player rather popular in the state of Nevada and less known to the business environments in other states. Despite that fact, Inc Paradise is a national formation service provider that can help you start an LLC or incorporate in any of the 50 US states.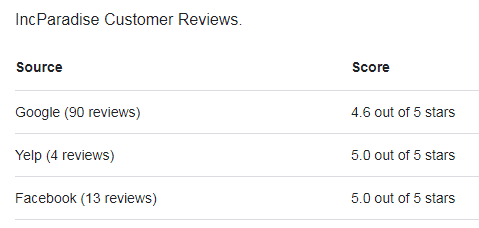 Founded in 1999, this firm has an impressive track record that puts it in line with the industry topliners in professionalism. Meanwhile, 15,000 customers in its business portfolio further prove its efficiency and expertise.
IncParadise doesn't have tons of reviews like most industry giants, yet, those comments you'll spot online are all positive in nature and praise the company's service.
All in all, lagging a bit behind in size and fame, IncParadise is still a decent rival to many higher-ranked services. So, it's a company you can trust.
IncParadise Quick LLC REview
While multiple formation and incorporation services are scattered around the US, nearly all of them operate nationwide, which means they can cover customer formation needs in each state. Thanks to online platforms, you get the convenience of placing an order from any location. Likewise, service specialists have an opportunity to process applications online and file them via their in-house teams or partners in any state, no matter where the service head office is.
By and large, Incparadise does the same. Operating from Las Vegas, NV, the company offers its services in all US states. Whether you plan to form an LLC in Alaska or incorporate in Georgia, it will get you covered there. However, what sets Incparadise apart from many competitor services is its dedication to the state of Nevada.
Registered in Nevada and still having their physical office there, IncParadise knows Nevada legislation from within. While other companies might turn out to be rather superficial, in IncParadise, they'll reveal all ins and outs of business formation and maintenance in this state and offer assistance taking all those details into account.
Thus, the company will guide you through the business entity registration process and come up with valuable assistance in many other related spheres to let your company operate on the right legal foot and make it move in the right direction after formation.
Notably, as of now, Inc Paradise has also established its physical presence in Wyoming, which is yet another business-friendly state that has recently become popular among aspiring businessmen. So, in a word, if you look for a more favorable legal environment to set up your private business and choose between Nevada and Wyoming, IncParadise is among your best alternatives in those territories.

IncParadise Pricing Approach
Traditionally, most LLC services come up with a multi-tier system of formation plans where pre-bundled service packs range by the scope of service and price. Obviously enough, such an approach is aimed at matching varying budgets and business needs. In practice, though, it's rather about marketing since most often than not, more expensive high-tier packs are stuffed with some excessive add-ons or pricey premium perks you can easily do without. Along with minor features, costly plans might also contain crucial elements, and you'll end up overpaying for the things you don't actually need.
With IncParadise, the pricing story is somewhat different. The company veers from the industry's pricing tradition and turns to a different approach. What they have is a single basic pack with formation essentials on the list and a whole range of "a la carte" services you can purchase separately and add to your formation basket if necessary. This is how it looks from a common plan-based perspective.
Plan
Basic Formation
($89)
Full Formation
($178)
Formation Documents Filing
Covered
Covered
Registered Agent Service
$89 per annum
Covered
Corporate documents including bylaws
Covered
Covered
The entry-level formation with Inc Paradise starts at $89, which is a rather high price point as compared to some contenders, especially given the fact that it doesn't cover a registered agent service. Yet, it's a quick look, which is not enough for making final conclusions.
Hence, let's look into one-off services and their prices to make our IncParadise LLC reviews complete. You'll see how those add-on prices compare to those of competitors and how they'll bump up your grand subtotal in the end.
IncParadise Baseline Pack: $89 + State Fee
First off, similar to other services, IncParadise specifies a formation price exclusive of state fees. If you are not new to business formation, you already know about that. Yet, if you are a newbie, saying a few words about this won't go amiss.
Each US state has a compulsory filing fee charged over a business filing service. It's the payment you'll have to make to the state office for your formation documents to be reviewed and your future company data to be entered into the state business registry. Notably, those fees vary by state and are beyond the control of formation companies since they will charge you only for their assistance.
Depending on your formation state, that compulsory fee might fall anywhere between $50 to $500. Yet, it won't be a surprise thrown at you during checkout. Incparadise will display the state fee for you as soon as you choose the state of your business registration so that you could properly plan your overall formation costs.
As far as the IncParadise basic plan is concerned, it covers the following services:
Business name check: It's a pre-formation step to make. While many future businessmen disregard it, an inappropriate or unavailable company name is one of the most common reasons for the state to decline filing applications. Hence, IncParadise will do the name check for you and search the state business databases to make sure no other registered company uses your chosen name version;
Filing service: Overall, creating a legal entity is about getting your formation documents approved by the state. Inc Paradise will prepare the Articles of Organization or Incorporation for you and file them with the Secretary of State. At this point, you can rest assured your docs will be filled in without errors and mistakes, thus, averting the risk of any potential problems in the future;
Shipment service: While many companies only provide access to digital copies of your registered formation docs, with IncParadise, you'll get hard copies by mail. This service is free using USPS. Should you need express mailing, it's available at an extra cost;
Corporate document set: You'll have access to free document forms and templates you might need for your LLC or corporation. This set also covers the company bylaws such as an Operating Agreement for an LLC, which is a vital document to have.
As you can see, this Basic Plan from Incparadise is not feature-rich. At the same time, though, it embraces all the key points except for the registered agent service. To make this plan complete and get a well-balanced formation pack, you'll need to add the registered agent service at $89. Overall, the price is fair, yet, it will double your final cost.
IncParadise "A La Carte" Services
For those who seek more than baseline formation and need professional assistance in other related aspects, IncParadise has a wide range of add-on services that come as one-off items and will cover many critical formation and post-formation business needs.
With such an approach to pricing, IncParadise LLC service provides its customers with more flexibility in creating a service pack customized to their individual needs. Besides, this way, the company avoids using upsells that feel pushy and offputting.
While convenient, one-time services will obviously add to your final formation cost. The more options you add to your list, the higher the final price. However, most of the Inc Paradise extras are in line with average market rates. And some services are even more competitive. See for yourself.
IncParadise Registered Agent Service
$89 per year
A registered agent is a law requirement for LLCs and corporations alike. Though pretty formal at a glance, this role is hard to underestimate. The main registered agent's function is to receive your company's mail. As such, an agent works as a contact point between your business and state authorities, governmental bodies, and public organizations.
With tons of spam in your mail, there will be letters highly important for your business such as tax notifications, filing reminders, reporting requests, government statements, court summons, lawsuits, and other documents that might need your prompt reaction and response. Failing to reply or act, you'll put your business's good standing at risk, not to mention penalties and fines your company will be exposed to in case of missed deadlines.
Meanwhile, with IncParadise registered agent on your side, all the above issues will be under control, especially if you prefer hiring a professional registered agent service to appointing an individual or fulfilling this function on your own.
Inc Paradise registered agent service is something that deserves your attention for sure. With a customer-focused approach, the company has polished this service to perfection. It has a registered agent in any state. So, whether you set up a business and look for your first-time registered agent, seek to change your current registered agent, or expand your business to another state and need to designate yet another mailing rep there, IncParadise has an option for you.
By designating IncParadise to be your registered agent, you can expect the ultimate privacy of your personal data and sensitive info and a well-organized mailing process. You'll be able to trace all your crucial correspondence via your individual online account and rest assured there will be always somebody to receive your important mail during business hours, no matter where you are. If necessary, an agent will forward letters to you. Besides, you'll get timely reminders on your filing dates to keep up with state compliance requirements.
Speaking of the service price, Inc Paradise really shines in this concern. Its registered agent service is by far the most affordable in the industry. You can purchase it as a one-time annual subscription at $89, which is already a highly competitive price. Yet, if you want to hire IncParadise for longer, you can pay only $40 annually starting from the second year.
EIN Acquisition
$45
An Employer Identification Number (EIN) or a Federal Tax ID Number is a necessity for LLCs and corporations in most cases. This number works as a taxpayer identifier for your business and is required to open a business bank account, file some types of taxes, hire employees, or elect an S-Corp tax status.
To get an EIN, you should fill in Form SS-4 and submit it to the Internal Revenue Service (IRS). IncParadise can do this job for you and get back with your registered EIN as soon as possible. Or you can apply for it on your own by registering for free on the IRS website and obtaining the number in a matter of minutes.
For the sake of truth, it should be mentioned that Inc Paradise will give you choice. In the EIN section on the IncParadise website, you'll find detailed info on how to get an EIN by yourself. The company will simply offer its help as an alternative and won't sell you on it.
Business Licensing Search
$99
Most likely than not, similar to many other businesses, you'll need some sort of license or permit to run your company in full compliance with the law. Since licenses are issued at federal, state, and local levels, you might need more than one license or permit.
Business licensing is a confusing issue for many businessmen-to-be that takes a lot of time and effort to get the hang of. Hence, getting some professional help will be really nice. IncParadise can do all the finicky license search job for you, saving you the trouble of guessing and navigating through the license requirement in a hitty-missy manner.
At $99 (which is a competitive rate), the company will deliver a complete list of required licenses and permits for your business. Though you'll have to register for them on your own, getting a full list of what you need to do is a halfway to success.
Corporate Kit
$77.50
To build your corporate style from the start and increase your brand or company name recognition, you might want to purchase a so-called corporate kit that includes a branded document binder and a corporate seal.
Many companies make this option a part of their high-tier packs. However, it's rather an attribute than a value-adding feature. So, it's nice to have it as an optional service in IncParadise. It will be up to you to decide if you really need it or not.
As far as the kit price is concerned, the rate of $77.50 is fair and in line with market rates for an individual seal and document organizer.
DBA Name Registration
$75
In most US states, you'll be allowed to run your business under a name that is different from your company's registered or legal name. This alternative name is called a DBA (doing business as), fictitious, trade, or assumed name. Without changing your company's legal status, a DBA provides more marketing opportunities for your business and will enable you to expand your business activity without forming multiple legal entities.
Similar to LLCs, though, DBAs require state registration. The process is more simple than business filing, yet, still calls for diligence and close attention to detail. To rest assured your DBA is filed properly, you can delegate the task to Incparadise. The service will cost you $75 per fictitious name, which is much lower than the $100 rate offered by most competitor companies.
Payable Documents
Prices vary by document type
As stated above, after signup, you'll get access to a free bundle of common forms and document templates you can use for your business needs. It's an exclusive Inc Paradise feature since most other services provide this for money.
However, if you need a document version tailored to your business situation, you can choose to purchase customized document forms from IncParadise:
Custom Minutes: IncParadise can prepare organizational and annual meeting minutes for your company to catch up with formalities and stay compliant with the state;
Operating Agreement: Optional in most US states, this document is a requirement in Nevada, Nebraska, California, Maine, Delaware, Missouri, and Ney York. IncParadise specialists could create a custom version of an Operating Agreement that will accurately reflect the covenants between your company co-owners and match your business scenario to a tee.
Noteworthy, the above payable documents are quite affordable in IncParadise and will cost you around $20 per doc while other companies will charge no less than $40.
Other Filing Services
Prices vary by service
Apart from LLC filing, incorporation, or DBA filing, IncParadise has a whole list of other filing services. Mind that most of them will also entangle compulsory state-specific filing fees. So, the prices below are solely IncParadise rates for the service that don't include state fees:
Formation documents amendments ($89): Should you need to make any changes in your membership structure, switch to a new registered agent, make any changes in your stock capital, etc., you'll have to file amendments to your Articles of Organization or Incorporation;
Certificate of Good Standing ($70): Often required by banks, vendors, and suppliers, this document is issued by the state office to verify your company's compliance status;
Apostille ($94): You'll need it to verify your company's legitimacy in a foreign country;
Foreign qualification ($194): Foreign qualification is needed to lawfully transact your business in any other state different from your initial state of formation;
Dissolution ($100): Just like you need to file for starting a business, you'll have to file to close your company and quit doing business as well;
S-Corp Election ($45): Should you decide to make use of the S-Corp tax status benefits, you'll have to file with the IRS first to legalize this status for your company. IncParadise offers to do the filing for you at a quite reasonable price.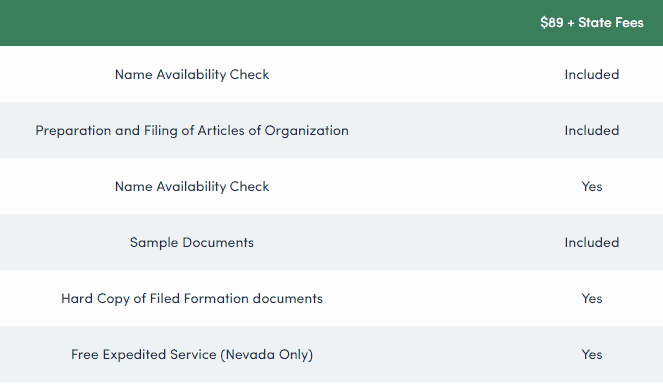 Outsourced Services
Check the IncParadise website for prices
IncParadise doesn't rely on third-party services too much, which is a good thing. However, the company does have a few outsourced service options on its list:
Bookkeeping service: If you still don't have a dedicated business accountant, IncParadise offers a great alternative. Its partner company comes up with turnkey accounting solutions provided on a subscription basis;
Webhosting: To get a solid online presence from the start and build your corporate website, you can use the web hosting service from the IncParadise partner PayPerHost company. You can get a $10 voucher to use the service for free during the first year and then pay depending on how much traffic you need;
Setting up a business bank account in Nevada: On its website, IncParadise shares contact info of trustworthy bank departments and managers in Nevada you can use to open a separate account for your business.
IncParadise Reviews: Pros and Cons
IncParadise boasts a rich list of services, yet, the real service value is rather determined by the benefits it brings to the customers. Hence, to show real company performance, we've added a list of pros and cons to our IncParadise LLC reviews.
First, we consider IncParadise's strong and weak points in a quick side-by-side overview. And then, we'll delve deeper and explain each point in more detail.
| IncParadise Pros | IncParadise Cons |
| --- | --- |
| Flexible pricing approach | The basic plan is a bit pricey |
| Decent track record | Lack of registered agent service in the Basic Plan |
| Affordable registered agent service | Nevada-focused service |
| Good customer feedback | |
| Informative website | |
| By far the best option for Nevada formations | |
IncParadise Strengths
Let's start with the good and look into IncaParadise advantages that make it a decent choice for most formation needs.
Flexible Pricing Approach
As we've already mentioned, IncParadise steps aside from ready-made formation bundles and gives its customers an opportunity to make their own service sets. The benefits you'll get along the way include:
Unnecessary features are kept at a bay since you are the one to decide what you need;
Paying less for more since you'll avoid paying for excess extras and purchase only the options currently apt for your business;
No pushy upsells that are annoying and might considerably escalate the price in the end;
Clear pricing strategy since there will be no hidden charges and you'll clearly see all prices.
Decent Track Record
The longer a company is in the business, the more proficiency it should have. It's a simple truth and it's certainly true for IncParadise. Since 1999, IncParadise has seen a lot of formations and incorporations. The company specialists have dealt with many different business situations and can tackle both standard and complex formation scenarios.
Thousands of customers in IncParadise's business profile and new-coming clients speak for the company's diligence, professionalism, and trustworthiness. A solid track record is what backs up Incparadise's reputation on the market despite its lower popularity as compared to the industry giants.
Affordable Registered Agent Service
Registered agent service is one of the most prominent IncParadise features. In fact, the rate of $89 per year beats nearly any other competitor service out there giving IncParadise an edge even over the industry top-liners. At the same time, a lower price doesn't compromise the service quality, and you'll enjoy a highly professional service delivered by a dedicated internal team.
What's more, at a lower rate overall, IncPradise also offers discounts. Thus, if you decide to hire IncParadise as your registered agent for more than a year, the first annual subscription comes at $89, and each next year will cost you only $40. Besides, their lifetime subscription at $499 is a unique feature no other company provides.
Good Customer Feedback
Customer feedback shows true-to-life company performance. Unprejudiced client comments reveal the areas where the service stands strong, as well as those where it needs improvement.
Being a relatively small local service provider, IncParadise can't boast a wealth of customer reviews. Though not BBB accredited, the company still has a few dozens of comments on Yelp, Google, and Facebook. And the best thing is that nearly all those comments are positive. Customers praise IncParadise for great customer service, ease of use, and quick processing times.
Informative Website
While many services intentionally hide some information or make you search high and low to find what you need, IncParadise boasts an informative and comprehensive website, which is a breeze to navigate.
The company is clear about all its prices and state fees associated with some services. Besides, they explain in detail every type of service they provide and why you might need it. And their "Learning Center" section is a generous informational depository where you can find any data you can possibly need. Business entity comparison reviews, introductory guides, formation guides split by state, and frequently asked questions are all available online for free.
By Far the Best Choice for Nevada Formations
Located in Las Vegas, NV, IncParadise specializes in Nevada formations and incorporations. So, if you seek service in this very state, you can't go wrong with this company. They have a wide range of formation and post-formation services for Nevada customers and offer free expedited filing for this state. Thus, you can expect your business entity to be formed within 2-3 days, which is really fast.
IncParadise Weaknesses
Backed by a bunch of benefits, IncParadise is not perfect, though. While advantages prevail, there are still a few minuses to name.
A Bit Pricey Basic Plan
At $89, the IncParadise baseline plan stands on the higher end of the price range, especially given the scarce services it covers. If you compare it with similar plans of competitors, you'll see that this price point is nearly twice more expensive than that of some competitor services. And by adding more one-off services, you'll further escalate the final price.
Lack of Registered Agent Service in a Basic Plan
Registered agent service is a crucial formation feature that is expected to be on the basic formation list. While offered at an affordable price, registered agent service is not included in the IncParadise baseline plan. It means that by adding it to the plan, you'll increase the total cost by $89 up to $178. Though each next year will cost only $40, a $178 rate is a high point to start with.
Nevada-Focused Service
IncParadise really excels in Nevada formations. Recently, the company has also opened a representative office in Wyoming and does a great job there too. However, if you need to form or incorporate in other states, we'd rather suggest that you use another service provider since many of the one-off IncParadise services are exclusive to Nevada and Wyoming and are not available in many other states.
IncParadise Contacts
IncParadise Adress:
Nevada Office:
5348 Vegas Dr., Las Vegas, NV 89108

Wyoming Office:
1611 E 2nd St, Casper, WY 82601
IncParadise Phone number:
(888) 284-3821 (toll-free)
IncParadise Fax:
(702) 387-3827
IncParadise Email:
[email protected]
IncParadise Website:
incparadise.com
IncParadise Customer Service
The company's support is highly appreciated by its customers and for a good reason. IncParadise support specialists are available via multiple communication channels. You can contact the help center via email, phone, or online chat. You can also send your question using an online form or even come to the IncParadise's office in Las Vegas if you reside there and get a personal consultation.
IncParadise's call center is available from 11 a.m to 7:30 p.m. on weekdays, so you can reach help reps even beyond normal business hours. When calling, you'll contact directly IncParadise office in Las Vegas and can expect to obtain reliable and professional feedback. By and large, the company provides prompt responses, no matter the communication channel, thus, showing respect to their customers and caring for them.
IncParadise LLC Service vs Competition
Before we provide our final thoughts on the IncParadise LLC service, we should take a quick look at how this company stacks up against competitors.
IncParadise vs ZenBusiness
ZenBusiness is one of the most popular formation services at the moment. The company stands out for the ultimate service quality offered at a fairly affordable price. And ZenBusiness will outcompete IncParadise in this concern. At $49, ZenBusiness is obviously cheaper than IncParadise at $89. Besides, that lower price covers a whole year of registered agent service.
Where IncParadise has an edge over ZenBusiness is its track record and added experience in Nevada formations.
To learn more about ZenBusiness, check our detailed review.
IncParadise vs Incfile
Incfile is a solid competitor to nearly any other formation service since its free formation pack is really hard to fight with. Incfile beats Incparadise in baseline pricing too. At $0, Incfile will not only form your LLC but also deliver a whole year of registered agent service.
However, poor customer support and overall low service quality throw Incfile behind Incparadise, especially for those who need solid assistance along their formation way and seek a number of added services.
To learn more about Incfile, check our detailed review.
IncParadise vs InCorp
Just like IncParadise, InCorp operates from Las Vegas, NV, and applies the same flexible pricing approach. While IncParadise appears more affordable in most aspects, InCorp has better positions in other states beyond Nevada. Besides, InCorp boasts bilingual customer support with Spanish-speaking help reps and operates in Puerto Rico and the US Virgin Islands.
IncParadise Review: Conclusion
To sum it all up, IncParadise is a trustworthy and reliable formation service dedicated to forming or incorporating businesses in the states of Nevada and Wyoming. As such, it's rather a local provider since its service range in other states is limited.
Yet, if you need a solid formation partner in Nevada or Wyoming, you'll hardly find a better option than IncParadise. With a deep knowledge of the formation and incorporation laws in those states, the company will do all the formation work for you and provide every bit of post-formation help you need.
IncParadise Frequently Asked Questions