When starting some sort of venture, it's essential to work out and smarten an efficient business strategy. Yet, laying a functional legal framework for your future enterprise is no less important. At this point, many modern entrepreneurs go for registered entities and often prefer to entrust the task of business formation to special online services. BizFilings is one of such formation services that can do this job for you. Yet, is it good enough for you to work with?
In our article below, we've done our best to reveal all the details you need to know and made a maximum comprehensive round-up reviewing all the features of BizFilings, services they provide, and add-ons they come up with. We will also disclose their fortes and weaknesses, break down their prices, and compare them with contenders to show you how this company stacks up against the competition. In the end, you'll be able to make an informed and well-grounded decision about your projected cooperation with this provider.
Is BizFilings Legit?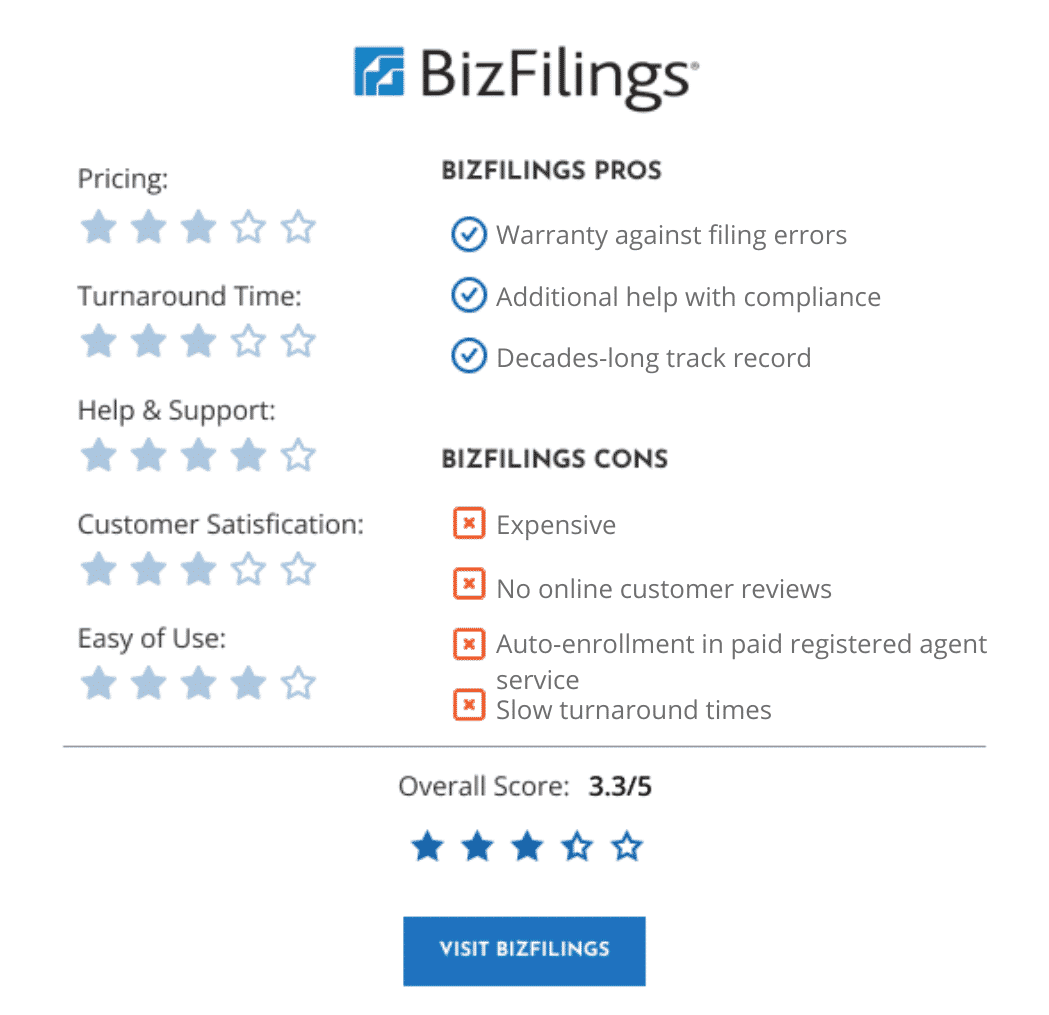 In our Incorporation and LLC formation service rating, BizFilings takes the 11th position leaving two more services behind. To get a clue what a topliner service is, check our analysis of ZenBusiness, which lingers on the top of the list.
BizFilings is one of the multiple companies providing formation and incorporation services to aspiring entrepreneurs. Though entity formation businesses of this type come in numbers, choosing the right one becomes even a harder task. Widely popularized big services pop up at the top of the lists, yet, they often appear to lack expertise and apply the "mass market" approach that might be not the best option for beginners. Smaller companies might offer competitive and even cheap pricing while lacking the service diversity and, thus, failing to match your expectations regarding the scope of services.
BizFilings is something that stands in between. What's going for it you wonder? Present in this business for decades, the company boasts impressive professional experience and can not only cope with simple formations but also handle more complex business situations. As such, they look reliable and attractive for beginner businessmen who know little to nothing about how to start a venture from scratch.
Taking care of their customers, BizFilings also comes up with a variety of post-formation services to help you set up and operate your enterprise in a rightful, compliant, and lawful manner. They include half a year of registered agent service to their startup bundles and provide assistance in licensing. Besides, the provider has a couple of other valuable benefits we'll talk about in more detail below.
On the negative side is the pricing. The service looks pretty expensive when compared to other market operators. And it's not that fast as many of its competitors. Finally, you'll hardly like automatic registered agent service subscription with no option to sign out. To see if the good outweighs the minuses, let's take a closer look at BizFilings' services and features.
BizFilings LLC Review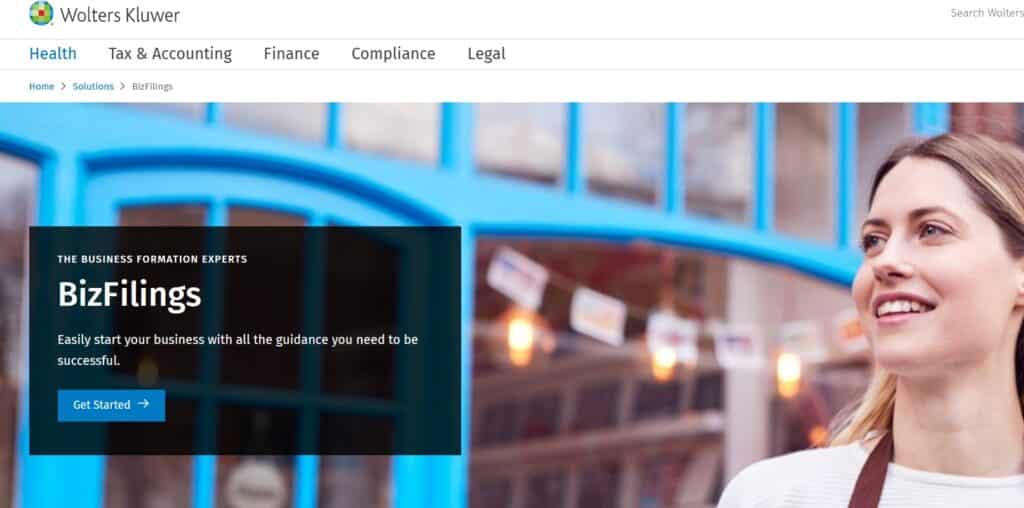 Straight off the bat, BizFilings is among the industry old-timers. If you look at its track record, the service traces back for over two decades. The company was established in 1996 as Business Filings Incorporated by two entrepreneurs, Brian Wiegand and Rick Oster, who wanted to make their experience in business formation helpful for first-time businessmen. In 2002, it became a part of a legal subdivision of Walters Kluwer corporation that operates worldwide and has a whole wealth of business-oriented services on its list. The name BizFilings appeared in 2006. As of today, the service has over 500,000 registered entities in its portfolio.
Incorporation and beyond, this is what BizFilings offer to all of its customers. It implies that they will both form a legal entity for you and can handle post-formation legal hassles as well, which is of great use for newbie entrepreneurs and small business owners who seek to delegate the formalities to a third party to the max.
All BizFilings formation and incorporation bundles feature name verification, online monitoring tool, six months of registered agent service, and consistent access to efficient and helpful customer support. Actually, even a basic plan delivers everything you need to give your venture an easy start. On top of that, BizFilings has a handful of add-on services you might need at a different time afterward such as handy templates of crucial business documents, tax registrations, licensing services, and EIN acquisition. Optional one-off services also include DBA filing, foreign qualification, dissolution and amendment services, and more. Besides, BizFilings has a few perks of its own that favorably distinguish this service from the others.
To avoid any confusion further on, it should be set clear that BizFilings is not a legal firm. While fully handling the formal part of the business establishment process, they don't provide any sort of legal advice or consultations. You are the only one held responsible for all your business decisions and moves. If you need legal assistance, you'd better contact a professional attorney or legal advisor.

For the sake of truth, though, it should be mentioned that this refers to pretty much all formation services. Initially, they are meant to deliver technical assistance in formalities, not legal help.
BizFilings Pricing

Most customers do care about prices and what they will get for those prices. Speaking of the BizFilings approach, the company is pretty flexible in this concern. Overall, similar to other services of this kind, they've tied their services in three pre-arranged formation bundles to meet different formation needs and match different budgets. Besides, they come up with a number of extras provided on a one-time basis that you can add to any ready-to-use package if necessary.
Before we plunge into a detailed price plan breakdown, let's take a quick look at BizFilings' general pricing approach in the chart below.
| Package | Basic ($99) | Standard ($229) | Complete ($359) |
| --- | --- | --- | --- |
| Filing formation documents | Covered | Covered | Covered |
| Registered agent | Half a year for free followed by a $199 annual signup | Half a year for free followed by a $199 annual signup | Half a year for free followed by a $199 annual signup |
| Operating Agreement | $39 | Covered | Covered |
| EIN Acquisition | $79 | $79 | Covered |
| Speedy filing | $60 | Covered | Covered |
Though BizFilings is not the most expensive provider out there, all in all, the pricing is on the higher end, especially given the services included. It's only a Complete package that looks well-set, yet, it's rather pricey and still covers only 6 months of the registered agent service for this price instead of a whole year as usually offered by other services. Besides, if you level up the Basic plan with all the payable add-ons, it will turn out cheaper than a high-tier complete package.
Along with domestic filings, the company can also help foreign entrepreneurs start a company in the US. International formation starts at $399 for basic formation docs submission and the rest of the options are payable.
In contrast to many other formation service providers that offer flat rates for all states, BizFilings has different prices for 6 out of 50 US states.
| State | Basic | Standard | Complete |
| --- | --- | --- | --- |
| California | $99 | $229 | $434 |
| Delaware | $99 | $159 | $199 |
| Nevada | $174 | $244 | $284 |
| Alaska | $99 | $229 | $434 |
| Nebraska | $99 | $229 | $389 |
| Washington | $99 | $229 | $434 |
BizFilings Basic Plan: $99 + State Fee
An entry-level LLC formation plan from BizFilings gets down to basics, yet it offers what they call value for money. This plan is a good option for beginner entrepreneurs who are not in a hurry and simply seek to delegate the process of establishing a legal entity to someone else. For the price of $99 (exclusive of state fees), you'll get filing services plus a tiny bit of extras:
Company name check: It's an essential step when creating an LLC or initiating a corporation since there is a strict rule that the name of a legal entity should be unique and distinguishable from other already registered entity monikers in the state. BizFilings will perform the name search for you to check the two name versions you provide;
Submitting formation documents: BizFilings service cover preparation of the Articles of Organization or Association and filing it with the Secretary of State. At this stage, though, it's worth noting that a turnaround time will vary from about a month to a month and a half. No speedy filing is applied here. You can expedite the processing time and even add rush filing as separate extras at an extra cost;
Registered agent service: BizFilings will have you set with registered agent service for half a year. However, the trick here is that once six months expire, the term of service will be prolonged for yet another year by default. It means unless you sign off, you'll be charged a full year automatically. Besides, this provider gives you no other registered agent options when ordering corporation or LLC formation services. You'll be bound to use their registered agent service;
BizComply tool: Having your legal entity up and running, you'll have to keep a close eye on its good standing status. An online tool from BizFilings will help you out with that. With it, you'll be able to trace all the regulatory requirements and compliance rules valid for your entity type. Besides, a web-based dashboard will be of great use to monitor essential deadlines, as well as access an extensive document library, should you need to find some legal form or template.
Yet, again, a small catch here is that the availability of this handy tool is dependent on the registered agent service. Thus, once a six-month period expires, you'll have to pay for the BizFilings registered agent to continue using the tracking tool.
To learn more details about each BizFilings service mentioned above, go to the service section below.
BizFilings Standard Plan: $229 + State Fee
BizFilings follows the custom strategy here and comes up with a service bundle that hist a sweet spot between barebone essentials and premium perks. As a result, this package is not only about business formation but also about its compliance. What you'll get above the Basic plan is:
Operating Agreement draft and other customizable legal doc templates: An Operating Agreement is not a law requirement. It's a bylaw, yet it's vital for an LLC, no matter the number of members. The document touches on the issues highly important for smooth and hassle-free day-to-day company operation. So, it's advisable that you have it from the very beginning. Though the document has no particular strict format, it's nice to have some sort of template at hand. You'll get a CD from BizFilings containing an Operating Agreement sample to fill in and a number of other handy legal forms you can use in different business-related situations;
Speedy filing: While normal processing time varies from 4 to 6 weeks, expedited processing cuts down this time to one or two weeks. Mind, though, that some states might charge some added fees for this option that will bump up your package price;
Corporate kit: It's yet another option that comes beyond any law requirements. A company seal, branded binder, membership certificates, and ledger are a great contribution to your corporate style. However, you don't actually need it at the business formation stage and can get back to this within your marketing strategy.
While the Standard plan price gravitates toward a higher end of the range, we still consider this bundle a decent combo since it embraces everything you need to launch your business on the right legal foot.
BizFilings Complete Plan: $359 + State Fee
To make a verdict on this offer, first, let's see what you'll get on top of the Standard plan here:
Employer Identification Number (EIN) registration: BizFilings will fill in the application form and send it to the IRS for you so that you kickstart your venture with all the essential details at hand;
Certified copy of your formation documents: A provider will get back with both the originals of your approved formation or incorporation docs and with a certified copy of those papers. An important thing to keep in mind here is that this option might incur added state fees;
Single-day document dispatch: This option along with the expedited filing will further reduce overall turnaround time. Once BizFilings obtain your approved docs, they will send them back to you within a single day;
Compliance DVD: You'll get a video guide to take you through all the state compliance requirements your business needs to match after formation.
At a glance, it looks like you get pretty many added features, yet, in practice, there is not much value in those add-ons. Thus, you can acquire an EIN number on your own paying nothing to the IRS. A certified document copy is not a must. You may need it in certain situations but there is no sense to execute it in advance. A DVD guide and overnight shipping alone don't justify that impressive price escalation.
BizFilings International Plan: $399 + State Fee
As the name suggests, this plan is meant for applicants from abroad that seek to set up a business entity in the US. Commonly, formation rules remain pretty much the same with a couple of added requirements to them. Many online service providers offer international filings and BizFilings is not an exception. At the same time, we must admit that BizFilings is not the best option in this very aspect. What feels quite offputting straight away is the price. At $399, this plan is very expensive and barely competitive. And it looks even less attractive once you figure out what it covers.
You'll be quite surprised to learn that for nearly $400, you'll get only basic filing enhanced with a corporate kit, apostille service, and international document delivery. While apostille is a valuable option that helps prove your US business legitimacy in the eyes of foreign authorities, a corporate kit is a needless add-on. Neither expedited filing nor compliance docs are included. And international delivery is certainly not a feature worth such a price bump-up. It would be fair to state that there are many competitor services out there that will offer more for a lower price.
BizFilings Reviews: Cross-Selling
There are LLC service providers that push through third-party services and add-ons by forcing them on you when you place an order. BizFilings also tends to do so. The upsells that will pop up on their order page are as follows:
Licensing package ($99): The majority of US businesses are exposed to some sort of licenses and permits. BizFilings will perform a license search to help you find out what licenses you need to obtain to match licensing requirements in your state, county, city, or municipality;
Sales tax registration ($199): Should your business be involved in commerce, you'll have to register for the sales and use tax at a state and/or local level. BizFilings will complete that registration;
Payroll tax registration ($199): If your company is an employer, you'll need this to settle employee-related tax payment;
ADP payroll service: A third-party service for companies with hired employees that seek help in completing payroll tasks;
Palo Alto's Live Plan ($99): Seek to create a realistic and well-set business plan that will work? You'll get a detailed guide on that from BizFilings' partner service.
Something else you should pay attention to when considering BizFiling offers is state fees. BizFilings pricing plans are exclusive of formation fees that vary by state. Yet, there is more to come. Some of the services included in high-tier packages can also entail variable added state fees. All of those compulsory charges can noticeably increase the grand total in the end.
BizFilings Alternatives
One of the quickest and easiest methods to see if the service provider is a worthy choice for you is to compare it with competitor services. This way, you'll understand if they offer fair pricing and, what's more important, if they offer enough value for that price.
To make this comparison true-to-life and balanced, we'll make a basic package complete with an Operating Agreement, which is included in a low-tier plan by other popular services.
| Company | Basic Plan (bylaws included) | Full Formation Plan (registered agent included) |
| --- | --- | --- |
| BizFilings | $138 | $138 |
| ZenBusiness | $49 | $49 |
| IncFile | $40 | $40 |
| LegalZoom | $178 | $477 |
| Northwest Registered Agent | $275 | $275 |
Though BizFilings lags behind the industry top-liners, it takes quite a confident position in between affordable and more expensive premium services. Yet, if you look into competitor pricing in more detail, you'll see that contenders' higher prices come with more valuable extras. Besides, the Full Formation plan for BizFilings is not full enough since this provider has only 6 months of registered agent service on the list for free while others usually cover a whole year. If we add yet another 6 months to the BizFilings full plan, it would cost $237 (based on a $199 annual rate). But the thing is that you can't add half a year and will have to pay for the whole year anyway when a free six-month period expires.
Which BizFilings Package Is the Bang for the Buck?
Taking BizFilings' formation bundles as they are, a Basic plan looks the most balanced and well-thought. It contains everything you need to register your business with the state and give it legal status. To level this plan up and make it really complete, you can add bylaw templates to it that come as a one-off option at $39.
Meanwhile, top-tier plans linger at the higher end of the price range and include unnecessary and excessive service you don't have to pay for that much. Other providers offer the same scope of services at rates that won't hit your budget. Besides, strange though it might seem, even if you extend the Basic package with all the top-tier add-ons, the final cost will turn out to be lower than a fixed premium plan price.
Can I Cancel BizFilings Services?
Revoking BizFilings services is easy unless your order is processed. To call the application off or cancel the service you've made an order for, you just need to contact BizFillings by phone at 800-981-7183.
Unlike one-off options you add to your order list by yourself, registered agent service comes as a built-in feature, and you can't choose another assignee to your liking, at least for the first six months. Should you want to swap for another registered agent in half a year when a free subscription is over, you'll have to break a sweat to do that. In six months, the sign-up period is not simply over, it is automatically prolonged for a whole year and a $199 annual fee will be charged to you by default. Though you can cancel the payable subscription at any time, you'll have to prove that you have already found and appointed a new registered agent to sign off. Without that proof, BizFilings will continue providing and charging this service to you.
Does BizFilings Have Refunds?
Though a provider has a refund policy in place, their refund terms are not the most favorable. If you decide to cancel the formation order when they've already performed a name search, they will withdraw $50. And if the order has been processed yet not submitted to the Secretary of State's office yet, your refundable amount will be reduced by $75. Meanwhile, state fees are not paid back, no matter the case.
| | |
| --- | --- |
| Address | 8020 Excelsior Dr., Suite 200, Madison, WI 53717 |
| Phone | 608-827-5300 or 800-981-7183 |
| Email | online form on website |
BizFilings Pros
This company has quite a number of strong sides that let it stand out among its rivals. So, let's take a closer look at these benefits and if they really add value to this service.
Backed by Experience
Experience tailors professionalism, and BizFilings don't lag behind in this concern. With decades of expertise behind its back, this company delivers professional help and its specialists know their onions. They are aware of all the bottlenecks in the formation and incorporation process and will help you avoid them. In a word, choosing BizFilings, you can rest assured your entity will be set up duly, diligently, and in full compliance with the state rules.
By way of contrast, many modern services of this kind that hit the top positions in rating charts lack this experience being in the industry for a few years only. They might claim they have high-class specialists. In reality, though, they often appear to lack knowledge and practice in many important issues and situations.
Compliance Support Added
While many providers come up with multiple added features to ensure post-formation compliance for newly-established entities, BizFilings really stands strong here. Their free BizComply tool will help you trace all your orders, as well as catch up with essential state deadlines and filing dates. On top of that, their added tax registration services and comprehensive tax solutions will ensure complete compliance and appropriateness in the taxation area, which is a flimsy ground for many first-time entrepreneurs.
BizFilings licensing kit is a real find for any newly formed venture since most companies are required to have some sort of license or regulatory permit to run their business in the state, city, or county. Environmental, health, professional, occupational, and general licenses and seller's permits are to name a few. Those permissive documents depend on the type of activity you conduct, professional occupation, and business area or industry your entity operates in. This is yet another complex post-formation aspect that will take a lot of your attention and effort. And BizFilings' licensing package will save you time and effort on doing the license search to figure out what types of business licenses and permits you need to acquire for your entity.
Website as an Educational Platform
In BizFilings, they've done their best to make their website as informative and packed with valuable data as possible. Their well-structured web platform can serve as a learning center for entrepreneurs-to-be who can't make up their mind about the entity type they need or are in search of info on compliance requirements. Comprehensive articles on multiple business topics, taxation guides, filing instructions, and compliance tips you'll find on the BizFilings website will be of great help.
Enhanced Online Security
BizFilings applies specialized protective software to make their website a safe place for users. By detecting and blocking malware and spyware and encrypting data, this software will securely shield your sensitive info and private data from theft or unauthorized disclosure.
Branded BizFilings Warranty
An exclusive BizFilings feature is its specific warranty provided against any potential mistakes in the filing process, as well as applied to some other optional BizFilings services. No other service (except Incroprorate.com that also has a financial guaranty against filing defects) has anything like this. This is yet another proof of BizFiling's professionalism and valuable expertise.
Should they make any errors when processing and submitting your docs with the state, they will not only eliminate any defects but also cover all the resulting costs and damages. What's more, this warranty is valid during the whole period of your business existence. Besides, the same is applicable to other BizFilings add-ons such as DBA filing, foreign qualification registration, and company name reservation.
BizFilings Cons
Just like many other services, BizFilings is not only about advantages and strengths. The provider has a few drawbacks to it too. How offputting are those minuses? Keep on reading!
Higher Pricing
BizFilings pricing is not what will fit all budgets, we must admit. While their Basic package does bring value, it starts at a higher price point and, to make it complete, you'll still have to add payable bylaws.
Speaking of top-tier BizFilings packages, their costs are unreasonably high, and the features included do not offset expensive price tags.
Some hidden catches many users disregard are state fees that come with added services in premium plans. Thus, seemingly free options turn out to be quite expensive and will noticeably bump up the final package cost.
Lack of Bizfilings Reviews
Customer reviews greatly contribute to the overall market image of the service provider. Showcasing unbiased opinions of real people who have already used the service, those reviews demonstrate if the company lives up to its sounding promises or not.

Strange though it might seem, BizFilings has no online feedback. We've found no comments on their services on popular feedback platforms. While leading LLC services have hundreds and thousands of customer reviews, BizFilings has none. It looks even more weird, given how long they've been in this business.
Slow Filing Speed
Many LLC formation services promise to process your order and establish your business entity within the shortest possible period of time. Yet, it's not the case with BizFilings. Their default turnaround times vary from 4 to 6 weeks in different states. On average, basic filing will take no less than a month. One more unpleasant surprise pops up when you figure out that expedited processing has nothing to do with speeding up your formation with the state. In fact, paying for faster filing, you'll pay for BizFilings internally prioritizing your order processing.
Detailed BizFilings OveRview
Further on, we'll touch upon BizFiling services in more detail and consider them as stand-alone features beyond the ready-made bundles. You'll see what each service covers, how much it will cost, and whether you need it.
BizFilings Inc and LLC Formation
A sole proprietorship has been the most popular business form for smaller private enterprises until now. Easy to manage and control, it entails no formation hassles. However, recently, a limited liability company is on the rise as a legal structure mostly because it smartly combines the best of both worlds mixing the perks of formal and informal frameworks. Thus, LLCs offer liability protection brought by corporations keeping business owners and their assets shielded from business-related debts and commitments.
On the other hand, pass-through taxation applied to LLCs minimizes the tax burden and helps avoid dual taxation typical for corporations. Finally, LLCs come up with quite a simple and straightforward formation process and management system characteristic of general partnerships. In brief, these are the main features that make this hybrid legal structure so popular among small business owners today.
As far as the formal side of this matter is concerned, LLCs are state-specific entities governed by state statutes. Commonly, to form an LLC, it's enough to file the Articles of Organization with the state department and get it approved. In practice, though, each state might have some peculiar filing rules and special requirements to observe. That's why many startuppers and beginner businessmen choose to delegate this task.
BizFilings works as a one-stop shop for LLC formations. You can place an order and fill in an application online. You just provide some basic info about your business, and BizFilings will handle the rest. It won't take you more than a few minutes. And you can do it virtually from anywhere.
It's crucial to do a name search before you delve into the filing process. While most companies require customers to do the search, BizFilings will check the two name versions you provide and pick the one that is available. However, to make sure you get the desired name for your business and this name is not occupied, you'd better check the name by yourself as well. Most state department websites provide a free search tool.
Noteworthy, BizFilings fees are exclusive of state ones that will be charged to you anyway. So, when placing an order, the provider will add the current state fee to your grand total to pay it to the government. State fees are not refundable.
BizFilings' usual turnaround time is from 4 to 6 weeks. At $60, you can cut down this time to one or two weeks. Besides, some states also benefit from one or two-day rush filings.
BizFilings Registered Agent Service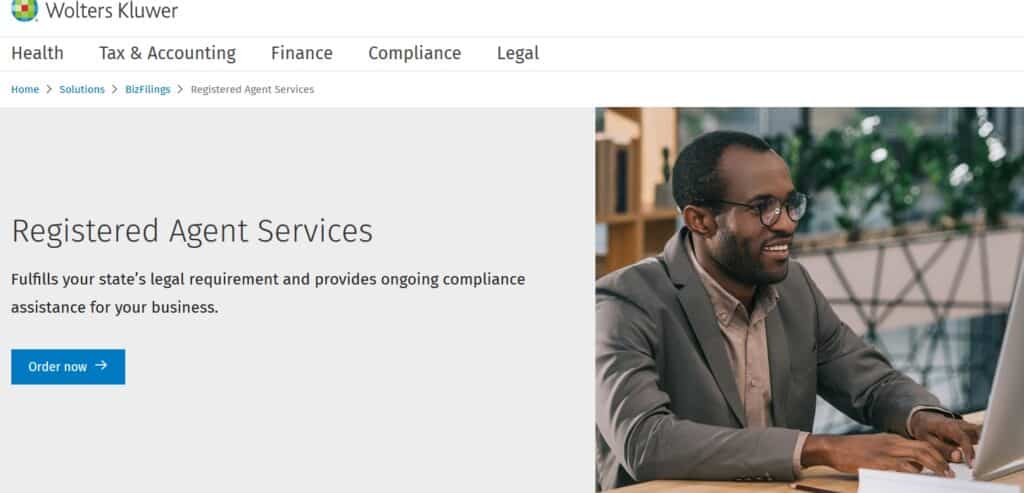 A registered agent is a law requirement for incorporated entities. Unlike informal business forms, legal entities have a number of compliance requirements to match. These include annual reports, tax returns, license payments, certain tax payments, and alike. In addition, companies typically have to handle quite an extensive mail flow. This is where a registered agent comes to help.
A registered agent is a must-have option for any registered entity, be it an LLC or a corporation. While many formation services make it a payable add-on, BizFilings makes it a part of all its formation and incorporation plans. This will save you time and effort in looking for a reliable representative in your area. The company has tried and tested agents in all US states.
Normally, it's a physical or legal person appointed as an official company representative for mailing purposes. An assignee should be a resident of your formation state permanently present under the specified address during workdays and business hours to be capable of receiving legal correspondence and signing for it. By timely informing business owners about any important letters and notifications, this function helps catch up with essential due dates and contributes to compliance maintenance.
While many beginner businessmen often prefer to serve as their own registered agents, hiring a professional service for that might be a better idea if you:
Travel a lot and are not available at your registered address most of the time;
Reside outside the US;
Conduct business in different states across the country and can't be in several places at once;
Run business online and have no physical presence.
BizFilings has in-house registered agents in all 50 states. They make 6 months of registered agent service an integral part of all their packages. So, should you decide to move or expand your business to other states, they'll get you covered there.
The only gripe about BizFilings registered agent is that it's quite expensive at $199 and the provider gives you no alternative when filing an application. It means you'll have to use their registered agent, with no other options to it for the next 6 months. After that, you'll be signed up for that service for the upcoming year by default, unless you swap for another assignee and sign out.
To refuse from BizFilings registered agent service and appoint another representative, you'll have first to assure BizFilings that you've already designated a replacement.
The only gripe about BizFilings registered agent is that it's quite expensive at $199 and the provider gives you no alternative when filing an application. It means you'll have to use their registered agent, with no other options to it for the next 6 months. After that, you'll be signed up for that service for the upcoming year by default, unless you swap for another assignee and sign out.
With A Trick
Being a vital aspect of business formation or incorporation, registered agent service should be a part and parcel of formation plans. With that in mind, many formation service providers strive to do their best in this concern. BizFilings is not an exception. The company does incorporate 6 months of registered agent service in all their pricing plans, which is good. The bad thing is that they bind you to order their in-house service and allow for no alternatives when placing an order. Besides, in half a year, you'll be automatically signed up for their registered agent service on a payable basis. And, unless you provide proof of appointing another assignee of your own, you won't have a chance to cancel this subscription.
EIN Acquisition

An Employer Identification Number (EIN) or a federal tax ID works for businesses in a way that a Social Security Number works for individuals. It's a tax identifier for legal entities that makes it visible and distinguishable for tax and regulatory authorities. Though an EIN is not a must, most businesses still need to get it at some point. Your company will need it for sure if you plan to hire employees, open a business bank account, set up a corporation, or pay excise taxes. Besides, an EIN is yet another brick into a solid business image and reputation maintaining the credibility and reliability of your legal entity in the eyes of customers, partners, and financial organizations.
BizFilings includes EIN acquisition in their most expensive Complete package and offers it as a separate option at $79. However, you don't have to pay for that since getting an EIN is as easy as filling in a digital form on the IRS website. More than that, this way, your entity will be assigned a federal tax number the same day while with BizFilings, you'll have to wait for up to 5 days.
Non-US residents without social security numbers will have to obtain an Individual Tax Number from the IRS before filing for an EIN. Again, it's quite an easy task to accomplish. You just have to fill in a Form W-7 available on the IRS website.
Sales and Payroll Tax Registrations
Tax requirements are valid for all business entities. Yet, the types of taxes your company will be exposed to vary both by the type of activity you run or the industry you operate in, and by the state or locality.
Most entities have to register for a sales tax or employment tax or even both of these. For a fee of $199, BisFilings can handle the registration process in your jurisdiction. They will prepare the necessary document package and collect the registration fees to be paid, as well as contact the tax authorities on your behalf.
A Set of Essential LLC Forms
Many services deliver company bylaws within their formation packages. Likewise, BizFilings includes a draft of an Operating Agreement into its Standard and Complete packages. Though not a law requirement for business formation, this internal document is vital for the smooth and efficient daily operation of your company. Outlining governance and control procedures, as well as setting the membership and profit distribution rules, an Operating Agreement is a functional and helpful tool for ongoing business management on a daily basis.

An Operating Agreement from BizFiloings comes in a combo with other useful LLC forms and templates, all provided on a CD.
While being optional in the majority of the US states, an Operating Agreement is a compulsory prerequisite for LLC formation in such states as Delaware, Missouri, New York, Maine, and California. You don't have to file it with formation docs, but you should have it in place.
Licensing Search Pack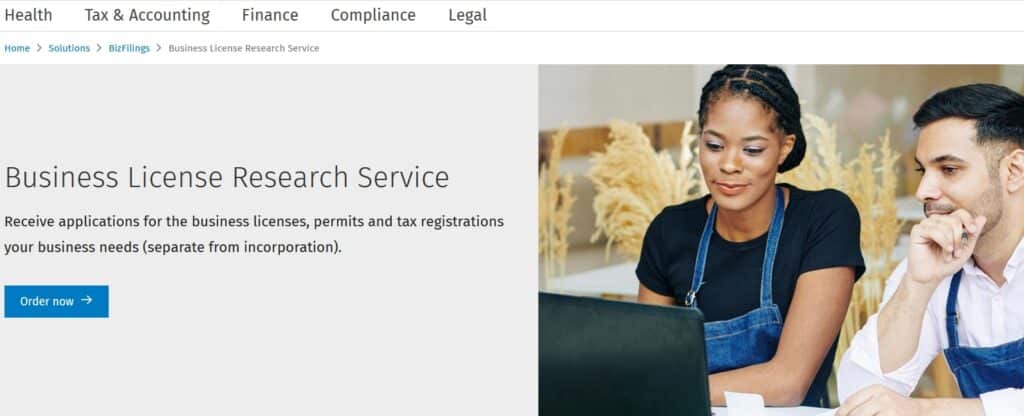 Similar to taxes, licenses and permits accompany many businesses after formation. You'll need a special license to distribute alcohol, sell goods, run a restaurant, provide repair services, and so on. Those regulatory docs come in numbers and are specific for a state or locality, not to mention federal licenses. To learn which ones are appropriate and needed for your business, you'll have to do quite a bit of work searching permissive databases high and low.
BizFilings' license search pack at $99 implies that the provider will do extensive research and come up with a full list of all the licenses and permits you need to get for your venture. They'll do all the hard work and even provide the application forms you'll need to fill in afterward.
Running a business in several states or targeting expansion, you'll have a chance to order several licensing packs from BizFilings with a nice discount. Contact their customer center to figure out more.
Partner Services
Along with their own optional services, BizFilings has a couple of third-party offers on its add-on list. Thus, Palo Alto's software at $99 will help startuppers create a functional business plan from scratch quickly and without hassle. And an ADP tool will greatly facilitate the process of running a business with hired employees. It will come in helpful in handling payroll taxes, and you'll also get an opportunity to ask questions to experienced payroll specialists.
Final Verdict
Overall, BizFilings is a good and reliable service. Backed by decades of experience, it offers quality, professionalism, and peace of mind to its customers. Its basic package is complete, and its warranty against filing mistakes is a truly unique standout feature. The company has a feature-rich service list and works as a one-stop-shop for both formation and compliance services.
At the same time, though, BizFilings is not our best recommendation. Its pricing is on the higher side and automatic registered agent service enrollment doesn't look attractive. We think there are many other services of this kind that are not inferior in quality and diversity to BizFilings but are more flexible and beneficial in pricing.