Business is all about making money, right? But before you even start your LLC or corporation, you already need to make some financial investments. This includes the actual formation process of the company.
To be clear, the DIY approach in business is always admirable. There's nothing but respect for entrepreneurs who just go out there and get it done all by themselves. However, with so much professional help around, it would be quite a bold move to reject it, especially at the early stages of your company's life.
This is where formation services come into play. These guys will sort out and file all required documents; provide you with licenses, permits, trademarks, and other registrations; open a bank account; set up a website; and much more.
In this article, we are going to take a deep look at one of Direct Incorporation reviews and find out if it's worth trusting them with the formation of your limited liability company in 2022.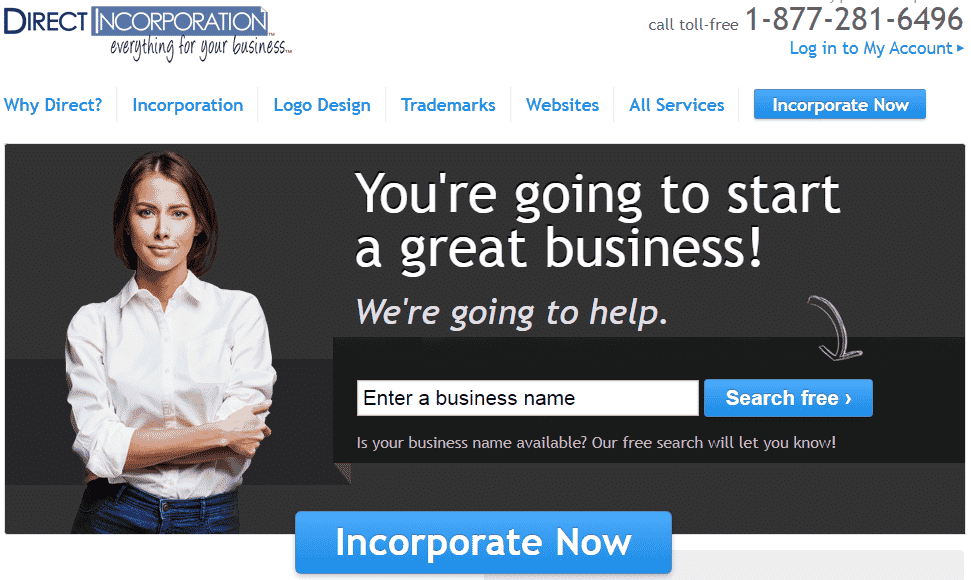 Is Direct Incorporation Legit?
Direct Incorporation dates back to 2003 when two Michigan residents, Shannon Stahlin and his father Edward, had an idea of helping people around them start new businesses. Assisted by a group of attorneys, the Stahlins challenged local law firms that were dominating the business formation market at the time. Operating from a bedroom in the family house, Direct Inc. had provided incorporation services to thousands of up-and-coming organizations before eventually growing out of their original premises and moving to a proper office building.
With bigger facilities come bigger responsibilities. By 2008, DI had exceeded 20,000 clients and introduced an expanded list of services that focused on establishing an online presence for small businesses. 2015 saw the beginning of the Executive Club platform that offered professional assistance from legal experts and fellow LLC owners.
What is the state of the company in 2022? Is Direct Incorporation legit? Let's have a look.
Direct Incorporation LLC Review
The company's headquarters are currently located in Ann Arbor, Michigan, and accommodate 13 employees. The main focus of Direct Inc. is creating LLCs, C-Corps, or S-Corps which includes the following procedures:
Searching for available names;
Compiling an operating agreement;
Providing a registered agent;
Obtaining an Employer Identification Number;
Filing Articles of Incorporation;
Filing a DBA (fictitious name);
Setting up a website and email;
Designing a custom logo;
Registering a trademark;
Opening a financial account.
For already existing companies, Direct Incorporation offers assistance with:
Name change;
Address change;
Members change;
Dissolution;
Taxes;
Annual reports;
Copyrights.
As you can see, there are a few interesting features in what seems like a fairly standard list of services. Website and logo designs are a nice touch, and we wish more formation services would do that. Another unique offering is DI's exclusive Executive Club. Here you can enter a business compliance program powered by specialized software which helps you manage your personnel and company data, track deadlines, and receive customized notifications about stocks and taxes. It also lets you save some money on future service purchases.
Before you proceed to fill out your online order, you can check DI's Learning Center for an in-depth analysis of the formation and incorporation essentials. This section covers a lot of interesting topics, from choosing the best name, location, and type of entity for your company to management tips and cost-saving tricks. Furthermore, there's a dedicated blog with more useful information and a step-by-step slideshow guide about starting a business.
All in all, Direct Incorporation has everything that you need for starting and maintaining your organization.
Direct Incorporation: PRICING Packages
On DI's official website, we can find 5 LLC formation packages that start at an above-average price and only become more expensive from there. However, the number of services in each package is quite impressive, so let's see which option gives the best bang for your buck.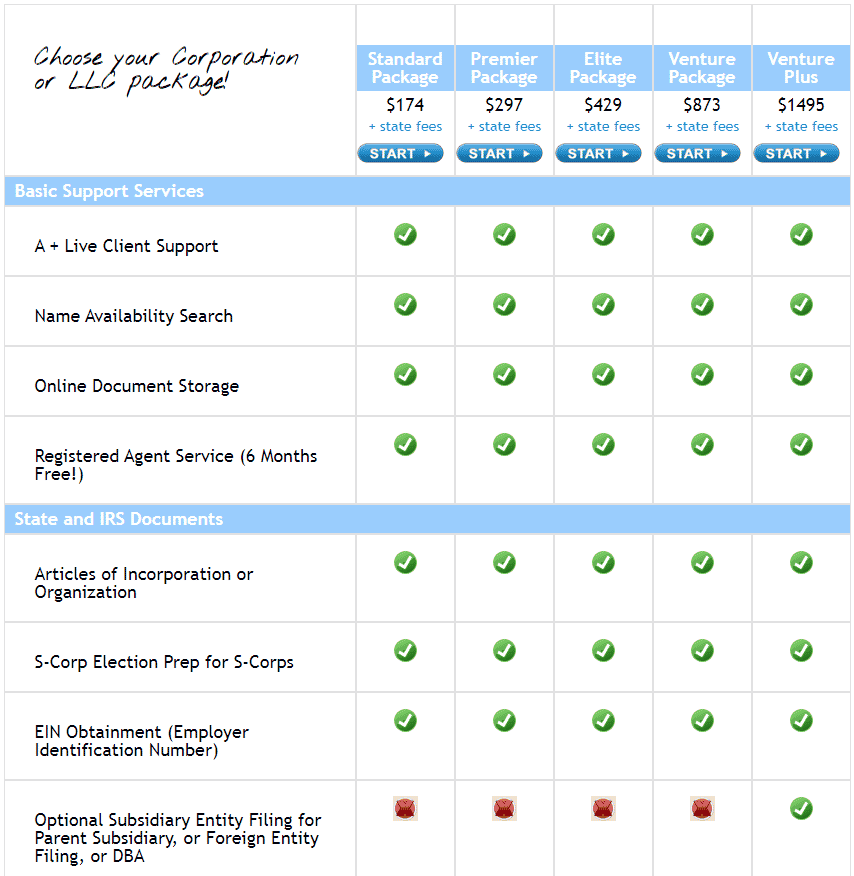 1. Standard Package ($174 + state fees)
The first formation plan available is nothing to write home about. You receive an Employer Identification Number (EIN), a registered agent for 6 months (after that you'll be charged annually), a selection of forms and documents (including Articles of Organization), a free business name if you still need one, and… that's it.
The biggest highlight of this package is probably the inclusion of a domain name for your website which is usually provided for an extra fee, plus not many companies are going to give you a free agent from the get-go. This package is very basic and kind of expensive for what it offers. Given the fact that most of Direct's rivals have much cheaper (even free!) starting plans, it's a bit disappointing, to say the least.
2. Premier Package ($297 + state fees)
For extra $120 dollars, your organization will receive its very own corporate kit that consists of an operating agreement, a customized seal and binder, a stock transfer ledger, as well as other documents, meeting minutes, and file samples. Now, these items are not technically required for an LLC to function properly, but it's highly recommended to have them nonetheless.
3. Elite Package ($429 + state fees)
We're finally moving on to the good stuff. Along with every item from the previous plans, Direct Inc will allow you to build your business website with the help of their special platform. On top of that, you're getting a company logo (albeit a stock one) and 5 email accounts for corporate use.
This is perhaps the most balanced package of the bunch with enough attractive perks to justify the price tag.
4. Venture Package ($873 + state fees)
The next plan brings out DI's biggest guns. Instead of a generic logo and website, you will receive a tailor-made product designed by professional web builders. $873 may sound like a lot (and it is), but for the record, the average cost for a custom website can easily exceed one thousand dollars, so this is actually a very nice deal.
Additionally, this package includes trademark services and full membership in Direct Inc's Executive Club (the first three plans only offer a trial period).
5. Venture Plus Package ($1,495 + state fees)
If money is not an issue, you may consider this absolute behemoth of a plan. It has every feature we've already mentioned and then some. Do you need to form a foreign entity? No problem. Filing a DBA? Sure thing. Registering a second trademark? Why not? Looking for an American business address? OK, we think you get the idea. Throw in annual meetings and their organization, and you can be sure that formation services do not get more V.I.P. than this.
Direct Incorporation is one of those companies that strip you of some valuable items at the starting point but truly start to shine when you move up a couple of tiers. See for yourself: the cheapest option gives you a bare minimum to form an LLC or a corporation with one glaring omission: there's no operating agreement or corporate bylaws included. For the steep price of $174, we would expect to get a bit more out of this package.
On the other hand, Direct Inc's most premium offer is a goldmine of cool perks and services that are going to work to your advantage years after the purchase. The question is: are you willing to pay 1.5 grand for a fairly simple formation procedure with some pizazz? If you really feel the urge to splurge, then, of course, go for it, but we personally would skip this one.
In our opinion, the real value of Direct Incorporation lies in the mid-tier packages that strike a fine balance between costs and benefits.
Direct Corporation Registered Agent and Additional Services
If you don't feel like ordering an entire package or just need a specific feature, everything can be purchased separately. Here's a list of Direct Incorporation's most popular services.
| Service | Description | Price |
| --- | --- | --- |
| Business Name Availability Search | Check if your desired company name is available | $0 |
| Foreign Entity Registration | Allows to register your LLC in other states | $199 + state fees |
| Corporate Kit | Custom seal, personalized binder, and access to the Business Compliance Program | $168 |
| DBA registration | Filing a fictitious name if your company is going to operate under a different name other than your own | $89 + state fees |
| Service | Description | Price |
| --- | --- | --- |
| LLC Name Change | Allows to change the official name of your LLC (filing provided by Direct Inc) | $149 + state fees |
| Resident Agent | Allows to change the resident agent of your LLC | $149 + state |
| Change | (filing provided by Direct Inc) | fees |
| Directors Change | Allows to change the directors of your LLC (filing provided by Direct Inc) | $149 + state fees |
| Address Change | Allows to change the legal address of your LLC (filing provided by Direct Inc) | $149 + state fees |
| Company Dissolution | Official closing procedure for your business | $132 + state fees |
| Tax Exemption | Allows to receive 501(c)3 Status | $224 + IRS fees |
| Service | Description | Price |
| --- | --- | --- |
| | | |
| Executive Club Membership | Allows to receive regular business advice and enter the Business Compliance Program | $13.99/month |
| Business Compliance Program | Includes ownership management tools, online dashboard, email notifications about deadlines and IRS requirements | $9.95/month |
| Annual Company Report | FIles your company's report | $97 |
| Startup Tax Program | Tax calculation and planning | $59/month |
| Service | Description | Price |
| --- | --- | --- |
| Domain Name | Register a domain name for your company | $0 |
| Website Registration | Build and register a corporate website (5 email accounts included) | $13.95/month |
| Custom Logo | Designing a personalized logo for your organization | $374 |
| Custom Online Store | Build a digital marketplace for retail sales (legal permit included) | $395 |
Copyrights and Trademarks
| Service | Description | Price |
| --- | --- | --- |
| Trademark Search | Checking trademark database for available options | $0 |
| Trademark Registration | Registering your trademark with the United States Patent and Trademark Office | $395 |
| Trademark Protection Tracker | Searching and locating any potential trademark conflicts (reported monthly) | $9.50/month |
| Copyright Assistance | Protection of intellectual property | $143 |
Direct Incorporation: Contact Information
Office Location
315 W Huron, Suite 240
Ann Arbor, Michigan
48103, US
Phone Number
+1 877-281-6496 (free)
+1 734-998-1866 (local)
Website
directincorporation.com
Email
[email protected]
CEO
Shannon Stahlin
Direct Incorporation: What We Like and What We Don't Like
There are dozens of providers in the LLC formation business, and each of them tries to play to its strength and hide its weaknesses. Let's analyze what Direct Inc has going for it and what pulls them down to the bottom.
| Pros | Cons |
| --- | --- |
| Experience | Cost |
| Exclusive features | Website |
| Ordering process | Customer Reviews |
| Customer support | |
| Processing time | |
| Maintenance | |
What We Like
First, we're going to emphasize the strong side of the company.
Experience
Who would you rather ask for help: an unknown rookie or a seasoned veteran? Experience is one thing that can only be earned, and Direct Incorporation has plenty of it.
Being in the business for almost 20 years, Shannon Stahlin and his team have served over 80,000 clients all over the USA and this number only keeps growing. This may not seem like much compared to other competitors, but it's the classic case of quality over quantity for the Michiganders.
Exclusive features
As we've seen in the Packages and Pricing category, the company from Ann Arbor can offer a slew of exclusive features that cannot be found on other platforms. You may argue that they come on the more expensive side (we completely agree with this statement which you will see in the Don't Like section), but the sheer amount and variety of options is worth your attention.
The web builder and 6 months of free registered agent service alone may seal the deal for the undecided, but there's so much more to choose from.
Ordering process
While DirectIncorporation's page is not going to win any web design awards (more on that later), the ordering process is extremely straightforward and intuitive. There's a neat table with a detailed breakdown and comparison for each plan to help you with making a choice. Once you've decided which package you'd like to go with, we recommend checking your alleged legal name using a built-in search bar. After that, it's all easy.
There are 3 total pages that you need to complete (choose the type of entity and plan > enter full company information > confirm the order), and you can breeze through them in no time. Nothing feels unnecessary, and we had no issues with our order whatsoever.
Customer support
In our opinion, customer support might be DI's strongest suit. The main means of communication include phone, email, and Facebook Messenger. The response time is quick, especially on the phone. Emails take some time to reach out, but you can easily find the direct addresses of most Direct Inc members on their website and choose a specific employee to talk to. That's the proper way of building close relationships with clients, and Direct Incorporation know what they're doing.
Processing time
In a world where time = money, you can't lose even a minute. And what can be more annoying than piles of pesky red tape that need to be sorted out and filed as soon as possible?
Fortunately, Direct Incorporation is as quick as the other guy when it comes to processing times. Your documents are guaranteed to be submitted within one business day, and then it's in the hands of the state (which as we all know, can be pretty slow at times). Overall, Direct Inc gets the job done in the blink of an eye and receives A+ for that.
Maintenance
Setting up a business is one thing, but keeping it functional for a long period is a different story. Most services provided by Direct Incorporation are aimed at long-term commitment, and most often than not they succeed at it.
After the formation procedure is over, you can opt out to receive monthly and annual reports, timely website maintenance, professional business advice, and more. DirectInc's Business Compliance Program is a standalone feature here, providing you with stock trackers, IRS report reminders, license renewal updates, and useful information about the current status of your LLC.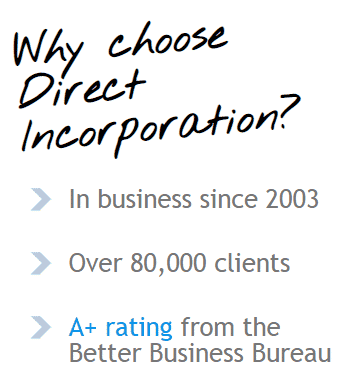 What We Don't Like
Nobody is perfect, and Direct Inc has several flaws that take away some points from its total score. They are:
Cost
Let's address the elephant in the room and talk about the formation fees. This service is expensive; there's no way around it. There are no free plans, and the cheapest option costs as much as some mid-tier offers from similar services. You do get a lot of good stuff in Elite and Venture packages (a logo and a website!), but you need to think twice before opening your wallet.
Website
The user experience on the website is decent. It is sometimes overwhelmed with text and the design feels uninspired and outdated for 2022. This is a minor gripe though, because overall usability is quite good, and it takes less than 20 minutes to complete a formation order. The lack of third-party offers is a big plus, especially since other companies are often plagued with unashamed upsells.
Customer Reviews
The feedback section of the website is filled with praising comments from satisfied customers. It's a common practice for a niche company like Direct Incorporation, and we believe that most of this feedback is legit. However, DI's Facebook page has very limited activity, and there are a couple of negative comments that are just sitting there without a reply. We don't think this hurts their reputation much, but it's something worth noting.
Direct Incorporation Reviews: Comparison with Other LLC Formation Services
If you Google "LLC formation", you will see that the company from Michigan is far from being the first option. In fact, the competition is strong and relentless. We've picked a few popular services to see how well Direct Incorporation stacks up against them:
ZenBusiness;
IncFile;
LegalZoom;
Northwest Registered Agent;
Swyft Filings.
We are going to compare pricing, track record, available services, customer support, and processing times.
Direct Incorporation vs ZenBusiness
ZenBusiness is perhaps the biggest name in the industry right now. Despite being 12 years younger than Direct Incorporation, the Texas-based team managed to assist the same number of customers (around 80,000) with a lot of positive feedback, so their growth trajectory is really fascinating.
The key element of Zen's success is, without a doubt, its pricing. A batch of essential LLC formation services costs as little as $39 whereas DirectInc charges 4 times more. If saving money is your priority, Zen's Starter package is by far the most attractive plan on the market.
Both companies offer designated registered agents (1 year for Zen vs 6 months for Direct) and online document storage as basic options. For extra dollars, ZenBusiness lets you build a corporate website, but so does Direct Incorporation (they also give you a free domain name).
The support is great for each service; the feedback is fast and very informative. What's not fast is ZenBusiness's turnaround time which directly depends on your plan selection. In other words, if you want your documents submitted ASAP, you must pay.
Overall, ZenBusiness is a better choice for entrepreneurs on a budget, while DirectIncorporation is pricy but more experienced and advanced.
Direct Incorporation vs IncFile
Next, we have another Texan-based LLC service, IncFile, which was founded in Houston in 2004, just one year after DirectInc.
You can immediately notice how much client-oriented IncFile is. Their portfolio includes over 250,000 formed businesses, and the reviews have been overwhelmingly positive. Direct Inc is solid in this regard too, but their record is slightly less impressive.
IncFile's price range starts at $0 (yes, ZERO dollars). The company will manage your paperwork and provide you with a registered agent for 12 months but don't expect anything else. It's a great choice if you want to stay as frugal as possible, but get ready to roll up the sleeves and complete some of the formation requirements by yourself.
Like Direct Incorporation, IncFile works quickly and submits documents to the state in one day's time. The communication via phone or email is solid; the personnel is polite, knowledgeable, and generally very helpful.
IncFile brings more value at lower levels, but if you're looking for a complete package, you'd better go with Direct Inc. The full matchup can be found here.
Direct Incorporation vs LegalZoom
LegalZoom is a true veteran of LLC formation companies. With over 20 years of service and more than 2,000,000 customers, it's become a well-oiled machine that knows exactly what people want.
The cheapest plan offered by LegalZoom comes at $79, which is higher than most competitors, but it's nowhere near that enormous price tag by Direct Incorporation. Objectively speaking, it's quite reasonable considering you're paying for the brand and its excellent reputation. However, there's a huge caveat here: the turnaround time is incredibly slow. Don't be surprised when your order is not ready by the end of the month. LegalZoom does offer a full 60-day refund, so at least you can have your money back if it takes too long.
In terms of features, both LegalZoom and Direct Inc are very similar, providing you with all kinds of business services. The main difference is that LegalZoom is more focused on, well, legal things, while Direct Incorporation is oriented towards creative aspects and branding (website, logo, trademark, etc.). It's worth mentioning that LegalZoom charges one of the highest fees for their registered agent service ($299/year) which may be a dealbreaker for many entrepreneurs.
LegalZoom gets our vote as a more accomplished provider, but other than that, Direct Incorporation doesn't fall too far behind. To see the comparison between these companies in other categories, check this article.
Direct Incorporation vs Northwest Registered Agent
Yet another LLC juggernaut, NW Registered Agent needs no introduction. It gets regularly included at the top of various ratings, and you're going to see why in a second.
First, Northwest is quite cheap, but for $39, it packs a serious punch with the help of 12 months of registered agent service which is already enough to attract the majority of potential clients. Obviously, other formation essentials like Articles of Organization and an online dashboard are included in its basic plan as well. Sadly, such popular features as website design or domain registration are nowhere to be found (even in premium packages), so if you need online integration, Direct Inc has got you covered.
NW's reputation is crystal clear which is apparent from thousands of amazing customer reviews. Matter of fact, people absolutely love Northwest for its top-notch support system that has no analogs in the USA. Furthermore, NW Registered Agent gives you access to their so-called Corporate Guides aka professional business advice from a selected group of experts. Direct Inc's Learning Center is a neat feature too, but Northwest takes the cake in this department.
DI is definitely no slouch, however, Northwest Registered Agent is one of the best LLC formation companies out there that genuinely cares about its clients.
Direct Incorporation vs Swyft Filings
Swyft Filings has been in business for only 10 years, but it's already made a recognizable name for itself. Swyft's starting package ($49) is very close to Direct Inc feature-wise, giving you general paperwork management, online document storage, and a domain name. As for the free registered agent, it's notably missing from the list of options and can only be purchased separately.
One thing Swift Filings has going for it is quick processing and submission. It's not the best LLC formation service, but definitely not the worst. However, Direct Incorporation has better attention to detail and brings a lot more to the table.
Direct Incorporation: Our Verdict
Direct Inc is a reliable mid-sized company with a lot of experience and dedication. While it may not have a mind-blowing customer volume, DI makes up for it with a strong lineup of exclusive features for a personalized LLC formation.
The company pulls ahead of its rivals by including online integration services like building a corporate website, designing a logo, and registering a free domain name. Every package also comes with EIN registration and 6 months of registered agent service which are often overlooked in other companies' basic plans.
To be fair, almost all starting packages on the market cost significantly less than DI's Standard option. The price tag may scare most customers away, and it's hard to recommend any package other than Elite. But if you're looking for advanced LLC formation and not afraid to invest a few hundred dollars, Direct Incorporation may be worth having a look at.
Add to that DI's excellent customer service and lightning-fast turnaround times, and you have yourself a solid top-15 formation provider with barely any weak points.
Have you had personal experience with Direct Incorporation? What do you think about this company?
Leave your thoughts in the comment section below.
Frequently Asked Questions