Are you on the hunt for the best LLC service to lead you through the business formation process? If so, most likely than not, you'll spot Inc Authority among top-line incorporation companies. This business provider has already become a choice for multiple entrepreneurs out there and continues to confidently hold the lead in the business incorporation industry. What stands behind it? What makes it so popular? How does it stack up against competitors? In our detailed review of this LLC service, you'll find the answer to these and many more other questions you might have. We'll take a close look at everything from the company history through its pricing policy to its fortes and weaknesses. So, get ready to dig in and keep on reading.
About Company: Is IncAuthority Legit?
Right off the bat, Inc Authority has a long history as they have been operating since 1989. 30 years of expertise alone make this company a worthy choice at a glance since they have more than enough experience in business formation and surely know their onions. They have formed 130,000 businesses and have gained a solid reputation of a leader standing among the best LLC services companies online, which is further proved by more than 4,000 customer Inc Authority reviews you can trace on the web.
Established and currently operating in Reno, Nevada, Inc Authority can form an LLC in any US state and ensures similar formation conditions nationwide. With that, the company is not an industry giant at all. With only a few dozens of employees working for it, it is rather a smaller player. Yet, they have many third-party partners, thus, providing a wide range of services without multiple in-house specialists. And their biggest selling point and standout feature that distinctly sets them apart from the rivals is their pricing policy we are going to talk about below.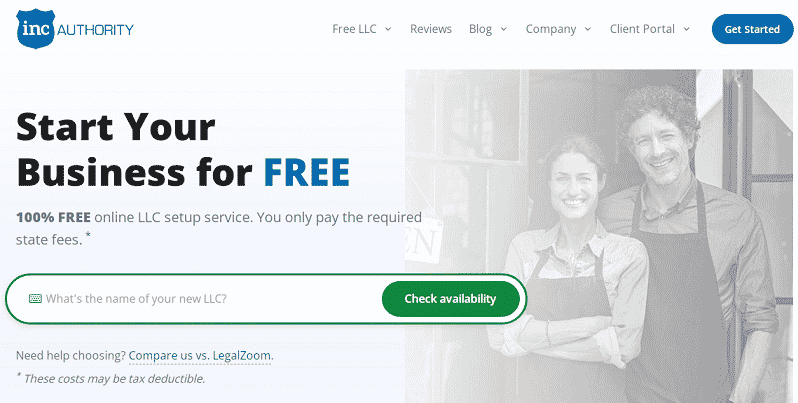 Inc Authority Pricing Packages
Similar to other LLC creation services, Inc Authority applies the by-package system when it comes to prices, i.e. the company bundles its services in various combinations taking into account varying customer needs. However, if you visit the IncAuthority website, you might feel a bit confused about their pricing. On their price page, you'll find only three packages that stand on the higher price end. Yet, Inc Authority is known as one of the two most affordable LLC services (along with IncFile), and it's the fourth package that gives it an edge over many other legal service providers of this kind. Before describing each package, it's worth noting that all package prices are exclusive of state fees.
Free
This is the fourth package we've mentioned above and not included in the Inc Authority price list. Instead, it's mentioned independently on their front page as a free formation option. What do they mean by "free" here? Free means $0 cost of their services. You won't pay a cent for the business formation and will only have to settle state fees and postage rates that you'd pay anyway since these charges are mandatory. Forming an LLC at the cost of only a state fee is really hard to compete with. And this is what allows Inc Authority to outpace many other incorporation services. More than that, at no cost, the Inc Authority Free package delivers more than other providers bring for money.
Name Check: They will perform a name availability search for you to see if the chosen name is unique and can be used for naming your future company;
Filing Formation Documents: Inc Authority will prepare the Articles of Organization and file the document with the state;
Registered Agent Service: The biggest plus of the Free package is that you'll enjoy a whole year of registered service, paying nothing. That's an amazing bonus! Further on, the annual fee for the service amounts to $99, which is also a lower rate as compared to competitors;
S-Corp Election Form: LLC formation gives you an option of being taxed as an S-Corp, which is of great use when your company and its profit grow up to a certain level. If you decide to use that option, Inc Authority will submit Form 2553 with the IRS on your behalf;
Digital Doc Depository: Once the Articles of Organization or a Certificate of Formation as they call it is registered with the state, a digital copy of your LLC docs will be available on the Inc Authority client portal any time you need it;
Customer Support: You can ask all your ongoing questions related to your LLC formation to the Inc Authority help reps and experts via email or by phone;
Tax Consultation: Tax planning is an essential part of any business. Since there is no way to skip taxes, you'd better plan them in advance to optimize and minimize the payments. And Inc Authority tax professionals will give you free advice on the best taxation schemes for your newly formed business;
Financial Analysis: To earn money, you might need to make some contributions and investments first. Hence, crediting and funding is vital for any growing business. Inc Authority financial consultants will share with you their ideas on funding solutions appropriate for your business.
Business Bank Account: It's advisable to split your personal and company finances from the very beginning. And this is where you need a business bank account. Inc Authority will help you open it for your LLC venture via the Bank of America.
Well, that's what we call "more for less". In fact, the Inc Authority Free package covers everything you need to set your business up and running on the right foot and even a bit more.
Starter
While a Free package is more than enough to form an LLC in the US, Inc Authority also offers payable bundles upgraded with more valuable services you'll need to operate and duly maintain your business after formation. The payable bundles start at $399. For that price, the Inc Authority Starter package will add the following services to the Free package:
Company Bylaws: An Operating Agreement is not a must-have doc for LLC formation, yet, it's really great to have it at hand, especially if you run a multi-member LLC. Strictly outlining the company management and operating principles as well as profit distribution, this document will help avoid any internal disagreements and conflicts, not to mention that it will enhance your business credibility in the eyes of regulatory and financial authorities. Inc Authority will draft it for you and customize your specific business situation.
LLC Kit: It's a company record book to keep your business docs in and a customized seal to mark your business-related paperwork. Though these are rather symbolic items, they still contribute to your company's corporate style. The same is true for the ownership certificates Inc Authority will issue for all company members.
EIN Registration: A federal tax ID number or an Employer Identification Number is a crucial thing for any LLC. It makes your company visible to state and tax authorities. Besides, you'll need it to be able to hire employees. Inc Authority will provide help in obtaining it from the IRS.
A year of Inc Success Advisor Service: It's a sort of advanced client support on some more specific issues such as licensing, audits, lawsuits, etc.
Executive
The price of the Inc Authority Executive package is $499. It covers everything you'll get within the Starter Package and adds:
Business License Report: Depending on the state you are going to operate your LLC in and the type of business you run, your company might need some licenses and permits to conduct business lawfully and legitimately. With access to special licensing software, you'll be able to quickly find out what additional permissions you'll need for your LLC.
Website Domain: A corporate website is a part and parcel of corporate style, no matter the industry you are engaged in. It's a sort of a virtual business card that will work for your company's credibility among the customers and partners alike. Inc Authority will provide a protected website domain for your business website. In addition, they'll help you build it from scratch by providing marketing consultations and appropriate content.
Tycoon
The price of the Inc Authority Tycoon package jumps up to $799 at the account of a number of added features it covers on top of the Executive package:
Expedite Order Processing: Your order will be given priority and processed above all others, which will expedite filing and business formation, as a result.
BizCredit Express Suite: You'll get access to a software bundle that embraces several tools related to a business crediting system.
Business Credit Coach provides a 90-day course of private coaching sessions on business credits for you to be able to raise credit funds in a proper manner.
Credit Building System will help you elevate your business credit score step by step.
Business Credit Launch Pad will guide you through all the stages of the business crediting process.
Credit Bureau Registration tool will sign your company up with a prestigious D&B credit bureau to build a solid financial image for your LLC.
It's worth noting that all premium options included in payable packages are available to order separately. Most often than not, these added services are provided by third parties, hence some service prices are listed on the pricing chart while others need to be checked with Inc Authority or are disclosed in the process of ordering.
Inc Authority Registered Agent: Pros and Cons
Surely enough, there is a lot going for Inc Authority and it might seem a nearly perfect choice at a glance. However, the provider still has its strengths and weaknesses as any other online LLC service. So, before making the final decision, thoroughly consider and weigh all the pros and cons in Inc Authority registered agent.
Pros:
Have you seen many companies offering free-of-charge LLC formation? We bet you haven't. In fact, there are only two of them, and one of those is Inc Authority. The $0 entry package is their major competitive advantage and the strongest selling point many other LLC services lack. It's hard to deny this and no need to;
A whole year of registered agent services included in each and every formation package is yet another strong point in favor of this formation company. Even their Free bundle packs 12 months of registered agent service, and the annual flat rate of $99 you'll have to pay afterward is fairly affordable as compared to other similar websites providing registered agent service at prices far above $100;
Excellent customer support is one of the LLC service must-haves, and Inc Authority really excels in this concern. They have email, phone, and live chat support, and their help reps are always available and eager to help. You won't have to wait too long to get in contact with a support specialist and obtain a full and informative answer to any of your LLC-related questions or will be redirected to an expert who can respond to you in more detail;
Extensive customer feedback showcases high customer trust towards the Inc Authority LLC service. Over 6000 reviews found online speak for themselves;
Inc Authority is in partner relations with many third-party providers associated with LLC services. Thanks to this, they are able to deliver many added options and features. Besides, if you are already a client of their partners, you might get some extra bonuses on the way;
When ordering their payable services, you might get a 20% discount coupon that will pop up while you are filling in the order form.
Cons:
Inc Authority has no refund policy in place. While some competitor services ensure partial refunds (up to 75%) and others even provide a 100% money-back guarantee under certain circumstances, Inc Authority won't accept any refund requests at all. Yet, we think it is fully compensated by their no-cost formation option;
When it comes to payable formation packages, they are at the higher price end starting from $399. For the sake of truth, though, it's worth noting that payable options are premium bundles offering services far beyond standard combos;
The company website is a bit confusing, and it will take you some time and effort to find the pricing options there while a free package is available on the front page straight away;
While free LLC formation looks very attractive and enticing, choosing this way, get ready to be pushed through a number of upsells and marketing tricks while making an order.
Inc Authority Reviews

Rich customer feedback is direct proof of the LLC service's credibility, trustworthiness, quality, and professionalism. Inc Authority shines in this aspect too and has stellar support from its customers. They boast over 6000 reviews online, which is impressive and powerful feedback as compared to many of their counterparts. On the one hand, it's no wonder since the service has been operating since 1989 and has served thousands of clients. On the other hand, over 90% of those reviews are positive and appreciative, which proves the consistently high quality of their services.
You can spot customer comments on Inc Authority on such reputed independent websites as Trustpilot, Google, and official Better Business Bureau websites. Despite knowing about the overall positive nature of those reviews, it's worth taking a look at comments to learn what customers appreciate about Inc Authority the most. Thus, besides the free LLC creation plan that users valued the most, their clients also specified top-rate customer support, the professional approach of Inc Authority experts, a simple application process, and relatively quick filing speed. Besides, many users were pleased with personalized customer service, where they always get in touch with real people and not some chatbots or other automation tools often used by other smaller LLC services.
Should I Start an LLC With Inc Authority?
We don't see any reasons for not choosing Inc Authority for LLC incorporation. The company's advantages certainly outweigh its cons, which are minor by nature. That being said, Inc Authority is not your only choice and not a perfect option for everyone.
The service is a real find for entrepreneurs on a tight budget who still want their LLCs to be formed by professionals as well as for beginners who need extensive customer support and personalized assistance will be of great help to them. Besides, if you rely on positive customer feedback that contributes to the LLC service image, InacAuthotity looks like a welcoming option for you too.
Meanwhile, Inc Authority might not be the best choice for those businessmen who look for advanced services and are not ready to overpay for essential added features. In this case, ZenBusiness and Northwest Registered Agent are worthy alternatives to consider. While ZenBusiness offers value for money and won't hit your business too much, Northwest is a premium LLC creation service that is still less expensive than Inc Authority premium packages.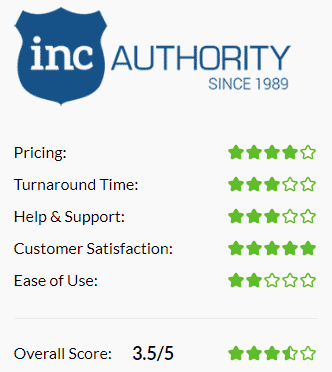 Final Conclusion
Our in-depth reviews highlighted the Inc Authority's strengths and revealed its weaknesses. No company is perfect, and In Authority is not an exception. Yet, what we do notice is that being a smaller LLC service, they offer a lot. Besides, free LLC formation Inc Authority offers readily puts it above many competitor services and gives it an edge over them. So, it's one of the best LLC incorporation services, anyway.
Frequently Asked Questions