An LLC service is an optimal alternative for many entrepreneurs when it comes to business formation. Much less expensive than hiring a lawyer, LLC services offer professional help in giving your business a legal form and save you the potential hassle of the DIY route. Yet, given the number of LLC services present on the market today, choosing the one that will meet your needs might turn out not as easy as it seems.
What makes a good LLC service for you? Some lean toward brand power and popularity while others consider pricing the prime decisive aspect. In fact, though, a good LLC service is a well-balanced combination of all meaningful factors, including experience, efficiency, service quality, customer satisfaction, and pricing policy. Starting your search, most likely than not, you'll come across the LegalZoom company. It takes the top positions on most LLC service lists and is a popular LLC service overall. Want to know if it is good enough and how it stacks up? Then keep on reading this LegalZoom LLC formation service review that covers all the key aspects you need to consider.
About Company: Is LegalZoom Legit?
Experience matters a lot in the LLC formation industry, and LegalZoom is one of the industry's old-timers. The company has been on track since 1999. And they've managed to create a strong and powerful brand since then and take a confident place among the most popular LLC formation services available. Behind the most recognizable brands stand millions of customers they've served for over 20 years they are on the business scene. With over 1 million businesses formed, though, the company focus is not only on business incorporation.
Businesses aside, LegalZoom also provides a full range of legal services to individuals in such spheres as estate management and planning, marriage and divorce, property and real estate deeds. As such, the company is a true legal service established by attorneys and still supported by a team of professional legal advisors specialized in different areas. This is something not so many other LLC services can boast. Besides, it's unlikely that millions of customers picked this very company by chance. Impeccable business image and reputation of LegalZoom walk ahead of them, and deservedly so.

LegalZoom LLC Formation Packages
How much does LegalZoom cost? Price is a burning issue for many beginner entrepreneurs and experienced businessmen alike. While most often, customers seek affordability, you should rather seek value for money. Many claim LegalZoom to be at the higher end of the price range. Yet, before rushing to any conclusions, let's take a closer look at their formation packages and what they offer for those prices.
Following the strategy used by many other formation websites, LegalZoom comes up with LLC formation bundles and added services, each priced separately. Overall, LegalZoom LLC pricing packages are offered at three different levels. Note that all packages are exclusive of state fees that vary by state and should be added to a final price anyway.
Economy
At $79, the LegalZoom Economy package offers basic formation meeting the state requirements.
Name Availability Search: Your LLC can't be filed with the state unless it has a unique business name. LegalZoom will check all the name versions you invent in a state database to make sure this name has not been taken by some other legal entity;
Drafting and Filing the Articles of Organization: Articles of Organization or Certificate of Formation are your actual formation documents proving that your company is registered with the state. LegalZoom will prepare these papers for you and file them with the Secretary of State as well as obtain the signed doc and transfer it to you;
Preparing Financial Authorization Letter: This doc is a so-called Banking Resolution outlining the persons enabled to open a business bank account for your newly formed company. You'll need it anyway since it's vital to split personal and business funds from the very beginning;
Perpetual Client Support: LegalZoom has stellar customer service you can reach out 7 days a week far beyond working hours (till 10 pm on workdays and till 7 pm on the weekend). Their help team is always there for you to provide consultation on the services and any LLC-related issues;
Peace-of-Mind Review: Once you place your order, LegalZoom experts will check it before your business is formed to spot any mistakes or missing data.
Standard
There is a huge gap between Economy and Standard formation package prices. The cost of the LegalZoom Standard package is $329, which is several times the price of the low-tier package. What stands behind that difference? The Economy package is upgraded with:
Deluxe Organizer: Though not related to LLC formation at all, this piece is an attribute of a corporate style that will work for your company image;
Ownership Certificates and Company Seal: Still more like business accessories, 20 membership certificates are included in the set to welcome company members as business co-owners. And a company seal will be widely used on many different paper forms during business operations;
VIP Processing: LegalZoom makes sure your order form will be processed in priority over other orders, thus, expediting the overall filing process for you.
Express Gold
The name of the LegalZoom Express Gold package has some direct implications. With a slight price difference (at $349), what you'll get above the Standard package is:
Rush Filing: Not only will your order be prioritized but also LegalZoom specialists will do their best to complete LLC formation within a week or 10 days maximum;
Express Shipping: LegalZoom will use express delivery services to ship your documents in the fastest manner possible.
By and large, LegalZoom packages don't look feature-rich and cover pretty much mere basics, with some minor extras to match. However, on top of that, the company also offers a whole range of added services that are also worth mentioning.
Add-ons
Registered Agent Service: An essential aspect for any LLC in the US, unfortunately, this service is not incorporated into LegalZoom formation bundles and comes as an option. Given that you'll have to add it to the list of must-have services one way or another (unless you serve as your own registered agent), you'll end up increasing the final formation price for this option. The annual service price is $299. Even reduced to $249 in case you order it within one of the LegalZoom formation packages, it still throws the company far behind many of its rivals;
Operating Agreement: Again, incorporated in LLC packages at many other LLC services, an Operating Agreement is a payable option in LegalZoom. However, this document is rather a company by-law and you can draft it on your own. On the positive side, choosing to order it in LegalZoom, you can rest assured it will be written down by legal professionals and customized to your individual business situation. Don't neglect this opportunity since an Operating Agreement outlines the company managing structure and profit distribution to prevent any disagreement and conflicts between the LLC members;
EIN Registration: An Employer Identification Number is your LLC identifier for regulatory and tax authorities. LegalZoom can obtain it for you for $79. Yet, you can easily file the application with the IRS without paying any extra since the IRS issues that number for free;
Annual Report: In most states, to maintain your company in good standing with the state, you'll have to file an annual report updating your key company info. While not a big deal, failing to file this doc in time might have unpleasant consequences for your business. So, paying $55 for LegalZoom doing it for you is worth the peace of mind you'll get;
Compliance Schedule: At $69, LegalZoom will create a sort of calendar with due dates for filing essential reports, state docs, and taxes and send you reminders on those dates. Notably, many other LLC services make this option a default part of their formation packages;
Licensing Package: Forming an LLC means creating a legal entity at the state level that might need some added permissions to lawfully conduct business at all levels. In other words, to run some types of activities in certain areas, you might have to obtain federal, state, and local licenses. While you'll have to get those licenses on your own, LegalZoom offers to make a list of the licenses and permits necessary for your business entity which is a very convenient feature. And the time you save on search is well worth the $99.99 this service costs;
Certified Formation Documents Copy: If you need a certified copy of your state filing documents, you can get it from LegalZoom at $45. And those copies might be required by some financial or credit institutions;
Compliance Certificate: This paper shows your entity is in good standing with the state. While quite a pricey option in other LLC services, it comes at a fair price of $45 in LegalZoom;
Advisory Plan: It's a brand-specific service you won't find elsewhere. At $31 per month, LegalZoom will provide expert legal help on drafting contracts, copyrights, trademark rights, and taxation issues. This type of legal assistance is highly valuable when you are at the beginning of your business journey and need to give your venture a proper start in all senses;
Business Transformation Services: At some point, you might want to make amendments in your formation documents to reflect some vital modifications and changes, convert your LLC to a corporation, or even dissolve it. All these moves need to be legalized, and LegalZoom can help you with that at $129 for introducing amendments and dissolving a company and $229 for the business form conversion accordingly;
Foreign Qualification: Some states like Delaware and Nevada are considered more business-friendly due to flexible taxation and some other business perks. For this reason, many entrepreneurs decide to form their business in those states while actually running it in their home states. When doing so, you need to register a foreign qualification in your domestic state. LegalZoom provides this service at $229.
The list of LegalZoom added services is really impressive. While some of the services are quite common for other LLC formation websites, others are unique for LegalZoom and can be of great use for certain business scenarios. On the negative side, though, there are also features that make a part and parcel of formation plans in other services while appearing quite expensive options in LegalZoom.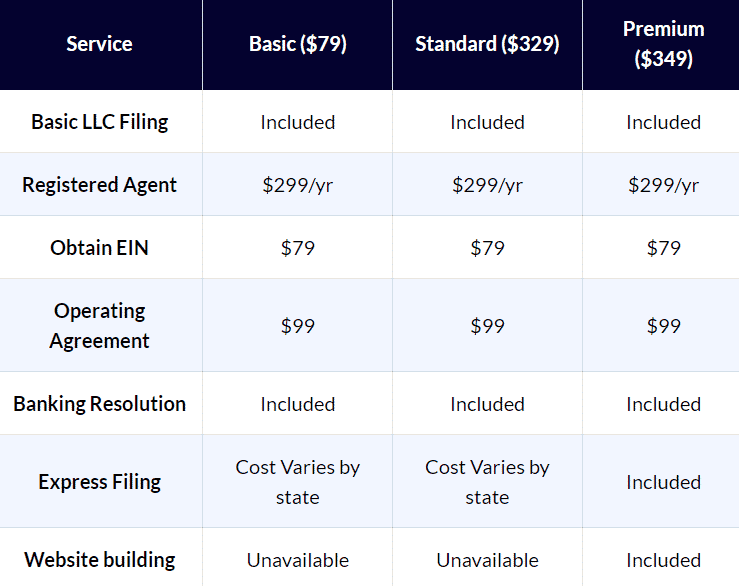 LegalZoom Registered Agent: Pros and Cons
Top-rated market players always have a lot of contradictions about them. On one hand, they offer a number of values and perks, and on the other hand, they might have quite a number of drawbacks too. LegalZoom registered agent is not an exception in this concern. Being in a legal business for a long time, the company has developed a wealth of unique and useful features. In the meantime, as a high-scale business, LegalZoom does have some weak points and bottlenecks.
Advantages
Strong and Reliable Industry Expertise: With over two decades of experience in the field, in LegalZoom, they know their onions for sure. More than that, established by an attorney, the company is still run by lawyers and attorneys to ensure their clients get high-quality professional assistance;
True Legal Service: While most legal services are rather executives and use third-party services for consultations, in LegalZoom, they have an in-house team of professionals and legal advisors who handle not only business formations but also provide a whole range of legal services in the individual sector. So, LegalZoom can serve as a one-stop-shop for many of your business and personal needs;
Stellar Customer Support: Excellent client service is a solid sign of the high service quality of LLC formation companies. Despite the fact they do the job for you, you should be aware of the whole process and understand it. Hence, it's vital to be able to get answers to any ongoing questions. LegalZoom has one of the best customer services in place. Not only are their help reps responsive professionals eager to provide full and complete answers to any of your questions but also they are available on a weekly basis far beyond business hours. So, you can contact them any time you need;
Refund Policy: Not all LLC services provide a refund policy, which is yet another selling point adding trustworthiness and prestige to an LLC service. LegalZoom boasts a 100% money-back guarantee and will pay back all fees in case you claim that within 60 days after placing an order;
Free Name Availability Search: LegalZoom is one of the LLC formation websites that offer free business name check irrespective of whether you are their customer or not;
Comprehensive Business Plan: The above-mentioned Advisory Plan, which is a LegalZoom-specific option, is a lifesaver for beginner entrepreneurs and first-time businessmen who need legal help like no one else. Covering attorney consultations, document overviews, tax advice, annual business compliance evaluation, trademark, and copyright registrations, this plan will help you consistently maintain your business compliant with the state and move in the right development direction.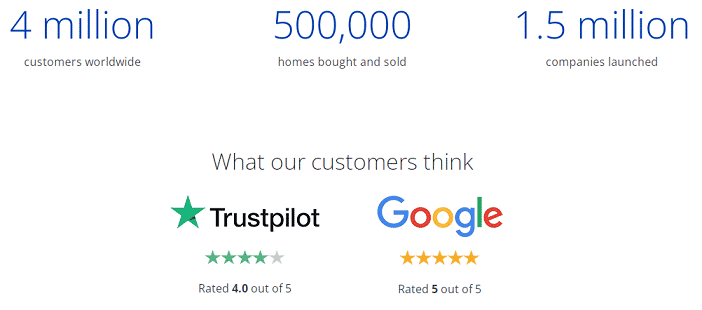 Disadvantages
No Registered Service Bundled in LLC Packages: LegalZoom does have registered agent service on their menu, yet, unfortunately, they don't make it a part of their service bundles and sell it as an option. More than that, it's quite a pricey option. At $299 per year, their registered agent service is one of the most expensive out there;
Higher Cost of Business Registration: Though at $79, LegalZoom doesn't look too expensive, once you check what they deliver for that price, you understand that the cost is not worth the value. Besides, by adding registered agent service to the package, you'll immediately boost its already quite high price;
High Overall pricing Policy: Both LegalZoom formation prices and their added service rates are overall on the higher end of the price range and there are some cheaper LLC services that offer more at a lower cost;
A Large Number of Upsells: Most LLC services have upsells, which is a normal thing since it's their added income. However, LegalZoom is quite pushy in this concern. While their competitors will throw add-ons at you during the ordering process or straight after completing the order form, with LegalZoom, you'll have to consider a whole variety of extras even before you get to the formation page and packages. Though you are the only one to decide whether you need those services or not, the whole process is pretty annoying, not to mention that by adding all those upsells to your purchase cart, you'll end up with the package price far above $1000.
LegalZoom Reviews
LegalZoom is a popular LLC service, so no wonder they have rich and extensive customer feedback online. In general, customer reviews are company reputation builders. Besides, fair comments posted on independent and unbiased review websites such as Trustpilot, ConsumerAffairs, Google, and Better Business Bureau are the easiest way to get some info about the LLC service you are interested in and find out its strengths and weaknesses.
Noteworthy, LegalZoom customers readily share their opinions on the web, hence there are thousands of customer comments you can spot on the above websites. For the sake of truth, we should admit that not all of those reviews are readily positive and there are negative comments too. However, five-star LegalZoom reviews still outweigh the negative ones.
The LegalZoom pluses most reviewers have specified are a powerful brand supported by solid expertise in the field, helpful and responsive help reps that are easy to reach over the phone, high-quality services, and personal legal service benefits offered by this company. What mainly got dislikes is quite expensive and confusing pricing policy with multiple upsells.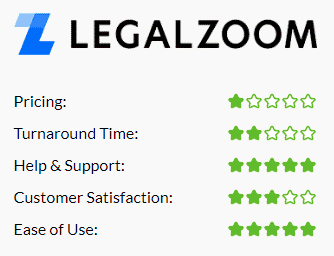 Should I Start an LLC With LegalZoom?
Before considering any LLC service as your potential formation assistant, it's essential to understand that there is no one-size-fits-all solution here. With that, LegalZoom is a great choice for those who value brand power and industry expertise as well as for first-time businessmen who want to avoid mistakes while forming their business entity. Though a pricier option, LegalZoom has a whole lot of business services in their arsenal far beyond business formation to keep your company up and running and make it move and grow in the right direction.
Meanwhile, if you have a limited formation budget or are simply not ready to overpay for the features you don't actually need, you'd better look for some alternatives. Thus, ZenBusiness is a direct LegalZoom competitor that offers great value for your money and the registered agent service is already included in their cheapest $49 package. You can learn more about this company in a ZenBusiness Review or see how it stacks up against LegalZoom in the LegalZoom comparison guide.
Frequently Asked Questions