If you're not an expert in legal matters, you're likely to have dozens of questions and difficulties in the process of setting up an LLC in the U.S. You will probably need the support of professionals to give you a helping hand and be trusted companions on the way to the business of your dreams. Tailor Brands can be such a lifeline for you in times of need. Moreover, this company will not only register your LLC in the chosen state but also help with logo and website design.
Curious to learn more about Tailor Brands LLC formation? Then continue reading this article!
Is Tailor Brands Legit?
Tailor Brands is a young company. It has been providing its services to aspiring business people since 2015. Nevertheless, this service already boasts an impressive experience. Their official website states that for 7 years of their operations, they have managed to help 30M people with LLC registration and branding.
The ease of working with this service has attracted a number of big players in the business, who have already invested at least $70M in Tailor Brands. In the list of the investors, you will probably notice companies familiar to you (such as GoDaddy and OurCrowd).
Tailor Brands Overview
This company was founded by three young entrepreneurs in New York City. Tailor Brands is not their first project, and they know exactly what business people need at the beginning of the journey. By implementing artificial intelligence into the service, they have been able to maximize the speed and simplicity of the LLC and design creation process.
Currently, the main goal of this service's employees is to make it simple to create a company in the U.S. They claim that by automating processes, a business foundation can be as easy as a swing of a magic wand. Moreover, this service provides their help at a fairly low price, which makes their offers very favorable.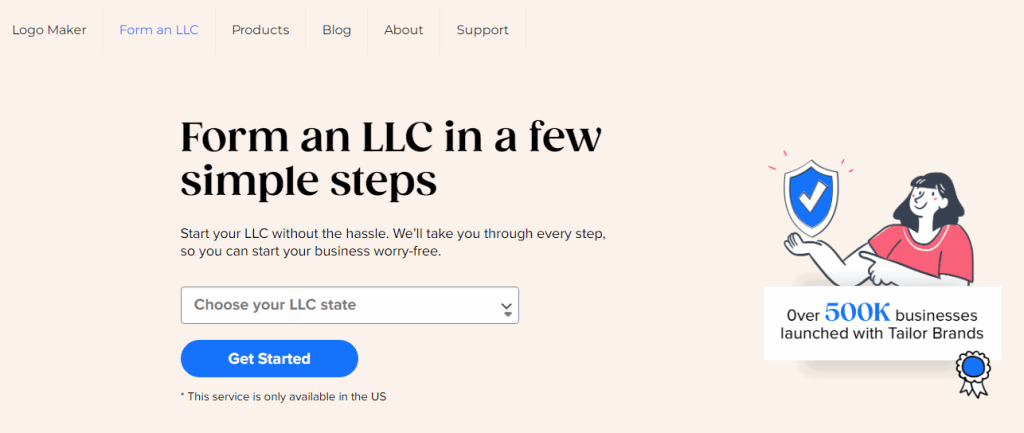 Customers are content to work with this company. We have come to this conclusion by studying Tailor Brands' reviews on Trustpilot. Users of this service note that the company has helped them cope with the burden of responsibility that has fallen on them during the process of starting a business.
However, we have also found a few negative reviews related to renewing subscriptions to the service. We recommend that you read the agreement carefully before signing up for the service so that you don't end up in an awkward situation.
And while the service's competitors offer their customers exclusively legal assistance with business registration, Tailor Brands has more to offer:
LLC registration;
Development of a logo and other branding elements;
Creating a website;
Assistance in purchasing a domain name;
Assistance in drafting an Operating Agreement;
Drafting and filing an annual report (if the state requires you to do so);
Registered agent's assistance.
In this way, you'll get a business that looks professional from the very first day of its operation.
Tailor Brands Pricing
In this Tailor Brands review, we would like to pay special attention to the company's pricing policy. The cost of their services is affordable and will pleasantly surprise you if you compare it with the offers of their competitors.
Tailor Brands Service Packages
This company offers only one LLC formation package. Many competitors have several packages at different charges with diverse content (many of the included services cannot be opted out even if they are not relevant to you). Nevertheless, Tailor brands offers you to buy the lacking services additionally.
For many entrepreneurs, this turns out to be an even more convenient way of cooperation. So, you only pay for the minimum list of services required and then decide if you need anything else.
For $49+state fees, the company will help you check the availability of the chosen business name as well as fill out and submit the Articles of Organization.
Additional Services
If you need extra help, consider these options:
Registered Agent Services - $199/year;
Obtaining an EIN - $99 (you can do it yourself on the IRS website quickly and for free);
Drafting an Operating Agreement - $29;
Annual Compliance - $199.
If you want expedited processing, you'll have to pay an additional $49.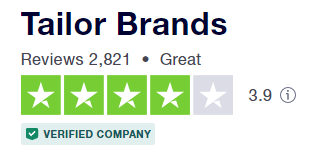 Tailor Brands LLC Pros and Cons
Let's summarize our Tailor Brands review and take a look at the pros and cons of this company.
| Pros | Cons |
| --- | --- |
| Quick and easy business foundation and branding | There are negative reviews related to difficulties in refunds and cancellation of subscriptions to services |
| Reasonable prices | No Tailor Brands phone customer service |
| User-friendly website | |
| No hidden charges | |
| Positive Tailor Brands LLC formation reviews | |
Tailor Brands Contact
Tailor Brands' website is incredibly user-friendly. Check it out to learn more about the company. Also, explore the range of services and the blog with lots of useful information. There, you will also find the company's contact form. Leave your request, and the service representatives will contact you as soon as possible.
Unfortunately, you will not find Tailor Brands' address and phone number on the website. That is because the service operates only online and does not provide help by phone. But you can always use email if you need to contact them.
Also, visit the company's social network pages to get the complete picture of the service.
Conclusion
In our Tailor Brands review, we wanted to provide you with as much detail as possible about this remarkable service. And although it has its flaws, you can't underestimate its merits.
With the help of this company, you can easily and quickly establish an LLC as well as immediately enhance the company's professional image.
FAQ