When you come up with a great business idea and plan to create a legal entity to bring your idea to life, you have two options to go. You can either follow a DIY path and do the formation job on your own or let a professional assistant take care of everything for you. More and more beginner entrepreneurs pick the latter and for a good reason. Covering the formal part, formation services give you more time for strategic business planning, which is vital at the startup stage. Yet, the main question is which formation service will best suit your business needs.
With a whole lot of LLC services around, the customer choice is really hard. So, to ease your search, we've made a series of articles on different formation services operating in the US market. Below, you will find one of the most comprehensive InCorp reviews that will help you figure out if this service is a match for you. We'll disclose everything from the nuances of InCorp's pricing approach to InCorp contact details. Keep on reading and in the end, you'll have enough info to make up your mind.
Is InCorp Legit?
Before you get into any cooperation with a formation company, you want to be sure you can trust it. The business's trustworthiness and reliability are determined by its track record, service quality, and customer ratings. InCorp hits the spot in all of these categories.
Founded in 1998, the company has been in the industry for over 20 years. It's quite a long period of time, during which Incorp has managed to build a recognizable brand and gain a solid reputation on the market. Long history and extensive customer portfolio (with over 250,000 clients in it) stand for huge expertise and reliability.
On the other hand, the A+ Incorp rating on the Best Business Bureau platform alone speaks for itself. It shows the ultimate customer loyalty and satisfaction, which in its turn indicates a high level of professionalism and diligence.
There is a lot going for InCorp LLC service, and there are no reasons to doubt the company's legitimacy, especially given the fact that it has a representative office in each US state, as well as in Puerto Rico and US Virgin Islands (more on this below).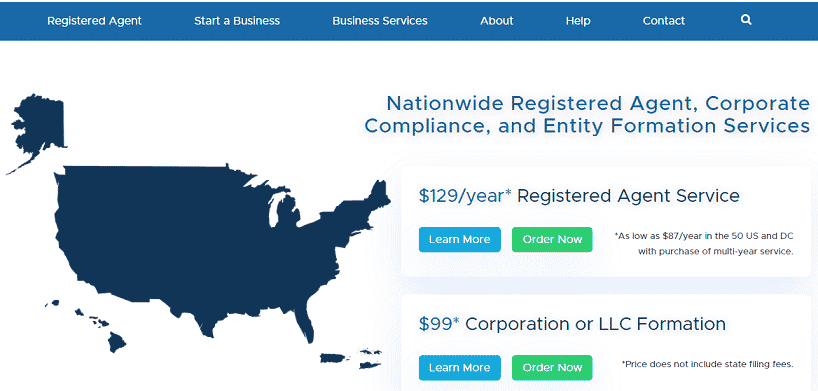 InCorp LLC Review
Before we dig any deeper, let's outline the aspects, features, and issues we are going to touch upon in this Incorp LLC review to make it easier for you to navigate through our article.
Straight off the reel, initially, Incorp was established as a registered agent service, and this service is still the core company's activity and its bread and butter. Incorp is a nationwide registered agent service provider which means it has a registered office in each US state. Besides, the company serves in additional US territories such as Puerto Rico and the Virgin Islands. To add more, Incorp registered agent service has certain unique features that give it a competitive advantage. Thus, a multi-year order will let you considerably save on annual payments. It's something no other similar company offers.
Incorp business formation tools, on the other hand, have rather appeared in association with their registered agent service, which is the company's prime point of attention. We must admit, though, that the range of provided formation services is comprehensive. Not only will Incorp help you form any type of legal entity but also it enlists a number of add-on services helpful in future business maintenance and compliance support.
When it comes to pricing, InCorp is different from its numerous rivals by using a unique approach that we discuss right in the next section. Overall, the company hits the midground in terms of prices. The only real drawback we've noticed is a shipping fee that will be added to your formation pack by default. Though not very high (at $18), this fee still mars up the whole impression.
InCorp: Pricing Approach
A package-based pricing approach is considered to be sort of traditional for the business formation industry. Companies pre-bundle their services into ready-made plans that vary in prices and types of services to meet different formation needs, budgets, and business scenarios. However, it's not the case with InCorp. The company comes up with its own vision and offers a different strategy in pricing.
Thus, Incorp doesn't have a multi-tier system of formation packages. Instead, they provide a single price for LLC formations and incorporations alike and deliver a whole range of one-time services you can add to pack your formation plan as you deem necessary. Is it an efficient pricing approach? Before we answer this question, take a quick look at the chart below to get an idea of how it works.
| Plan | Basic Formation ($99) | Full Formation ($228) |
| --- | --- | --- |
| Formation Documents Filing | Covered | Covered |
| Registered Agent Service | $129 per annum | Covered |
| Shipping Fee | $18 added by default | $18 added by default |
| Express Shipping | $6 | $6 |
Though InCorp has only one formation plan, which is "Basic", we've added a year of registered agent service to show how much full formation will cost. Notably, the final price will be increased by the $18 shipping fee, which is compulsory for all orders.
A good thing about an "a la carte" approach is that you get basic filing without being pushed into purchasing the services you might not need. On the other hand, though, we wish the starting price point were lower so that extending your bundle with the necessary add-ons wouldn't cost you an arm and a leg.
Besides, there are some nuances about the InCorp registered agent service price. So, let's get into price formation details to reveal all the formation options you'll have with the InCorp LLC service.
InCorp Formation and Incorporation Service: $117 + State Fee
The Incorp baseline formation fee embraces a $99 service rate and an $18 shipping fee. While the InCorp website displays only a $99 fee, we think it's fair to specify $117 as the basic price since you'll be charged $18 for the document shipping anyway.
Normally, formation services stipulate prices exclusive of state fees. As the name suggests, state fees are state-specific. It's a payment incurred by the state office for your formation documents review, check, and approval. These fees differ by state and can fall anywhere between $40 and $500. That's why other services and InCorp separate their service fees from those to be paid to the state.
However, if you go for the InCorp assistance when registering a legal entity, it's the InCorp that will have to transfer a processing fee to the state office on your behalf. Hence, that fee will be added to your order price automatically.
In the meantime, the company is very specific about state fees. Once you pick the state of formation, the InCorp website will display a detailed list of appropriate fees valid in that state for various types of business entities.
Coming down to the standard Incorp LLC plan, what you'll get for the price of $117 includes:
Business name search: Unless your chosen company name is unique, your formation application won't be accepted by the state. Before filing with the state, you should make sure the business moniker you want is not used by any other local legal entity and complies with the state rules. InCorp will search the state entity databases for you to ensure your prospected company name is available for registration;
Drafting and filing formation documents: Technically, business formation or incorporation is about submitting formation documents with the state to let your company officially appear in government registries. Your LLC or corporation becomes legally existent at the point where the state office approves your Articles of Organization or Incorporation. Using your provided business data, Incorp will prepare the documents, file them with the states, and send approved papers back to you;
Document shipping: Unlike many competitor services that make document shipping a default feature of all formation packs, InCorp has an added shipping charge. Thus, regular shipping will cost $18 and for overnight shipping, add $6 more.
All in all, this InCorp set is barebone and contains neither a registered agent service nor an Operating Agreement that we consider the core features to make your business formation complete. In fact, it covers no added options to justify the price of $99. There are quite a few other services on the market that offer more value at a lower cost.
InCorp "A La Carte" Services
Along with an entry-level formation pack, the InСorp LLC service list abounds in added options sold as one-off services. This way, Incorp avoids heavy upselling, which is often applied by other similar companies. At the same time, it's a customer-focused approach giving you an opportunity to create an individual service bundle apt for your current needs and business perspectives.
Surely enough, any extra services will further bump up your grand total. Yet, we must admit that most of the InCorp add-ons appear as add-ons with other LLC services as well. So, let's take a look at the InCorp one-time services and what value they bring.
InCorp Registered Agent Service
$87 - $129
A registered agent is a must-have element for LLCs and corporations alike. The function of this role is to receive and process your company's legal mail and timely inform you of any important letters or notifications that settle certain deadlines, need your prompt response, or require some actions from your side. By serving as a contact point between your entity and the state, a registered agent is a part and parcel of business compliance support.
Any adult person or a legal entity with a registered address at the state of your business formation could function as a registered agent for your corporation or LLC. You can even perform this job on your own. However, there is hardly a better alternative than a professional service.
InCorp registered agent service is its biggest pride and the core of its business. No matter your state of formation, Incorp could serve as your registered agent there. Besides, the comapany delivers this service in the US territories including Puerto Rico and the Virgin Islands. The pricing in these regions is different from US rates. More on that below.
Incorp claims its registered agent service is by far the best in the industry, and for a good reason. Staying with Incorp registered agent, you'll get access to a few unique features:
EntityWatch®: It's a branded InCorp technology aimed at preventing identity theft, protecting your company data, and keeping an eye on your business compliance status. By monitoring the state databases and comparing the info from the registries from that stores in Icorp, the system will keep track of your filing status, crucial deadlines, director and manager legitimacy, etc.;
Entity Management System: You'll get access to your personal client dashboard on the InCorp website to upload and access your electronic documents, as well as monitor important filing and reporting dates and check your business status. Meanwhile, the inbuild Entity Management System will keep you informed of any compliance requirements and enable you to trace your corporate docs, business mail, and even pay invoices;
Expedited service: With InCorp registered agent, you'll be informed about any crucial letters or service of process within 24 hours. The company will let you know via fax or email or forward the docs by express mail if necessary. Anyway, they'll do their best to let you know asap so that you don't miss anything;
Smart accounting for expenses: If you choose Incorp to be your registered agent in several states or represent multiple companies, you'll get a consolidated bill for all your businesses.
While all of the above features add value to the InCorp registered agent service, the company applies a money-saving approach to cut down the service cost for you. Thus, if you order this service for more than one year at once, you'll get a nice discount. See for yourself.
| 1 year | 2 years | 3 years | 5 years |
| --- | --- | --- | --- |
| $129 per year | $117 per year | $105 per year | $87 per year |
Multi-year service offers great discounts and will let you save quite a bit of money. Likewise, ordering service in several states at once, you'll enjoy bulk discounts too. Multi-year registered agent service is exclusive to InCorp. There is no other company in the industry doing the same.
Note:
Valid for all US jurisdictions, the above-described pricing model is not applicable for US territories. The registered agent service prices in Puerto Rico and the US Virgin Islands are $259 and $389 accordingly.

Managed Report Service
$49
Post-formation business compliance is not mere words. There will be a number of state filing and reporting requirements you'll have to observe for your company to keep it in good standing with the state. An annual report is one of such requirements. Both LLCs and corporations have to file basic reports on an annual or biennial basis to regularly update their company info. And failing to do so will cause penalties or can even bring more serious legal problems.
This is where the InCorp managed report service will come into play. The company will not only remind you of the filing date but also prepare and submit your annual report with the state. It's a subscription service provided at $49 per year. The price is fair and affordable as compared to competitors. And the service, on the whole, is of great value.
Business Licensing Services
Starts at $99 per year
Most likely than not, you'll need to acquire several licenses and permits to lawfully run your business in a certain state, county, or locality. Yet, business licenses vary by the scope of your business, the territory you operate in, and the type of activity you conduct. Hence, licensing is a sensitive issue that baffles many beginner businessmen.
InCorp provides a whole range of licensing services. Thus, you can order a license search to get a complete list of licenses required in different jurisdictions along with a set of application forms and supporting documents to fill in. The price for this service is $139 per jurisdiction.
At $199 per license, InCorp can also handle the whole license filing process for you. They will fill in and submit all appropriate documentation and settle any issues that might arise along the way.
Finally, using a third-party service, InCorp offers a license compliance software tool to manage your license portfolio in the most efficient manner. You'll be able to keep track of license renewal dates, monitor licensing requirements in your jurisdiction, and more. It's a subscription-based service provided at $99 per year.
S-Corp Election
$35 + state fee
LLCs and corporations can choose an S-Corp tax designation to use the tax benefit of this status. For the S-Corp election, you should file Form 2553 with the Internal Revenue Service. You can do it on your own or let InCorp prepare the form and apply it for you. Get ready to pay $35 for the service over a compulsory state fee, though.
EIN Registration
$69
An EIN is an Employer Identification Number or a Federal Tax ID issued by the IRS and used by government and state authorities to identify legal entities as taxpayers. While single-member LLCs can use the social security numbers of their owners to file taxes, multi-member LLCs should get EINs for that purpose. Besides, an EIN is needed if you plan to hire employees, set up a business bank account, file for S-Corp, or need to pay excise taxes.
However, we don't think you need Incorp assistance to complete this task. Though a $69 fee is a market average, you can obtain an EIN by yourself. The IRS issues these tax codes for free, and online filing is available. There is no need to pay for the help.
Filing Services
Price varies by service + there are fixed state fees to pay
Business formation and incorporation are not the only filing services provided by InCorp. There are more on the list:
Filing a DBA (call for pricing): Legal entities are entitled to operate under so-called fictitious or trade names that are different from their registered names. An alternate business name is also called a DBA (doing business as). To be used legally, DBAs need state registration. Similar to formation services, InCorp delivers DBA filing services in all 50 US states and can register a DBA name within your desired jurisdiction;
Getting a foreign qualification ($149): Should you decide to extend your business to another state, you'll have to file for a foreign qualification there. The process entangles quite a bit of paperwork, and InCorp can handle that hassle for you in any of the 50 states. So you won't have to move anywhere. The service cost is $149 per foreign qualification;
Amendments ($99): Legal company name, address, and registered agent details changes can be done only via amending your formation documents. Hence, any of these moves require formation documents re-registration. Each amendment should be filed separately and will cost $99 with InCorp above a compulsory state fee;
Entity dissolution ($99): If you decide to quit doing business for some reason, taking that decision is not enough. Similar to business formation, business dissolution requires state filing and there is a certain procedure to follow. You can do the filing with InCorp as well.
Document-Related Services
While there are documents your company should regularly submit to the state authorities after formation, there are also documents you might request from the state. And InCorp could do the following requests for you:
Certificate of Good Standing ($35): It's a document verifying your company's compliance status for other entities. You might need it when opening a bank account, getting business credit, or registering a foreign qualification;
Certified copies ($39): These are official copies of your business documents filed with the state;
Apostille ($88): Apostillization confirms your business legitimacy for operating abroad.
Note that all the services rates stated above are exclusive of state-specific fees, which you will still have to pay.
Trademark and Copyright Registrations
(Call for pricing)
Should you decide to trademark your company name, logo, design, or register copyrights for some of your products or works, InCorp can help with all the related research and registrations.
Getting intellectual property protection is a complicated and tricky process that entangles a lot of paperwork, formalities, and legalese. So, getting professional help won't go amiss.
Note:
We've searched through the InCorp website and service section high and low, yet, we haven't found any info on an Operating Agreement. It seems like InCorp doesn't have it on its list. However, we consider it a vital feature for LLC formation and an important one for making formation services complete.
InCorp Reviews: Pros and Cons
Along with a comprehensive pricing breakdown, it's necessary to consider the company's strong and weak points to make this InCorp LLC review complete and provide a well-grounded conclusion about the quality of its service.
| InCorp Pros | InCorp Cons |
| --- | --- |
| Solid track record | Barebone formation pack |
| Top-of-the-line registered agent service | Hidden shipping fee |
| Volume discounts | A bit confusing website |
| Flexible pricing | |
| Superb customer support | |
| Enhanced data protection | |
InCorp Strengths
Incorp is a popular name in the industry and a well-known brand backed by multiple advantages and benefits that make it stand out from the competition.
Solid Track Record
InCorp has a long history, with over 20 years of expertise behind its back. The company has formed nearly 250,000 businesses overall and still boasts a comprehensive ongoing portfolio embracing over 100,000 active customers.
InCorp's strong business image and market reputation prove its efficiency, and rich customer feedback with predominantly positive and praising comments speak of the company's trustworthiness and reliability. Besides, InCorp is one of a few BBB-accredited companies with an A+ rating, which is impressive.
Top-Of-The-Line Registered Agents Service
While most competitor companies prioritize business formation and offer registered agent service as an add-on, InCorp does just the opposite. Stellar registered agent service is InCorps' core activity and main claim. And this is what InCorp is best known for on the market.
Not only is InCorp's registered agent service provided across the country and even beyond but also it boasts a number of unique features no other company delivers. So, you can rest assured your sensitive mail will be handled in a professional manner, and you'll get access to exclusive management and protection online tools.
Volume Discounts
Yet another outstanding feature of InCorp is the discounts the company provides for its excellent registered agent service. At $129 per year, the annual registered agent subscription perfectly matches the market average and appears to be much more affordable than many competitor services starting at $150 and higher.
However, if you place a multi-year order with InCorp, each subsequent yearly subscription will be discounted. Thus, subject to a 5-year subscription, the registered agent service will cost only $87 a year, which is a hard-to-beat price, especially given the service quality InCorp ensures.
Flexible Pricing
Though not the most affordable service out there, InCorp comes up with fees that are in line with average market rates. Besides, the company stands out for its smart pricing approach.
Instead of multi-tier formation packs, they offer a single plan that covers formation basics and makes a solid base for creating your individual service set. Thus, you are free to pick services from a vast service list to get exactly what you want and what you need for your individual business situation at the moment.
With such a pricing approach, you'll get maximum flexibility and won't be pushed into unnecessary upsells.
Superb Customer Support
InCorp is definitely a customer-focused company, with up-to-par customer service. The company comes up with a smart solution in this area too.
While InCorp does have a contact phone enabling customers and clients to call their managers directly, each of their customers will be assigned a personal help rep to handle all their accounts. This way, you won't have to contact a random person each time you call and explain your issues time and again. Such personalized customer support approach gives InCorp an edge over many of its rivals.
On top of that, Incorp boasts an extensive FAQ section and delivers numerous information guides for first-time users. And a free ebook "LLC for Dummies" provides formation and management tips for beginner entrepreneurs and startuppers.
Enhanced Data Protection
Online activity calls for an enhanced digital protection level, and InCorp really excels in this. While all formation platforms promise to ensure a safe digital environment for their users, the InCorp website goes even further.
Its EntityWatch feature brings cybersecurity to a higher level by providing an added layer of protection to your corporate documents accessible via your personal dashboard and thus, minimizing the risk of identity theft. This feature is a part and parcel of the InCorp registered agent service.
InCorp Weaknesses
Along with a number of benefits and unique advantages, Incorp still has some areas that need improvement.
Barebone Formation Pack
Despite flexible pricing that allows customers to tailor formation services to their own needs, the Incorp baseline pack is still feature-limited. Thus, it lacks such essentials as registered agent service and an Operating Agreement that make the business formation process complete. More than that, we didn't manage to find an Operating Agreement even among add-ons.
What you'll get at $99 is barebone LLC or corporation filing with the state office. While the price seems to be reasonable, many competitor services offer more at a lower cost.
Hidden Shipping Fee
While a declared InCorp basic pack cost is $99, in fact, you will have to pay $117. In the end, you'll be charged an $18 shipping fee by default, no matter the services and add-ons you order.
We think that document shipping should be included in the plan price and there should be no extra charges for that.
A Bit Confusing Website
Overall, the InCorp website is easy to use. However, many customers claim that it feels a bit confusing. Some of them had problems quickly finding the necessary info and resources.
Besides, the company offers a "Price Match" guarantee promising to beat competitor prices if they appear to be lower. In practice, though, getting that guarantee is not that easy. First, you'll have to prove that the claimed services are identical, which is a tricky thing.
InCorp Contacts
| | |
| --- | --- |
| InCorp Adress: | Corporate Office Physical Address3773 Howard Hughes Pkwy. · Suite 500SLas Vegas, NV 89169-6014USA |
| InCorp Phone number: | (702) 866-2500 |
| InCorp Fax: | (702) 866-2689 |
| InCorp Email: | Online form available on the website |
| InCorp Website: | incorp.com |
InCorp Customer Service
Excellent customer service is one of the strongest InCorp advantages. As we've already mentioned, the company applies a customer-focused approach and provides each customer with a personal help rep that will be always in touch and aware of your individual business situation. Besides, there is an online chat and a digital contact form you can fill in to contact the company's customer support center.
To add more, a comprehensive FAQ section on the InCorp website contains an answer to nearly any common question you might have. Serving in Puerto Rico and the US Virgin Islands, Incorp has a Spanish website version and Spanish-speaking support personnel, which is a big plus only a few other similar companies have.
InCorp LLC Service vs Competition
To finalize and polish your impression of the InCorp LLC service, we'll show how the company stacks up against competitors. For comparison, we take the most popular and reputed service currently operating in the market.
InCorp vs ZenBusiness
Now, ZenBusiness is a company that hits top lines in multiple ratings and is widely favored by thousands of customers. A relative industry newcomer, ZenBusiness has an edge over many well-known old-timers. What makes ZenBusiness stand out is its price-to-value ratio, not to mention the service's ultimate convenience and ease of use.
ZenBusiness confidently outcompetes InCorps pricing flexibility. At $49, with ZenBusiness, you'll enjoy complete formation including a year of registered agent service and an Operating Agreement draft. With InCorp, you'll have to pay for that at least $204 subject to ordering the registered agent service for a five-year period. To learn more about ZenBusiness, read our in-depth ZenBusiness review.
InCorp vs LegalZoom
LegalZoom is yet another experienced market player present in the industry for over 20 years, similar to InCorp. Both companies are distinguished by brand power, solid reliability, and a high level of professionalism.
When it comes to pricing, InCorp is an obvious leader. Though barebone formation with LegalZoom will cost $79, the company's registered agent service stands at a higher end of the price range, and full formation will hit the $400 mark.
LegalZoom is a great choice for those who seek additional legal services beyond formation. A company has a wide list of non-formation add-ons for businesses and individuals alike. In our LegalZoom, review, you'll find detailed info on those services.
InCorp vs Incfile
A $0 formation pack covering a whole year of registered agent service is Incfile's stellar feature that gives this company a lead in the business formation industry and makes it really hard to match. So, InCorp is not a match to Incfile in this concern as well. Other Incfile's benefits are laid out in our comprehensive Incfile review.
However, if you need a solid registered agent service provider for a few years in a row, you can't go wrong with InCorp. It will outcompete Incfile here both in pricing and in service quality.
Besides, InCorp will be a confident winner in customer service. Weak customer service is the biggest Incfile drawback and the main point for customer complaints.
InCorp LLC Review: Conclusions
If you look for a solid and trustworthy registered agent partner, you'll hit the spot with InCorp. The company offers excellent service quality, consistency, efficiency, and a number of associated features that will further enhance the service value.
InCorp prices are mostly in line with the market average rates. However, the company's basic pack is scarce and quite expensive at $99. Adding more services to it will further bump up the price.
Overall, with a high-quality registered agent service and stellar customer support, InCorp is a great choice for beginner businessmen who seek entry-level formation and need reliable registered agent service for years to come.
InCorp Frequently Asked Questions