Launching a business is not easy, especially when you do it for the first time. Yet, starting a business with a smart helper at hand that will carry the burden of formalities for you is a lot easier. We are talking about the formal part of any business, which is a legal entity registration, and formation services that offer assistance in this concern.
Choosing the right formation service that will deliver to your business needs is also quite a challenge since the modern legal market abounds with those services. Below, you'll find a detailed MyCorporation review that will reveal everything you need to know about this company to decide if it's a good choice for you. We'll consider its pricing policy, disclose its pros and cons, and see how MyCorporation LLC service compares to competitors. Let's dig in!
Is MyCorporation Legit?
We start our My Corporation review with this very question for a reason. In fact, this is what all customers wonder when setting their eyes on a certain service. A good company image speaks for itself and proves the service reliability and efficiency. And MyCorporation excels in this aspect.
The company opened its doors to the first customers back in 1997. For 25 years in business, it has helped over a million businesses legalize their activities and form legal entities. As such, My Corporation is an industry old-timer that stands confidently on its feet and is backed by extensive expertise evidencing its high professionalism.
MyCorporation is a national service. With a principal office located in Calabasas, California, it is available across the US. Whatever your formation state, My Corporation will get you covered. And you can rest assured you'll get your business formed by professionals.
Yet another fact supporting the legitimacy and trustworthiness of MyCorporation LLC service is customer loyalty. This provider is a favorite of many small business owners and first-time entrepreneurs who have successfully launched their ventures with it.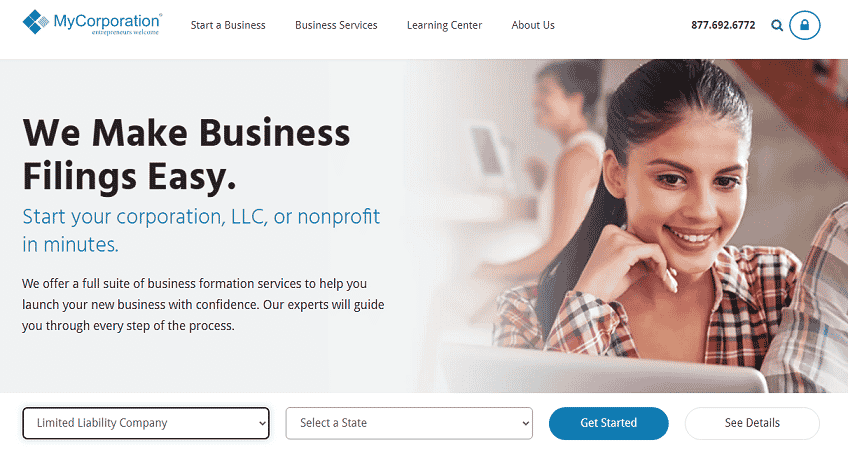 MyCorporation Review: Quick Summary
Before we delve into scrutinizing MyCorporation services, let's summarize its features and take a glance at what the company is doing.
Mycorporation is one of the multiple online document filing services you can find on the market today. The company is totally dedicated to providing all types of assistance in business formation and incorporation. And all added services it enlists are meant to support business setup and further maintenance. Hence, MyCorp works as a one-stop shop for all formation needs and will deliver to different business scenarios.
While diverse and comprehensive, MyCorporation LLC service is not the most affordable out there. Its prices are on the higher end of the range while low-tier packages lack essential features. Thus, MyCorporation registered agent service is only included in top-tier plans while it's a crucial feature and most services include it in all of their formation bundles.
Likewise, there are some other services provided on a paid basis while you expect to get them as standard, not to mention a shipping fee of $34 that will be charged as you complete an order. All of these can significantly bump up your grand total in the end.
On the positive side, though, the company has some unique features that make it stand out, and we'll talk about those later. And many praising MyCorporation reviews on customer feedback websites demonstrate a high level of service quality.
MyCorporation Pricing Approach
MyCorporation is one of the companies that come up with four formation plans instead of the three normally offered by competitor services. Those plans are elaborated to match varying formation needs and fit different budgets. In the chart below, we've made a quick bundle split up by prices and services they cover.
| Plan | Basic($99) | Standard($124) | Deluxe($224) | Premium($324) |
| --- | --- | --- | --- | --- |
| Formation Documents Filing | Covered | Covered | Covered | Covered |
| Registered Agent Service | $120 per annum | $120 per annum | Free annual subscription, $120 afterward | Free annual subscription, $120 afterward |
| Annual report | $99 | Covered | Covered | Covered |
| MaintainMyBiz | $250 | $250 | $250 | Covered |
| Operating Agreement | $59 | $59 | $59 | $59 |
| EIN | $79 | $79 | $79 | $79 |
| Express Filing | $100 | $100 | $100 | $100 |
At a glance, MyCorporation formation prices stand in line with average market fees. However, if you look at the features the plans embrace, you'll see that those packages are pretty scarce. Actually, all of them lack some core elements relevant to the pricing tiers they belong to.
Thus, low- and mid-tier plans lack registered agent service, which is a must for LLCs and corporations alike, and is usually contained even in basic plans of many competitor services. Besides, none of the MyCorporation bundles has an Operating Agreement on the list, which we also deem crucial for LLC formation.
Notably, all My Corporation plans are exclusive of state fees that will be automatically added to your grand total. The fee valid for your formation state will be displayed next to the provider's service fee as soon as you select the state.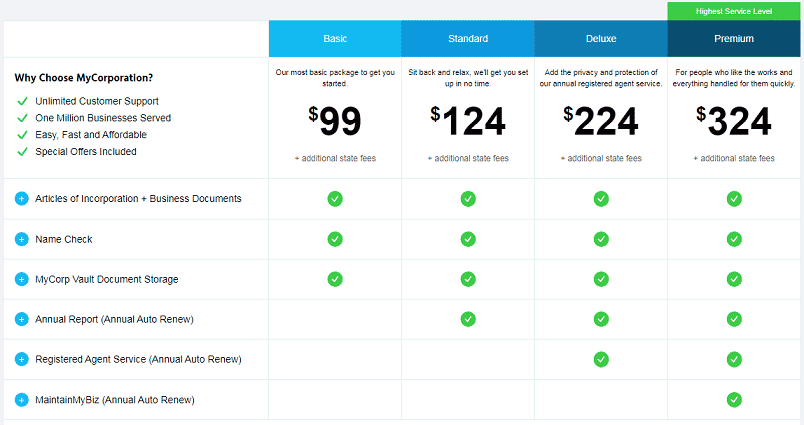 MyCorporation Basic Plan: $99 + State Fees
As the package name suggests, it embraces formation basics such as:
Business name search: You do need to check if your desired LLC name is available in the state of formation before document filing. It's a normal practice, and you can do it using a name search engine usually available on the state office website. My Corporation will check the business databases for you to ensure the company name you've picked is ok;
Filing formation documents: The main formation document is the Articles of Organization or Incorporation. Though generic by nature, it should be duly completed and contain true-to-life company info. Along with that, MyCorporation will also prepare Organizational Meeting Minutes to record all formation details and nuances;
MyCorp Storage: Via a MyCorp online dashboard, you'll get continuous access to a digital storage to keep electronic versions of all your company documents and share them with your business partners, suppliers, accountants, and consultants when necessary.
MyCorp Basic Plan offers barebone formation, with no add-ons. Given the price of nearly $99, we'd like at least to see a year of registered agent service included. Yet, adding this service will cost you $120 above the pack price. Thus, entry-level services will come at a rather high price. By way of contrast, there are competitor providers that ensure basic formation along with an annual registered agent service subscription at a much lower price.
MyCorporation Standard Plan: $124 + State Fees
It's a mid-tier bundle that will deliver everything included in a Basic Plan with the following add-on:
Annual report service: Both LLCs and corporations should file annual or biennial reports (depending on the state) with the state office. The purpose of such a report is to keep your business records up-to-date, as well as let state authorities know that your business stays compliant. Annual reports cannot be sent randomly, and there are filing dates to follow. MyCorporation will prepare and submit this document on your behalf and inform you when it's approved by the state.
Overall, the annual report service is a nice feature to have. However, given the cost it adds, we don't think it's valuable since many other companies make compliance alerts (covering all important filing dates) a part and parcel of all their bundles.
More than that, while compliance alerts are provided by competitors on a permanent basis, MyCorp Annual Report is a subscription service. Within a Standard Plan, you'll get only an annual subscription that will be renewed at $99 for the next year.
MyCorporation Deluxe Plan: $224 + State Fees
Deluxe implies some added value, right? Is it true for this plan from MyCorporation? See for yourself. What you'll get above the Standard bundle here is:
A year of registered agent service: A registered agent is a must-have element of an LLC or corporation. In other words, without this function, your company can't exist and won't be even formed. Besides, a registered agent stands on guard of your company's compliance status by handling your business mail and timely informing you of any important notification from state and public authorities. Hence, registered agent service is a crucial feature to have within a formation bundle.
While this feature certainly adds value to the Deluxe pack, it's not a privilege but rather a necessity. And most competitor services strive to include it in their low-tier bundles as well. On top of that, you'll get it for free only for a year, and afterward, the annual renewal will cost $120.
MyCorporation Premium Plan: $324 + State Fee
Top-tier plans are meant to offer turnkey solutions. Usually, premium stands for "all included plus something more". This type of package is for those who seek to have everything done in a set-and-forget manner and are ready to pay for that extra.
The Premium Plan will further upgrade the Deluxe pack with:
MaintainMyBiz service: It's an exclusive My Corporation feature provided on the basis of an annual subscription. Within a whole year, you'll get an opportunity to order four options from the MyCorp list of payable add-ons, be it document filing, some business attribute, or a one-off service. It could be a custom Operating Agreement, DBA filing, foreign qualification, S-Corp election, amendment service, dissolution filing, corporate kit accessories, or corporate documents, you choose.
You'll get an annual MaintainMyBiz subscription, which is further renewable at $250 per year. This very feature will fill all the "gaps" of lower-tier plans and offers personalized compliance support. You can choose add-ons appropriate for your current business situation or relevant to your business goals. It's up to you to decide. If you look at the prices of the covered one-time services beyond subscription, you'll see that those fully justify the Premium Plan price tag.
MyCorporation Reviews: Other Services
Operating in the business formation industry for over two decades, MyCorporation knows its onions and has a comprehensive list of services covering all possible post-formation and maintenance needs. The range of add-ons contains filing, consultation, and maintenance services, as well as financial and tax assistance and a number of business-related products.
To be more specific, we'll name the main added My Corporation services you might be interested in (above ongoing Annual Report, Registered Agent Service, and MaintainMysBiz subscriptions we've already mentioned).
Custom Operating Agreement ($59)
An Operating Agreement is a company bylaw that has a lot to offer for efficient and smooth day-to-day business operation and management. Though there is an array of standard Operating Agreement templates available on the web for free, it's nice to get a document tailored to your business situation. The price of the custom draft from MyCorp is pretty much in line with the competition.
EIN Registration ($79)
An Employer Identification Number (EIN) or Federal Tax ID is a numeric code issued by the Internal Revenue Service. Though not a must, it's something nearly any LLC will need at some point. So, it's advisable that you get it right after formation.
To register an EIN, you should submit Form S4 with the IRS. You can easily do it online and get your number on the same day. And what's most important, this service is free. So, though MyCorp price is an industry standard for EIN registration, you don't have to pay for this at all. We think this service is excessive.
Business License Search ($149)
Most likely than not, you'll need some sort of license or permit to eligibly run your newly formed business entity. Licenses are issued at federal, state, and local levels, and the types you might need vary depending on the scope of your business, activities you conduct, and locality you operate in.
All in all, business licensing is a tricky and sensitive issue and making a complete list of licenses required for your company will take a lot of time and effort. MyCorporation can help you with that and do an advanced license search for you. You'll get a list of all licenses and permits you should get for your business. You'll have to register them on your own, yet, the search alone is extremely helpful.
The only thing is that this service is a bit overpriced. There are many providers that can do the same for about $100.
S-Corporation Election ($49)
An S-Corp is a tax designation that has certain specific benefits to it. To make use of them, many companies seek to be taxed as an S-Corp. This requires filing Form 2553 with the IRS.
To do everything right and avoid the paperwork hassle, you can delegate this task to MyCorporation. And the price for the service is quite fair.
Tax Registrations ($200 each)
You can't avoid taxes, so, you should get into them one way or another. Different businesses are exposed to different taxes, some of which require state registration. If you hire employees or run a commercial enterprise, MyCorporation could handle your Unemployment tax, Withholding tax, and Sales tax registrations.
In the meantime, the price of $200 for each registration is really high. We don't recommend purchasing these services from My Corporation and suggest that you consider other options.
DBA Filing ($129)
A DBA (doing business as) or fictitious name is an alternative to your registered company name that you can use for marketing and business purposes. Running a company under an alternate name will save you the need to form a new legal entity each time you want to start a new product line, establish a new brand, or expand your business.
DBAs need to be filed with the state which entangles certain formalities, of course. MyCorporation LLC service can do the filing for you. At the same time, though, many other companies can do the same at a cost beyond $100.
Foreign Qualification ($199)
Should you decide to move your business or expand your business to other states different from your formation state, you'll need to get the so-called foreign qualification there. It's yet another filing service, hence the price. We must admit that this MyCorporation rate hits the midground.
Amendments ($129 each)
Each time you need to make some changes in your registered company name or address or change a registered agent, you should officially file amendments to your Articles of Organization or Incorporation. Each amendment should be filed separately, so the price of $129 doesn't feel comfortable, especially when competitors offer rates below $100.
Dissolutions ($129) and Reinstatements ($199)
To stop doing business officially, you should dissolve a legal entity. This move requires state filing to formally quit your compliance obligations. Likewise, if you seek to reinstate a dissolved entity, you should file the reinstatement with the state to regain the entity's legal powers.
Here, MyCorporation really excels since its rates are much lower than those of competitor services.
MyCorporation: Pros and Cons
MyCorporation LLC review won't be complete without considering the company's strong and weak points. Now when we've already scrutinized MyCorp pricing, we are going to dig deeper into its pros and cons to show its major fortes and advantages and reveal the areas that need improvement.
| Pros | Cons |
| --- | --- |
| Solid business reputation | Feature-limited basic plan |
| Ease of use | Shipping fee charge |
| Thought-out service list | No free registered agent service |
| Transparent pricing | No processing time estimates |
| Excellent customer support | Unclear cancellation and refund policies |
| Great customer rating | |
In the table, the number of MyCorporation fortes and drawbacks is nearly the same. However, to understand how they impact overall company value and service quality, it's necessary to give each point a closer look.
MyCorporation Fortes
A well-known name in the industry, MyCorporation has a lot going for it and boasts a few unique features that give it an edge over competitors.

Solid Business Reputation
Professionalism and solid business image are the prime criteria of evaluation when choosing a formation service provider. And MyCorporation LLC service stands strong in this concern. Backed by 25 years of experience in the industry, in MyCorporation, they know everything about the business formation or how to maintain a newly formed business and readily share their experience.
For over two decades, the company has helped to set up and grow over a million businesses. Many entities started as smaller companies have developed into big thriving businesses. Offering professionalism and an extensive service range to its customers, MyCorporation proves to be helpful in different business situations and has managed to gain customer loyalty and support over these years.
Solid MyCorporation reputation in the business formation market confidently speaks for its efficiency, legitimacy, and high professional level.
Ease of Use
Online formation services offer convenience straight away, but not all of them are the same. Some are reported to be rather confusing, especially for first-time users. Yet, it's not the case with MyCorporation.
The company makes user convenience a top priority. As a result, the MyCorporation website is distinguished by a user-friendly interface, intuitive instructions, a well-structured directory, and super-easy navigation.
Placing an order is also a breeze. The whole process is straightforward and simple to the maximum. Smart question marks near each entry or service provide detailed explanations and guide you through the whole application procedure. Hence, no matter if you already have some business experience or are a first-time entrepreneur, you'll complete the order in mere minutes.
Comprehensive Service List
If you compare My Corporation formation packs with those of competitors, you'll spot a few unique features peculiar to this very provider and not typical for other LLC companies. Thus, the Annual Report service is a valuable feature that rather comes as an add-on than a default feature. Essential for maintaining your company in good standing with the state, this service is included in mid-tier and high-tier MyCorporation bundles making those a good choice for entrepreneurs who seek not only formation but also compliance assistance.
Yet another exclusive MyCorporation option is its MaintainMyBiz service. A part of a top-tier pack, it allows customizing business support to your individual business needs. Also available as an annual subscription at $250, this enables you to choose four options out of a wide MyCorporation list of add-ons within a year. This way, you will significantly save on payable added services and create a service set that will perfectly work for your business.
Transparent Pricing
Unlike many similar service providers that tend to hide their prices, My Corporation makes its prices readily available. And you can't but like it.
The prices for its formation bundles are displayed in a handy chart so that you can see straight away what you are paying for. Once you enter the formation state, a state filing fee will also pop up next to the plan cost. More than that, helpful additional services that might be of use to you are provided in a separate table below. So, you are free to pinpoint any of them on the way, without being pushed into buying anything unnecessary.
The same is true for a one-off service list. All options are smartly organized in separate sections and service prices are clearly stated. There will be no need to search high and low to find out the cost.
Excellent Customer Support and Rating
MyCorporation boasts rather extensive customer feedback. Though not accredited on BBB, the company has a lot of comments on Trustpilot and Yelp. The majority of those comments are expressly positive showing a high level of customer satisfaction with the service quality.
The biggest MyCorporation advantage praised by the company customers is its stellar customer support. You'll get a quick response to your questions sent via email, and contacting the call center is also a breeze. MyCorp help reps are knowledgeable, friendly, polite, and extremely helpful. They are eager to provide as detailed responses as possible to make sure you'll get a full scope of assistance.
MyCorporation Weaknesses
No service is perfect, and My Corporation has its downsides too. Let's consider them under scrutiny to decide if they outweigh the advantages.
Scarce Basic Plan
An entry-level plan implies basic services, which is a normal thing. Yet, the most affordable MyCorporation bundle costs $99, which is not the lowest price out there. So, for this price, you expect to get a bit more than barebone document filing. However, even a registered agent service subscription is lacking.
Meanwhile, many other competitor services provide better-packed bundles at a twice lower price. Thus, at $49, you'll get a free year of registered agent service and an Operating Agreement draft with ZenBusiness. And Incfile makes an annual registered agent service subscription a part even of its zero-price plan.
Lack of MyCorporation Registered Agent Service
As stated above, the MyCorporation Basic plan is deprived of this feature. Yet, what's more, a Standard plan doesn't enlist it as well. A free year of registered agent service appears only in top-tier bundles, with prices crossing the $200 mark. Well, that's a big minus since this service is a compulsory formation aspect. And while many other companies strive to include it in all their plans, MyCorporation tends to sell you on it at a higher price.
Added Shipping Cost
An unpleasant surprise will be waiting for you at the checkout step. Your grand total will be further increased by a $34 shipping cost My Corporation adds to all orders. It's meant to cover mailing expenses when sending back your approved formation documents and any other papers.
While it looks excessive and weird since no other services charge any extra for regular mail, $34 is way too much for this service.
No Processing Time Estimates
When placing an order, you expect to get any info on how quickly it will be processed both by the service and by the state. With MyCorporation, it will be a problem. The company gives no estimates on internal processing. State turnaround times vary from a few days to a few weeks, yet, it's nice to have an idea of that period when applying for formation.
In the meantime, My Corporation will come up with a rush filing option. You'll be offered to cut down the turnaround time by 85% at $100 (exclusive of express filing fees charged by the state).
Unclear Cancellation and Refund Policies
MyCorporation does offer a satisfaction guarantee and promises to satisfy refund requests filed within 60 days of purchase. However, finding any info on that is not easy. Besides, any state fees, publication charges, or shipping costs applied to the service you cancel are non-refundable.
Cancellation and refund policies are two very important aspects, and we'd like them to be accessible and easy to find when it comes to a trusted and reputed service like MyCorporation.
MyCorporation Contacts
In the table below, we provide MyCorporation LLC service contact information for the case you need to get in touch with the company.
| | |
| --- | --- |
| MyCorporation Adress: | MyCorporation Business Services, Inc.®26025 Mureau Rd, Suite 120,Calabasas, CA 91302 |
| MyCorporation Phone: | 1-877-692-6772 |
| MyCorporation Fax: | 1-877-692-6772 |
| MyCorporation Email: | [email protected] |
| MyCorporation Website: | mycorporation.com |
MyCorporation Customer Service
The company does care about its customers and makes service support readily available via different methods. You can get in touch with the MyCorporation service center via email, online chat, or phone.
The call center and interactive chat are available on weekdays from 7 a.m to 5 p.m. You won't have any problems getting in touch with MyCorp help reps. They are welcoming, friendly, and always ready to help you solve any issue.
In fact, excellent customer support is the biggest pride of MyCorporation LLC, which is widely praised by the company's customers. Here is what they say about it.
"I was really impressed with how patient Victoria and Ana were. They took their time to help me complete my affidavit. I will surely come back again."
"I had the most delightful experience with Sarah Kalian who helped me create my company in less than half an hour. She took my hand and walked me step by step along the process and gave me recommendations about what other services might be useful for me. This is World Class Customer Service. Five-star Rating- Absolutely!"
MyCorporation LLC Service vs Competition
MyCorporation looks like a good service overall. On the other hand, though, there are many other services in the industry that appear to be more popular and stand on the top of the ratings while My Corporation lingers somewhere in the middle. To ensure true-to-live and objective estimates, it's important to see how the service stacks up against the competition.
MyCorporation vs ZenBusiness
ZenBusiness is one of the most confident industry leaders for now. Though relatively new to this market, this service is extremely popular, and for a good reason. They've brought advanced technology to the field to make the whole process even easier and more convenient. Yet, where they really excel is the price-to-value aspect.
At $49, ZenBusiness's basic plan offers full-scale formation since it covers a year of registered agent service and an Operating Agreement draft. With MyCorporation, to get the same, you'll have to pay a lot more than $200.
The only area MyCorp outcompetes ZenBusiness is its track record and professional expertise.
MyCorporation vs LegalZoom
What these two companies have in common is brand power. Both are industry old-timers that boast recognizable names, solid reputations, and high professionalism. That said, LegalZoom is more affordable in barebone formation, with a $79 entry-level pack. However, the rest of LegalZoom's services and formation packages will lag behind MyCorporation prices.
While both companies rather belong to a premium sector, LegalZoom is a great match for those customers who seek additional legal support beyond business formation. The company offers a wide list of legal services for businesses and individuals, which is its bread and butter.
MyCorporation vs Rocket Lawyer
While My Corporation applies quite a standard approach to formation services, Rocket Lawyer is a bit different here. That's why these services are a bit hard to compare. Thus, Rocket Lawyer comes up with a monthly membership that offers a lot of flexibility at a fair price of $39. Within subscription, you'll get access to many payable services, free first LLC formation, and obtain discounts on essential add-ons.
Hence, Rocket Lawyer offers more value, especially for customers with complex business scenarios. Besides, the company has a whole list of added legal services you won't find in MyCorporation.
MyCorporation vs Incfile
The Incfile's flagship service is a free formation plan. The company will charge $0 for its entry-level service. It means you can form or incorporate a business at the cost of the state fee only. And you'll even get a whole year of registered agent service for a zero price. As such, Incfile is a strong competitor to MyCorporation in affordable and budget-friendly formation.
Yet, when it comes to customer support and overall service quality, Incfile will lag far behind My Corporation. So, if you are a first-time entrepreneur and need solid support along the way, MyCorporation is a better choice for sure.
MyCorporation LLC Review: Conclusions
If you look for a reliable and trustworthy formation service, you can't go wrong with MyCorporation. Its long track record and positive customer feedback speak for itself. The company has a lot of experience in business formation and incorporation. And their plans cover unique features you won't find elsewhere. On the other hand, MyCorporation entry-level package is quite expensive and leaves something to be desired.
In a word, while a great choice for customers who need solid formation and maintenance assistance, MyCorporation is not the best option for budget-limited clients who need the basic formation and want to get the most for their money.
MyCorporation Frequently Asked Questions