Suppose you are planning to open a business in Florida. In that case, you are probably already thinking about whether you will need help with registering a company and who will be your registered agent. Sunshine Corporate Filings LLC offers all of these services, however, unlike national companies, this firm only operates in Florida.
In this review, we'll answer the following questions:
What services does Sunshine Corporate Filings offer for businesses?
What are the prices of different packages and how beneficial is it to work with this company?
Where are Sunshine Corporate Filings offices located, and what is the legal status?
What are Sunshine corporate filings LLC reviews?
Is Sunshine Corporate Filings legit?
Sunshine Corporate Filings LLC was incorporated on June 4, 2013, in the state of Florida. The company's business scope includes business assistance, consulting services, business formation filing, document management, and registered agent services.
It is important to understand that Sunshine Corporate Filings is not a law or accounting firm. You can consult with the company's representatives on matters related to registering and operating a business in Florida. But if you need professional help from a lawyer or accountant, it is better to contact specialists in this field.
The company is headquartered in St. Petersburg, Florida. There is also an official office in Tampa.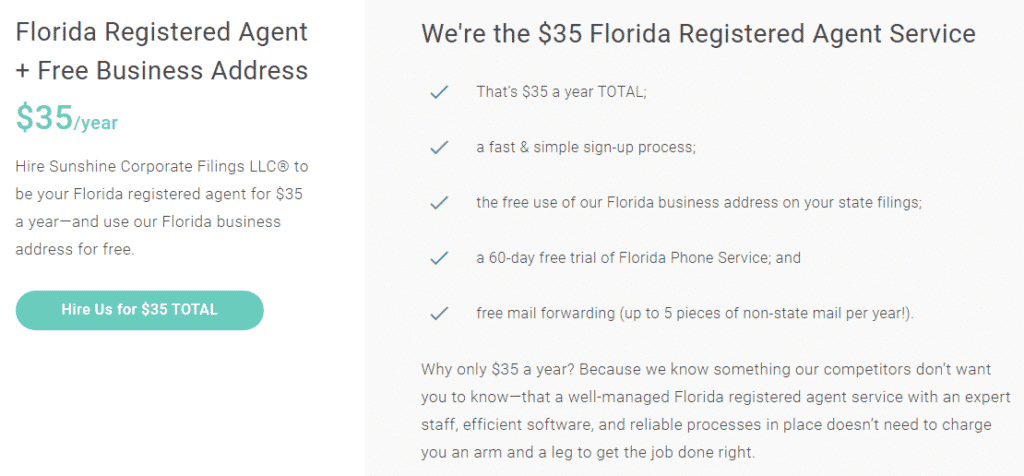 Sunshine Corporate Filings Overview
Sunshine Corporate Filings is positioning itself primarily as a registered agent in the state of Florida that offers its services at a very favorable price of only $35 a year. It is this service that they describe in detail on the home page of their website.
As part of the Sunshine corporate filings registered agent package you get:
Forwarding of no more than 5 letters of non-government mail per year;
Scanning and forwarding of legal and government mail;
Florida annual report reminders;
Specialist advice when needed.
If you need an address for more commercial correspondence, you will have to pay an additional $125 per year (25 letters) or $225 per year (unlimited letters). Sunshine Corporate Filings also offers virtual office services, Florida phone service, and assistance in forming an LLC or corporation separately.
The company offers LLC and corporation formation services on pretty good terms. But the price does not include the first year of a registered agent, which is a disadvantage.
Even though the company has been in business since 2013, there are very few Sunshine Corporate Filings reviews online. Though almost all of them are positive, the total number of comments is less than 10, and therefore, it's hard to take these reviews into account.
Sunshine Corporate Filings Pricing
Sunshine Corporate Filings pricing can be considered simple and transparent. The basic services - registered agent, LLC filing, and corporation formation - cost the same. The price is $35 plus, where applicable, state fees.
On its website, the company offers prices along with state fees and additional services, and these are the prices often reflected in Sunshine corporate filings reviews. Let's take a closer look at each of the packages.

Sunshine Corporate Filings Registered agent
This service is only for companies that need an agent in the state of Florida. Sunshine Corporate Filings has two official offices here and is willing to provide a legal address for firms seeking to operate in the state.
Sunshine Corporate Filings Registered Agent will do the work for you at a cost of $35 per year. That's much more favorable than the offerings of the big national companies, which start at $99 a year. But the service itself doesn't include anything other than the required minimum.
If you need a public address not only for obtaining government documents and service of process but also for correspondence with customers, you can choose one of the additional Sunshine corporate filings rates:
25 letters per year - $125;
Unlimited number of letters - $225.
In this case, the total cost of the service increases significantly. At the same time, for example, ZenBusiness will forward all your mail for $99 a year. And Northwest scans all emails without limit, ensures privacy protection, and provides a number of additional useful services for $125 per year.
Florida LLC
Setting up a business in Florida is not the most complicated process. Still, if you don't have the necessary experience or ability to handle the paperwork and study all the nuances of state law on your own, it makes sense to get professional help.
Sunshine Corporate Filings offers assistance in forming an LLC for $195. The package includes:
Complete LLC formation;
Registration of trademark and DBA;
If necessary, advice and assistance in obtaining a business license;
Drawing up of the Operation Agreement;
Obtaining EIN (though it is very easy to obtain a tax number on your own completely free of charge);
One year of Registered Agent service;
Florida state fee ($125).
When you examine the service package in detail on the Sunshine Corporate Filings website, you can see that the cost is formed as follows:
$35 - business formation;
$35 - services of a registered agent;
$125 - state fee.
In comparison, Northwest offers a similar service at a price of $39 a month (including the services of a registered agent for a year), and IncFile is ready to provide similar assistance and a year of a registered agent for free (although you will have to pay for the Operating Agreement separately).
Thus, you can call this rate profitable, but there are more interesting offers on the market.
Florida Double LLC
It's an interesting option, which is quite rare. Sunshine Corporate Filings offers the simultaneous creation of two LLCs that can manage each other.
The cost of this service is $390, and it includes:
$70 for the formation of two LLCs;
$70 for the services of a registered agent for two LLCs;
$210 for the Florida state fee.
The scope of services is similar to the previous package.
Florida Incorporation
This package will be useful if you want to form a Florida corporation. It is similar to the services for forming an LLC, but instead of the Articles of Organization, you will be provided with the Articles of Incorporation, as well as other services for creating a corporation.
The package price is $140. The cost includes:
$35 - business formation services;
$35 - services of a registered agent;
$70 - Florida registration fee.
The package, similar to the previous ones, is quite profitable, but if you want, you can find more interesting offers.
Additional services
In addition to registered agent services and assistance in business formation, the company offers:
Florida phone service starting at $10 per month (the first 60 days are free for anyone who orders basic packages);
Virtual Office at $600 per year. Includes unlimited mail forwarding and Florida phone service.
You will be offered these services when ordering the basic packages as a presale or, if you prefer, they can be ordered separately. This Sunshine corporate filings review does not include a detailed description of each service as they are very well-described on the company website.

Sunshine Corporate Filings Pros and Cons
| Pros | Cons |
| --- | --- |
| Bargain prices | The first year of a registered agent is not really free |
| Simple and straightforward rates | Almost no customer feedback |
| No upsells | Very few additional services |
Sunshine Corporate Filings Contact Information
| | |
| --- | --- |
| Sunshine Corporate Filings phone number | +001 8135751161 |
| Mailing Address | 7901 4th Street N, Suite 300, St. Petersburg, FL, 33702 |
| Head Office Address | 7901 4th Street N, St. Petersburg, FL, 33702 |
| Office Address | 3030 N Rocky Point Dr, Tampa, FL, 33607, United States |
| Sunshine Corporate Filings website | http://www.floridaregisteredagent.com/ |
FAQ