In this MyCompanyWorks LLC service review, we will take a closer look at one of today's best online business registration websites. The company, originally named MyNewCompany.com. has been providing a full range of quality business formation services since 2001. Their official website states that MyCompany Works' mission is "running a business, faster, easier and less expensive." They've announced themselves as a service that helps small businesses focus on a product or service instead of wasting time on bookkeeping, regulatory requirements, and other chores.
About the company: Is MyCompanyWorks Legit?
To date, this provider's track record includes over 60,000 clients in all states. They have an excellent reputation backed by positive reviews and high ratings on independent online platforms.
Despite the strong competition in the industry, MyCompanyWorks has steadily grown to help people start their own businesses. They have reasonable prices and excellent customer service that responds quickly to inquiries. In addition, all customers can take advantage of a 100 percent satisfaction guarantee. Overall, this company is a great way to get started if you value professionalism and confidence.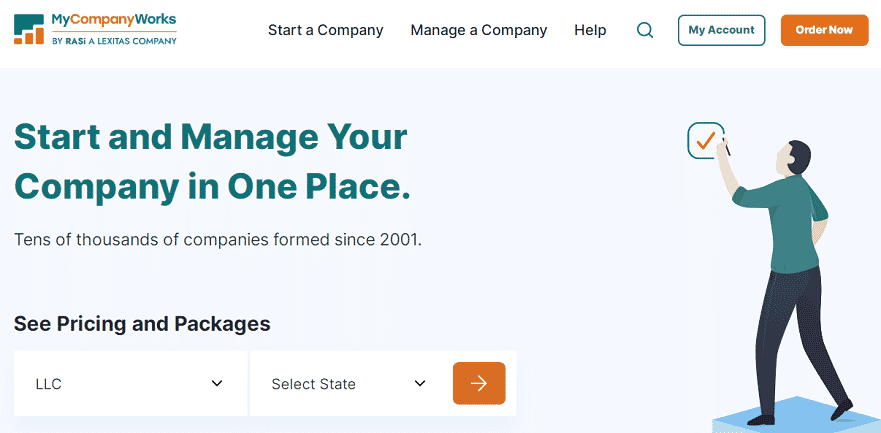 MyCompanyWorks Pricing Packages
Like most companies in the LLC creation business, MyCompanyWorks offers a tiered subscription system consisting of several packages. On their official website, you can find 3 service options ranging in price from $79 to $307. Let's take a look at the features each of these packages offers in a little more detail.
Basic
With the MyCompanyWorks Basic package for $79+State Fee, you'll have access to services that are popular among aspiring entrepreneurs such as:
Preparation and Filing of Your Articles of Organization. The official startup of any business begins with the registration of LLC documents by the Secretary of State. This is the most important and costly step in the process of establishing an LLC. Mistakes made in writing the Articles of Organization can result in the rejection of the application and the loss of the money paid as a mandatory fee. A serious violation can also lead to more severe consequences, such as the forced dissolution of the company. If you want your registration to go quickly, trust MyCompanyWorks to do the job. Experienced professionals will take responsibility for their preparation and filing of documents in exact accordance with state requirements;
Name Availability Search. In order for approval of your Articles of Organization to take place, it is important to make sure in advance that the company name is available. In other words, there should be no other businesses registered under the exact same or deceptively similar name in the state. The name you choose should be visually distinct from other LLCs in the secretary of state's records. This check should always be done at the stage of completing the Articles of Organization to avoid rejection and delay in the registration process. To do this, MyCompanyWorks will do a comprehensive name search on your behalf in the business database of the state in which you plan to open a business;
Unlimited Phone & Email Support. MyCompanyWorks customer service representatives will quickly answer any questions you may have during the start-up process. With their extensive experience and knowledge, they are excellent at navigating the various aspects of starting and running a business. With their support, you can focus entirely on running your LLC without spending hours searching the Internet for information;
LLC Operating Agreement. Although most states do not require this document to incorporate an LLC, there are a number of benefits to having one:

It confirms in writing the separation of the owners' personal funds from the company's assets, which helps maintain limited liability;
Speeds up and standardizes the work of the LLC, introducing universal procedures;
Prevents the emergence of management conflicts;
Strictly enshrines the rights and responsibilities of each of the participants;
Avoids application of state laws by default;
There is no official form for Operating Agreement, but MyCompanyWorks is ready to offer you a quality template. It is more reliable than drawing up such a document on your own and at the same time, much cheaper than entrusting this work to an attorney. You can save time, effort, and money by getting a customized and elaborated document:
The New LLC Handbook. In this 23-page handbook, you will find useful information and tips on all phases of the company lifecycle;
Lifetime Access to the My Account Dashboard (MAD). With this online dashboard, you can download and review documents, receive claims alerts, and much more. A simple and straightforward tool will allow you to manage your business more effectively and keep it in good standing with the state;
Free Business Tax Consultation: in this hour-long webinar, you will learn about important aspects of operating an LLC such as:

How Your Type of Entity is Taxed;
How to Pay Yourself and Employees;
Using Business Bank Accounts;
Which IRS Forms You Need to File;
Basics of Business Taxes, Deductions, and New IRS Rules.

Free Startup Business Funding Consultation. A startup funding expert will tell you about raising funds for your company. You'll learn about the amount of funding available, payment options, etc;
Lifetime Access to the Vendor Network. With this handy tool, you will have access to a database of over 300 vendors organized into 40 categories. Moreover, you'll be able to take advantage of some of them at a discount or get a special offer;
Company Alerts. MyCompanyWorks can help your company with deadlines and document requirements. With its help, you can stop worrying about fines and penalties and focus on managing your business operations;
Free Logo. An easy-to-use logo generator can help make your business more unique and recognizable. Although the logo is only provided for a limited time, it may still be a good option. What is more, a logo can be customized. It works well for email, Facebook, LinkedIn, Twitter, Instagram, Youtube, Etsy, and other social media;
Business Bank Account Setup. MyCompanyWorks partners with the best American banks, giving you the opportunity to apply for a commercial account in just a few minutes. Once processed, you can have a commercial bank account in just a couple of days. On the one hand, this will expand your ability to raise funding. On the other hand, a separate account will best ensure the separation of assets, which, in turn, guarantees the operation of limited liability;
Organizational Minutes. LLCs have fewer meeting minutes requirements than corporations, but having documentation can be handy in case of any future disagreements between members. If you wish, MyCompanyWorks will provide minute templates to facilitate your business.
Although, unlike some competitors, MyCompanyWorks does not include the Registered Agent Service in its basic package, it is an affordable way to open an LLC. If you're planning to perform registered agent duties yourself or already have a suitable candidate, this service package may be a good option. You'll get professional help with getting the company up and running, and you'll be able to get deals done quickly.
Entrepreneur
Another affordable option for starting a business is the MyCompanyWorks Entrepreneur package, which costs $227+State Fee. In addition to the core services listed in the Basic package, you will get useful features such as:
LLC Kit and Seal. If you value traditions, MyCompanyWorks can provide you with a custom-made kit that includes the following:

3-ring binder with company name gold-embossed on the spine;
LLC Seal (with company name engraved);
Slipcase to protect documents;
Sample of an Operating Agreement and Minutes;
20 Custom Member Certificates;
Member Transfer Ledger and index tabs.

Federal Tax ID Number (EIN). This unique 9-digit number is the Social Security Number for your business. The EIN is used by the IRS to easily identify your LLC. It is required by most LLCs because it opens up opportunities such as:

Opening a corporate bank account;
Managing and paying federal and state taxes;
Hiring employees, etc.
Of course, you can get an EIN on your own, but purchasing this service from MyCompanyWorks can save you time and get right to work.
MyCompanyForms Business Forms. When you purchase the Entrepreneur package, you get Lifetime Business Forms & Tax Guide. This online tool contains over 200 of the most popular forms that MyCompanyWorks keeps up to date. It gives you access to such popular materials as:
Business Forms Library (contracts, agreements, leases, etc.);
Minutes & Resolutions Library (annual meetings, waivers, etc.);
Startup & Maintenance Checklists;
Entity Specific Tax Forms (Corps, LLCs, and DBAs).
Entrepreneur package is an option for those who want to make launching a business more comfortable and have available funds. Some of the services included in this package, such as the EIN, you can get for free by submitting your own request to the IRS by mail, fax, or online. But if your goal is to get started as soon as possible, without taking your mind off of running your company, a professional service like MyCompanyWorks can be very helpful.

Complete
Choosing the MyCompanyWorks Complete package, which costs $307+State Fee, will expand your options even further. In addition to the services included in the Basic and Entrepreneur packages, you get one year of registered agent service.
The appointment of a registered agent is an essential step in opening an LLC, regardless of the state in which you plan to start a business. Their contact information is required in the formation documents, so the state always has a way to contact the company. In fact, they act as intermediaries and ensure their stable interaction, receiving important corporate documents on behalf of the company such as:
Taxes;
Lawsuits;
Maintenance requirements, etc.
Of course, in almost all states, you can perform the duties of a registered agent yourself or delegate them to a relative, acquaintance, accountant, etc. However, there are significant advantages to hiring professional services:
An additional layer of privacy;
Prevents Junk Mail to your home or business;
Ensures Statutory Compliance;
Moving your business requires no forms or fees, simply update forwarding address;
Immediate Notification and Delivery of Service of Process, Forms, etc.
After the grace period, the cost of hiring a MyCompanyWorks registered agent will be a reasonable $99 per year.
To summarize, the Complete package is a great choice for those who want to fully enjoy the freedom and confidence that hiring a professional service provides. It's the most comfortable way to get started.
In addition, with any of the packages, you can order MyCompanyWorks Premium service for $99, which includes features such as:
Business Entity Monitoring. MyCompanyWorks experts will regularly check the status of your LLC to make sure it's in good standing with the government. If there are any reputational issues, they will take steps to correct them;
Managed Annual Report Service. After paying the state fee, MyCompanyWorks will prepare and file the reports on your behalf;
Priority Support. With the priority service, you will never have to wait too long for a question to be answered. This will allow you to make quicker decisions without wasting time researching online on your own;
ComplianceLock. Using this service, you can quickly generate documents such as meeting minutes, consents, resolutions, and others;
MyCompanyForms. You will get access to more than 200 forms that facilitate the work of the company;
E-Ledger. A convenient tool that allows you to track your LLC property electronically;
E-Certificates. Instead of traditional paper ownership certificates, you'll be able to use practical electronic documents.
MyCompanyWorks Registered Agent: Pros & Cons
Every online business creation company has its pros and cons. Different prices, features, speed of processing. There is no perfect option that would suit every entrepreneur. However, you can choose a professional service that will best fit the features, goals, and needs of a particular LLC. To do this, it is important to approach the choice without haste, carefully weighing all the strengths and weaknesses of the service.
Pros
Advantages that clients love about MyCompanyWorks include the following:
If feedback from their customers is important to you, you can easily find MyCompanyWorks reviews on Google or Better Business Bureau. Although they don't have as many reviews as some of the top online companies, the quality of their reviews is a strong argument in favor of this website. For the most part, customers speak positively about them and give them high marks;
Great customer support is another strong point of MyCompanyWorks. Their representatives are friendly and can help you quickly with any business startup question. They are available by phone or email from 11:00 a.m. to 7:00 p.m. Eastern European time Monday through Friday. Typically, the response time from their specialists is less than an hour, which sets MyCompanyWorks apart from many competitors;
The basic package includes a personalized LLC operating agreement and organizational minutes that make it easy to keep the company running smoothly. Although an operating agreement is required to open a business in only a few states, its benefits are undeniable. Because there is no universal form for this document, the personalized template provided by MyCompanyWorks is especially valuable. It's a great way to save money, time, and effort on creating your own operating agreement templates or hiring an attorney. In addition, having an operating agreement will make your business more stable and reliable for the courts and potential partners;
Return policy, which guarantees reimbursement of expenses for the purchase of MyCompanyWorks LLC startup service. This is one of the few websites that offers a 100% satisfaction guarantee. Its essence is the following: if after completing the order you are dissatisfied with the service, the company will correct the defect or refund the money. It is important that you have to make a claim within 90 days from the date of purchase. In addition, there are no refunds for the mandatory fee charged by the state;
Extensive experience guaranteeing an excellent speed of processing requests and high professionalism of representatives. MyCompanyWorks entered the market for LLCs back in 2001 and since then, has helped their clients register over 60,000 businesses. They work in all states of America and can handle even the most complex requirements;
Availability of free services to facilitate LLCs, such as:

Logo;
Company Alerts;
Business Tax Consultation;
Domain Name and 1 Year Hosting Offer;
Free Startup Business Funding Consultation.
Cons
Despite the many advantages of MyCompanyWorks as an LLC startup website, there are some disadvantages of this option:
MyCompanyWorks includes registered agent service only in their $279 Complete package, whereas with Basic or Entrepreneur packages, you have to order it separately. The annual service cost is $99. That's a reasonable price, but if you're looking for an online company that provides affordable registered agent service, there are many cheaper options on the market. For example, IncFile. For $0, they will not only professionally form your LLC but will also provide 1-year registered agent service;
The service cost is not the lowest in the industry. If your budget to start a company is limited, today's industry has a number of websites that can save you money better than MyCompanyWorks.

MyCompanyWorks Reviews
Along with the experience or the number of LLCs served, reviews are one of the key indicators of a company's success. The way in which clients report about their experience with a service on independent websites has a significant impact on its reputation.
MyCompanyWorks, for example, has a predominance of positive reviews, which is certainly a strong argument in favor of this website. Although they do not have thousands of reviews like some of their competitors, there is practically no criticism among them.
Reviews about MyCompanyWorks Customer Service
There are 57 MyCompanyWorks reviews on Google, and it has an impressive rating of 4.6 out of 5. Mostly, their customers talk about how professional, quick, and easy it is to start a business when working with this online company. In addition, the work of customer support representatives, their friendliness, awareness, and great advice are highly appreciated. Among the criticisms, there are only 2 reviews: the long wait time for a response by email, as well as the accusation of insecure storage of personal information of customers. Both of these reviews were answered in detail by the representatives.
As for the Better Business Bureau, MyCompanyWorks has only 5 reviews and a rating of 4.2 out of 5 there. Mostly, customers talk about how satisfied they are with the good service and the easy application process. Also, some of them noted the company's competent staff. Only 1 critical review is represented on the BBB, the essence of which boils down to dissatisfaction with the bank card rules. The representative also commented on it, saying that this area of work does not depend on MyCompanyWorks.
Should You Start an LLC With MyCompanyWorks?
Starting a business is an important decision that requires a careful and responsible approach. Of course, you can go through all the steps of the registration process on your own, but this path requires quite a lot of effort and time. You will need to gather information, correctly prepare and submit documents. Therefore, many modern entrepreneurs prefer to entrust all formalities related to opening an LLC to professionals.
They have a convenient application process that won't take long to complete. Moreover, you get free access to the Startup Wizard LLC formation checklist, which helps determine the next steps in setting up your business. It contains tips on all the steps of running a company, from getting a business license to a resale permit.
You can use their LLC formation services with confidence because the excellent reputation of this company is confirmed by numerous positive reviews.
While the services of an attorney can cost thousands of dollars, the prices of most online companies are quite affordable for small businesses. In addition, the industry offers dozens of different services, among which it is easy to choose the option that best suits each particular company.
One of the most respected and reputable services is MyCompanyWorks. They have a reasonable approach to pricing and 3 different service packages geared toward different budgets and business needs. However, is this website the best choice for your business?
To wrap up this MyCompanyWorks review, here are some top reasons why you might want to hire this online company.
You should choose MYCompanyWorks if:
You value customer service and customer feedback;
You are interested in obtaining a customized LLC operating agreement;
You want to work with an experienced company that has built thousands of businesses;
You would like to have a 100% satisfaction guarantee;
You would like to take advantage of MyCompanyWorks' free features: registered agent service, Free Business Tax Consultation, etc.
You should not choose MyCompanyWorks if:
You need to save a bit more money;
You have a very limited budget for the dissolution of the company;
You are looking for a website that includes a registered agent service in all of its service packages, including affordable starter packages.
FAQ