If it's not your first time looking into LLC creation, you've probably already heard about IncFile. Frequently listed among top LLC formation services, IncFile is primarily known as the free option of which there aren't that many on the current market.
But whether their services are compatible with your specific business goals remains to be seen and should be examined on a case by case basis. So let's dive a bit deeper into IncFile's current standing, package deals, and other related features.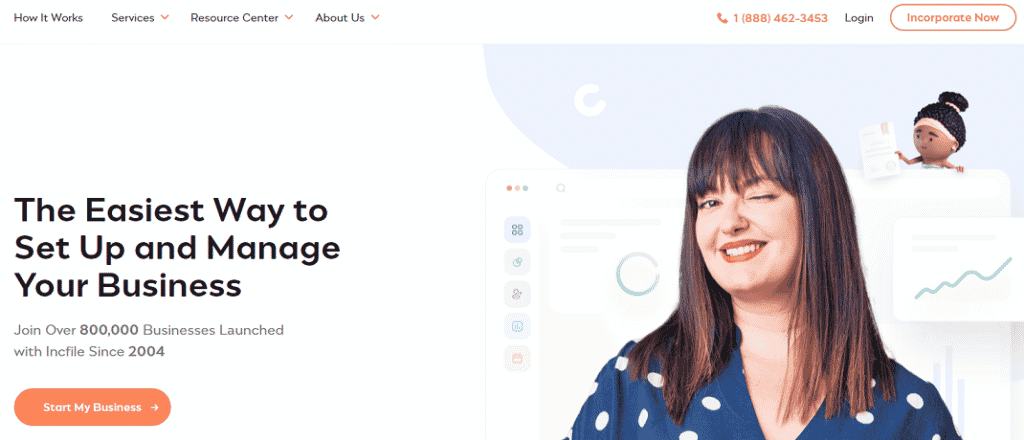 Is IncFile Legit?
IncFile is a Texas-based formation service providing affordable business solutions throughout the country. It opened in 2004, and since then, the company has had over 250,000 businesses formed or qualified for operation as foreign entities.
The company's headquarters is currently located in Houston, though they are listed as a foreign entity originally formed in New Mexico. Their website states that since the launch, they have worked with over half a million customers, whether it's to incorporate, maintain an entity, or provide various adjacent business solutions.
Aside from the LLC formation, IncFile offers assistance with accounting, taxation, compliance, and more. They also connect you to a Registered Agent Service in every state and help acquire a domain name and virtual addresses, provided you cover the add-on fee or choose the package that includes these services.
They can be reached by phone from Monday to Friday between 9 am and 6 pm CST, though you can also submit your queries online. IncFile has also developed a personalized dashboard for each of their clients for the purpose of storing and managing all relevant business documents, monitoring company status, and much more.
Incfile: Pricing Packages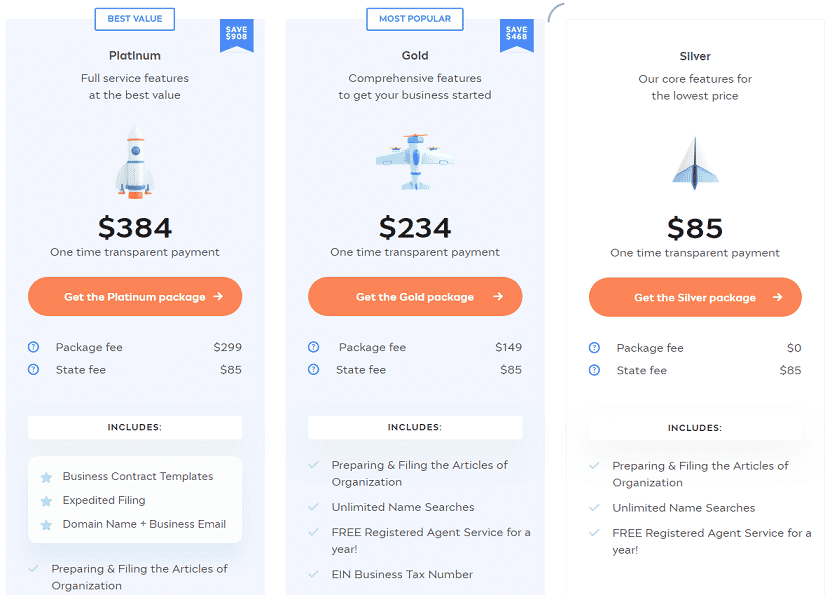 Silver
Package Fee - $0;
State Fee - $50-$520.
This plan is perhaps one of the main draws of IncFile as an online business formation provider since it doesn't involve any service charges. Naturally, you will still have to pay state fees, but the same is true for all LLC services. Aside from that, they won't be charging for drafting and filing your Articles, plus you will be able to check business names for free.
In addition to the preparation and filing of your formation documents, IncFile Silver offers such essential features as:
One year of free registered agent service;
Next business day processing;
Opening a dedicated financial account for your entity;
Tracking your order online;
Certified copy the Articles of Organization;
Statement of the organizer;
Online document storage and e-delivery;
Company + registered agent dashboard access;
Lifetime company alerts.
What makes this plan so attractive to new entrepreneurs is how budget-friendly it is given its contents cover a registered agent for regulating your documentation from the state or your partners. Note that the next-day processing they are referring to in this feature set is the time they take to review your order internally and not the state application itself.
As for the so-called statement of the organizer, the company offers to draft this internal document which is used to either serve as the resignation of the LLC organizer as the entity's owner in order to relegate these duties to company members or to act as proof of all resolutions that have been decided upon at the initial organizational meeting.
Despite its relative simplicity, this package also covers some of IncFile's best online support features such as the aforementioned dashboard that acts as document storage and the general online manager service. Clients can access their online profile at any time, whether it's to check on their order status, keep up with compliance reminders, or download an electronic copy of company documents.
So if you're looking for less expensive ways to form a business (zero dollars sans state charges), Silver might be a good choice for you. Though keep in mind that after your free trial expires, you will be charged IncFile's regular annual fee for the registered agent service set at $119.
Gold
Package Fee - $149;
State Fee - $50-$520.
As IncFile's most popular option, this mid-tier package is geared toward a more extensive formation while keeping the service fee within reasonable limits. Together with Silver features, IncFile Gold offers:
EIN acquisition;
Customized operating agreement;
Banking resolution for setting up a checking account;
S-corp tax (Form 2553);
Business tax consultation;
Unlimited customer support.
If you're completely certain that your company will require a Tax ID to legally operate, then this plan would be an ideal middle ground—not too pricey but still fairly inclusive. And by adding the EIN specifically, the package is made more suitable for companies that plan to establish an official payroll, open a separate business account to protect personal assets, or take out business loans.
Additionally, this plan allows the owners to choose another taxation system for their LLC instead of the default pass-through method. The IRS Form 2553 refers to the application to elect an S-corporation tax system. Although not a popular choice, it could be beneficial in some states that have reduced withholding tax rates.
Although an operating agreement is in no way mandatory, it's highly advised to draft one nonetheless as it documents the initial structure of the company upon its formation as well as other internal processes. This could be anything from allocating members' responsibilities to outlining voting procedures, all of which will help regulate the inner workings of your company later on. Moreover, this document can be used as further proof of your company's LLC designation in court should you face litigation.
As it stands, their Gold package is a well-rounded option made suitable for small to mid-businesses. This subscription is, in part, what has earned IncFile its status as the best service for the best price.
Platinum
Package Fee - $299;
State Fee - $50-$520.
As their most comprehensive plan, IncFile's Platinum combines all previously mentioned features and adds a few useful extras on top along with priority processing. The add-ons that IncFile Premium offers include:
Access to business contract library;
Free domain name registration;
Business email;
Free expedited filing.
As it stands, any of these packages will provide you with the necessary tools for creating an LLC, including a registered agent to act as your permanent physical presence in the state.
Plus, you can purchase IncFile legal address service that issues virtual street and PO addresses in certain states. This is overall a useful option for people who run their business from home but wish to separate their private address and their business one.
IncFile Registered Agent and Additional Services
Say you choose to buy IncFile's basic plan but later on find yourself in need of some of the extra features that are only included in more expensive packages. IncFile's answer to that is simple — provide these options as separate purchase options. Here's a brief list of formation and maintenance services offered by the company:
EIN ($70): filing the application for business Tax ID with the IRS;
Operating agreement ($40): preparing a written agreement for each individual company;
Banking resolution ($35): drafting a document for the checking account application that may be required by certain banks;
Business contracts ($150): access to IncFile's extensive template library anytime you need to draft a new contract;
Expedited services ($50-$75): this feature only concerns the initial filing and is calculated based on each state's filing fees;
DBA ($99): searching for a valid fictitious name for your business that may be required for operating in a jurisdiction other than your own which already has an entity working under your current LLC name;
Name change ($149): this technically involves amending the Articles of Organization, so IncFile charges primarily for filing the amended articles with the state;
Dissolution ($149): if you need to officially close your business, IncFile will file the Articles of Dissolution on your behalf;
Foreign qualification ($149): if you're looking into ways to expand your business, this option can help you collect all necessary documentation in order to license your company for legal operation in other jurisdictions;
LLC kit ($99): this feature is more of a personal treat to many owners as the kit contains personalized ledgers, binders, your company seal, and membership certificates.
Annual report ($99): keeping track of your compliance deadlines can be tough, so IncFile offers to both remind you of the upcoming filing dates and file your yearly reports for you;
Certificate of good standing ($49): should you need proof of your company's status with its formation state (for instance, when you expand to another location), IncFile offers to send the request on your behalf and forward the documents by mail as well as electronically;
Trademark registration ($199): if you work with intellectual property, you might need to deal with trademark registration quite a lot, and in that IncFile offers a sure way to do it quickly;
Change of registered agent ($49): in cases when your current agent resigns or you wish to replace them, you will need to once again provide the updated information in your formation articles. IncFile can do it for you much faster and without much fuss;
Form 2553 filing ($50): if you went with the default tax structure for your LLC during the initial formation but now want to elect an S-corp system, IncFile can prepare and file this application for you.
Unfortunately, domain name/email service registration is only available as part of the Platinum package. For more information about IncFile's features, visit their pricing page.
Incfile Pros & Cons
It's no secret that even top services come with their share of drawbacks, be it less than transparent pricing or unreliable lines of client support. Sometimes, even reliable services could mess up the paperwork or hold onto the application for longer than necessary.
No customer experience is absolute: 9 out of 10 times you will get a smooth formation without encountering any issues along the way but there is bound to be a case of an unlucky customer who will end up overpaying for a very basic service that they could've done on their own and for free.

Pros
Ability to form an LLC free of charge;
Designation of a Registered Agent for free (first year), with $119 subsequent annual charge;
One of the fastest online setups in the industry;
Virtual address and PO box for travelling entrepreneurs, etc;
Online tools for tracking orders, storing documents, and more.
Cons
Comes with more upsells than other services in a similar price range;
Customer support response speed is reportedly inefficient;
Often confusing terms of service;
Roundabout cancellation policy;
Unpredictable automatic charges.
Incfile Customer Reviews
If you prefer to base your choice on first-hand customer experience, the situation with IncFile is far from clear-cut. Entrusting your future business to someone else can be daunting, especially if it's a formation service with a less straightforward marketplace reputation.
| Source | Reviews number |
| --- | --- |
| Yelp | 2/5 (72 reviews) |
| Trustpilot | 2.4/5 (112 reviews) |
| BBB | 4.43/5 (680 reviews) |
| Shopper Approved | 4.8/5 (29,103 reviews) |
IncFile's track record is kind of a mixed bag: there are thousands of positive testimonials available on at least two major reviews platforms, but their presence on Trustpilot and BBB is undercut by a significant number of complaints and negative feedback.
As is evident from the aggregated scores, this is not an easy company to define just based on IncFile reviews. Currently, they hold high ratings on BBB and Shopper Approved, with the latter offering over 29 thousand testimonials to back it up.
With BBB, the situation is less clear since along with their positive customer score based on 680 reviews, they have also received 243 complaints only about half of which were closed. Additionally, BBB has revoked their accreditation due to the lack of adherence to marketplace transparency as well as inadequate communication with the customers when it concerns problem resolution or refunds.
Indeed, IncFile customer service is the first point of criticism you see on platforms like Trustpilot and Yelp. Although both websites have a lower number of IncFile reviews compared to other sources, it makes that much easier to get a clear picture of the company's weaker points, specifically unsatisfactory response times, obscure terms of service, and slow filing process.

Should You Start an LLC With IncFile?
All in all, IncFile remains one of the best-known services in the game, particularly when it comes to newcomers or small business owners. If you're still not quite sure whether this is the right company for you, let's sum up the cases where its services apply best.
Choose IncFile If:
If you work with a limited budget, this option might be a good fit for your startup. Not only does IncFile charge absolutely nothing for the basic LLC setup but they also provide a registered agent service for free for the entire first year of your operations.
If you need a legal address to operate in any state. IncFile's virtual office service is designed to help you protect your privacy, so anyone who conducts business from home won't be forced to put their own address in the Articles of Organization. This feature is also useful for anyone who is relocating or working on the road.
Choose an Alternative to IncFile If:
If you need extensive help with the formation or are in a fairly complicated situation, whether due to location or the nature of your business, IncFile won't be the most comprehensive of choices. One of the better alternatives for entrepreneurs facing difficult legal procedures could be ZenBusiness, which offers a better support system and is generally more involved (see our in-depth comparison). You can also find out more about them in our ZenBusiness review or compare their effectiveness further in the IncFile vs ZenBusiness overview.
If you need a fully-featured LLC service, then consider companies like Northwest Registered Agent that limit their outsourcing while still covering the most relevant points of the formation and general maintenance. For a better understanding of how it compares to IncFile, check out our IncFile vs Northwest Registered Agent review guide.
If you need a reputable company with a more reliable support system and a better track record, consider checking out LegalZoom's services. Despite their higher rates, this company is highly regarded within the industry by professionals and customers alike. Their clients praise the company's helpful reps as well as consistent turnaround times when it comes to paperwork. For more information on the subject, see our LegalZoom vs IncFile guide.
Conclusion
Time has shown IncFile to be a consistently low-cost service. That hasn't changed much over the years, and you can still get an LLC only at a fraction of a price compared to most attorney services or even IncFile's direct competitors.
What is less clear about this choice is the equivocal nature of IncFile's reliability. According to some customers, this service is one of the best in the industry, providing intuitive tools for online management and responding to queries with well-informed facts.
On the other hand, a significant number of customers have attested to the company's poor communication skills and general inability to be direct when it comes to problem resolution.
Now, the diversity of experience is a natural state of things for any service provider. At the end of the day, if you are in dire need of free formation, you won't find a more accessible option in terms of price or ease of application. But if you can spare a bit more on your launch, then you will likely find more relevant features with another company.
Frequently Asked Questions