This article is all about Swyft Filings, and we have gathered the information you really should learn to make a strong decision on whether or not to use the LLC formation services from this firm.
This review will tell you:
Official details and contact information;
Prices for different LLC services;
Time frames for registering an LLC with Swyft Filings;
Reliability, strengths, and weaknesses, as well as features of the company;
Comparison with some competitors.
Furthermore, this Swyft Filings review will cover some services and tips you really need.
The information about fees and services is relevant for 2022, and you can always check out the exact prices on the company's official website.
Is Swyft Filings Legit?
Swyft Filings LLC specializes in assisting in the creation of various types of entities: limited liability companies, corporations, as well as other types of for-profit and nonprofit organizations.
The specialists of the agency help business owners and entrepreneurs with business creation issues. Swyft Filings works with clients from the United States and non-residents of the country.
The Swyft Filings principal office is located in Houston, Texas. It has been in business since 2015. The company is younger than many of its competitors but has proven to be stable as customer feedback confirms. Swyft Filings is currently led by Travis Crabtree, a media, technology, and commercial litigation attorney.
Swyft Filings LLC refers to medium-sized private agencies with between 50 and 200 employees. It offers quick turnaround times, flexible and affordable pricing, and highly responsive and helpful support services.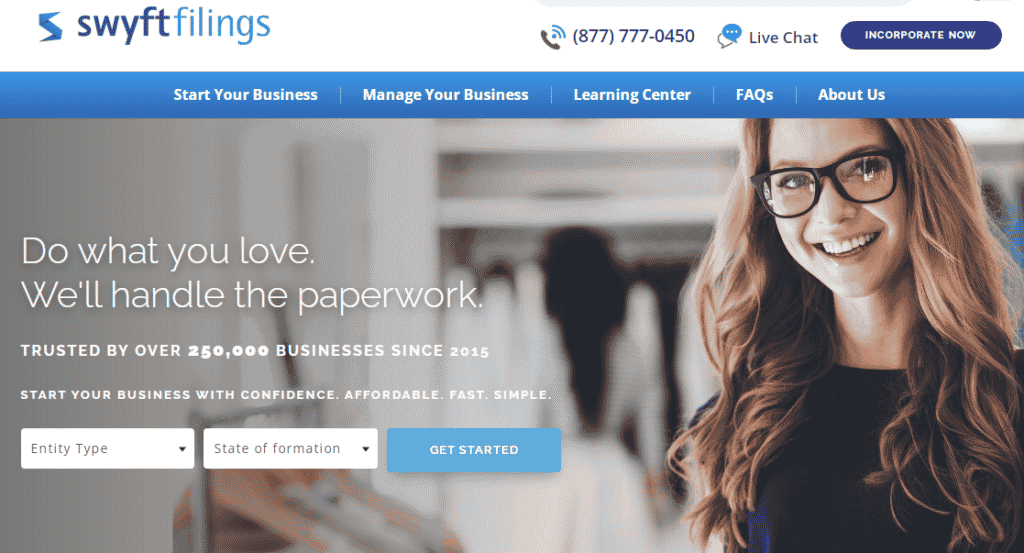 Swyft Filings Overview
The agency provides several off-the-shelf service packages, as well as assistance with specific tasks related to LLC filing and establishing different types of corporations and nonprofit organizations. Some of their services are performed by in-house experts, while others are outsourced by partner firms.
The company's services include:
Creation of new business entities, from checking the company name availability to drawing up and submission of all necessary documents to state authorities;
Assistance with obtaining papers from the IRS (most often obtaining an EIN);
Providing the client with templates of customized legal documents that are often used in business formation, such as bank resolutions or Operating Agreements;
Help with maintaining a good reputation, including sending reminders to file annual reports on time and fulfilling other obligations;
Building a website, registering a domain name, choosing a hosting service, and setting up your company's initial Internet presence, as well as many other services related to launching a new venture or nonprofit company.
You can read more about the features the organization can offer below in this Swyft Filings LLC review.
It is also essential to realize that Swyft Filings, like many other providers assisting in business creation, can answer popular questions concerning legal or taxation issues. However, the company is not an accounting or law firm, and therefore, these guys do not give professional advice in these areas.
Swyft Filings Pricing
All Swyft Filings services are available as part of one of the three basic bundles, or you may order them separately. Thus, you can pay for the service you need without purchasing a more expensive package. Check out the table below to see what you can get from Swyft Filings in the different plans:
| Service/Package | Basic ($49) | Standard ($149) | Premium ($299) |
| --- | --- | --- | --- |
| Basic LLC Filing | Included | Included | Included |
| Registered Agent | $596/year | $596/year | $596/year |
| Receive EIN | $70 | Included | Included |
| Operating Agreement | $35 | Included | Included |
| Banking Resolution | $30 | Included | Included |
| Express Filing | Cost varies by state | Cost varies by state | Included |
| Website Development | No | No | Included |
Consider that none of their bundles include registered agent services even for the first year, as many competitors do. And they are very critical for the stable operation of your business. Besides, the Swyft Filings registered agent price itself is very high. On average, it costs about $100 per year.
What's also essential to understand is that the plans do not involve any state fees for registering the company name, a DBA, an Operating Agreement, and the Articles of Organization. The fees vary by state and can be found on the Secretary of State's website or by reaching the Swyft Filings support office.
Swyft Filings Basic Plan
The $49 + state fees Basic package is the most affordable option offered by Swyft Filings. It provides a basic LLC formation service and a company name check that will help you register your venture in your chosen state without any hassle.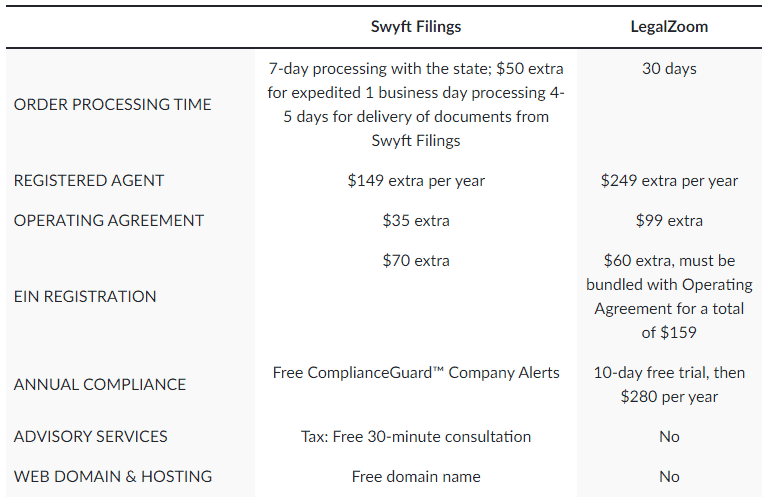 Additionally, the plan covers the following things:
A 30-minute tax consultation. Swyft Filings has partnered with an accounting firm providing tax optimization and LLC accounting consultations for their clients. Officially, Swyft Filings doesn't mention the name of their partner company but some digging on our part implies it's most likely 1-800Accountant, a virtual bookkeeping organization headquartered in New York. You can use this service or refuse it if you don't need it;
ComplianceGuard Company Alerts. An automated tool that all Swyft Filings customers can use. It helps you check whether your venture meets all state filing requirements, such as submitting annual reports on time;
A free domain name for one year. Swyft Filings will register a URL for you, i.e. a website name, which will be the first step for your company's digital presence. You can create your site later or use the domain name to manage your mail service. Either way, the name will be reserved for you. Nevertheless, do not forget that you have to pay for it from the next year, otherwise, you will lose this name;
Personal account. After your LLC registration is complete, you will receive an individual Swyft Filings login and password. There will be your incorporation paperwork, as well as other useful data.
By default, this plan involves regular LLC registration, which, depending on the state, can take from a few days to a couple of weeks. If you want to speed up the procedure, you can pay an additional fee for a rush filing. Its cost depends on the application and the state of your choice.
You may also always select additional services and pay for them separately without switching to more expensive plans.
Swyft Filings Standard Plan
The Standard plan is the basic one, and the agency recommends it most often since it provides all the features you might need when opening a new LLC, except for the Swyft Filings registered agent.
You can use all the options that are covered by the basic bundle, as well as the following services:
Getting a tax identification number (EIN) on behalf of your enterprise. Swyft Filings will handle the necessary paperwork and complete the EIN application themselves. In fact, this service is not really important, as you can get the EIN yourself in a few minutes on the IRS website or by mailing the form. It's easy and free;
Customizable legal documents. When opening an LLC, as well as for its further operation, you need certain documents. These can be a bank resolution, an Operating Agreement, and others. The Standard package contains access to customizable templates of such forms. You may enter your data, change certain points, and download them using the Swyft Filings website.
The Standard package, like the Basic one, covers the usual LLC registration, which can take 1-2 weeks or even longer, depending on the state. You may also pay for expedited processing separately if you want to get your business up and running as soon as possible.
Swyft Filings Premium Plan
The Premium bundle includes the maximum services that you might need to create an LLC. At the same time, it is the most expensive one, and the services it offers are not always required. Therefore, take a closer look at what Swyft Filings provides in this plan.
The package already contains express LLC registration in most states. It means that you can have your formation paperwork processed in 1-5 days. However, keep in mind that in some states, like Florida, you will still have to pay extra for the rush filing.
Besides, the Premium package has all the services from the cheaper ones, plus:
A customized digital LLC kit. It includes a tailor-made company seal, an ownership ledger, and 20 stock certificates. However, remember that none of these products are required when you establish an LLC, but you may need them later;
A free business website and web hosting. This service is provided by the company's web development partners. They give Swyft Filings customers access to a website builder, with which you can quickly design a commercial platform or online store. The Swyft Filings site doesn't mention exactly who their partner is. However, our research has found that it is a Rocketbuildr service. It involves 3 months of free hosting, after which you have to pay according to the rates of the service (from $25 per month and more).
Keep in mind that the site creation service is not bundled with other packages as an add-on, i.e. you cannot order it separately from the Premium plan.
Which Plan Is the Best Value For Money?
Selecting a package and getting additional services depends a lot on the specifics of the LLC you are going to open. Nonetheless, there are some general tips to help you make the right decision.
The Basic Swyft Filings package will be a relatively cost-effective, convenient, and reliable solution if you don't want to be in too much of a hurry to start your own entity. It can be a reasonable option for aspiring entrepreneurs as the provider is professional, solid, well-supported, and, at the same time, affordable to start.
We recommend that you add extras to your Basic plan such as a free domain name registration or the Swyft Filings alert tool. You should also include the Operating Agreement as an additional service since this essential feature is not covered by this package.
The Standard and Premium bundles have the service of registering an EIN, which does not actually make these packages worthwhile. Getting an EIN on your own is completely free, as well as the filing is easy. Even a person with no knowledge about LLC formation can fill out the form on the IRS website in 5 minutes and get a tax number right away.
The Premium plan can be advantageous if you need a website for your business from the very first days. The website development service and hosting fees make up for the high price of the plan.
In the intricate realm of digital presence, opting for the Premium plan can usher your business into the online landscape with finesse.
This choice aligns with the multifaceted nature of website development, where crafting a compelling digital identity demands a balance of complexity and diversity.
The fusion of website development service and hosting fees within the Premium plan mirrors the intricate balance between cost and value, akin to the art of weaving together perplexity and burstiness to create a captivating narrative.
On the other hand, some competitor firms offer more favorable LLC creation services. For example, ZenBusiness provides free registered agents for one year in all their packages, which also look very attractive in terms of prices and time frames.

Canceling Swyft Filings Services
Next, we are going to discuss the ongoing features, i.e. different types of business services with annual or, for example, monthly payments.
Swyft Filings will not provide you with the registered agent directly, but their partner, LegalCorp Solutions, will do it for you. According to their policy, you have to appoint a new agent and register it with the state authorities to refuse the service. After that, you will need to contact Swyft Filings and notify them that you have changed your agent.
If you do not prove that a new agent has been appointed for your LLC, the company may continue to charge you the full amount for the next renewal term. Therefore, be sure to cancel it in advance.
In addition, Swyft Filings cooperates with many other third-party agencies. To cancel their services, you may have to contact them directly.
Swyft Filings Refund Policy
On the Swyft Filings website, you will see an advertisement for a 100% money-back guarantee. However, you should bear in mind that under the terms of cooperation, this policy applies only when Swyft Filings has made a mistake in filling in the documents when registering your venture.
In this case, you need to call or email them, request a refund, and explain the reason for that. You can get your money back within 60 days of your purchase.
It will not apply to any state, business license, or trademark registration fees that you have paid on your behalf. You will only get a refund for the service itself.
Swyft Filings Reviews: Pros and Cons
It is hard to imagine meaningful Swyft Filings reviews without analyzing the strengths and weaknesses of the organization. Let's get to the bottom of this question.
| Pros | Cons |
| --- | --- |
| Many positive customer reviews and high ratings (4.5/5 on Sitejabber and 4.6/5 on Trustpilot) | Extremely expensive registered agent service |
| Flexible pricing model and low base cost | Too many unnecessary add-ons and upsells |
| Direct customer service line | Heavy reliance on third-party providers |
| Good turnaround times | |
And now let's analyze the advantages and disadvantages in more detail, and we will begin with their pros.
Positive Customer Reviews and High Ratings
Even though Swyft Filings has been in business since 2015, it already has a very large number of reviews, and the vast majority of them are positive. By early 2022, Trustpilot already has more than 2,900 reviews, with an average rating of 4.6/5. Another popular site, Sitejabber, has over 32,000 reviews, which is quite impressive. And the average rating is 4.5/5.
A big plus is that the firm responds very quickly to negative feedback, almost always providing detailed explanations and offering to improve their service. Moreover, the answers are always personalized and thoughtful.
On the plus side, customers comment that they are very satisfied with the speed of their service and the ease and care of Swyft Filings customer service. They often even mention the name of the agent who helped them.
If you study the earlier reviews, you won't find a significant difference. Apparently, Swyft Filings has shown a stable high quality of service since the early days.
Flexible Pricing Policy and Low Base Cost
Swyft Filings, unlike some of its competitors, does not impose any extras, offering a more expensive plan if you need a particular service other than the basic ones. You can easily add any of the products to a lower-priced package.
For instance, you may choose a cheap bundle but separately order express processing and get your documents done in a short period of time.
Another clear plus is the relatively low price of the Basic package. For just $49 and state fees, you can get full business registration assistance. This will be a good option if you need a quick and easy online LLC formation service without any unnecessary additional products.
Furthermore, Swyft Filings provides the choice of paying the total sum at once or splitting it into two parts. Not all agencies offer such a deal.
One more obvious advantage lies in the free services that are included in all the packages:
Tax and accounting consultation;
Alerts regarding your ventures' upcoming state reporting deadlines;
A domain name for your company for one year.
You can opt out of any of these services, but they often turn out to be useful.
Direct Client Service Line
The responsive and knowledgeable Swyft Filings customer service staff will help you comprehend all issues regarding any of the products the firm provides. Prompt and qualified support is vital at all stages of cooperation. Their customers point out that Swyft Filings demonstrates very good results in this respect in numerous reviews.
At the initial stage, you can contact them by phone or email. Then, each client gets their own specialist, who will help them establish an LLC at each phase. You will have a direct phone number and email to reach that person if you have any questions or difficulties. Swyft Filings has created the kind of support where every customer can get advice quickly without waiting a long time if you want to talk to a real person.
The downside of Swyft Filings customer service, however, is that the company advertises online chat support but in fact, you just leave a message and your email, where you will get an answer. Moreover, it would also be nice to see extended support hours.
As for customer support, it is available on weekdays from 9 a.m. to 6 p.m. CST.
Good Turnaround Times
Swyft Filings' processing speed is hardly the fastest but is still above average. In most states, you can get your business formed in 5-10 business days after consulting the firm.
If you choose the Premium package or order an expedited service, that time frame will be reduced to 1-3 working days for most states.
In the table below, you may find a comparison of formation times and fees for Swyft Filings and some other providers:
| State | Swyft Filings | Northwest Registered Agent | ZenBusiness |
| --- | --- | --- | --- |
| California | Standard: 15 working days ($70)Express: 5 working days ($130) | 5 days ($90) | Normal: 2-3 weeks ($70)Expedited: 7-10 days ($155)Rush: 4-6 days ($555) |
| Texas | Standard: 7 business days ($300)Express: 2 business days ($350) | 2 days ($310) | Standard: 2-3 weeks ($300)Express: 5-8 days ($350)Rush: 2-4 days ($400) |
| New York | Standard: 5 working days ($200)Express: 1 working day ($250) | 1 day ($200) | Standard: 1-2 weeks ($200)Expedited: 4-6 days ($250)Rush:1 -3 days ($300) |
| Florida | Standard: 10 business days ($125)Express: 5 business days ($175)Rush: 3-4 business days ($200) | 15 days ($125) | Normal: 3-4 weeks ($125)Express: 2-3 weeks ($175)Rush: 7-10 days ($225) |
It's vital to understand that Swyft Filings' Premium package already covers an expedited processing option for most states with no extra charge.
If the speed of your business formation is extremely critical to you, and you have chosen the Premium plan, please note that some states offer another level of rush filing. However, this service is not offered as part of the bundle, so you will have to pay for it separately.
If a good price and an attractive deadline are valuable to you, Swyft Filings might be the best solution. However, if the time frame offered by the company does not fit your needs, you can study alternatives. For example, Northwest Registered Agent offers same-day filing.
Next, let's go over the disadvantages of Swyft Filings.

Expensive Swyft Filings Registered Agent Service
One of the biggest drawbacks of Swyft Filings LLC formation services is the very high price of a registered agent. It costs $596 a year, which is many times higher than similar offers of the competitors and the average price on the market.
The agent is crucial for starting an enterprise and its further activities. An ideal scenario is that this service is provided by the same organization involved in business creation. In this case, LLC formation is faster and easier, and your privacy is better protected.
Many competitors combine the registered agent option with basic company formation services, provide discounts, or even one year of free support. At the same time, Swyft Filings does not render registered agent assistance at all but presents you with a partner offer during the signup process.
Additionally, there is no relevant information on the Swyft Filings website about the actual price for this service. It shows the fee of $159 in a prominent place but does not specify that it will be charged quarterly, not annually. It does have information about this, but it is displayed in the fine print during one of the last steps of the registration procedure.
Besides, Swyft Filings' terms of service allow the partner company to increase the prices without notifying the client. As such, in 2021, the cost of an agent was significantly increased here, but clients found out about it at the last minute.
Many Unnecessary Add-Ons and Upsells
Almost all services that help you create an LLC strive to sell you additional products. Generally, there is nothing wrong with this, if their number is not too high, and the services themselves can really be useful for the client. Meanwhile, before ordering, you should make sure what exactly you are offered.
Swyft Filings is significantly behind many of its competitors in this respect. It is difficult to find prices and some types of services on their main page, including the fact that there is no offer or price for the registered agent service. At the same time, the basic features themselves are divided into so many elements that customers usually get confused about them.
For example, the Basic LLC registration service from Swyft Filings is split into three parts, and lifetime support, which is usually provided by default, has been allocated to a single additional feature.
A substantial part of the additional services is hidden behind a few pages. Some of these offers refer to the services of the company's partners and look more like advertising than a really useful feature.
Heavy Reliance On Third-Party Agencies
Swyft Filings is a relatively small entity and relies a lot on the help of partner companies. These can be both explicit offers and hidden ones. They often do not even mention in the service records that the particular feature is provided by a partner or do not specify the name of the company that performs it.
The big drawback is that clients are forced to do investigations on their own to determine exactly who will be their registered agent or which "national accounting company" will serve them.
Along with the secrecy on this matter, such dependence has another disadvantage. From the point of view of preserving privacy and ensuring a high-quality service, the company should provide in-house services.
| | |
| --- | --- |
| Phone number | 1 (877) 777-0450 |
| Fax: | 1 (877) 777-0450 |
| Email: | [email protected] |
| Website: | swyftfilings.com |
| Address: | 1000 N West St, Wilmington, DE 19801, USA |
Customer support is available via phone, Monday through Friday, from 9 a.m. to 6 p.m. CST.
You can also visit their website and submit an online form, and you will receive an answer to your own email.
Comparison With Other Products
To better evaluate how profitable and convenient Swyft Filings is, let's compare its services with some of the competitors. First, study the summary table of prices for the main types of features.
Since all companies have different packages, let's use common concepts to compare their pricing policies:
Basic formation. It includes the LLC establishment, submitting the Articles of Organization, and drafting an Operating Agreement or corporate bylaws;
Full formation. This entails basic formation services plus at least a registered agent, which is necessary for most entities;
Full formation + website. It refers to the services of full business formation with website development, domain registration, hosting, obtaining security certificates, and other services you need for your venture to operate online.
The cost of such a service in the table below is not just the price of a particular plan but the minimum price you need to get the features described above.
| Agency | Basic formation | Full formation | Full formation + website |
| --- | --- | --- | --- |
| Swyft Filings | $84 | $680 | $895 |
| ZenBusiness | $39 | $39 | $249 |
| LegalZoom | $178 | $477 | No |
| IncFile | $149 | $149 | No |
Swyft Filings vs. ZenBusiness
If you compare these two firms, you will see that:
Swyft Filings offers reasonable prices for Basic formation without registered agents, but ZenBusiness is willing to provide you with more affordable prices, and agent services are also available on a cost-effective basis;
The turnaround times at ZenBusiness are either the same as those offered by Swyft Filings in various cases or even more attractive;
Swyft Filings outsources many companies. ZenBusiness treats this issue more rationally and provides most of their in-house services.
You can learn more about these agencies in the Swyft Filings and ZenBusiness review.
Swyft Filings vs. LegalZoom
Swyft Filings LLC formation services are lower in price and faster than those LegalZoom can render. Setting up an LLC with LegalZoom can end up costing double what you would pay when using Swyft Filings.
But the Swyft Filings registered agent fee negatively affects the comparative cost above. Hence, you will either have to pay even more than with LegalZoom or order this service from another company.
On top of that, there are firms offering cheaper services and even operating faster than both of these organizations. Read Swyft Filings and LegalZoom review for a detailed comparison of the two.
Swyft Filings vs. IncFile
A side-by-side comparison of Swyft Filings with IncFile services looks like this:
IncFile offers free registration while Swyft Filings cannot deliver this service for free;
All other packages from Swyft Filings are more favorable and processing times are faster;
Swyft Filings has better customer support than IncFile;
Swyft Filings also has a significantly higher number of reviews and average score on independent platforms.
A detailed comparison of these providers can be found in the IncFile and Swyft Filings article.
Swyft Filings: Final Verdict
We do not recommend this service.
Swyft Filings is not the worst and, according to the reviews, a reliable and responsive agency. But there are much more lucrative and convenient options for creating your entity. On the one hand, the Basic plan looks really attractive and costs only $49. On the other hand, it doesn't include the registered agent service, which is essential to LLCs, and its cost is $596, which is several times higher than the competitors charge. Not to mention the fact that many firms will deliver this service for free for the first year if you purchase one of their bundles. As a result, the total sum of forming a business with Swyft Filings is significantly higher than that of the competitors.
Furthermore, Swyft Filings does a very poor job of informing clients of the true cost of their services. For example, a registered agent is advertised on the website at $149. However, you will only find out that this price is not for one year but only per quarter when you carefully study all the information in the fine print near the end of your registration on the service. Such advertising is often misleading.
Taking into account that many other companies are offering more value at better prices, we don't see the point in recommending Swyft Filings. You can check out our ranking of the best LLC creation services and study reviews and comparisons to decide on the best deal.
We hope this information has helped you. And if you have already used Swyft Filings services, share your thoughts in the comments.
FAQ