If you have decided to establish your first LLC, it is a very brave decision. The process of founding a business is not simple, as it has many bureaucratic aspects and is accompanied by paperwork.
Once you have decided to start your own company, you have several options on how to approach the LLC of your dreams.
Of course, you can do everything yourself. Learn a lot of legal terms and processes, outline a plan of action. Then, fumble around and gather all the paperwork. You'll need to file them with the state. And then, you may get approved or denied because of the slightest mistake;
You can go to a professional lawyer to avoid such mistakes. Then the process will go like clockwork. But for this smooth path without pitfalls, you will have to pay a lot. Lawyers charge by the hour for their work. And the total amount can surprise you unpleasantly if you do not initially have a large budget;
You can get quality help and not pay a huge amount of money for it by contacting one of the LLC formation services.
Fortunately, or vice versa, there are a lot of such services on the market. This means that you always have a choice, but this choice should be made responsibly so as not to waste your money.
Today, we want to tell you about one of such LLC formation services. It is CorpNet, and we have collected a lot of important information about it.
In this article, we will inform you about Corpnet, which is intended to simplify the path of aspiring entrepreneurs towards the creation of their LLC, helping them with the preparation and filing of all the required documents to the state.
We will consider such aspects:
General characteristics of the service;
Corpnet Pricing;
Corpnet user reviews;
Pros and cons of using this service;
Timing of documents submission and processing;
Practical tips for using Corpnet.
At the end of the article, we will also outline the main conclusions we were able to come to. But let's start by looking at the main aspects of Corpnet LLC formation service.

Is CorpNet Legit?
CorpNet was founded by a married couple. So, it is a real family business.
This service inspires our confidence because they have been working for at least 25 years on the market and have managed to prove themselves well. Hundreds of LLCs in the United States have been founded with the help of Corpnet, and the company has a lot of positive feedback about their work.
Corpnet's Key Characteristics
CorpNet stands out from its many competitors. While other services offer many sundry services (often unnecessary and redundant), this small company focuses its work specifically on forming LLCs, filing documents, and providing Registered Agent Services. This is not a disadvantage in our opinion. Usually, additional services are provided by the company's contractors (with a markup on the service you use). It is usually better and cheaper to order additional services directly from contractors and without markups, which are often very high.
CorpNet's website is quite user-friendly and hence, easy to work with. You can find the necessary pages and place an order within a few minutes. The design of their resource is simple and concise. But this is a benefit because there are no distracting elements, and you can focus your attention on the main tasks.
In the blog on the CorpNet's site, you can find a lot of important information, which is written in simple language. The facts, clearly described there, can help you better understand aspects of the company's operation and the overall process of founding a firm. There, you will find the answers to most questions you may have.
On the website, you can also easily find information regarding prices and services. It is very convenient that you do not need to spend a lot of time finding out the cost of the package.
Overall, using this site has been a positive experience for us. Since we see the fact that Corpnet is a competitive and reliable service, we decided to take a closer look at all aspects of its work and share it with you. This way, you can evaluate whether this service meets your demands and, perhaps, you will make a choice in favor of CorpNet.

CorpNet LLC Formation Services and Pricing
Corpnet offers several packages of services to its customers. This is a common feature, and many of the service's competitors do the same way. The stuffing of these packages varies, and the price depends on the filling.
In these tables, you can see the business formation prices at Corpnet.
Standart Processing
| Entity type | Basic | Deluxe | Complete |
| --- | --- | --- | --- |
| Sole Proprietorship | $79 | n/a | n/a |
| Partnership | $79 | n/a | n/a |
| C Corporation | $79 | $199 | $249 |
| S Corporation | $79 | $199 | $249 |
| LLC | $79 | $199 | $249 |
| PLLC | $79 | $199 | $299 |
| Professional Corporation | $79 | $199 | $299 |
| Nonprofit Corporation | $79 | $199 | $299 |
Express Processing
| Entity type | Basic | Deluxe | Complete |
| --- | --- | --- | --- |
| Sole Proprietorship | n/a | n/a | n/a |
| Partnership | n/a | n/a | n/a |
| C Corporation | $199 | $299 | $349 |
| S Corporation | $199 | $299 | $349 |
| LLC | $199 | $299 | $349 |
| PLLC | $199 | $299 | $399 |
| Professional Corporation | $199 | $299 | $399 |
| Nonprofit Corporation | $199 | $299 | $399 |
24 Hour Rush Processing
| Entity type | Basic | Deluxe | Complete |
| --- | --- | --- | --- |
| Sole Proprietorship | n/a | n/a | n/a |
| Partnership | n/a | n/a | n/a |
| C Corporation | $229 | $349 | $399 |
| S Corporation | $229 | $349 | $399 |
| LLC | $229 | $349 | $399 |
| PLLC | $229 | $349 | $449 |
| Professional Corporation | $299 | $349 | $449 |
| Nonprofit Corporation | $299 | $349 | $449 |
Corpnet has three packages: Basic, Deluxe, and Complete. Let's take a closer look at each of them.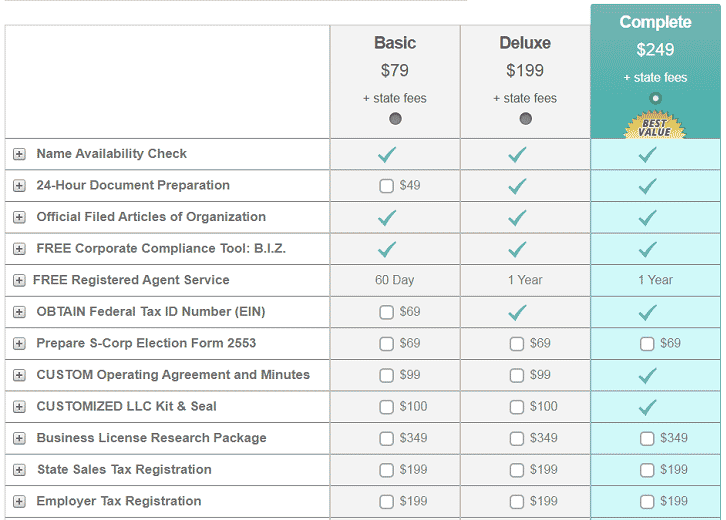 Basic Service Package
This is a package with a minimal set of services. Its cost is $79+ state fee. The package includes formation paperwork, notifications, and two months of registered agent support. This is enough for your LLC to be considered established and functioning.
However, most often, other LLC formation services offer a full year of registered agent service in their basic packages. Moreover, $79 is not the lowest price on the market for such services, but rather an average price. Still, it's a worthy option.
Deluxe Service Package
The Deluxe Package has a more extensive list of services. In addition to the features included in the basic package, you will get:
Expedited processing of your application and documents (within 24 hours);
A copy of the Articles of Incorporation;
12 months of registered agent service;
Obtaining an EIN for your LLC.
The inclusion of getting EIN in the list of services is rather nominal. If you wish, you can do it on your own and for free. For this, you do not even need to leave your home and spend more than 10 minutes of your free time.
The cost of the Deluxe package is $199 + state fees. Many competitors of this platform have lower prices for the same list of services. Even though $199 is not the price ceiling.
Complete Service Package
The Complete service package from Corpnet includes all the items of the Basic and Deluxe packages + individual Operating Agreement and corporate kit. This option costs $249 + state fees.
This is the average price for the top packages among Corpnet's competitors. However, we believe the cost is still too high.
First, the operating agreement drafting is usually included in the most basic packages. Second, you can easily create the operating agreement yourself using templates. There are many options online, and you can choose the one that best suits you and include the necessary and appropriate information for your company. So, there is no point in overpaying for this service.
Should you choose Corpnet to start your own business? Answering this question is not an easy task. That's because every business has its own objectives that an LLC formation service has to fulfill.
In general, this service has its own features, and you are free to draw conclusions about them.
Additional Services
| Service | Standard Processing | Express Processing | 24 Hour Rush Processing |
| --- | --- | --- | --- |
| Business Name Reservations | $69 | $169 | $219 |
| Initial Report (Statement of Information) | $89 | $189 | $239 |
| Annual Report (Statement of Information) | $89 | $189 | $239 |
| DBA (Fictitious Business Name Filing) | $79 | $179* | $229* |
| Registered Agent Representation (All 50 States) | $149 | n/a | n/a |
| Annual Meeting Minutes (Shareholders & Directors) | $149 | $249 | $299 |
| Foreign Qualification (Statement of Designation Without Registered Agent Services) | $199 | $299 | $349 |
| Foreign Qualification(Statement of Designation With Registered Agent Services) | $349 | $449 | $499 |
| Amendments | $149 | $249 | $299 |
| Dissolution of Business Entity | $249 | $349 | $399 |
| Reinstatements | Starting from $299 | Starting from $399* | Starting from $449* |
| Conversions | Starting from $299 | Starting from $399* | Starting from $449* |
| Certificates of Good Standing | $69 | $169 | $219 |
| Federal Tax ID Number - Form SS-4 Online(Employer Identification Number) | $69 | $169 | $219 |
| Federal Tax ID Number - Form SS-4 Paper Filing(Employer Identification Number) | $99 | $199 | $249 |
| IRS Form Change Letter Request | $99 | $199 | $249 |
| S Corporation Election Application - IRS Form 2553 | $99 | $199 | $249 |
| Custom Corporate or LLC Kit With Embosser | $100 | $200 | $250 |
| Custom Corporate or LLC Seal (Embosser Only) | $40 | $140 | $190 |
| Custom Bylaws & Minutes | $99 | $199 | $249 |
| Custom Operating Agreements | $99 | $199 | $249 |
| Customized Stock Certificates (Set of 25) | $25 | $125 | $175 |
| Customized LLC Member Certificates (Set of 25) | $25 | $125 | $175 |
Like its competitors, CorpBet offers a whole list of additional services that you have to pay for separately if you need them. Such services as Name Availability Check, Filed Articles of Organization, and B.I.Z. are the only ones included in all Corpnet packages.
The other services are not included in the basic package but are available in Deluxe and Complete packs.
Foreign Qualifications. The cost of this service is $199. If your LLC will be operating in more than one state, you will be required to obtain a foreign qualification.
Advice on how to select licenses. If you don't want to study which licenses you need to work in your industry, you can get a consultation on this issue. The staff can help you select and get licenses for $149. The average market price for such services is lower (about $100).
DBA registration. If you need to get a DBA (doing business as), Corpnet provides this service for an affordable price of $79. Competitors to the platform will charge you around $100 for such assistance.
Operating Agreement. Corpnet will draft an Operating Agreement with you for $99. But you can save a lot of money and do it yourself. For that, there are many templates online that you can easily use (and for free).
Annual Report. You can fill out the reports yourself because it doesn't take much time. But if you want to shift that responsibility to Corpnet, it will only cost you $89. That's a low price. Competitors of the site offer this service at a higher price.
Tax return filing. If you want a tax return filled out and filed for you, CorpNet will do it for $99. The price is quite high, and this service is usually provided cheaper by Corpnet's competitors.
Trademark Registration. Your LLC trademark can be registered with Corpnet for $299. This price is justified because it is quite difficult to perform this procedure on your own. But professionals can help you with it quickly.
Turnaround Time
CorpNet's website doesn't tell you how much time the company takes to process applications and documents from users who have purchased a basic package of services. To get to the bottom of this, we analyzed feedback from users of the service. According to the figures we collected, the time for processing documents is 2-3 business days.
In other packages, the company offers accelerated processing of applications within 1 day. Competitors of the service also state such terms. So, this is a decent result and a definite advantage.
Of course, we should note that in 2-3 days or 24 hours, your LLC will not be considered established. After Corp Net reviews your application and submits your documents to the state, you will have to wait for the Secretary of State to accept and approve your documents. This can take from a few days to a few weeks. The waiting time will not be dependent on the LLC formation service.
Advantages of Cooperating with Corpnet
Now let's take a look at the main pros of using this service.
Large List of Services
Overall, with the help of CorpNet, you will be able to handle all of the most basic tasks associated with starting a business. You won't have to look for additional services on third-party websites.
Compliance with Deadlines
We have not noticed any delays in getting work done by the Corpnet service. Also, based on user reviews that are available online, we note that the company carries out the work on time.
Reasonable Prices
The prices of the company are quite reasonable, although some of the largest packages have a higher price. We want to point out that some of these services can be done independently and very quickly.
For example, getting an EIN by yourself online will literally take you 5-10 minutes and will be totally free. So, there is no point in overpaying for this kind of help.
Disadvantages of Cooperating with CorpNet
And now for the cons of the company.
Using a Contractor Company
Corpnet's registered agent service is provided with the help of a contractor company. This means that you will also need to sign an additional contract with another service.
Customer Service
We have had difficulty getting in touch with customer support. We have used the phone call as a communication option but were not able to get through on the first try. Poor customer service is also sometimes noted by other CorpNet customers in their reviews. This is definitely a drawback.
No Unique Offers and Services
This company offers the same services that its competitors do. Often, similar help can be found in other LLC formation services but at a lower cost. Corpnet does not stand out on the market with the help provided or the time it takes to complete tasks.
CorpNet Customer Service
In some of the reviews found on the Internet, users have complained about poor help from Corpnet customer service. We decided to test whether this was true by contacting the staff directly.
Our experience was not very positive: only one of the three attempts was successful. Nevertheless, when we managed to ask questions to the company representatives, they obligingly helped us solve the problems we had. The staff was friendly, and this is definitely an advantage. We received competent assistance, although we spent a little more time than planned. If we were choosing between several companies, we probably would have already gone to their competitor while waiting for a response from Corp net.
The support staff did not offer us additional services or the package at a higher cost in order to make additional sales and confuse us. But also, they did not provide us with related information that might have been helpful in some aspects.
CorpNet has more than just phone customer service. Although this has always been the best and easiest option for us to get answers to our questions, some users prefer to contact customer support staff via email or chat on the site. Corpnet provides different options. If this is a principle aspect for you, you can choose any of the communication alternatives, but a phone call is still the fastest way to get your questions responded to.
CorpNet Registered Agent Service
We would like to pay special attention to the Corpnet registered agent service offered by Corpne.
A Registered Agent is a person or company who receives all mail on behalf of your LLC. You are mandated by law to have an agent. This person or company should always be online during regular business hours except on public holidays. Your registered agent is the liaison between your LLC and the state in which the company is registered.
You may act as your own registered agent and accept mail on your own. Also, your relatives or friends can be your agents. But then, you will have to forget about weekends, sick leave, and vacations because you need to be available at all times. What's more, your agent's address will be placed in the public domain, which means that person loses the privacy of his or her personal information.
To avoid having all these problems, business owners often turn to companies like Corpnet.
This is one of the main services provided by the company. CorpNet customers receive this assistance through their partner - Registered Agents, Inc.
Registered Agents, Inc. has a positive reputation, and Corpnet does not charge high markups for using this service. In fact, CorpNet customers even receive a discount on this service, as it is more expensive to order it directly from Registered Agents, Inc.
A Registered Agent Service through CorpNet will cost you $149 per year. This cost is slightly higher than the market average, but this company definitely guarantees you quality.
For that money, the agent will filter out spam, scan your documents, and keep you informed of incoming letters continuously. You can trust them because they are pros at their job and will never miss important information.
CorpNet Reviews from Users
According to the statistics provided on the Trustpilot website, more than 95% of Corpnet reviews are positive. And only 1% of the customers encountered some kind of difficulties with the company and remained dissatisfied with their help. Their overall score on the site is 4.8 out of a possible 5. This is a great result.
We have studied the reviews of customers of this service and came to the conclusion that most commonly users note:
Fast execution of the work;
Simplicity in the use of the service;
Professionalism of the staff;
Positive impressions of cooperation.
According to the reviews, customers are satisfied with the work of this LLC formation service and are ready to recommend it to others.
Comparison with Other Services
CorpNet vs Northwest Registered Agent
Both of these services are very respectable. The most important thing they have in common is the quality guarantee of the services provided and the high level of customer satisfaction.
Advantages of CorpNet include:
25 years on the market;
Lots of positive feedback;
2 months of registered agent service;
Overall cost is affordable.
Benefits of Northwest Registered Agent include:
Over 20 years of providing LLC formation services;
Positive feedback on customer service;
12 months of using the registered agent service.
As you can see, Northwest has good customer service and leads in this regard. However, Corpnet has a better refund policy. You can explore a detailed comparison of these services in the article that is specifically dedicated to this.
CorpNet vs Legalzoom
While comparing Corpnet and Legalzoom, we considered many aspects of these services and came to certain conclusions.
Advantages of Corpnet include:
More user reviews on Trustpilot;
Most of the reviews are positive;
You can get a discount on some services.
Advantages of Legalzoom include:
Large-scale organization;
Offer much more service than just a company foundation and are willing to work with your business long term;
Excellent customer support.
We offer to read a more detailed comparison of these services.
Corpnet vs ZenBusiness
These companies seem similar at first glance but actually have many differences.
Advantages of Corpnet include:
Affordable total cost;
Fast processing of your application on the site;
Ease of use.
Advantages of ZenBusiness include:
Prices are lower than many competitors have;
Hundreds of great reviews;
12 months of registered agent service.
In the article, you can find a more detailed description and comparison of these LLC formation services.
Corpnet Contact Information
You have several options for contacting Corpnet: mail, email, phone number, fax.
Email
Information: [email protected]
Sales: [email protected]
Phone Number
Toll-Free: 1.888.449.2638
Direct/Int'l: 805-449-2638
Monday - Friday
6:00 am PST - 5:00 pm PST
Fax
+ 1 (805) 449 2639
Mail
CorpNet, Incorporated
31416 Agoura Rd. Suite 118
Westlake Village, CA 91361
You may also leave a request with a message on the home page of their website. A representative will contact you via email as soon as possible.
Conclusion
We consider CorpNet to be a worthy LLC formation service. The number of positive reviews on third-party sites deserves special attention. These reviews prove that clients are satisfied with the cooperation with the company. At the same time, their prices are not the lowest but reasonable and will be affordable to many business owners.
In any case, the choice is always yours, and our main task is to arm you with necessary and useful information.
FAQ