Nowadays, there are one million businesses in the United States that describe themselves as Limited Liability Companies (LLCs). Such business structures have a number of advantages: flexible management, pass-through taxation, as well as easy start-up and maintenance. Therefore, both small businesses and corporations choose this very type of entity.
Various online services can help you register your LLC. Filenow is one of them, and we will talk about it in more detail below. And for a more objective summary, we will compare the agency with other similar solutions, as well as analyze their reviews and recommendations.
Is Filenow Legit?
Filenow was established in 2018, making it a relatively young business registration firm. The team consists of experienced entrepreneurs, business experts, and tax specialists with an extensive background in setting up new ventures. The company currently has more than 25 professionals on staff.
The agency is registered at 132 W 36th Street, New York, NY 10018 where it is headquartered. And its annual income is about $5 million.
The SIC code of Filenow is 73,738, and the NAICS code is 541,5411.
Thus, we have answered your question: "Is Filenow legit?". Yes, it is.
Filenow Overview
Before we show you the full Filenow analysis, let's take a brief look at this organization, its activities, and services.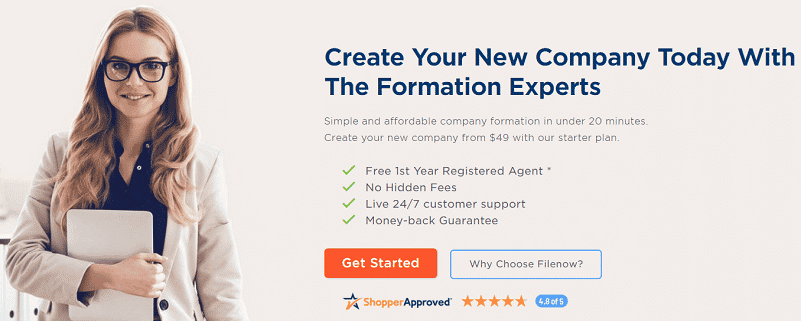 Filenow is a relatively young provider that handles business registration in the United States. Nevertheless, it has managed to get an A rating from the Better Business Bureau (known as the BBB), which confirms its level of high-quality services.
We should point out that the Better Business Bureau is a large and reliable organization in America that analyzes businesses. Thus, the ratings that firms receive prove that companies are solid and effective. The highest possible score that entrepreneurs can get is an A+.
The main benefit of Filenow, but not the only one, lies in the ability to get an LLC for free, where your only costs will be state fees.
Besides, there are numerous other free features included in the service packages, which are aimed at serving businesses. Still, the dominant service is related to the creation of Limited Liability Companies.
How Does Filenow LLC Work?
Business registration with this provider is quick and easy and takes 4 steps. It takes 15 minutes for the entrepreneur to fill out the application, and then the company's experts get down to work and handle the rest of the process. Let's dive into a Filenow review and its filing procedure.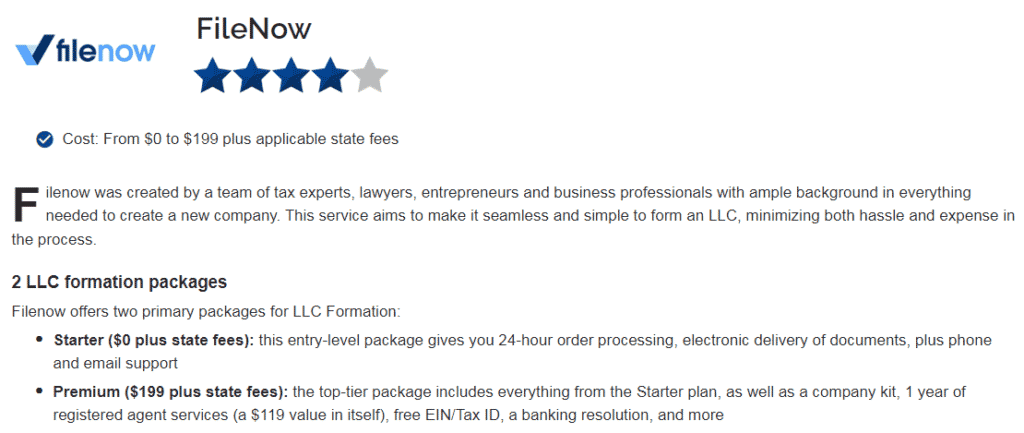 1. Establishing
This stage involves providing complete information on the new entity. In this case, if the would-be entrepreneur cannot determine the type of future company, there is a specialist who, after you answer certain questions, will recommend which type of business suits you best.
2. Analysis and Preparation
Once you have provided all the information, Filenow LLC specialists study it and check it for:
Company name availability;
Mistakes.
Next, the team draws up a list of necessary documents for your business registration.
3. Registration
As soon as the application passes all the stages of preparation, it will be sent for approval to the state where the business will be incorporated.
4. The Final Phase
A business becomes official when Filenow has a positive verdict from the state. The owner gets confirmation in the form of a corporate document by mail and email.
Additional Information About Registering a Business Through Filenow
It provides LLC filing within 24 hours without any extra fees. But owners can accelerate the process if they want by paying additional fees.
Filenow has a money-back guarantee, and if the client is not satisfied with the services, the money spent will be refunded. Besides, the LLC registration package includes some other useful features for free:
Filenow registered agent for the first 365 days;
EIN/Tax ID;
Free express shipping and online delivery;
Support;
FedEx shipping, and more.
Filenow Services
You can not only register a business but also get other related services here. Such an approach allows enterprises to operate smoothly. These include getting an EIN, the Application for Authority, registered agent services, the Certificate of Good Standing, "doing business as" (DBA), company name reservation, and business license service. Let's take a closer look at each feature.

Obtaining an EIN
An EIN stands for a nine-digit Employer Identification Number. Its main purpose lies in the tax filings. In addition, this code has another function and acts as a Social Security Number. Hence, entrepreneurs can open a bank account for their ventures, conduct transactions, and more.
An ID number helps separate the company from the owner's identity, making it a stand-alone legal entity. Thus, if a firm is sued, then the business will be responsible for all the issues but not the owner.
Filenow assists you in getting an EIN quickly and hassle-free. Of course, you can do everything yourself, but if you are busy with your daily tasks and need to get a code in one day, you should turn to an online service. They will send you a ready document by email.
Application for Authority
When a person only prepares their project for implementation and writes a business plan, they build in ideas for its future growth. Business expansion can take place outside of the state of your original incorporation. The only way of doing so is to file the Application for Authority.
The Filenow team is ready to provide this service as quickly as possible and make a full commitment to the outcome.
Business License Service
You need a business license to validate your activities in the industry that operates in a certain area. Such documents are mandatory for every company to run properly, although each business will have different standards depending on the licensing jurisdiction (except for basic ones).
Licenses are regulated by federal, state, or local authorities. The absence of one of them can affect your company permit, insurance, and contracts or even stop your business operation at all.
Getting a business license is only possible through special agencies at the federal, state, or county levels. Therefore, Filenow does not provide such documents but only helps speed up and simplify the process.

Filenow Registered Agent
LLCs should have a registered agent (an individual or a legal entity) to receive and not miss important paperwork. Failing to hire one can result in the vital correspondence being lost, which can have legal and financial consequences.
Moreover, it exposes the business to the risk of not receiving urgent information (for example, someone suing your firm) and, as a result, losing reputation or a venture at all, as well as getting fines.
Who can be a registered agent? You may designate a resident of the state or another company with a business office in the state. The company owner can also act as an agent but as practice shows, this is not as effective and even uncomfortable for the business.
If the owner has many branches in different states, working with all the information will be almost impossible. Filenow agents are very good at this, and they will keep track of every date on the document so you don't miss any major events. This way, the registered agent service will also take care of your image.
To start cooperating with File now, an LLC needs to submit the Articles of Organization. You can also get a registered agent change service here or add another one in case of expansion.
The registered agent service includes:
Digital dashboard for document storage;
Email notifications and automated document processing;
The first year of free service.
Certificate of Good Standing
This document is also known as the Certificate of Authorization and the Certificate of Existence. Such a paper confirms the status of the company at the state level and that it meets all the regulations and laws. In addition, the certificate is the key that allows you to conduct business legally.
When might you need it?
When you get business loans (it is usually requested by lenders);
When you need to renew your license/permit;
When you expand or sell your business;
If you need to prove the legitimacy of your firm;
When you file your tax return.
The Filenow team facilitates the process of applying for this certificate. As for the price, it all depends on the type of business and its registration.
DBA
Your business can be registered in your name but it can be introduced to the public under a fictitious name or a trademark. Thus, an entrepreneur needs special permission called a DBA.
It is mandatory to have this document for many states, but 13 of them don't require it:
Alabama;
Alaska;
Arizona;
Delaware;
Florida;
Hawaii;
Kansas;
Maryland;
Mississippi;
Nebraska;
Ohio;
Wisconsin;
Wyoming.
A fictitious name has many advantages in terms of marketing and branding. But for a DBA to be effective for the business, choosing the right name is critical. First, we recommend that you write a list of appropriate names and check them to make sure they are unique.
How do you find out whether a name is being used by another venture? Contact the USPTO, use the search, ask the state county clerk's office, or contact the Secretary of State.
Have you found a name that fits you? Is it unique? Then, it's time to register it with the state. Contact the Department of Commerce and Labor in your state. Be sure to add the company's official name and address to the form. The document has to be signed by the legal entity or LLC owner. Filenow will help expedite the process for $75 + state fee. As with other services, the DBA is covered by Filenow's satisfaction guarantee.
Name Reservation
You may only have an idea or vision of what your company should be and a plan to register it in the future, but you can reserve its name now.
When do you need a name reservation service? For example, you are not ready to incorporate your enterprise as your site is still being developed. In that case, you may take advantage of this offer and protect your name from being used by other enterprises. The service is also relevant for those who have found the perfect name but want to register a venture in the new tax year.
What is the application process for a name reservation? Initially, the business owner should pay the state fee of $10-$60, and then, the reservation certificate receipt and the application itself have to be submitted to the department.
Filenow offers a much quicker and easier procedure, and it will take up to 60 days to reserve a name with a renewal option.
Filenow: Service Packages
The 2022 Filenow pricing consists of two packages: Standard and Premium. To get complete information on pricing, the client needs to initially specify the type of organization and the state where the business will be registered.
For those who need help and do not know which type of organization to choose or in which state to open their businesses, Filenow has prepared the answers.
We should also mention that prices within packages for different types of entities and states may vary. The pricing plans are as follows:
| Starter | Premium |
| --- | --- |
| $49 + $ state fee (one time payment) | $199 + $ state fee (one time payment) |
The Starter Package
It covers:
Filing the Articles of Organization;
Unlimited phone and email support;
Electronic delivery of state documents;
Online order status tracking;
Unlimited name search;
Company alerts;
Business tax consultation;
Business bank account.
The Premium Package
It includes:
All services provided in the Starter bundle;
Free registered agent for one year ($119);
EIN / TAX ID ($75);
Operating Agreement ($50);
Banking Resolution ($50);
Business contract templates ($50);
24-hour order processing ($50).
Filenow: Pros and Cons
If you study the strengths of Filenow on the official website, then it promises such features as no hidden fees, the best value for money, no red tape with documents (Filenow takes care of it all), unlimited phone and chat support, expedited filing options, 24-hour order processing, and express/electronic delivery.
Still, let's look at the pros and cons based on Filenow LLC customer reviews.
| Pros | Cons |
| --- | --- |
| Pricing policy | Not enough add-ons |
| Free registered agent | No annual reporting and tax services |
| Free EIN | |
| Quick turnaround time | |
| Money-back guarantee | |
| Free customer support | |
| Cloud storage | |
Advantages
Pricing Policy
Filenow offers affordable prices, many of which you can even get for free.
Free Registered Agent
When you create an LLC business structure, Filenow packages include a free registered agent service for 365 days.
Free EIN
Businesses can get an EIN/Tax ID number within only 24 hours with the Premium bundle.
Quick Turnaround Time
The process of document processing is as simple as possible, allowing owners to concentrate on more important matters. It takes just 15-20 minutes to apply. Moreover, applications can be submitted at any time.
Money-Back Guarantee
The Filenow team is 100% confident in the quality of its services so it will provide a money-back guarantee if the customer is not satisfied with the service rendered.
Free Customer Support
Filenow customers can get assistance via email, phone, or chat. Furthermore, the service is free of charge.
Cloud Storage
Wherever a business owner resides today, they can check out important documents from anywhere in the world at a convenient time.
Disadvantages
Not Enough Add-Ons
If we look at Filenow and its rivals, we can see that the provider does not have such a wide list of additional features. We will talk about that in more detail below and compare Filenow LLC reviews with other agencies.
No Annual Reporting and Tax Services
If you need tax services, you cannot count on Filenow's assistance because the provider does not make such offers so owners have to look for solutions in other firms.
| | |
| --- | --- |
| Website | https://www.filenow.com/ |
| Filenow address | 132 W 36th Street, New York, NY 10018 |
| Filenow phone number | 1(888) 332-4612 |
| Filenow support | [email protected] |
| Operating hours | Mon-Fri from 9 a.m. to 7 p.m. ET |
Filenow Reviews and Customer Service
One of the biggest strengths of Filenow is its support service. As such, customers can get help from the Filenow team at any time, as their work is round-the-clock. The only exception will be the online chat option on the website since it works from 9 a.m. to 7 p.m. Its main purpose is immediate assistance in solving urgent issues.

Filenow reviews on the official site, as well as third-party resources, have helped assess the quality of the company's services. For example, many clients have praised the ease of use of the online portal, the quality of the product, and the support team. Here are some typical reviews on the Shopper Approved site:
April 6, 2022: «Everything went as advertised and I'm pleased with my service, I'm ready to get to work now for a new future»;
May 16, 2022: «Great online portal. So easy to set up. The fee was very competitive»;
March 22, 2022: «Great service, quick filing, happy with results, will reference others»;
November 28, 2021: «Just have some confusion over the EIN portion of the package I purchased. I received the LLC package, which looks great but no indication that an EIN application was submitted on my behalf. I am waiting for a response from Customer Service».
There are some negative comments as well, but we should also highlight the speed of response and how well the Filenow team reacts. Here is a negative comment dated January 15, 2022: "I filed almost 3 weeks ago, paid extra for expedited service and I have still received nothing".
And the response from the Filenow support team was as follows:
«Dear Customer,
We are sorry for the delays you are experiencing. We process all orders directly with the state on your behalf. The state office is open M-F 9-5.
We received your company address from you on New Year's Eve (Friday) after the state office had closed. We filed your order with the state on Monday, January 3rd.
We reached out to the division of corporations at the state where you chose your filing and learned that due to the pandemic that state is currently experiencing delays in processing.
- Standard - is 7 estimated at 7 weeks and they are currently handling filings received on Nov 19th
- Expedited - is currently 3-4 weeks and they are currently handling filings received on Dec 14th.
Our customer service agent is contacting you to see if you would like us to contact the state on your behalf to request a switch from expedited to standard processing and a refund of the expedited fee.
Please feel free to call, email, or chat with our customer service agents with any questions».
The Shopper Approved website rates the company's performance at 4.8 out of a possible 5 based on reviews. There are also detailed assessments covering 3 aspects: "Customer Satisfaction" 4.6 out of 5, "Customer Service" 4.6 out of 5, and "Prices" 4.5 out of 5.
Filenow's services have also been recognized by the BBB, which has given the firm an A rating.
Comparison With Other Products
If you are going to start your own business, the first thing we should do is congratulate you and wish you good luck as this is an exciting period. On the other hand, it requires a lot of concentration and knowledge to handle all the documents and legal issues. The services such as Filenow, IncFile, LegalZoom, ZenBusiness, and BizFillings relieve the owner of routine work and help them cope with it much faster.
Filenow vs IncFile
In this section, we will compare the main features of Filenow and IncFile. To find out more, check out the detailed article.
Tax services. Unlike Filenow, IncFile offers several tax services. These solutions include, for example, annual reports or submitting IRS form 2553;
Prices. If you compare their packages, you will see that Filenow has slightly higher prices than IncFile. The latter offers free packages when Filenow's prices start at $49;
A federal tax ID number. If you purchase one of the Filenow packages, the EIN service will be already included. IncFile requires you to order this service for $70;
Customer service. Client support from Filenow and IncFile is excellent, the only difference is the opening hours. Filenow's hours are from 9 a.m. to 7 p.m., while Incfile operating hours are 9 a.m. - 6 p.m.
Which service is better? Both agencies are great, and customer feedback confirms this. Nevertheless, you should understand that even though IncFile attracts clients with its low prices, obtaining an EIN is a separate service. On the other hand, IncFile offers significantly more services compared to Filenow.
Before you choose one of these two options, determine what types of services you need. IncFile's additional features may not be relevant to you.
Filenow vs LegalZoom
Here is another comparison review about Filenow and LegalZoom because aspiring entrepreneurs often choose between these two providers. And if you are looking for a detailed comparison, check out the special article.
The main commonalities:
Registered agent services;
Online document delivery;
Service packages for business establishment;
Alert management and compliance monitoring;
Email and phone support.
The significant differences are as follows:
Unlike LegalZoom, Filenow assures to process applications within 24 hours;
LegalZoom express shipping is not available in the Express Gold bundle ($349), and Filenow provides this service as part of the basic package;
The range of services at LegalZoom is much broader and is not limited to company formation. Legal advice on real estate, divorce, and other issues is also available;
LegalZoom's prices are much higher than its opponent's;
Customer support. For example, only LegalZoom has unlimited (or lifelong) support. LegalZoom has a more extensive client base than Filenow so the response time is somewhat longer. Filenow's email response time is about 1-2 days, but LegalZoom clients can wait up to 7 days;
Agent-related services are free for one year only at Filenow.
You can see the difference between the two companies in their experience. As such, Filenow has been operating since 2018, and LegalZoom has been in this industry since 2001. Despite this, both agencies have a good reputation.
Filenow vs ZenBusiness
Another quick review that will definitely help those who haven't yet decided where to order LLC creation services. If you want to get a more detailed overview of Filenow and ZenBusiness, check it out in the special article.
Service plans. ZenBusiness is more expensive than its competitor Filenow. Prices start at $39, but the number of services is significantly less than Filenow packages offer. Still, the price of $39 at ZenBusiness includes a whole year of registered agent services;
Track record. ZenBusiness has been serving its clients since 2015, which makes the company only 3 years older than Filenow. Both the first option and the second one have succeeded in establishing themselves on the market and proving the high-quality services, and customer reviews can prove that;
Support service. It is the same as with Filenow, you can contact the representatives via email, chat, and phone. The waiting time is minimal in both cases;
Ease of use and speed. The two firms handle the applications quite quickly. Filenow offers the four-level processing, while ZenBusiness has the five-level system. As for the speed, ZenBusiness loses in this matter;
Refund policy. If you are not satisfied with the quality of Filenow's services, you can get your money back. When it comes to ZenBusiness, everything is much more complicated. For example, you can only get a refund if your documents have just been delivered to the state for processing.
Filenow vs BizFillings
BizFilings is also a popular provider that helps you set up your LLC, corporation, or non-profit organization. Let's compare it to Filenow as well.
Packages. Filenow has much cheaper bundles than BizFillings, where the prices start at $99;
Registered agent services. They both render such solutions, but there is a difference. BizFilling offers only 6 months for free;
Background. BizFillings has much more experience than Filenow. And the reason is that it has been on the market since 1996. It is actually one of the factors why BizFillings has higher prices;
Customer service. There are no criticisms about Filenow and BizFillings here, both providers show excellent results. Clients can reach them via email and live chat. In addition, the agencies offer phone support;
Simplicity and speed. The registration process is quite simple in both companies. The only weak point of BizFillings is its out-of-date design. As for speed, BizFillings will definitely not offer you the one-day processing as Filenow does. It all depends on how much you spend here.
Filenow: Our Review
We have made a thorough Filenow review and have tried to make it objective by comparing it with other similar companies. Undoubtedly, this provider is sometimes inferior to others due to the lack of some additional services, like LegalZoom and IncFile render. Still, your choice depends on business requirements and the specifics of the state.
Overall, Filenow is a really fantastic service, even though it is quite young compared to its rivals. The team, which includes analysts, lawyers, and other experts, is reliable and delivers quality services so they will provide you with a money-back guarantee if you do not get the desired result.
Filenow is affordable as well. The company's website lists two pricing packages, Starter and Premium. The first option will cost you $49, which covers such features as unlimited support, the electronic delivery of documents, online order tracking, name search, company alerts, tax advice, and a business bank account.
The second $199 package offers services that are included in the Starter package, as well as a year of a registered agent, an EIN, an Operating Agreement, business contract templates, 24-hour processing, and even more.
Filenow has received quite a lot of feedback from customers for a short period of time. Most of them are positive, but there are a few negative ones. In this case, we should mention its support service, which responds to unsatisfied customers and resolves disputes as quickly as possible.
Can we recommend Filenow? Definitely, yes. The provider has an excellent reputation, offers great value for money, and has received recognition from the BBB. And if you want to learn more about the company, it's time to visit their official website.
FAQ