Despite its relative obscurity, LegalNature is a respectable contender capable of outpacing popular LLC formation services. As of 2022, LegalNature holds thousands of positive customer reviews praising the company for its speed and efficiency. The service has also been awarded a high BBB rating based on independent expert opinion.
So is LegalNature legit, and can it work for your LLC formation? You can find out more about LegalNature's pricing, track record, and customer service ratings below. You can also find other reviews featuring LegalNature on our website, including product comparisons.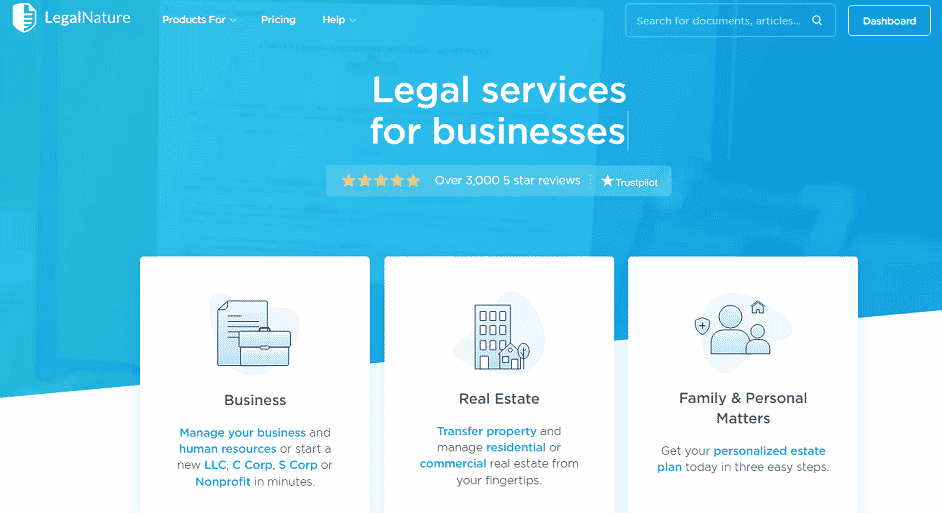 Is LegalNature legit?
Based in Dover, Delaware, LegalNature was initially registered as a domestic LLC in the state of Delaware all the way back in 2010. Since then, they have expanded their operation to other states — most notably, to California — as well as internationally, with the main office located in Cork, Ireland.
The primary LegalNature address as listed on multiple platforms including BBB is that of their San Jose office, however their website does state that their main place of operations is in Denver.
LegalNature LLC Review
Although LegalNature LLC falls somewhere on the lower spectrum of formation providers based on the scale and general popularity of their services, the company is nevertheless a legit and stably-growing enterprise.
They provide legal services both domestically and abroad, focusing primarily on formations, LegalNature registered agent services, and other forms of business solutions. The company also makes it easy for their customers to contact LegalNature customer support internationally and within the United States.
LegalNature Pricing
The only clear LegalNature pricing available on their website has nothing to do with actual LLC formation packages. The company gives you two main figures: monthly subscription and annual subscription, plus one-time fees for various add-ons and legal services.
The subscription in question refers to LegalNature's document library. Gaining access to it means you will be able to use any contract templates and other legal document forms whenever you need them.
Unfortunately, it's nearly impossible to get a straightforward package list for LLC formation. The way the LegalNature website works at the moment requires you to fill out all your details and then go through all 20 steps of registration before you could gain access to the dashboard or any concrete information.
There is a way around it without a LegalNature login, however.
First, you need to go to the LLC formation page. The URL should look like this, though keep in mind that the number of your order will be different each time:
But instead of proceeding with the registration form, simply amend the URL by replacing "0" with "package-select". It should look like this:
You should be redirected to the LegalNature pricing page that looks like this:
Now let's look at each Legal Nature LLC formation package in more detail.
LegalNature Starter Package: $49 + state fee
The main features of LegalNature's basic plan are:
Preparing and filing your LLC;
Name availability search;
Online account dashboard;
Company updates and alerts;
Business bank account;
Business website;
Free LegalNature registered agent (1 year);
Free business tax analysis.
Their basic plan has standard LLC filing times of 18-20 business days. That figure varies depending on the state of LLC formation. Expedited filing is available as an add-on, but once again, the service fee is based on the location.
It's important to note that the $49 package pricing refers to the service fee you pay to LegalNature for formation. The actual cost may amount to $200-$500 depending on your state's LLC filing fees.
LegalNature Essentials Package: $169 + state fee
Their mid-tear plan includes everything from the Starter package but further expands the formation features, albeit only slightly, by adding the following:
EIN registration;
LLC operating agreement;
Bank account resolution;
Business tax consultation.
Unlike the Starter plan, the Essentials follows LegalNature LLC rushed filing policy. This means that your application can be processed within 14-17 business days. The exact figure depends on the state.
LegalNature Pro Package: $269 + state fee
Their most expensive LLC formation plan, LegalNature Pro, adds only a couple of features to the previous listings. They include:
Compliance Guard service;
LegalNature Plus subscription.
LegalNature's Compliance Guard essentially means that their team will monitor your regular LLC filings and help you with the routine maintenance of your company. This covers anything from annual reports to providing meeting minutes.
This package comes with expedited filing by default, estimating your LLC formation processing at 12-14 business days. In some cases, depending on the speed of your state office, your registration could even be reviewed within a single day.
Monthly Subscription: from $38.95
This option gives you access to the entirety of LegalNature document library. While the standard subscription costs $38.95 per month, their professional access will cost you $58.95 per month. You are also welcome to try this plan for free for the first 7 days and cancel before the first billing.
Technically, you can get a sub to their library to obtain all documents required for LLC formation and handle all LLC filings yourself to minimize service fee costs. Depending on how you look at it, such an approach can be counterproductive, since you can obtain a lot of these forms and templates for free in your own time.
Annual Subscription: from $84
Just like with the monthly option, LegalNature pricing offers you two payment plans for the annual subscription. You can get the standard access for $84 a year or the professional access for $499 a year. Standard access is naturally more limited, while the pro plan is suitable mostly for larger companies that wish to outsource the bureaucratic side of their daily operations.
Other Business Features
If you don't really need a full LLC formation package or library subscription, LegalNature gives you the option to purchase certain business features as stand-alone services.
Each charge is separate, so you can have full control of what you buy. That said, there is a reason why they compile features into neat packages or subscriptions—to reduce individual service prices.
Some of the most popular LegalNature services include:
Certified copy: $39
Registered agent service: $125
Articles of amendment: $75
Articles of dissolution: $99
Foreign entity registration: $129
Certificate of good standing: $89
EIN registration: $70
Each document in their extensive library can also be purchased separately, but remember that most of these templates can be found online free of charge.
LegalNature Registered Agent: Pros and Cons
Now let's take a closer look at the main advantages and disadvantages of the company. The way LegalNature LLC formation works, it could very well work for a certain group of entrepreneurs, but end up being highly detrimental to others.
| Pros | Cons |
| --- | --- |
| Pricing | Lack of transparency |
| Support | Impractical subscription policy |
| Accessibility | Redundant features |
Pro #1: LegalNature Pricing
It's easy to see why LegalNature LLC reviews cite their prices as one of their most attractive points, considering that they offer the basics of formations plus website launch only for $49.
Plus, they cater towards clients that look for legal support after the LLC formation itself by setting the cost of monthly subscription at only $38.95 with a free 7-day trial.
Another strong selling point here is LegalNature registered agent service made free with every formation plan. After the first year of usage, the service will only cost $125 per year.
Pro #2: LegalNature Support
The consensus regarding LegalNature customer service is generally positive. Naturally, there is a fair share of negative feedback, both from customers and LegalNature LLC reviews, but plenty of users also attest to the company's efficiency when it comes to client support.
What makes LegalNature more reliable than its direct competitors is the scope of their support. They have help lines, email support, and help desk submission forms. Additionally, their phone support includes other forms of consultation, such as accounting.
Pro #3: LegalNature Accessibility
A natural extension of their solid customer service, the company makes it easy to understand the process of LLC formation by providing helpful user guides and FAQs. LegalNature website is cleanly designed and generally easy to get a hang of, though it's not without some flaws.
Bottom line, every potential customer can browse their document library features, assess LegalNature pricing for stand-alone documents, and read more about the business registration process by state.
Con #1: Lack of Transparency
LegalNature's rather shameless upselling is possibly one of their main downsides. Not only that, but you don't even get direct access to the package selection page.
Even if you find a way around it and get to the package page manually, when you choose a plan, LegalNature will still take you through 11 more steps of form filling and upsells.
At the end of that, the company will demand you sign up anyway to get to their dashboard. The cost of your LLC formation could vary greatly based on the upsells, and often it's impossible to even access that number without becoming a registered user.
All of this is a fairly recent development given that only a couple of years ago LegalNature was one of the few LLC formation companies that tried their best to be as upfront about their services as possible.
Unfortunately, now every new user will be taken for a loop around the website without really giving you any other choice. The overall price will be displayed at the top of the page, but it's hard to really understand the exact costs due to upsells and odd interface.
Con #2: Impractical Subscription Policy
As mentioned before, LegalNature isn't that forthcoming with their packages. But what makes it more complicated is how they present their services upfront. The only easily accessible prices on LegalNature website are their document library options.
Moreover, it's not made terribly clear what these subscriptions could be useful for and who would benefit from them the most. It's highly likely that many business newbies could be misled by these offers for the lack of other clearly advertised pricing or packages.
In truth, these library subscriptions are useful only for business owners or managers that occupy a specific niche on the market. Whether it's intentional or not, this approach to promoting subscription policy ends up being strikingly deceptive.
Con #3: Redundant Features
Despite their attractive basic rates, LegalNature is weirdly selective about their LLC filings. Even if you purchase their cheapest plan, you won't be able to get a clear idea of the final cost, including state fees. Then there is the matter of pushing unnecessary features like EIN registration, which can be obtained for free from the IRS, except LegalNature charges you $70 for this filing.
What's worse is the way they lock necessary features either behind subscription or only offer them as standalone business services. From this perspective, Essentials and Pro packages seem overpriced. On paper, their contents look substantial, but in practice half of those are entirely redundant.

LegalNature Contact
All potential clients, as well as returning, customers can contact LegalNature on their website, by phone, via email, or directly at their office.
| | |
| --- | --- |
| LegalNature Phone Number | 888 881 1139 |
| LegalNature Website Help Form | https://www.legalnature.com/contact-us |
| LegalNature Email | [email protected] |
| LegalNature Address | 8 The Green, Suite 4336 Dover, DE 19901, USA3D North Point House North Point Business Park Cork, Co. Cork, Ireland |
LegalNature Reviews: Customer Service
Client support is one of the aspects where Legal Nature proves to be competent. Although there are a handful of LegalNature LLC reviews that criticize the company's client policy, average customers have consistently come back with positive feedback when it comes to business support.
The fastest way to reach LegalNature customer service is by phone at 888 881 1139. The line is open from Monday to Friday, from 9am to 5pm PT.
According to Trustpilot, Legal Nature encourages honest feedback, strives to reply to negative reviews, resolve issues as fast as possible, and reimburse customers that prove to be eligible.
Out of 5,600+ Legalnature reviews on Trustpilot, over 84% percent are positive, with multiple users praising LegalNature customer service for its speed. According to customers, LegalNature's main advantage is quick response and their efficient approach to problem-solving, mostly with technical issues, such as website glitches.
However, it should be noted that their support team can't cover all aspects of LLC, PBC, or partnership management. While they do offer tax and business consultations, the company still lacks in-house specialists in other areas.
On the more sour note, out of only 7 LegalNature LLC reviews on BBB, most of them are negative. Almost all BBB users that reviewed or complained about the service cite issues with billing, obscure charges, deceptive subscription/cancellation policy, and general evasiveness of LegalNature's reps when faced with legitimate complaints.
Comparison with other products
A good way to assess whether LegalNature is suitable for your specific enterprise launch is to compare the service to its direct competitors. Below, we will briefly overview the main points of LegalNature and one of the other leading LLC formation providers to better understand their respective benefits.
LegalNature vs ZenBusiness
Being one of the most popular online LLC formation providers, ZenBusiness is undoubtedly tough to beat, at least on the surface level. Their market dominance can be attributed to massive exposure—a product of well-managed promotional strategy—and media support. So how does LegalNature compare to Zen Business in terms of pricing and customer service?
| Feature | LegalNature | ZenBusiness |
| --- | --- | --- |
| Pricing | Starter: $49Essentials: $169Pro: $269 | Starter: $39Pro: $149Express Gold: $249 |
| Registered agent | $125/year | $119/year |
| Customer reviews | 4.2 out of 5 (based on 5,632 Trustpilot reviews) | 4.7 out of 5 (based on 9,154 Trustpilot reviews) |
| BBB rating | A+ | A- |
The real advantage of ZenBusiness lies in their registered agent (it's both cheaper and easier to cancel). That and their pricing make Zen Business a more appealing option for many small businesses. Their website accessibility is also much better than LegalNature's, especially where it concerns pricing transparency.
LegalNature vs LegalZoom
Another industry giant is LegalZoom, a company you will likely have heard of if it's not your first time looking up LLC formations. Let's see how the two of them compare:
| Feature | LegalNature | LegalZoom |
| --- | --- | --- |
| Pricing | Starter: $49Essentials: $169Pro: $269 | Economy: $79Standard: $329Express Gold: $349 |
| Registered agent | $125/year | $299/year |
| Customer reviews | 4.2 out of 5 (based on 5,632 Trustpilot reviews) | 4.4 out of 5 (based on 1,443 Trustpilot reviews) |
| BBB rating | A+ | NR due to insufficient information/ongoing review |
All in all, both LegalNature and LegalZoom suffer from conflicting customer reports. They both are accused of less than transparent upselling practices and inability to resolve billing issues with integrity. However, unlike LegalZoom, LegalNature is still accredited with BBB and currently holds A+ rating.
LegalNature vs IncFile
It's easy to win over LLC formation companies that overcharge for their services. The situation is flipped on its head when you have to go against one of the cheapest services out there, and IncFile is undoubtedly that service.
| Feature | LegalNature | IncFile |
| --- | --- | --- |
| Pricing | Starter: $49Essentials: $169Pro: $269 | Silver: $0Gold: $149Platinum: $299 |
| Registered agent | $125/year | $119/year |
| Customer reviews | 4.2 out of 5 (based on 5,632 Trustpilot reviews) | 4.5 out of 5 (based on 840 Trustpilot reviews) |
| BBB rating | A+ | NR due to insufficient information/ongoing review |
On the surface level, IncFile is the more desirable option. And it's true that their Silver package is probably the best deal you will find on the market if you need only the absolute basics of LLC formation—namely, the filing of the articles of organization and the free registered agent for the first year of usage.
It all falls apart when you move onto the next two packages. Both Gold and Platinum options are filled with rather useless features, and the few beneficial services they do offer can hardly justify such a huge price surge.
While the same can be said about LegalNature, at least to some degree, they still hold the status of an accredited business with BBB which can't be said for IncFile who have been accused of shady business practices in the past.
LegalNature: Our Review
So what exactly is our verdict for LegalNature? As it stands, they are a relatively affordable option, at least compared to LLC formation services with similar subscription-based price models.
LegalNature's benefits mainly revolve around their basic formation plan that includes bank account registration, as well as their free registered agent trial. LegalNature could potentially pass as a budget-friendly option, but those attractive figures only exist on paper.
The company is known to deal with upsells and evasive promotional practices. Feel free, however, to leave a comment below if you had first-hand experience with LegalNature and would like to share it with other customers.
Still, the company has a pretty dedicated compliance system that could help you keep track of all your LLC filings, mandatory paperwork, and other forms of legal business maintenance. Unfortunately, this is more of a luxury feature, so be prepared to pay extra.
If you are only looking for the simplest LLC formation (or even a comprehensive one for a low price), LegalNatue isn't for you. That said, the company could be suitable for LLC, PBC, and other business owners that require constant access to an extensive legal document library. LegalNature offers workable subscription options, with thousands of templates made readily available for a vast range of business transactions.
FAQ