Stepping on the path of business formation and looking for a reliable helping hand to take you through the whole process? Choosing the right service that will meet all your expectations is quite a challenge, especially now when those online formation companies come in numbers and offer pretty much the same service options. If you've set your eyes on Incorporate.com and want to know as much as possible about this company before cooperating with them, in our comprehensive review, you'll find all the basic info and even minor details that might turn out decisive for you in the end. So, keep on reading the Incorporate.com review to get the answers to all your questions.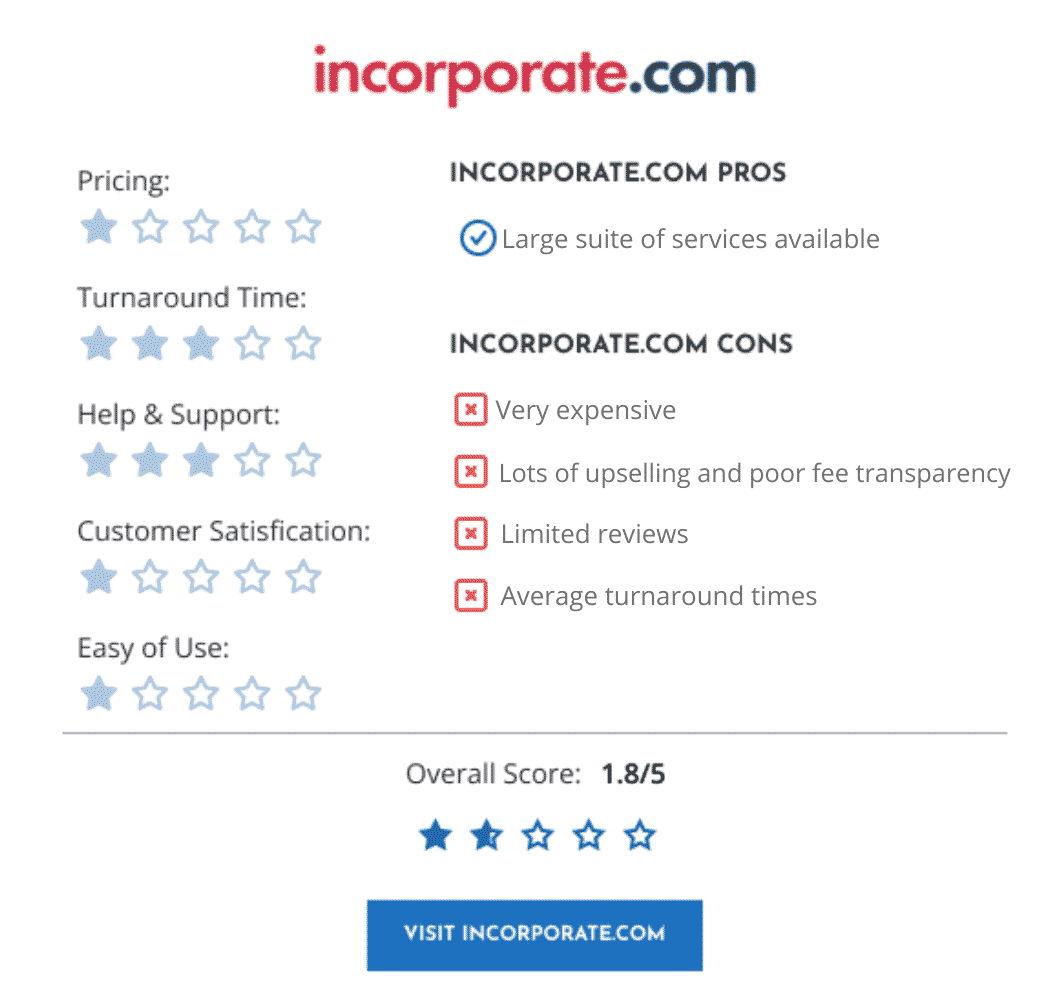 In our Best LLC Service and Incorporation rating, Incorporate.com stands at the bottom of the list and takes the last 13th place outcompeted by many other rivals we consider more attractive for the starter entrepreneurs.

Take a look at our review of ZenBusiness, which is a topliner in our rating and our best recommendation for smaller entity owners.
What do you expect from an incorporation service? Most likely than not, you want the formation process to be completed in a set-and-forget manner, with no hassle and minimum effort from your side. As the company name suggests, Incorporate.com can incorporate a business for you and comes up with a whole list of other related services. Whether you need to set up an LLC, form a for-profit corporation, or launch a nonprofit, they will deliver.
Their user-friendly website will quickly get you in and let you quickly find the necessary section or info. They will not only have you set with formation services but also help you choose the right type of registered legal structure for your future venture, which is an important part of any first-time startup and upcoming new project.
Casting a quick look at the Incorporate.com website, you'll see that they offer every bit of service to kickstart and maintain your business and even have a learning center where beginners can educate themselves and find a whole lot of valuable data on many business-specific issues, from step-by-step startup guides to business plan checklists to compliance tips and helpful instructions. As such, this online service is an appropriate choice both for newbies that need more support on the way and for more experienced entrepreneurs who know what they need and simply seek to escape formalities and legwork.
Looking into more practical issues, Incorporate.com is not the cheapest assistant service out there. Their aid comes at a price and might appear to be quite expensive for limited budgets. Besides, despite being in business for a long time, the company has only a few Incorporate.com reviews that don't praise it too much. Yet, don't rush into quick decisions and keep on reading our review to get the answers to all your questions.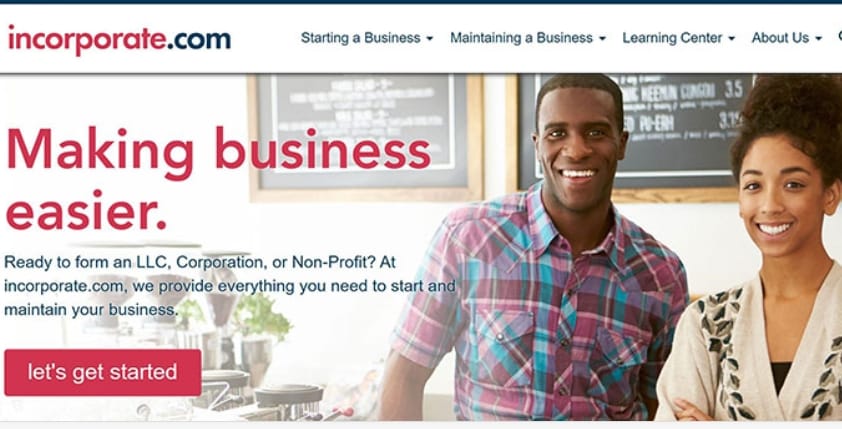 What makes Incorporate.com confidently stand out among the rivals (including even giant industry leaders) is their immense experience. The company was established back in 1899 by two associates who shared the same idea of providing assistance in business formation. They joined their forces and the experience they had by that time to open a firm named Corporation Service Company®. Since then, the service has been renamed a few times to become Incorporate.com. Yet, their mission and goals remain the same. Besides, for over a century, they've gained impressive expertise in the industry and can rightly call themselves true professionals.
As of today, Incorporate.com has over 750,000 businesses formed under their guidance and boasts a staff of over 2500 people working for them across the country. Initially launched in Delaware, now the company is a national service provider with a well-organized and functional infrastructure in every state. They know their onions and can help you determine a set of services that will be optimal for your entrepreneurial scenario. Apart from forming a legal entity and getting a valid eligible status for your new enterprise, Incorporate.com has a bunch of associate services ensuring your company's good standing with the state, whatever the situation.
These are such add-ons as registered agent service, an Operating Agreement and corporate bylaws, EIN acquisition, annual filings, getting a DBA, registering foreign qualifications, and electing an S-Corp taxation status. In other words, the company comes up with turn-key solutions to meet varying business needs.
When choosing to work with formation services, remember that none of these companies is a law firm in the true sense of the word. They rather provide technical assistance handling formalities and paperwork for you and providing informative support.

Yet, they don't give legal advice and you are the one to make key decisions and be responsible for any actions. The same is true for Incorporate.com. Should you need a recommendation on any of the legal aspects, you'd better consult an attorney in this concern who will break any issue down professionally.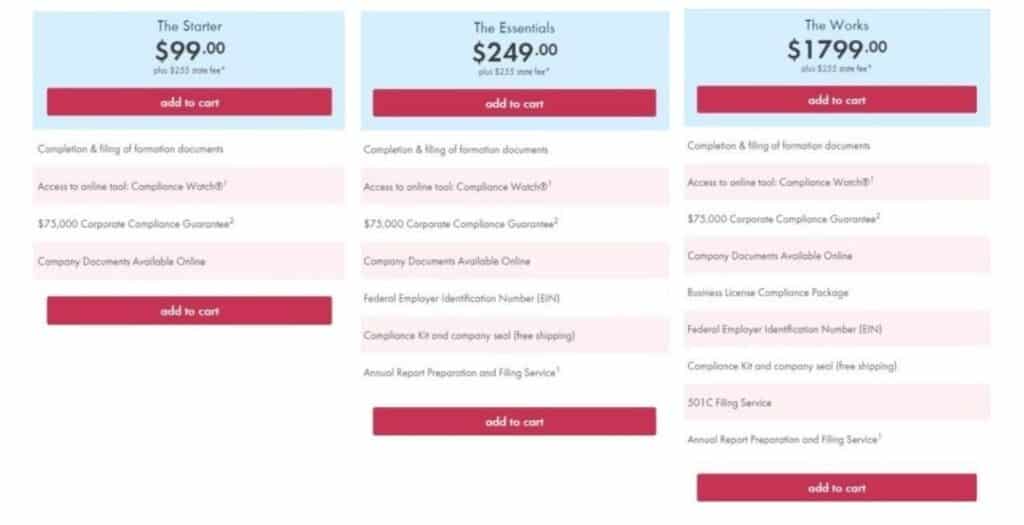 To encourage their customers and engage new clients, the company offers discounts from time to time. Thus, as of the date of this review, Incorporate.com has cut down its prices for over 20%. So, if you are just about to give your business idea a legal form, it might be the right time to do it with the help of this service provider.
Before we delve deeper and break down each Incorporate.com service bundle for you, we suggest that you take a look at the table below where we demonstrate what those packages cover for the price and what will come at an extra cost.
| Service Option | Starter Bundle at $99 | Essentials Bundle at $249 | Works Bundle at $349 |
| --- | --- | --- | --- |
| Preparing and filing formation documents | Covered | Covered | Covered |
| EIN Acquisition | $80 | Covered | Covered |
| Operating Agreement Draft | $99 | $99 | Covered |
| Business Licensing | $99 | $99 | Covered |
| Registered Agent Service (per year) | $235 | $235 | $235 |
| Annual filings (per year) | $150 | $150 | $150 |
| Quick dispatch | $20 | $20 | $20 |
From the chart, it's evident that a Starter package offers barebone formation and higher-tier packages can't boast attractive perks as well. More than that, such a crucial element as registered agent service comes as a one-off payable option. Not only do most competitor services make it a part of all their packages for a year, but also they usually offer it at lower prices afterward. Incorporate.com is quite expensive in all concerns we must admit.
Starter Package in Detail: $99 + State Fee
Unfortunately, for the price, which is pretty high from the start, you won't get too much. To be more specific, you'll get only document filing and that's it. Neither an Operating Agreement important for an LLC structure nor the registered agent service, which is a law requirement for LLCs and corporations alike, is included.
For nearly $100, Incorporate.com will do the name search to make sure your chosen business name is acceptable, prepare and submit your incorporation papers with the state, and get those papers approved by the Secretary of State. In addition to obtaining the originals, you'll have permanent online access to the copies of those documents to trace the filing and have them at hand, whenever you might need them afterward.
What you'll also spot in the pricing chart on the company website is:
Corporate Compliance Guarantee: The company is obliged to handle any mistakes and flaws in the submitted documents that occurred due to their own negligence. More than that, should any financial risks arise for your enterprise for that reason, Incorporate.com will pay back compensation of $75 000;
CSCNavigator Tool: It's a sort of your private room on the company's website where you'll get alerts on vital due dates, will be able to store your business docs, and keep track of your business records. It's a very convenient option that will let you have safe online access to all crucial business data while keeping them securely protected.
No matter the package, the CSCNavigator tool is available subject to using Incorporate.com's registered agent service that will cost you $235. While this element is a must, the price you'll pay for it here is way too high as compared to competitors.

Many other formation services provide it at fraction of this price tag or even offer a whole year for free within formation bundles.
Essentials Package in Detail: $249 + State Fee
Getting a hefty bump in price, we expect to get something special in services, right? Yet, it's not the case with Incorporate.com. What they provide above the Starter package is not worth such price escalation. They still omit an Operating Agreement and corporate bylaws crucial for business operation and ongoing control. For the added $150, they expand the Starter package with a corporate kit containing a corporate seal, document binder, and a number of membership certificates. While it's great for building a professional corporate price, it's not a necessity, especially given the price.
Above that, Incorporate.com will register you with the IRS and obtain an EIN on your behalf. Though it sounds good, you can easily do it on your own and apply for an EIN online in a matter of a few minutes. The best thing is that it will cost you nothing.
An added feature Incorporate.com also claims to include in this service plan is Annual Reporting. Most US states call for registered businesses to submit obligatory reports on an annual or biennial basis to stay compliant with the state. Incorporate.com will help you fill in and file that report with the corresponding department in your state of registration.

Not only won't you miss the due dates but also you'll rest assured everything is done in the right manner. For that peace of mind, though, you'll have again to pay $235 for registered agent service. Otherwise, assistance in executing the annual report will be unavailable.
Works Package in Detail: $349 + State Fee
Expensive pricing implies a full-fledged feature list with valuable add-ons. The Works package is really the most comprehensive among the Incoporate.com service plans. A $100 over the Essentials bundle brings functional, efficient, and helpful options beneficial for any business. They finally include company bylaws to ensure valid and reliable legal background for day-to-day business running and maintenance. On top of that, they come up with a licensing package. At some point, any registered entity will face the issue of getting specific licenses and permits to stay eligible and lawfully operate further on. Licensing issue is much more complicated than it might seem since licenses are issued at federal, state, and local levels, and you might need all of them. Incorporate.com will do the search, define which regulations your entity is exposed to, and help you fill in all the necessary forms to register for those licenses and permits.
The bad news is that despite the pricing, the Works package is still deprived of the registered agent service and is to follow the related rules referred to it to make use of the CSCNavigator tool and annual report service.
To give you a better understanding of Incorporate.com services and whether this company is a choice for you, we've made a quick comparison of their Standard package with the same plan offered by their most popular rivals. For the sake of the uniform approach, we compare bare services with a full bundle covering Incorporate.com registered agent service.
| Company | Basic Package (state fee excluded) | Full Package (with registered agent service included) |
| --- | --- | --- |
| Incorporate.com | $99 | $334 |
| ZenBusiness | $49 | $49 |
| LegalZoom | $79 | $238 |
| Northwest Registered Agent | $225 | $225 |
| IncFile | $0 | $0 |
As you can see, Incroporate.com is not the most expensive service out there. However, given that more expensive providers include a whole year of registered agent service into a higher-priced option, Incroporate.com still can't compete with them. Meanwhile, IncFile with its free-of-charge formation services has an edge over nearly all other counterparts since their unique offering is really hard to beat.
At a glimpse, all of their packages look feature-packed and throw at you valuable options you won't find in other providers. However, once you dig deeper and reveal the tricks that stand behind those perks, Incorporate.com plans look much less attractive. Besides, value for money means getting more while paying less. And it's certainly not the case with this service. While their top-tier Works package seems to cover pretty much all the vital aspects, it still lacks the registered agent service, which is a law requirement for incorporated entities. What's more, to use their CSCNavigator Tool and Anual Reporting option, you'll have to buy the registered agent service from them and further bump an already high $349 package price by $235. Add to this a state fee, and in some states, the business formation price will linger around $1000.
With that, none of the Incroporate.com pre-arranged plans offers enough value to confidently recommend it. Their whole approach is rather built around upsells than providing value for the buck.
ncorporation companies are usually not eager to cancel the services and refund the payments. Nevertheless, most of them do have refund policies in place and Incorporate.com is not an exception. Yet, get ready to discover quite tricky and ambiguous refund conditions.
Incorporate.com is pretty clear about state fees payable to government agencies, state departments, and official authorities being non-refundable. Any flat rates can be paid back only if the company hasn't proceeded to file yet. Should they file your application, it's up to them whether they will refund any sum or not.
To revoke annual reporting, you'll have to inform the company no later than 90 days before the due date for your next report. Otherwise, you'll be charged for the next year anyway.
Changing a registered agent is also quite a hassle. Not only should you do that before paying for next year's service but also you'll have to prove that you swap for an acceptable eligible alternative.
Any claims concerning the quality of Incorporate.com's service, as well as suggestions, refund applications, and informational requests are accepted by the company via one of the following contact methods:
| | |
| --- | --- |
| Address | 251 Little Falls Drive, Wilmington, Delaware, DE 19808-1674 |
| Phone | 855-235-3824; 855-236-4043; 866-963-8506 |
| Email | [email protected] |
Despite less competitive pricing options, Incorporate.com is a good service provider with a number of strong sides to it that favorably distinguish it from the competition.
Huge Professional Expertise
Being in business for over a century, this formation service has gained immense experience and is one of the industry's old-timers. They know all ins and outs of establishing legal entities and maintaining their eligibility. When it comes to longevity and professionalism, Incorporate.com has quite a bit of an edge over the modern top-liner services. As such, they offer high-quality service, which is further proved by their unique Corporate Compliance Guarantee.
Corporate Compliance Guarantee
While many formation services make sounding promises, only a few of them provide a decent satisfaction guarantee to safeguard their customers against filing-related risks. Incorportae.com is among those few ones. They are ready to bear responsibility for their negligence and mistakes and say it out loud. Each of their pricing plans includes their branded Corporate Compliance Guarantee keeping you safe against any filing defects that might occur due to their fault. Should any financial risks arise pursuing from the US court decision acknowledging your entity filing null and void, the company will either settle that issue or pay a compensation of up to $75 000.
That's a truly impressive guarantee that provides confidence in the company's services and gives you peace of mind about your filing.
A Generous Set of Services
Though Incorporate.com is not as popular as modern industry giants, the company is no inferior to them in the range of services offered.
Incorporation services they deliver cover all types of LLCs (single-member, multi-member, series, professional, and restricted LLCs) and all types of corporations (for-profit and nonprofit). On top of that, they have their own network of registered agents in all states and provide a whole number of one-off add-ons such as DBA name registration, foreign qualification filing, and licensing services that might be required at some point in your business development. As such, the company is capable of ensuring a complete set of services saving you the need to search for any extras somewhere else.
Besides, the best thing about this is that all added features are provided in-house. They have their own team of specialists and don't outsource services to third parties. This way, there is no reason to bother about your privacy protection since your personal data will be kept private and won't circulate among different providers.
Helpful Learning Center
Positioning itself as a service provider with a top-of-the-line experience, Incorporate.com has one of the best online learning centers. In free access, they have a whole wealth of guides and comprehensive articles on various topics. Not only will they lead you through multiple business-related processes but also they will let you learn a lot of info on different issues that might be of great use in your current or future business situation.
With all the good it has, the company is not perfect, and you'll find quite a number of features that might turn out disappointing or offputting.
High Pricing
There are two aspects of Incorporate.com's pricing and both are negative. First of all, the package prices are noticeably higher than those of competitors. Secondly, at more expensive prices, you'll get fewer features bundled in a single plan. Thus, at $99, the Starter package is barebone filing, with no essential elements usually included by competitors. To level this package up to a basic formation plan, you'll have to add registered agent service at $235 and an Operating Agreement draft at $99. And your starter package will cost $433, which is far from being a competitive price.
On the other hand, added perks they offer are also pricey. More than that, some of them are only available subject to purchasing the registered agent service. For example, Incorporate.com's annual filing will cost $150 while its contenders don't go beyond $100 for that service. To cut to the chase, this formation service provider will hit your budget pretty much.
Pushy Upsells
Upsells are the name of the game for many service providers of this type. Yet, while most companies will readdress you to third-party services, Incroporate.com will push their own options on you. Most often than not, they turn out pricey. And some of them are fairly unnecessary. Thus, they'll try to persuade you to let them register an EIN for you at $80 and will even force you to pay $75 more for speedy filing. In reality, though, you can get this number from the IRS for free by simply submitting the application online. What's more, you'll get it the same day.
Yet another inconvenience is that many prices for additional services are not in easy access. It will take you quite a bit of time to search for them high and low through their website. And it has nothing to do with the ease of use.
Lack of User Feedback
Normally, you'll expect to find tons of reviews about a company with over one hundred years of experience behind its back. Yet, you'll hardly find a dozen comments online.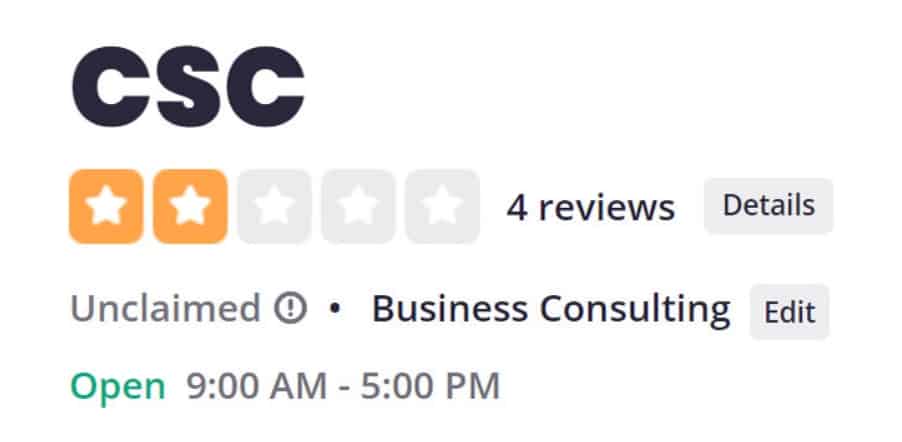 Such popular platforms as Trustpilot and Google Reviews have no feedback on Incorporate.com. Meanwhile, BBB and Yelp only have a couple of comments on Corporation Service Company, which is the service owner. Besides, judging by those scarce reviews, the service rating is below average.
Not Impressive Filing Speed
Given their overpriced services, Incorporate.com has nothing to impress you with about the filing speed. While other pricey formation service providers do their best to ship your documents the same day or within a single day, Incorporate.com gives no info on the turnaround times they offer. At the final stage of placing an order, you'll be informed that your order will be processed within three to four days. To cut down that time, you'll be offered to pay $20 to speed up the process. We think it's unfair taking into account their already high prices.
We've already looked into the company's ready-made service bundles and outlined the general scope of services this provider delivers. Overall, they have a quite diverse service assortment on the list that looks decent if you take no heed of prices. However, to help you find out if Incorproate.com will fit your needs to a tee, we've also made a detailed overview of all service options they have.
Forming LLCs and Incorporating
These are the main services most applicants seek to get from companies like Incorporate.com. And this provider is really good at this.
Despite being relatively new to the business world, a limited liability company structure has gained a lot of trust and becomes more and more popular. It combines an easy and straightforward management system and simple compliance requirements of partnerships with the limited liability protection of corporations in a smart legal mix. It proves to be not only viable but also highly efficient in a modern business environment.
Similar to corporations, this entity type exists independently from its owners. Meanwhile, limited liability protects the owners as physical persons from the enterprise debts and commitments and keeps their individual assets intact.
One more valuable plus of LLCs is pass-through taxation and the benefits it brings.
In contrast to corporations paying taxes at business and personal levels, LLCs enjoy the simplicity and beneficial nature of pass-through taxation. Your LLC won't pay income taxes at a company level. Your enterprise profits are transferred to your personal tax return and taxed as your income at your individual tax rate. This way, LLCs avoid the burden of dual taxation when the income is taxed both at a personal and at a business level.
Corporations, on the other hand, have a more complex structure and more formalities to follow. Likewise, their structural and taxation systems are more complex. Yet, this type of legal entity is a great choice for bigger ventures targeting fast growth, seeking cross-country presence and aiming to raise funds via investments.
When it comes to the establishment process, both LLCs and corporations are registered at the state level, so the whole filing procedure is pretty similar. However, there are state-specific rules that you might need to follow too. Hence, to make sure all legalities are observed, many entrepreneurs prefer to hire a formation service like Incorporate.com for that purpose.
To let the service provider complete the filing for you, you'll have to specify your contact data projected company name, address, and the industry you are going to operate in. You can submit all the data online. The service will consider this info, prepare your formation docs and file them with the corresponding state agency.
Most formation services do the business name check by default. Yet, Incorporate.com doesn't mention this option on their website. Most likely than not, they'll do it before submitting your registration to the state. At the same time, it won't go amiss if you do the name search on your own. An appropriate search tool is typically available for free on the website of the state department. Likewise, you can monitor the trademark database as well.

Proving your desired business moniker is unique and not used by any other entity within the state will ensure your application won't be rejected due to the use of an inappropriate name.
Establishing Nonprofits
As the name suggests, a nonprofit is an organization that doesn't make money in the common sense of the word. To be more specific, all the money it gains is not distributed to its owners but is infused back into the company to realize its purposes. Nonprofits are normally organized for providing some sort of social, educational, or research aid. They rather deal with higher causes and missions than engage in business and operate for profit. These organizations raise funds at the account of donations, sponsor financial aid, grants, and trusts.
Technically, to register a nonprofit, you need to set up a standard corporation and get "nonprofit" status for it from the IRS. Legally, a corporate structure will ensure credibility and trustworthiness for the organization and bring the benefit of asset protection to its owners.
Since the enterprise uses its profit for the good of society, the nonprofit designation allows it to apply for a tax-exempt status provided under the 501(c)(3) chapter of the tax code. This status also brings the opportunity of obtaining grants and charitable contributions under special programs to realize their own socially important objectives.
Getting a tax-exempt status might take a lot of time and effort. Filling in a lengthy IRS form will need your close attention and due diligence as well. Incorporate.com can incorporate a nonprofit and apply for 501(c)(3) status for you.
Any of Incorporate.com's packages is suitable for setting up a nonprofit. Yet, if you want it to file for tax-exempt status for your nonprofit, you'll have to purchase its most expensive filing plan since no other package covers it.
Applying for S-Corp Designation
Contrary to a popular belief that an S-Corp is a type of corporation, it's rather a status assigned by the IRS for tax purposes. Both corporations and LLCs can make use of it by applying Form 2553 to the IRS.
Before you make a decision to elect S-Corp status for your enterprise, it's advisable that you consult a professional accountant to clearly understand whether it's appropriate and beneficial for your current business situation.
Incorporate.com claims to provide its applicants with a public accountant consultation to get a better understanding of the S-Corp election and whether you need it. In the meantime, Incorporate.com doesn't explicitly specify if this consultation is a payable option or not. Though it's most likely an upsell, it's still a valuable option to have for those who seek to learn more about this issue.
To give you a quick overview, the most prominent advantages of the S-Corp include:

• Opportunity for the corporate shareholders to be employed in their own company and obtain a wage, thus optimizing their tax payments;
• Minimization of the tax burden on businesses engaging hired employees;
• Ability for corporations to use a more simple and favorable cash accounting method if they don't maintain inventory.
Incorporate.com Registered Agent Service
Either an adult individual or a legal person, this role is in charge of receiving formal and legal documents meant for your enterprise such as filing requirements, regulatory notes, lawsuit notifications, processes of service, cour decisions, tax letters, and alike. Meant to observe that you won't overlook some vital mail, this function works to maintain your compliance status. Should you disregard appointing a registered agent, you'll put your good standing with the state at stake.
Your company agent should be a resident of your formation state consistently present under the specified address during normal work hours. While this position looks fairly formal, it's a crucial one for your enterprise. If you miss any piece of mail calling for some action or stipulating a deadline or due date, it might result in severe penalties and other negative consequences up to the company's dissolution.
Though there are no specifically strict requirements toward the registered agent and you can even choose to serve your own agent, most entrepreneurs prefer to delegate this role to third-party services and formation companies for different reasons:
Frequent travelers are not able to be permanently present at the registered address;
Business owners are residents of other countries not entitled to perform this function;
A company has an extended network of affiliates in different states or the owner runs other businesses across the country;
To keep personal data private since registered agent's info should be on public records.
Incorporate.com has its own registered agent in each US state, which is a big plus. Reserving this role for their own specialists, they won't have to disclose your private data to any third parties. Besides, if you have plans to move your business to another state or expand it to other localities, you won't have any problem assigning a registered agent there.
On the flip side, though, the company offers this service at a cost, which is noticeably higher than competitors' price tags. The price of $235 is not even close to $100 or $150 charged by many other providers. What's more, Incorporate.com pushes this option on you by making it a condition for using their other services such as a CSCNavigator tool and annual filing option.
Making up Bylaws
An Operating Agreement is a document vital for any LLC. A company bylaw or internal regulation, it needs no filing or state registration. Most states don't call for it as a part of the formation bundle. And even those few states that do make it a law requirement, simply stipulate that you should just have it on record.
In the meantime, an Operating Agreement is a meaningful and significant document to have. It outlines the managerial structure of your business, establishes clear operation procedures, describes the ownership and profit distributions, sets the rules for membership rights transfer and company dissolution, and much more. As such, this simple internal doc is a decision-making and operational guide for your enterprise that will ensure smooth ongoing business performance and prevent any disagreements, disputes, and misunderstandings between the company owners.
All in all, not being a legal requirement, an Operating Agreement is a highly important document you shouldn't disregard when launching an LLC. Many formation services treat it the same way and include its draft into their entry-level service plans. Incorporate.com, though, is different in this concern. Bylaw drafting occurs only in its most expensive package or is otherwise available as a paid add-on at $99.
EIN Acquisition
An Employer Identification Number (EIN) is also called a Federal Tax ID, which is nearly self-explanatory. It's a nine-digit number issued by the IRS for a business entity to identify it as a tax-payer.
By function, it's similar to a Social Security Number assigned to individuals for the government to keep an eye on them, as well as to give them access to certain services and facilities. The same is true for business EINs. The number is required by banks to open a checking account for an enterprise and is a must for employer companies to diligently account for and report employment-related taxes. Besides, an EIN is needed to register for excises and certain licenses and permits, not to mention this number enhances the business credibility and legal status on the whole.
Getting an EIN is as easy as this. Visit the IRS website and fill in a quick digital form to apply for the number from 7 a.m. to 10 p.m. on weekdays. Once you type in your basic company info and submit the form, the number will be assigned automatically in a matter of minutes. And you won't have to pay for it a single cent.
Speaking of Icorporate.com, they provide EIN filing as a part of their Essentials and Works packages, as well as a separate add-on at $80. Certainly enough, as compared to a free filing option available for everyone, paying $80 for this option has no sense.
Annual Filing
Registering your enterprise with the state, you'll have to keep the government authorities updated on your company's info on a regular basis. This is what annual reports are meant for. A law requirement in pretty much any US state, an annual report is a simple and functional tool for the state government to keep track of the legal entities within their jurisdiction.
The content of this report might slightly vary by state, yet, overall, it's quite common and covers basic company info made available to all governmental and state structures. As for the reporting date, some states have a fixed due date for filing an annual report while others tie it to the date of your company establishment.
Submitting an annual report doesn't seem anything special. However, missing a report date or failing to file will lead to serious consequences. You'll be exposed to penalties and fees or your business compliance status could be pierced.
Formation companies with feature-rich service lists always have an annual filing option, and so does Incorporate.com. Though you'll still have to provide some data from your side, Incorporate.com will make sure you'll catch up with filing dates as well as deliver all the forms to be filled and submit those forms to the appropriate state agencies. This service is especially convenient for enterprises having filing obligations in more than one state.
The cost of this option on Incorporate.com is $150 per annum, which is an expressly high price even despite the fact it includes state fees. Besides, you'll be unpleasantly surprised to find out that covered by the Essentials and Works packages, this service is only available subject to registered agent service sign-up. Ant will further bump up your grand total by $235.
Licensing
Delving into the environment of registered business entities, you get a lot of benefits. On the other hand, you'll have to stick to a number of rules and regulations too. Business licenses are among those regulations widely applied to many companies. Depending on the scope of your business, the type of activities you are involved in, the industry you operate in, and the services you provide, you might need one or several licenses and permits to run your business eligibly. Those regulations might occur at a federal, state, and local level.
Figuring what licenses apply to your company is not as straightforward and easy as it might sound. Meanwhile, operating without a proper permit in place will surely cause penalties and legal restrictions. Hence, licensing is a sensitive issue for many beginner entrepreneurs and first-time businessmen. And delegating this task to someone else would be a real relief.
Incorporate.com could handle business license search for you. Their trained specialists will perform comprehensive research and come up with all types of licenses and permits your enterprise should get. More than that, you'll also get all the forms to be filled in along with detailed instructions on how to complete them and where to submit them.
The only gripe is that this service is included just in the most expensive Works package. Yet, you can order it separately at $99. And we must admit it's worth the price.
DBA Filing
Doing Business As (DBA) or a fictitious name is a widely used aspect among business entities. Both formal and informal structures are entitled to operate under a name different from their legal or registered name. It's also called a business, trade, or assumed name.
There are many reasons why enterprises use this trick. The most common are as follows:
You seek to launch and run different product lines under the roof of the same venture and want to establish a solid and recognizable brand for each of them;
You target to expand your business to other states and are not eager to set up a separate entity in every state;
You change the company membership structure by adding or withdrawing members.
Since DBAs are normally registered by already formed companies, Incroporate.com has DBA filing on its add-on list. The service comes at $150, which is quite expensive we must say.
Other Services and Features
While the above-mentioned services are the most widely used ones, Incorporate.com has much more to offer. Their list of one-off options is also complete with multiple other options you might necessitate in a certain situation or under certain circumstances:
Mail Transfer: At $200 or $275 yearly for domestic and foreign customers accordingly, Incorporate.com can receive your company correspondence and forward it to your chosen address;
CSCNavigator Tool: It's a sort of safe online depository for digital copies of all your essential business docs. Besides, it's your private room for tracing your applications and paying corresponding fees. Though not exclusive to Incorporate.com, this sort of tool is of great convenience ensuring your privacy and safety when using the website.
Despite being included in all Incorporate.com packages, CSC Navigator is only available subject to using their registered agent service. It's a part of a bigger upsell and you can't buy it as a one-off option.
Certificate of Good Standing: This document is proof of your business's full compliance with the state rules and regulations as of the moment of its issue. Normally, it's issued by the state department or the Secretary of State on demand. Should you need it to open a transactional account for your company or apply for a business loan, Incorporate.com can handle it for you;
Foreign Qualification: If you plan to extend your business activity beyond the borders of the state your company is formed in, you can do it by getting a foreign qualification in each state you enter. And Incorporate.com can complete the filing on your behalf.
In fact, foreign qualifying is nearly the same procedure as business formation. Instead of the Certificate of Formation, you'll get a Certificate of Authority. And you'll have to appoint a separate registered agent in each state you are going to operate in.
Business Dissolution: If you need to close your company, it's not enough to terminate its activity. You should submit an appropriate document package with the state to legally dissolve your business. Incroporate.com can help here too;
Reinstatement: This move is needed if the compliance status of your enterprise was pierced. No matter the reason, Incorporate.com can assist in regaining the good standing status;
Amending Formation Documents: Should any changes or modifications occur in your company structure, legal name, or address, they are to be reflected in your formation docs. To legalize those changes, you'll need to amend your Articles of Organization or Incorporation accordingly. Incorporate.com offers filing those changes for you;
Corporate Kit: If you seek to establish corporate style from the very beginning, you can order a corporate kit from Incorporate.com at $99. You'll get a branded company seal and document binder. On top of that, Incorporate.com can issue stock or membership certificates for you at a fairly symbolic price of up to $1.50.
Bottom Line
Can we recommend Incorporate.com?
Well, it's rather no than yes. This service is expensive. Besides, their pricey formation packages are exclusive of essential features you can't do without when forming a business.
To continue, upselling is something we'd rather avoid, and Incoporate.com makes it their prominent strategy. Though this provider certainly has a number of strengths and is backed by a huge professional experience, all this is not enough to offset its downsides.