If you want to open a business in the United States, you are likely to encounter certain difficulties. Not every aspiring entrepreneur has the right knowledge and skills to handle all the necessary paperwork filing. If you are looking for qualified help in this matter, pay attention to MyUSACorporation.
Founded in 2009, the company has been successfully helping local businesses start an LLC, a corporation, or a non-profit organization in any of the 50 U.S. states. In addition, MyUSACorporation can also provide you with a Registered Agent service, required by most states. Their registered agents will timely receive and forward governmental and legal correspondence from the state to you, as a business owner.
In this review, you will learn about what the company can really help you with, its services, pros and cons, and pricing for 2022. You will also find out when you should turn to MyUSACorporation to avoid any problems with your business correspondence in the future.
Is MyUSACorporation Legit?
MyUSACorporation specializes primarily in helping young businesses grow and handle every related issue on the way. Namely, the company will be able to:
Open an LLC, incorporation, S-corporation, a non-profit, or file a foreign entity;
Properly dissolve your company;
Create (or terminate) a corporate bank account;
Obtain a business license, sales tax ID, and an EIN;
Reserve your business name, etc.
Over the years MyUSACorporation has helped over 10,000 new companies launch their business and has, therefore, been rewarded with high ratings on reputable review sites.
One of the most important features of the company is that, unlike its many competitors, MyUSACorporation is mainly focused on the local market while also cooperating actively with customers from around the world. Therefore, this is where you will find multi-language support and assistance in obtaining apostille and embassy certificates. Moreover, the company can help you prepare and submit Foreign Qualification documents, obtain a Certificate of Good Standing or Certified Copy of Articles from your home state, and deal with all the necessary extra filings.
At the same time, MyUSACorporation does not provide legal or accounting services - all consultations on taxation, accounting, or legal issues are provided by the company's partners on an ongoing basis.
MyUSACorporation Review
MyUSACorporation LLC offers a wide range of à la carte services, which means that you can choose only those services that you know you will really need for your business.
Other advantages of the company include the following points:
Excellent customer service. The company is highly rated by customers, which is clearly reflected in hundreds of positive online reviews. On the website, you will find plenty of free recommendations and tips, and consultants of the company are always ready to help you choose the right services for your business. Moreover, there are several ways you can use to contact experts at MyUSACorporation;
Cooperation with foreign businesses. Many competitors of the company also work closely with their foreign clients, however, when it comes to MyUSACorporation, the firm considers the international direction to be one of the main priorities. That's why these guys offer embassy certificates and other assistance for those willing to start a business in the United States;
Individual approach. Unlike most of its competitors, MyUSACorporation does not offer predefined service packages. Consequently, you don't have to pay for anything you don't really need - choose only those services that you need and enjoy the performance;
Fast document processing. When it comes to MyUSACorporation, even the standard LLC filing service implies high-speed document processing. Moreover, if you choose the premium "Rush My Order" service, the processing time will be even faster, which can be a great advantage for those who need to open their business ASAP.
Additionally, the business hours of the customer support team can also be extended, including working on weekends. Professional company consultants are able to communicate with their clients in several languages, including Chinese and Portuguese.
All in all, MyUSACorporation is a reliable partner for starting a business and a great assistant in further cooperation. The company can help your prepare annual reports, resolve licensing issues, and obtain other permissions to run business in this or that state. You can also expect the fast document filing service, as well as the increased reputation in the eyes of state authorities.
MyUSACorporation Pricing
As mentioned earlier, MyUSACorporation offers no fixed price plans - only you decide which services you need. Simply add your chosen options and check the total cost in the process.
Here is an example of some especially popular services:
| Service | Price |
| --- | --- |
| Order Processing for Incorporation / Forming an LLC | $79 (depending on the state and its fees) |
| EIN (Employer Identification Number) | $59 (24-hour turnaround time) |
| DBA Registration | $79 (varies by state) |
| Name Amendment | $89 |
| Registered Agent Service | $149/year (payable in advance) |
To find out how much your chosen service will cost, you will have to initiate the ordering process. In most cases, this is due to the fact that the fees and regulations vary from state to state, and therefore, the price of the chosen service will also be different for this or that state.
On the other hand, you don't have to send personal or contact information to see the price. All you have to do is choose the type of service you need and the state to register your business. You may also be offered pre-sales during the registration process, but they are not intrusive at all - these are more like recommendations of what else you may need when ordering your chosen service.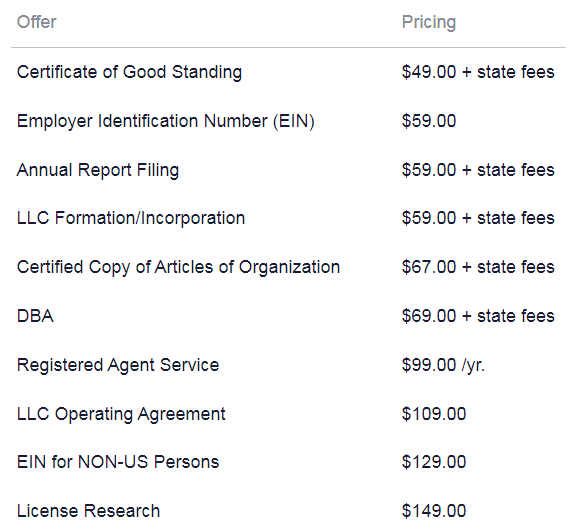 MyUSACorporation LLC Formation & Order Processing for Incorporation
On the one hand, the price of LLC formation ($79) at MyUSACorporation looks quite decent. On the other, the service only includes help in choosing a business name and submitting documents for registration. You can also check the company name for free, and get recommendations on other important steps to start a business in the state you want.
If you will need Articles of Incorporation or the Operating Agreement, as well as Registered Agent services - you will have to order each separately. Plus, you will also have to pay an additional $35 if you want to expedite the processing of your papers.
On the other hand, the website has a rich library of useful publications that you can use to register an LLC and prepare all the necessary business documentation.
Getting an EIN
The cost of the individual service is lower, compared to those of other business consulting companies. However, most often, getting an EIN is included in business formation packages - paying for the service separately is not recommended.
At MyUSACorporation, you pay $59 and wait 24 hours to get your number. If you apply for an EIN on the IRS website, you will not have to pay anything and will receive your number shortly. The application itself is simple and intuitive, and it only takes about 5 minutes to get your EIN.
The EIN service is recommended when you, for any reason, have problems submitting an application to the IRS on your own. This is often the case with foreign clients, as they also have to obtain other documents before getting in EIN. In addition, there may be certain language barriers, which often lead to misunderstanding the intricacies of relevant U.S. laws.
DBA Registration
A DBA is required when your LLC name is too long or, otherwise, not quite convenient for advertising, signage, or website promotion. In this case, all states allow an alternative name or trademark, which you can use everywhere except for legal and financial documents.
Additionally, changing your DBA name is easier and faster. You can do it without changing your legal business name if you need to, say, expand your product line. Having a DBA will provide more credibility to your business, and you will be able to run several businesses without creating a new legal entity for each one.
The company can help you collect all the necessary documents in accordance with the law of your chosen state, properly prepare applications, enclose the payment and stamped envelope, with further dispatching the entire set of documents to your physical address and further instructions. Doing all this on your own can be difficult, and the price of the service is comparatively favorable. DBA registration, as a service, is rarely included in competitors' starter or basic packages. And the price of filing your DBA application in a professional manner can be quite high. However, MyUSACorporation offers an average price of $79.
MyUSACorporation Registered Agent Services
In the United States, almost every state requires a business to have a registered agent that is a representative who will receive governmental and legal correspondence for the company and notify you about important business events. The agent must be always available at the company's legal address (physical office) during normal business hours in the state, in which the company is doing business.
Compared to competitors, the MyUSACorporation registered agent service price looks quite high. Many offer similar services at $120 per year, and others take a similar approach to pricing. However, at the same time, a lot of companies will include a year of free registered agent service in their business registration packages, even basic ones. At MyUSACorporation, you will have to pay for the service in advance, which can become an additional financial burden at the start of your business.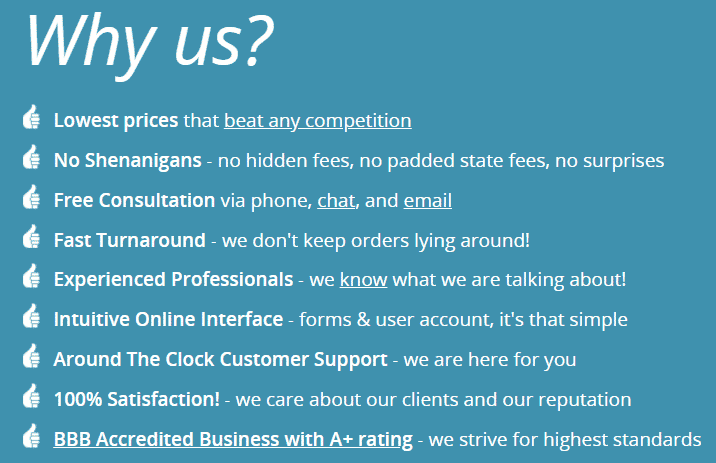 Other Useful MyUSACorporation Services
The company is also available to help you with the following issues:
Sales Tax and Reseller Permits. In addition to obtaining an EIN (also known as the Tax Identification Number (TIN), Federal Employer Identification Number (FEIN), or Federal Tax Identification Number), you will receive detailed recommendations on whether sales tax and additional permits are required in your state. A Sales Tax ID Number is a legal document issued by the state, which allows you to collect the sales and issue appropriate sales tax liberation documents, incl. resale certificates. The latter are used by businesses to purchase the necessary inventory. Moreover, the company will provide information on document processing, as well as help you with filing and submitting business documents to the Secretary of State;
Business Licensing. Different states have different licensing requirements for various businesses. MyUSACorporation will let you know if you need such a service, and if you do, the experts will help you get all the licenses required, as well as manage all business licensing activities;
Business Name Reservations. Business registration timeframes can take anywhere from a few days to a few weeks. The time period depends not only on the state but also on your business needs. Thus, a foreign business may need to get all the paperwork done beforehand at the embassy. In order for the chosen name to be assigned to you during that period of time, a temporary name reservation application should be properly prepared and filed. The cost of such a procedure depends on the state fee;
Annual Reports. Most states require businesses to send their annual reports and meet their deadlines. The latter vary from state to state. An annual report is a binding filing with the state of your business, which is related to the activities of the organization (e.g. your profits, expenses, losses, information about your business growth and direction (for investors and shareholders), business goals, and other operating details. Consultants will explain the rules and send you timely reminders to make sure your business is compliant;
Amendment, Dissolution, and Reinstatement. Making changes, converting, dissolving, or reinstating your business can be a real challenge. MyUSACorporation is ready to help you file Articles of Amendment, which is a formal document required if you want to add/fire company employees, change your business or mailing address, change your RA, etc. The company will help you prepare and file your amendment application to handle the most complex situations;
Newspaper Publication. Some states, such as New York, still require that a publication of a legal announcement of a new business be published in an approved newspaper or journal. MyUSACorporation will do this in a timely manner and provide you with the information you need;
International Certification. MyUSACorporation has extensive experience in the international marketplace and, therefore, can help obtain international certificates for the U.S. or foreign clients;
Accounting & Tax Returns. Business accounting in the United States is done on two levels - state and federal laws. MyUSACorporation will consult you in detail, explain the rules and deadlines for submitting reports, remind you of the deadlines (when it's necessary), and check your report;
Certificate of Good Standing is a document issued by the Secretary of State, which confirms that your business is registered and operating in compliance with the law, as well as timely submitting reports, and paying taxes. You may need it to open a corporate bank account, close transactions, sell your business, create a legal entity in another state, and more. The company will help you quickly get the certificate you need;
Corporate Kit for Corporations / LLC Kit for LLCs. A company kit usually includes a company seal, share certificates, minutes forms, corporate charter samples, business cardholders, etc. The company will offer everything needed to comply with corporate/LLC formalities, e.g. custom vinyl binders, tab dividers, slipcases, seal embossers, document holders, personalized stock certificates, etc.
MyUSACorporation: Pros and Cons
This MyUSACorporation review would be incomplete without breaking down the main pros and cons of the company, both from the point of view of experts and customers.
| Pros | Cons |
| --- | --- |
| Service flexibility | High prices |
| Extensive range of services for foreign customers | No free registered agent |
| Great customer reviews and ratings | No pre-packaged service bundles |
| Free additional services | |
| Fast turnaround time | |
| Easy-to-use website | |
Let's explore each of the points in more detail starting with the advantages.
Service Flexibility
Many entrepreneurs consider the lack of ready-made service plans to be a big advantage. After all, you are able to choose which services you want to pay for. Other companies will often include unnecessary, essentially imposed services in their bundles. As a result, you overpay for something you don't even intend to use just to get everything you really need.
Many competitors offer to choose an inexpensive basic package and buy the necessary services separately, which is also convenient. However, it often happens that the most required service is only included in the more expensive package and is not available as a stand-alone option.
Extensive Range of Services for Foreign Customers
A large part of MyUSACorporation's competitors is focused on the local market, which is why foreigners have to prepare important legal documentation on their own.
MyUSACorporation helps foreigners get the necessary licenses and certificates, required to start a business. Experts of the company are able to properly consult clients in several languages, which is why it's incredibly convenient for foreign businesses to request information on LLC formation procedures or other related processes.
Good MyUSACorporation Reviews and Rating
MyUSACorporation is a Better Business Bureau (BBB) accredited company with an A+ rating. There are no unresolved complaints on the company's website, and the company responds promptly to all of them.
MyUSACorporation has also passed PayPal, Authorize.Net, and SecurityMetrics checks, which increases the level of trust as the company's reliability is confirmed by a third party.
If you study MyUSACorporation reviews, you'll notice that the company's average rating is 4.8/5. Although there are occasional complaints from customers about the support team, the company responds to everyone and resolves most conflicts. Moreover, most of the reviews are positive.
Easy-to-Use Website
The website of the company is user-friendly and intuitive. Many customers note the ease of selecting and ordering the necessary services in the reviews. During the ordering process, you can immediately see the total cost and understand its calculation. There are no hidden fees or unexpected requirements to pay state fees separately from the ordered services.
For existing customers, there is a convenient personal account, which can be accessed through the MyUSACorporation login. The cabinet displays the service process (the status of each) and documents in electronic format. It all looks like a simple dashboard.
Also, in the personal account, you can find additional useful information, e.g., a guide on optimizing and promoting the company's website, etc.
In addition, the website has a large information section, which clearly describes how to open a business independently in the USA, what you need to know to run it successfully, and much more.
Free Services
If you contact MyUSACorporation for help, regardless of the services you choose, the following ones will be available to you for free:
Name Search (to find out if the name you have chosen is available in the state);
Search Engine Optimization Guide (useful tips that will help anyone to grow their business online).
Fast Turnaround Times
In most cases, business registration deadlines with MyUSACorporation are very short. Documents are processed within 1-2 days, after which the total time depends on the specifics of the state. There's also an expedited processing option for those who need to start running their business as soon as possible.
Processing times are not listed on the MyUSACorporation website, you can only see them when you form your order. Nevertheless, many customers note the fast turnaround time in their reviews.
Now let's take a look at the disadvantages. As it often happens, they largely overlap with the advantages.
No Pre-Packaged Service Bundles
The above-mentioned option to make your own list of services was mentioned as an advantage. Eventually, however, most pre-packaged service bundles of competitors will often appear cheaper when compared to your list of MyUSACorporation services. In addition, such bundles include additional useful features that you will not find here, which can be quite cost-effective.
Also, it can be quite difficult for young entrepreneurs to understand exactly what they need to order. This is where pre-packaged service bundles turn out to be much more convenient since they save your time on studying the information and choosing the right service.
High Prices
Individually, each MyUSACorporation service price can be considered favorable. However, when forming your set, corresponding to popular packages, or at least a list of the most important services for business formation, it turns out that the cost is far from the lowest on the market. There are companies that are more expensive but still offer better deals.
No Free Registered Agent
When it comes to LLC registration services, many competitors will offer a registered agent at no charge for the whole year.
As for MyUSACorporation, you will have to pay $149/year at once, as the service is essential but it's not free. The price itself is quite decent, however, if you're just about to launch your startup, there are many other costs involved. Therefore, additional savings would certainly be nice.
| | |
| --- | --- |
| Company address | 1 Radisson Plaza, Suite 800, New Rochelle, NY 10801 |
| Phone | +1 (877) 663-5003 |
| Website | myUSACorporation.com |
| Email | [email protected] |
MyUSACorporation: Customer Service
If you study MyUSACorporation LLC reviews closely, you will find that most of the customers appreciate the friendliness, attentiveness, and professionalism of the customer support team. Experienced company consultants are able to provide the most qualified and accurate answers to each customer, helping them solve complex issues.
MyUSACorporation support is available by email, phone, or online chat. The company's specialists are able to consult their clients in different languages, including Spanish, Chinese, and Portuguese.
Working hours of the company are also convenient for people from different countries and time zones. The company works on regular days from 7 a.m. to 11 p.m., and from 9 a.m. to 5 p.m. on weekends, which can be considered an advantage.

Most often, satisfied customers of the company will write about the timely and accurate responses, appreciating the help and professional recommendations they get from the support team. Occasionally though, new customers will leave negative feedback about the company not responding to their requests. The support team will then study and respond to each complaint in a short time. Yet, MyUSACorporation still has its hands full with things to consider and work on.
MyUSACorporation LLC Reviews and Reputation
The company has relatively high-reliability ratings from reputable experts, but the number of reviews is quite humble. Thus, if you visit Trustpilot, at the time of writing this review, the company managed to collect 468 reviews. On ResellerRatings, there are only 148 reviews, with most of them being positive.
Clients note the high level of professionalism, the ability to find a suitable solution (including complicated cases), the high level of expert support, responsiveness, and short deadlines.
The complaints are usually related to the lack of response to an initial request or delays in completing an order. In the first case, apparently, MyUSACorporation needs to improve processes so that no request is left beyond the timely attention of specialists.
You can study each time-bound claim in detail on BBB - over the years, there are only 5 of them. And in each case, MyUSACorporation representatives provide full and detailed answers and find efficient ways to resolve this or that issue. Most of the complaints are made by foreign clients who had a more complicated experience with the company than expected. MyUSACorporation has fulfilled all its obligations, but the expectation aspect and lack of timely information from the company always leave a negative impression.
No other complaints to MyUSACorporation were noticed. On the whole, the company is considered to be a reliable partner that will professionally help you open an LLC, get all the required licenses and permissions, as well manage all other important documents to stay compliant with state authorities, including for foreign customers.
MyUSACorporation and Competitors
MyUSACorporation may be a good solution for your business. However, you can find many offers on the market, which are also worth exploring. You want to assess only those parameters that are important to your business, such as:
Required services;
Affordable pricing;
Suitable deadlines;
Reliability, etc.
As you understand, there's no one-size-fits-all solution here since each situation is unique and has its own requirements and nuances to consider. Therefore, you want to study the best service providers separately and compare their advantages/disadvantages.
MyUSACorporation vs ZenBusiness
If you compare MyUSACorporation vs ZenBusiness, the latter can instantly be considered a winner in many ways:
ZenBusiness's basic package costs only $49 (+ state fees). What's even more interesting, apart from business registration, the package also includes a corporate charter template, risk-free accounting consulting, and a free registered agent service for one year. As for MyUSACorporation, the registration process alone will cost you more. Plus, there are no other related services included;
ZenBusiness has more user reviews than MyUSACorporation. Moreover, ZenBusiness does not have any claims about responding to requests. All the conflicts and negative reviews are most often related to the fact that ZenBusiness customers don't quite understand exactly what service they need;
ZenBusiness provides a smaller number of services to foreign customers. Unlike MyUSACorporation, the company's support team works in a less convenient schedule for other time zones, and the number of available languages is also more limited, compared to the competitor.
You can read more about the battle between MyUSACorporation vs ZenBusiness and find out how their services are compared in the corresponding review on our website.
MyUSACorporation vs Rocket Lawyer
Rocket Lawyer is a large legal firm, that's why it offers so much more than LLC formation services. This is important to consider when choosing your partner. On the other hand, Rocket Lawyer is more focused on the local market.
Other comparison parameters:
LLC Registration Cost. Rocket Lawyer charges $99 for the service, which only includes the filing of Articles of Incorporation and nothing else. That's why it's so easy to compare the price with the one of MyUSACorporation - the company offers a similar service for $79. On the other hand, if your business will require ongoing legal support, you can choose one of Rocket Lawyer's subscription packages, which will allow you to register an LLC at no charge;
Registered agent services at Rocket Lawyer cost $149.99 per year. If you become a Premium member, you will get a discount and the price will be $111.49/year. There is no free first year here. That said, in this comparison, Rocket Lawyer can be considered a winner. MyUSACorporation offers the same price for the service, however, there are no discounts;
MyUSACorporation and Rocket Lawyer offer quite the same document processing speed. But Rocket Lawyer indicates the processing time (1-2 business days) openly. Whereas, at MyUSACorporation, in case of high workloads, this period may be increased.
Read more about how MyUSACorporation and Rocket Lawyer compare in the corresponding review.
MyUSACorporation vs LegalZoom
Unlike MyUSACorporation or ZenBusiness, LegalZoom is also a law firm with much more experience, as the company has been successfully running the business since 1999 and has a very good reputation.
On the other hand, this is a large company, and the LLC formation service is only one of the activities here. Therefore, the prices and deadlines may not be to your liking.
Pricing. If you need to register an LLC, the cheapest package of LegalZoom will cost you $79. The company does not provide any additional value in the package. That's why the cooperation with MyUSACorporation will be more profitable;
Timing. In contrast to the tight deadlines for processing documents, which MyUSACorporation demonstrates, LegalZoom will process your documents within 1-2 weeks, although you can speed up the process for an additional fee;
LegalZoom's registered agent service costs more compared to most competitors on the market - $299 per year, against $149 at MyUSACorporation;
However, as mentioned earlier, LegalZoom has some considerable experience in the industry. The impeccable reputation of the company is impressive, and experts of the company will also help you with a large list of business documents.
Read more about MyUSACorporation vs LegalZoom in our special review.
MyUSACorporation vs Incfile
When comparing MyUSACorporation vs Incfile, you can immediately say that in most respects Incfile is clearly a winner:
Incfile has a completely free Silver package - you only pay the state fee. Not only can you register an LLC but the company will also help you prepare and file Articles of Incorporation, as well as get unlimited phone consultations, tax recommendations, access to a rich library of useful documents, and a year of free registered agent services. No competitor shows such generosity;
Reputation. Both companies have high ratings online, but Incfile has collected more than 1,500 reviews, the vast majority of which are rated 5/5. MyUSACorporation cannot boast such impressive results;
Experience. MyUSACorporation has been in the business since 2009, while Incfile has been around since 2004. At the same time, Incfile managed to help create more than 1 million new companies. MyUSACorporation's experience in this regard looks much more modest;
On the other hand, due to a very large number of customers of Incfile, it can be difficult to reach their support service. However, they will call you back within 24 hours. Also, if you choose the cheapest Incfile package, you shouldn't expect fast LLC registration.
Read more about these two companies in the "MyUSACorporation vs Incfile" review.
MyUSACorporation: Our Review
Would we recommend MyUSACorporation in some cases?
One of the greatest strengths of MyUSACorporation is the extensive list of services for international clients, as well as convenient multi-lingual support. Some of the services, important for a successful business launch, especially for foreigners, are offered only by a few competitors. Whereas, other companies consider such services additional and offer them at high prices, compared to MyUSACorporation.
Cooperating with MyUSACorporation may become beneficial to experienced businessmen, already familiar with the procedure of launching an LLC or a corporation. They will be able to make the right choice and understand which processes are better left to professionals. Also, competitors will often bundle their services into permanent packages - that's why there's no other way to order a service that you need separately.
Another advantage is the absence of intrusive presales, as well as the simplicity and transparency of cooperation with the company.
On the other hand, there are much better offers, especially important for those who are new to the business. Many companies offer cheaper LLC formation services, which go along with additional free services and free registered agent service for 1 year. This is not the case with MyUSACorporation, however.
In addition, with all the positive reviews and ratings, the negative reviews are somewhat alarming. It's not quite clear why representatives of the company don't respond to customer requests. Therefore, before making a payment, you want to make sure that your order is accepted and the cooperation process has begun. As for other complaints, they practically do not occur. The quality of company recommendations and high-speed document processing are the most noticeable advantages of the company, appreciated by almost all customers.
That said, we recommend paying attention to MyUSACorporation for foreign entrepreneurs and people who want to order separate services to speed up the registration process. Otherwise, there's a good sense to look for alternative solutions.
Already have your own experience with MyUSACorporation? Share it with us below in the comment section. We always appreciate your opinions!
FAQ