Starting a business is hardly ever a straight line for anyone, regardless of how much expertise you have in your niche. Often, people find themselves encumbered with challenges such as legal considerations, piling paperwork, and delays owing to a lack of adequate information. That's why more people are now opting to rely on professional services that hire people with specialized business formation and management skills. Incorporating Services LTD, also known as Incserv, is one such company that's been instrumental in starting a business in 2022.
This entity not only helps people start their companies from scratch but also helps them stay up to date with their legal obligations. Moreover, it also serves as a registered agent, which allows you to get your paperwork in one place, be in the authorities' good books, and never miss a document owing to misplacement. Besides, this is also a plus regarding your privacy. We look at why people have chosen to work with this service, if their experiences have been satisfactory and if you, too, should jump on this bandwagon.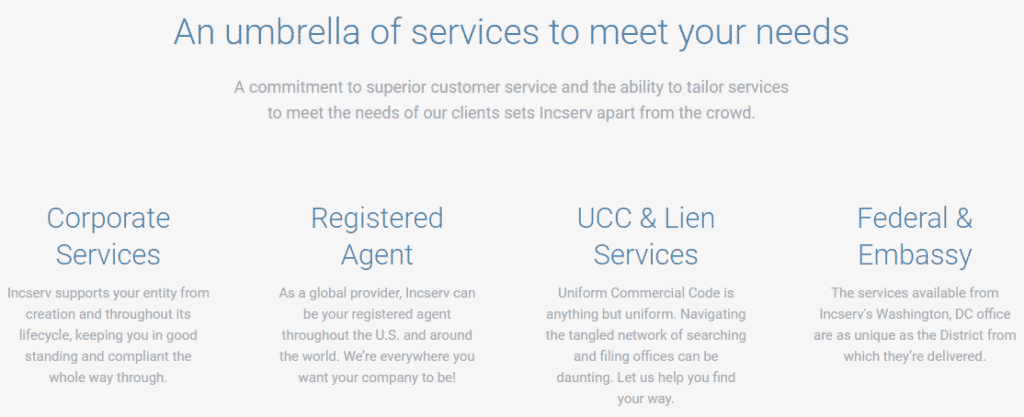 Is Incorporating Services LTD LLC Formation Legit?
Given the influx of formation companies online and offline, you must be careful before entrusting anyone with your entity. So, can you trust that Incserv does what it says it does? The only way to know for sure is to do a deep dive into its start, operation, and current status.
This privately held company has been around since 1972 and is thus one of the longest-standing entities of its kind. It currently hires 11-50 employees and has its headquarters in Dover, Delaware.
It started as a business tailored to provide its audience with corporate and financial services to help them thrive in the business markets. Moreover, it also offers legal services to help you understand what you are subject to and how you can avoid falling into troublesome legal woes. As such, it is an all-encompassing business that meets all your needs in one place.
Incorporating Services LTD Reviews and Overview
Incserv has an umbrella-like approach to business services, allowing you to meet your needs in one place. So, what can you get done?
You can file the paperwork to start your business, choosing the kind of entity you would like to set up. The company hires many experts who can help you work out the kinks of each business license option to help you make an informed decision;
You can file the proper paperwork to ensure you are compliant with the laws applicable to your line of business;
You can perform searches to find your records and can retrieve them from one place. The searches also extend to when you are looking for a business name and want to ensure another entity has not used it;
You can apply to have Incserv receive and forward your paperwork such that it acts as a registered agent. This move enables you to keep your business activities separate from your legal obligations. Plus, it helps you keep your address private, especially when you work from home and don't want people popping in unannounced. You can also arrange for other representation services with the company;
You can legalize your LLC formation documents for official use in and outside the country. The company has a section that enables you to get your paperwork apostilled, authenticated, or legalized per the country you wish to transact with – and based on whether the country is a party to the Hague Convention.
The business site is accessible round the clock to help you keep up with your growing business concerns regardless of where you are.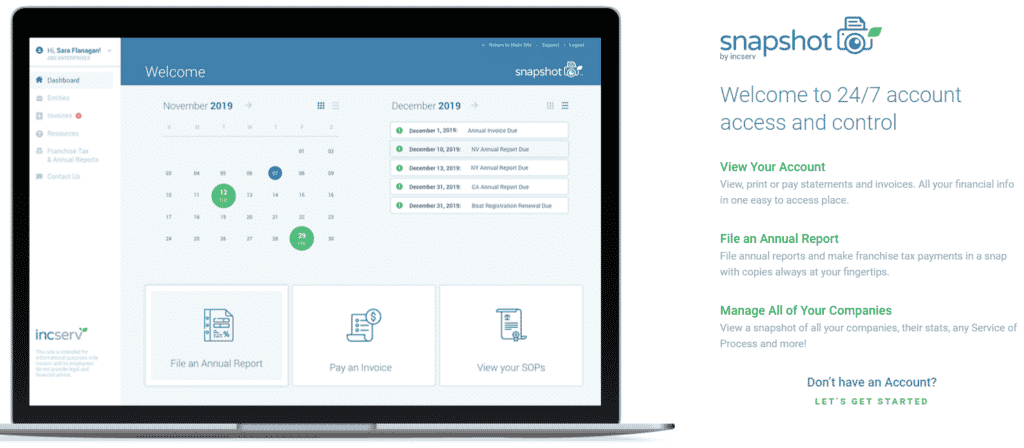 Incorporating Services LTD Reviews on Pricing
The company follows a unique pricing structure. Rather than have a one-off fee, the site takes you through a few steps in which you decide the following:
What service you want, e.g., what structure you wish to form;
Where you need the service, i.e., state;
Additional services you may need during the formation, e.g., if you would like to qualify your business in another state;
Whether you would like to expedite your application.
Based on the above LLC filing considerations, a customer care team member reaches out to you to confirm the request. You then get an invoice payable directly on the site, and your chosen service can now commence.
Incorporating Services LTD LLC Formation Pros and Cons
Should you consider using this entity for your next business service application? Let's review its upsides and downsides:
| Pros | Cons |
| --- | --- |
| Decades of experience | A lengthy ordering process |
| Services available round the clock | Lack of a straightforward pricing system |
| All clients have an online dashboard to review their applications and retrieve their records | |
| Ability to access multiple services under one roof | |
Online reviews about the company lie on the positive side with a great show of the positive user-generated content ramping up its standing.
Overall, with this company's reviews and features included, it feels like a good fit for any person, beginner or pro.
Incorporating Services LTD Registered Agent Contacts
Do you want to get in touch with the company? You can do so using any of the following means:
City
Incorporating Services LTD Phone Number
Incorporating Services LTD Address (Email)
Physical Address
Incorporating Services LTD Website and Contact Form
Dover, Delaware
800.346.4646
302.531.0855
[email protected]
3500 South DuPont Hwy
Dover, DE 19901
https://incserv.com/contact-us/
Washington, DC
877.531.1131 202.386.7575
[email protected]
1100 H Street, N.W.
Suite 840
Washington, DC 20005, US
https://incserv.com/contact-us/
Florida
800.699.9673 850.656.7956
[email protected]
1540 Glenway Drive
Tallahassee, FL 32301, US
https://incserv.com/contact-us/
Maryland
302.531.0704
[email protected]
https://incserv.com/contact-us/
FAQ